Ever since the small Irish town of Oranmore became a testbed for its drone delivery service, there's been plenty of surprises for Manna Aero. Like what people order.
"We had someone order a head of broccoli. Who orders a head of broccoli for drone delivery? The broccoli cost 79 cents — and then they paid €5 for the delivery," says Bobby Healy, founder and chief executive of Manna Aero, an Irish startup developing a drone delivery as a service.
"My favourite one was someone at nine in the evening ordering a tub of nappy cream and a melon. You can see the nappy cream might have been an emergency if they had run out. But then they decided to add a melon to the order, you know, because they could."
These items would have been delivered to the customer in around 200 seconds — just under three and a half minutes — flown from the roof of the town's Tesco superstore by one of Manna's two-metre drones (about the same wingspan as a bald-headed eagle), and gently lowered to the doorstep on a long rope while the drone hovered overhead.
It is like something out of this world when it

arrives.
Last October Manna Aero began an extensive trial in the 8k-person town, located on the outskirts of Galway on the west coast of Ireland. All of the shops in town were given the opportunity to have their goods delivered to people by drone — from the pharmacy and hardware store to the local coffee shop and Thai takeaway. Anything up to a weight of 2kg can be delivered. Manna Aero charges the retailers a fixed subscription fee for the delivery service, and retailers, in turn, are charging customers somewhere between €3 and €5 for the delivery.
Manna Aero, which recently applied for a licence to operate under the new EU drone regulations that came into force last month, has plans to offer drone delivery services across Europe, in particular flying takeaway meals and groceries to people's doorsteps.
Earlier this month the company raised new funding from John and Patrick Collison, the billionaire brothers behind the Stripe payment platform, to help speed that expansion. A Series A round is being planned for later this year.
But first, it has to get the service right in Oranmore.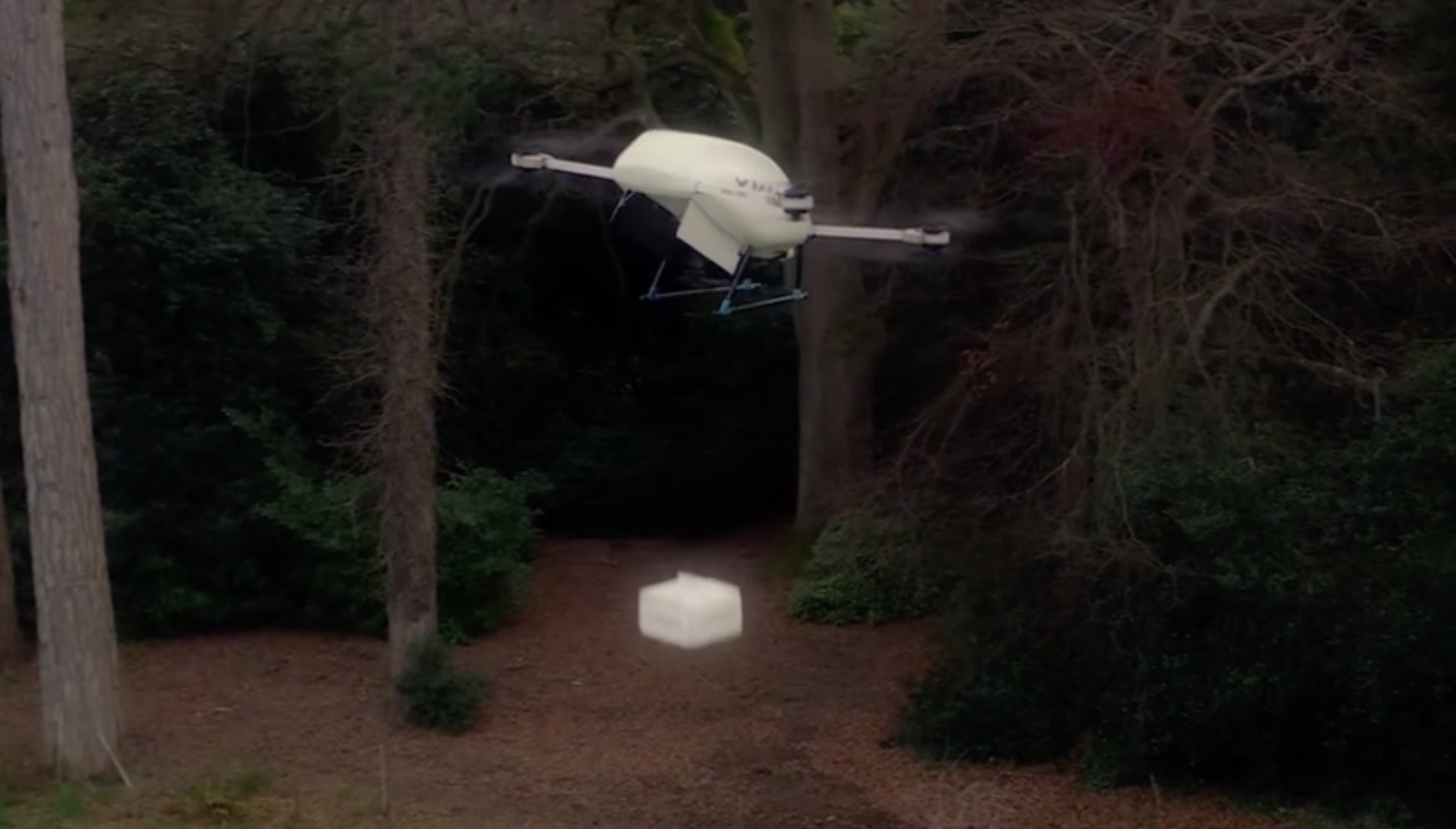 Though it has been operating for three months now, getting a delivery by drone is still something of an event for people in the town.
"It is like something out of this world when it arrives," says Siobhan O'Neill, Oranmore resident and mother of two. "When you get notified the drone is coming you go in front of the house — and you knock on the neighbours doors too to come see it arrive."
The Manna Aero drones, she says, are intimidatingly large, but not particularly noisy. "You wouldn't really hear it if you were indoors. Maybe a low hum," says O'Neill. Manna's drones fly at 60m above ground where they can't be easily heard, and only descend down to 15m when making the delivery.
She says most people in the town have responded positively to the drones. And no, no one has suffered any injuries from a takeaway meal or hot coffee landing on their head.
Everyone in the world is going to order one drone delivery, just to try it out. But the big question is, is it going to be used for normal

deliveries?
Like most people in town, O'Neill first ordered a Manna Aero drone delivery as something to amuse her children during the October school holidays. But she'd found herself using it once every few weeks since for convenience — when the roads were icy and she discovered she'd run out of bread, and when she was home alone with the children and wanted to avoid having to take them out to the shops. During the Covid-19 pandemic the service has been useful for people needing to self-isolate too.
Healy says he's pleased with the way this kind of ordinary usage has ramped up.
"Everyone in the world is going to order one drone delivery, just to try it out. But the big question is, is it going to be used for normal deliveries?" he says.
"Half of the orders are still novelty orders — people filling the basket with junk food and jellies. But we've been very pleased to see that the other half is utility orders. 35% of orders are repeat deliveries and 50% of those have used the service more than four times," Healy says.
Coffee deliveries have turned out to be one of the surprise hits — it is one of the most commonly ordered items for Manna Aero, although this may change as the company has recently been given permission to fly after daylight hours. Healy expects this to result in a big uplift in orders for takeaway meals.
Why takeaway companies are interested
The Camile Thai Kitchen takeaway chain has been one of the restaurants taking part in the Oranmore trial, operating from a food truck parked outside the Tesco superstore. For founder Brody Sweeny drone deliveries could be a welcome new way of cutting down on the heavy delivery costs that are placing a heavy burden on restaurants.
Camile Thai charges customers a €2.99 delivery fee, but delivery by car or bike actually costs the company somewhere between €5.50 and €6. Then there are the high charges that restaurants pay to delivery companies like Deliveroo and Just Eat, around 30% of an order. It is one of the dirty little secrets of the restaurant trade that while these delivery aggregators have brought great convenience to customers, they are killing the margins of the food providers.
Deliveroo and Just Eat are a bit like crack

cocaine.
"Deliveroo and Just Eat are a bit like crack cocaine because they bring sales. But when you look at the money you are making they aren't really profitable sales," says Sweeny. "There will be a sorting-out in the sector — the pricing needs to be adjusted."
Camile Thai has its own fleet of delivery drivers in places like Dublin to try to lower its dependency on the fast food delivery aggregators. But drones could be another alternative. Two drones could do the work of several drivers.
"This is a genuine gamechanger for us that ticks all the boxes," says Sweeny.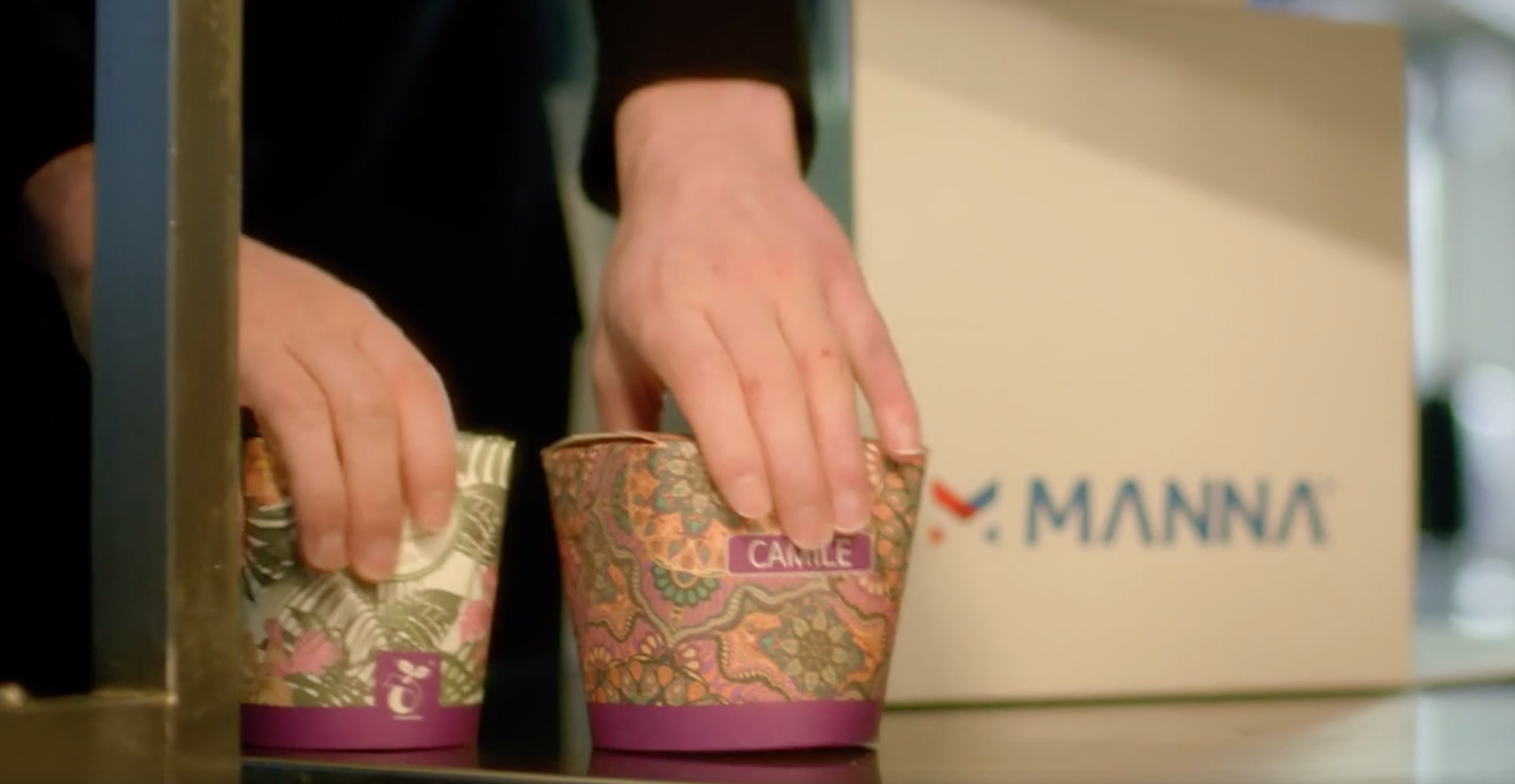 Not only are the delivery costs likely to be around half of what road delivery costs, but the speed is important too.
The quicker the delivery was made the more likely the customer was to order again. 'Hangry' is a real concept in the

industry.
"Dominos Pizza did some research that showed that the quicker the delivery was made the more likely the customer was to order again," says Sweeny. When it comes to takeaways, speedy delivery trumps everything, even tastiness, he says. "'Hangry' is a real concept in the industry. If the order is late the customer is usually angry and will complain about everything — the person on the phone was snotty, the food doesn't taste of anything."
The sustainability angle is important, too. "If you can use a renewable battery-powered drone for a delivery rather than a three-ton car, what's not to love about that?"
If drone deliveries were to become widely available, Sweeny calculates that about 70% of Camile Thai deliveries could be done that way. It won't be suitable for all deliveries — such as to busy urban streets or office blocks. Drones are ideally suited for suburbia, where people have gardens or driveways where deliveries can be dropped.
Will they get permission to fly?
Just how much and how soon Manna Aero's drone delivery can be expanded remains an open question, however. The company is the first to apply for the EU's light UAS operator certificate, which will be recognised across all EU member states.
Once this is granted, the skies above Europe's 500m consumers can open up for the company. The Irish Aviation Authority, which is known for taking a progressive view on new forms of aviation, has welcomed the idea of drone delivery as a green and economically-efficient option. The company is hoping for a decision within weeks.
In Oranmore, the service is still very much in testing mode. Two Manna employees accompany every delivery in person, making sure that residents stay out of the way while the delivery is being made and making sure nothing goes wrong.
There is the occasional glitch. O'Neill says that sometimes the drone delivery won't work and that Manna Aero have then had to send the items in a car instead. Those sorts of problems will have to be ironed out if Manna is to expand the service profitably.
We want to take half of the takeaway delivery

market.
City locations may prove tricky for the company — with more flight restrictions and more customers in high rise buildings than in suburban Oranmore. But Healy says the Manna Aero drone service only needs a town of around 25k people to be able to operate profitably — it doesn't need to be a big city offering.
A second, slightly larger town in Ireland is being lined up for a trial and Manna is also in the process of agreeing a first US location where it hopes to begin flying in the second quarter of this year.
Healy's ambitions are big. Getting a Thai takeaway by drone is still the kind of novelty that has Siobhan O'Neill's 6-year-old twins jumping up and down at the front door and the neighbours filming it on their phones. But Healy wants it to become the norm.
"We want to take half of the takeaway delivery market," he says.
Other drone delivery companies to watch
The commercial drone market is expected to grow from $1.2bn in 2018 to $6.3bn by 2026, according to Fortune Business Insights, and the pandemic is likely to have increased demand further. However, many of the drones in commercial use are for inspections and surveys. Drones for delivering items are relatively rarer, and the few projects currently running have mainly focused on medical supplies.

Everdrone
The Swedish drone startup, founded in 2017, has specialised in delivering medical equipment. It transports blood bags and lab samples between hospitals in Sweden's second largest city, Gothenburg, and delivers defibrillators to the scenes of cardiac arrest. It will expand the defibrillator service to Copenhagen this spring.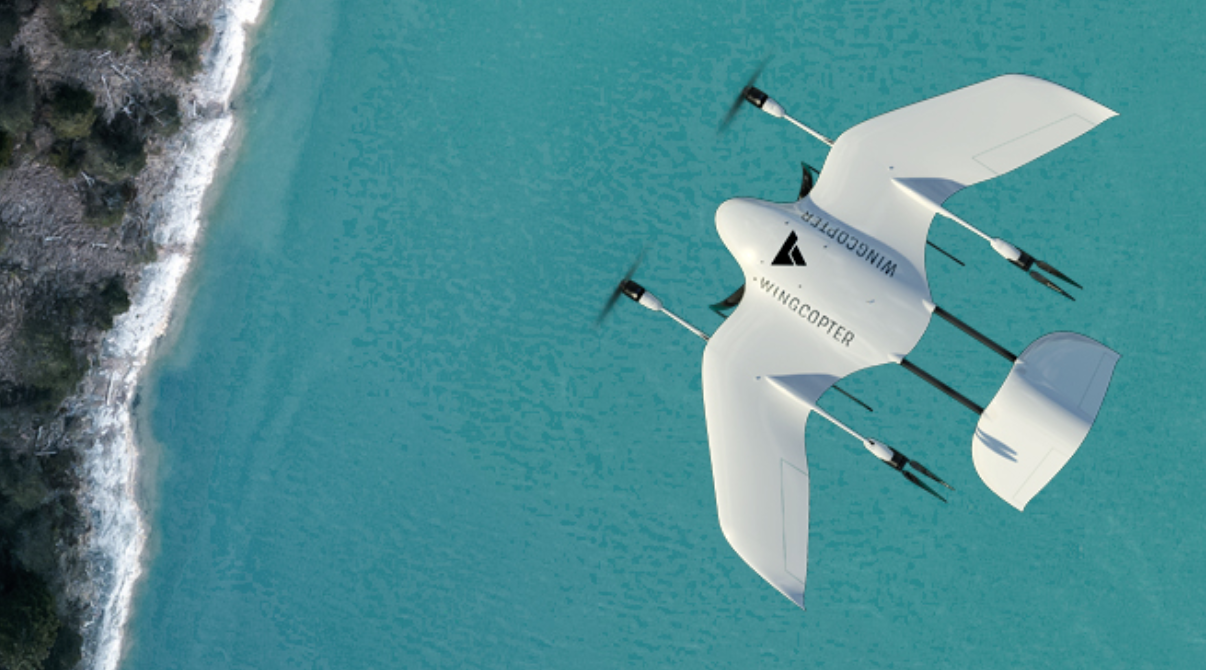 Wingcopter
The German startup, founded in 2017, raised $22m earlier this week in a funding round led by Xplorer Capital and Futury Regio Growth Fund.  The company says it plans to use the funds in part of accelerate its healthcare related activities, including delivering Covid-19 vaccines. 
Wingcopter, which employs some 100 people, also delivers packages and food, and last year signed a collaboration deal with logistics company UPS to explore using drones to deliver packages to hard-to-reach, remote regions.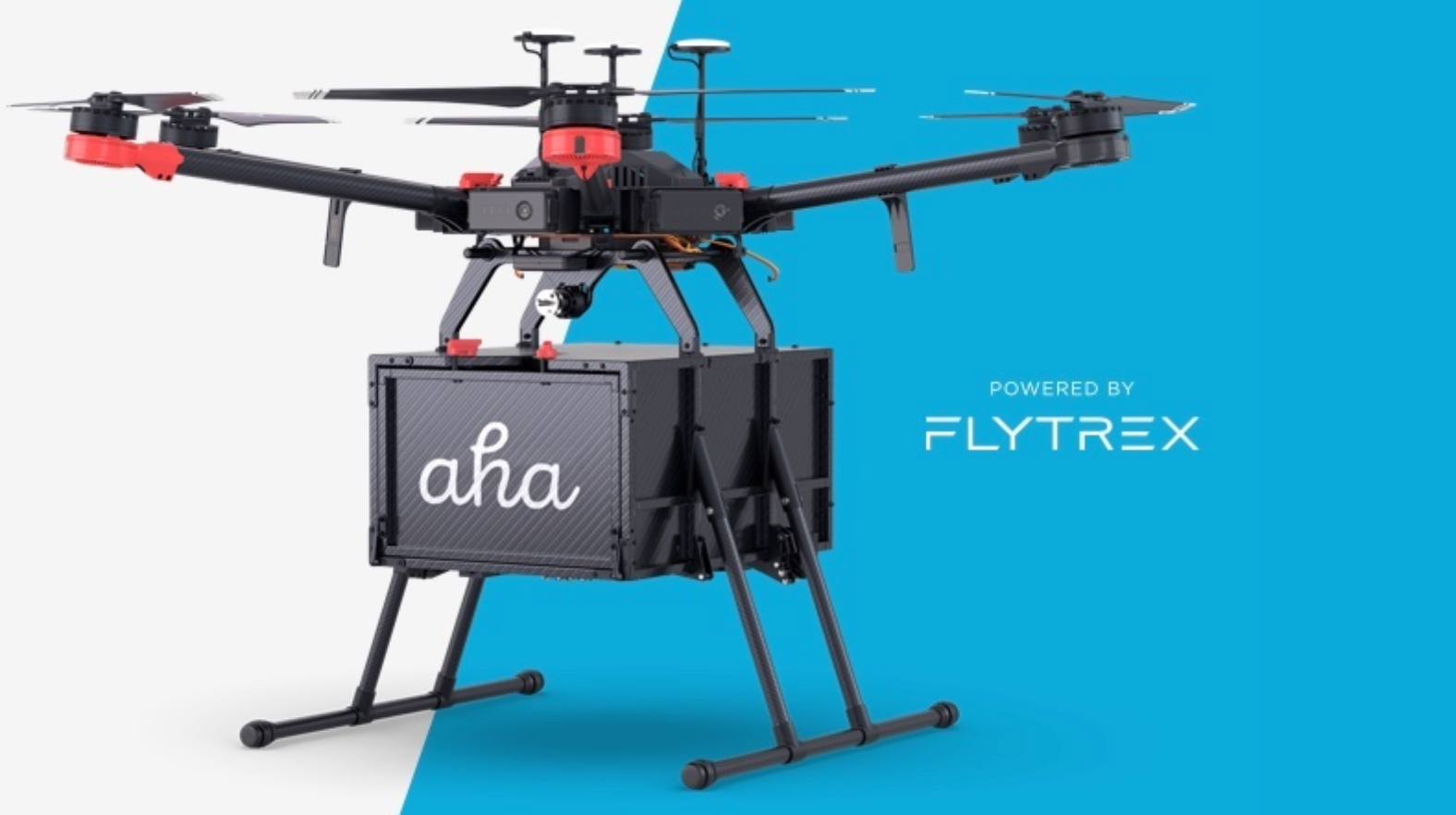 Aha
Icelandic startup Aha launched a drone delivery service using Chinese-made drones and a drone navigation system from Israel's Flytrex, delivering everything from hot burgers to groceries like bananas to customers in Reykjavik.
The one downside of the drone deliveries is the drones can only fly when it is not too snowy, rainy or windy. Aha also has a fleet of cars and drivers who can take deliveries when the conditions aren't good for flying.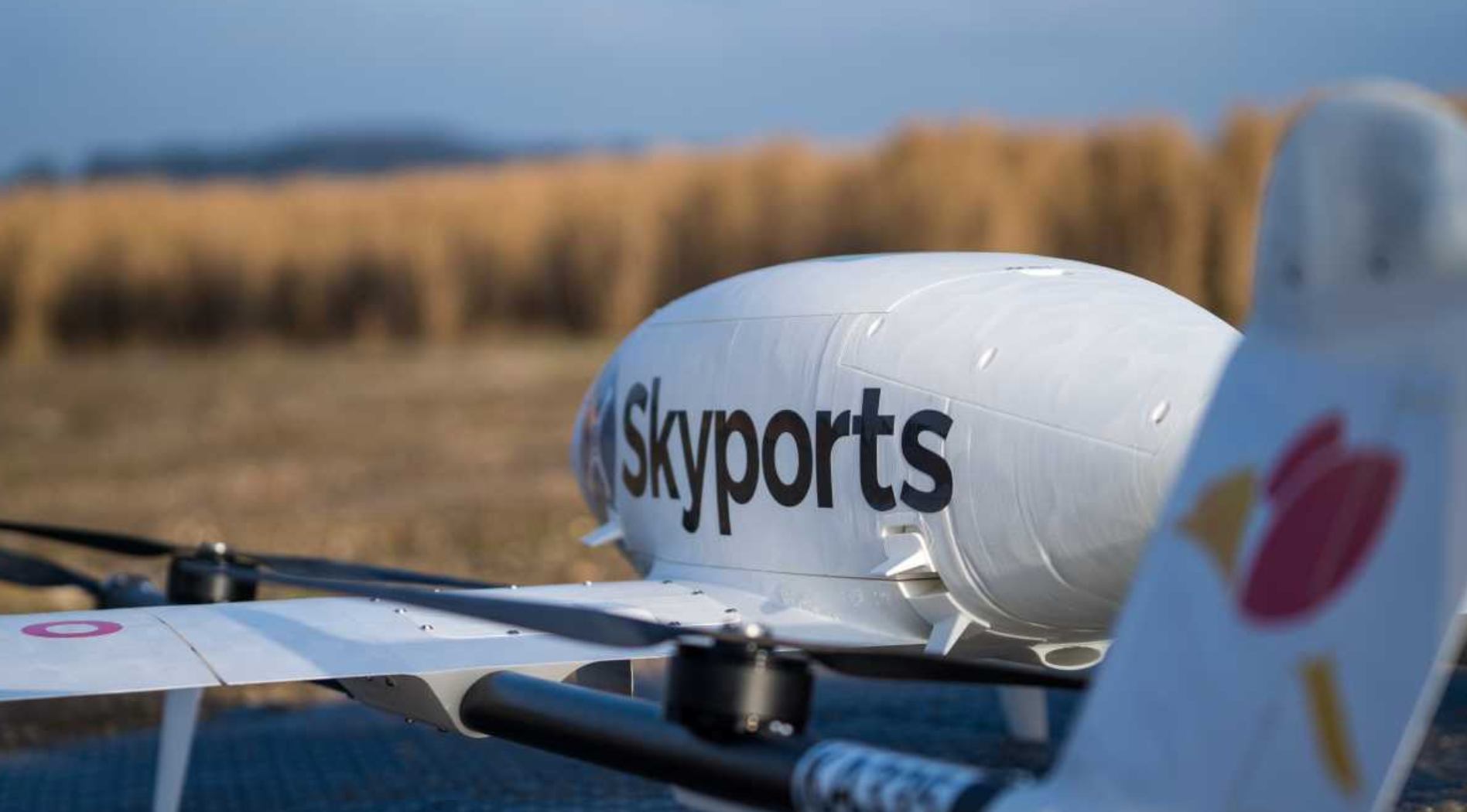 Skyports
The UK-based drone operator is helping deliver medical supplies to NHS hospitals during Covid-19, and also helps the Royal Mail deliver post to remote areas.  The company raised a $8m Series A funding round from Groupe ADP, Deutsche Bahn Digital Ventures and Levitate Capital in 2019, with additional money coming in from Irelandia Aviation last year.