Every morning in Paris, Lyon, Brussels, Rome and 13 other cities around Europe, scooter operator Dott's on-the ground "troops" gather for approximately nine and a half minutes for an "extremely meticulous" meeting. They share key information and set priorities for the day — and then off they go to hunt down scooters with low battery, fix poorly-parked vehicles and do repairs. 
It is, in many ways, a good example of how Amsterdam-based Dott — which is today announcing a $85m fundraise led by Sofina — likes to differentiate itself from its bigger and more heavily funded competitors in Europe's micromobility market. 
We follow the Amazon

playbook.
"We follow the Amazon playbook," says Dott CEO and cofounder Henri Moissinac. "To win on unit economics, do everything yourself, in an extremely disciplined way." 
But how is that full-stack approach working out? 
Uber vs Amazon
In 2019, Europe was overcome with scooter fever. Investors pumped money into a flurry of scooter operators, vehicles flooded the streets (and several canals) and consumers found a new transport toy to play with. 
"Companies were following the Uber playbook — it was about going as fast as possible, in as many cities as possible, to grow the top line as fast as possible and go back fundraising as fast as possible," says Moissinac. 
And then cities started clamping down. Paris banned scooters from pavements, Copenhagen capped the number of scooters allowed on the streets and many countries brought in speed limits.
Now, scooters are entering a new, greener era — with cities keen to invest in alternatives to the car, post-lockdown. 
And Dott thinks it's well-placed to take advantage of this shift. 
We are extremely profitable in many of these

cities.
"We're in 17 cities, and in almost every single one, we're number one or two in terms of market share," says Moissinac. "We are extremely profitable in many of these cities."
Sifted Newsletters
Sifted Newsletter
3x a week
We tell you what's happening across startup Europe — and why it matters.
In comparison, Berlin-based Tier is live in more than 95 cities around Europe and the Middle East, while Stockholm-based Voi is live in more than 50. Tier has 65,000 scooters on the streets, Dott 30,000. Tier has more than 900 employees, Voi has more than 400 and Dott has just 280. 
"This is not a game where you need to be everywhere. You need to do a few cities, and you need to be number one or two. There's no point being in 100 cities if you're number three or four everywhere." 
In September 2020, Dott was one of just three operators to win a coveted two-year licence to operate in Paris, where it now has 5k scooters. It is also rumoured to be one of the three operators chosen by London's transport authority, TfL, for its scooter trial. (Dott says it can't comment.) 
You need to do a few cities, and you need to be number one or

two.
"Paris or for any other city want what's good for users, and what's good for non-users, ie. pedestrians," says Moissinac. "They want something that's good for the planet and operators who are accountable. Dott doesn't bullshit cities, we don't overpromise." 
"In Paris, every day more than 97% of our scooters are properly parked. That's extremely difficult to achieve," he adds. "We have a lot of embedded software to understand if a scooter is properly parked or not, and a user experience which asks them to park it properly and, if they haven't, asks them to repark it." And when none of that works, "we automatically dispatch a controller to fix it."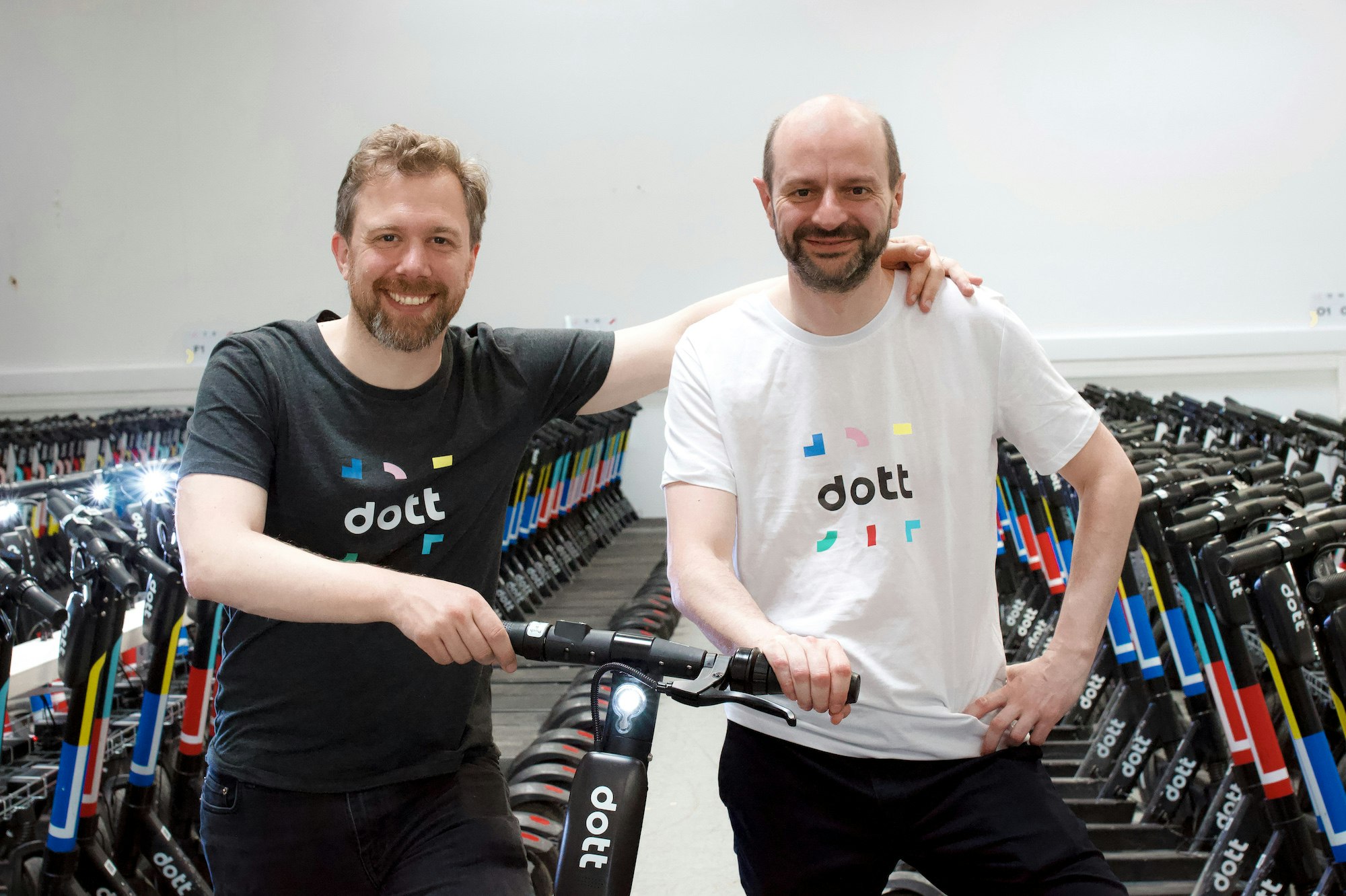 Going multimodal
This year, regardless of whether or not it wins the London scooter trial tender, Dott plans to launch its first e-bikes in the city this summer, after winning a tender. (The launch has been delayed by successive Covid-19 lockdowns.) 
These bikes have (like Dott's scooters) been designed by its team in Amsterdam and produced in Portugal (unlike the scooters, which are currently made in Asia and shipped to Europe). Dott also plans to launch e-bikes in Spain this year. 
We will do other modes

later.
"We want to move everybody in the city, regardless of mode, as long as it's clean," says Moissinac. Scooters aren't for everyone; some people prefer e-bikes. "We will do other modes later: mopeds, or small electric cars, or cargo bikes." 
Dott will also be announcing some partnerships with other transport operators soon, Moissinac says. "There are modes we will just never do — we won't do trains, so we want to partner with train companies." 
The big goal is to get people away from the car — and Moissinac thinks Dott is managing that. The average distance travelled on a Dott scooter is more than 3km, he says — that's not a distance most people would walk. 
"Fundamentally, when people move in the city, they're looking for four things: freedom, availability, reliability and affordability," says Moissinac. The private car ticks the first box, public transport the rest. "At Dott, we want to bring it all together. If we can make this work, then that's when people will switch."