Costas Papaikonomou believes any challenge can be overcome with creative thought and pragmatic delivery. He founded Happen in 2007 and grew into a global innovation agency, so attractive that it was acquired by Accenture in October last year, one of the four innovation consultancy acquisitions by Accenture in 2019.
Papaikonomou is also the author of the book Thoughts From A Grumpy Innovator, which addresses questions such as: why are so many brilliant ideas culled before they've had a chance to shine in the real world? Or why are so many awful ideas pushed through the system and launched, only to fail miserably, ruining careers and bankrupting businesses?
The Happen cofounder speaks to Sifted just months after the Accenture acquisition. So far, he seems not too grumpy with the new arrangement.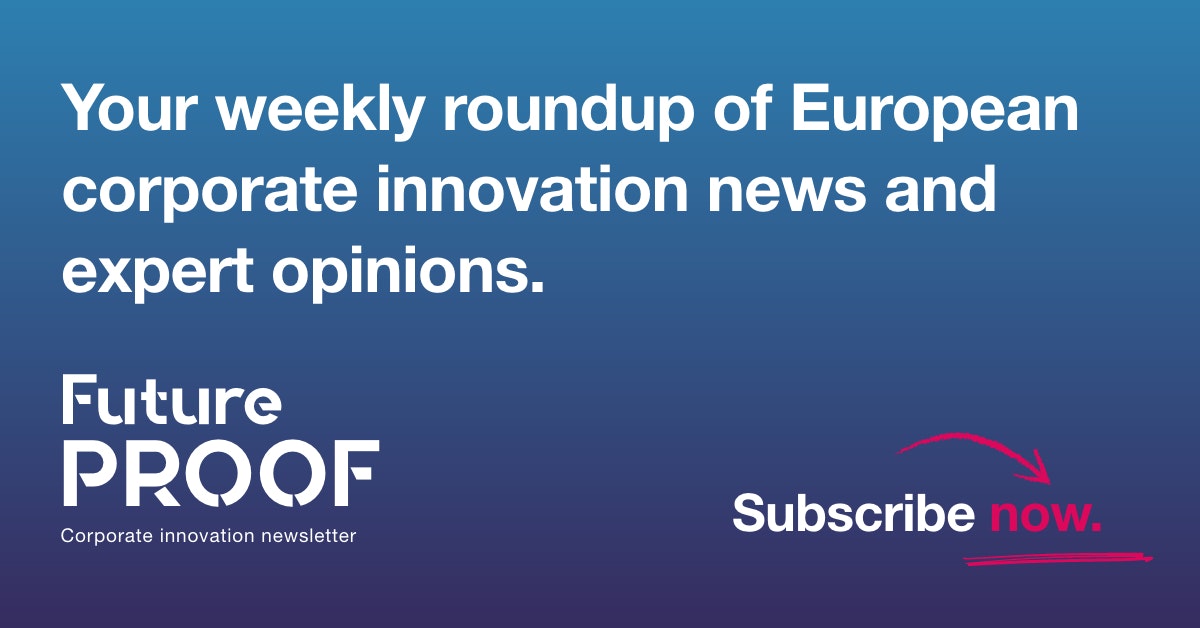 Want the Future Proof corporate innovation newsletter in your inbox every Tuesday? 
How do you define 'innovation' and how do you best describe your job?
There are as many ways of describing innovation, as there are practitioners. First and foremost, I consider innovation a business tool — one that allows companies to adapt to the changing world around them. I see three types of innovation, each with a different purpose: innovate to protect, to grow and to transform the business. Each innovation strategy balances the three strands according to the maturity of the category or industry in which they operate. My role is to help companies navigate their journey while helping them to steer clear of obstacles and roadblocks. 
How do you think innovation and design firms will differentiate themselves in the next five to 10 years?
It depends on whom you wish to differentiate from and what you want to become known for. One thing is for sure, disruption is showing no signs of slowing down, so we can expect the demand for innovation to increase.
Successful companies will be those with the ability to distinguish fad from

need.
The successful companies will be those with the ability to distinguish fad from need, flashy process from relevant solution, and which can craft products and services that sell in the real world. Getting that right will be the secret to future success and growth. We are now part of Accenture's innovation practice, which helps develop and deliver disruptive products and services for clients at scale.
How do you challenge yourself and your team to 'think outside the box'?
Ideas can come from anywhere. The great thing about working with companies that operate across different industries and markets is that our teams have a constant source of external insight and inspiration. The trick is to bring the outside/in by taking all this rich information and applying to the specific problem or opportunity we are tackling with our clients. 
What can larger organisations do to improve innovation?
It varies by industry. Innovation has always been important for larger organisations. However, the nature of innovation has changed. Whereas once it meant creating a research and development arm or acquiring an up-and-coming brand, innovation today requires companies to go further. That means innovating the whole business model to develop the exceptional levels of responsiveness to meet market demands at just the right time. 
Sifted Newsletters
Sifted Newsletter
3x a week
We tell you what's happening across startup Europe — and why it matters.
There is degree of FOMO seeping into some

boardrooms.
Innovation and experimentation used to be something done in the lab by the research and development department, but now companies of all sizes want to bring products and services out with shorter timelines and can be easily adapted to create maximum consumer appeal and a competitive edge over rivals. 
There is a degree of 'Fear of Missing Out' (FOMO) seeping into some boardrooms, and a belief that disruption is about the radicalness of the solution. This simply isn't true. It's about the size of the problem you're looking to solve. It could be focusing on a seemingly small frustration, but if it's one that is problematic for many consumers, you'll be sure to shake things up. 
What advice would you give to a new head of innovation — what do they need to get right from day one? 
It is important to understand the commercial role innovation plays in driving the business forward in order to get the balance right between placing the big and small bets. 
Ultimately, the goal is to differentiate your product or service offering in a simple way that leaves your internal teams feeling strong and your consumers feeling heard and satisfied. 
What book has been most helpful to you in thinking about corporate innovation?
I am always looking for fresh inspiration and ideas, so I tend to steer clear of innovation books per se. Here are some of my favourites: 
Zen and the Art of Motorcycle Maintenance by Robert Pirsig 
Fooled by Randomness by Nassim Taleb 
Creative Intelligence and Self-Liberation by Ted Falconar 
On Intelligence by Jeff Hawkins