US-based startup Aira connects visually impaired users via video link to a trained professional, providing them with sighted assistance for everyday tasks such as navigating and reading documents or emails. It's a valuable service, but also a pricey one. The company charges $124 a month for the standard plan of 120 minutes of assistance time.
"Aira is way, way too expensive. Do they actually understand how little money blind people have for the most part?" says Finn Turner on Twitter. 
Assistive technology Facebook group user, Grayson Stogsdill, holds similar reservations. "This programme where you have to pay a subscription fee – it's a joke. What I would like to know is why the technology is so damn expensive for the blind and visually impaired."
"It is totally ridiculous," adds group member Becky Harper Hawkins, simply.
There are 80m people in the EU affected by a disability, which is expected to rise to 120m by 2024, according to the European Parliament. Latest figures from Coherent Market Insights even predict that the global assistive technology market could be worth $26bn by 2024. It's no wonder that there are more and more startups entering the field of disability tech. 
But they are confronting a potentially vulnerable population, and are having to tread carefully around what they charge for their innovative solutions.
According to Eurostat, 30% of the EU population with a disability were at risk of poverty or social exclusion in 2013, compared to 22% of able-bodied EU residents. The European Disability Forum also suggests that only about 47% of people in Europe living with disabilities are employed, compared to 72% of people without disabilities.  
Aira, which also has a limited free service, is not the only disability-tech startup where prices have raised eyebrows.
The latest innovations in hearing aids, the first stair-climbing wheelchairs, and video-magnifying glasses from startups can cost thousands of euros. If you take just a tentative few steps into disability-focused forums, Facebook communities and Twitter threads, you'll quickly stumble upon disgruntled members scorning the dear price of a range of new assistive technology products.
Sifted Newsletters
Sifted Newsletter
3x a week
We tell you what's happening across startup Europe — and why it matters.
"Seriously though, why are they so expensive? €3000 to €4000 a pair? Surely a simple hearing aid (except advanced cochlea interventions attract higher costs) should be reasonably priced" writes Gerard Daly on Twitter.  
"My son's powerchair with the sip and puff attachment and head attachment cost more than the wheelchair van we had to get," writes user materhern, in a Reddit thread discussing the cost of expensive wheelchairs. "That super nice wheelchair van? It's got zero extras on it, it is stripped down to bare bones and the cheapest one I could find."
"We are way overcharged for accessible tech. I'd like to get a simple talking thermostat for my house but the ones that I've found are around $2,000-$3,000 for a single unit, just so I can set the temperature myself," one customer Roland Kilbarger tells Sifted. "That's insane." 
Bucking the trend
There are some European assistive tech startups trying to buck this trend. One of them is Be My Eyes, a Danish app released in 2015 which connects sighted volunteers from around the world with low vision users to help them with everyday tasks and is completely free to use. Boasting 2.6m good Samaritans, the company never thought it would grow so quickly.
The startup, which began out as a non-profit, has recently released a new feature called specialised help, enabling users to request support from major companies for more personalised (and private) assistance. Partnering with Microsoft, Google, Proctor & Gamble, the Bank of Scotland, Halifax, Lloyds Bank and most recently Clearblue, the startup's business model works by putting the onus on companies to help fund the app instead of the user, paying a fee to remain on the platform.
"I think I understand why assistive technology could cost a lot of money, but I don't think it's right," Be My Eyes' CCO, Alexander Hauerslev Jensen, tells Sifted. "These tools are only necessary because we have decided to design a world that's inaccessible. That's the only reason why you need to buy a thousand-dollar device to do very simple things."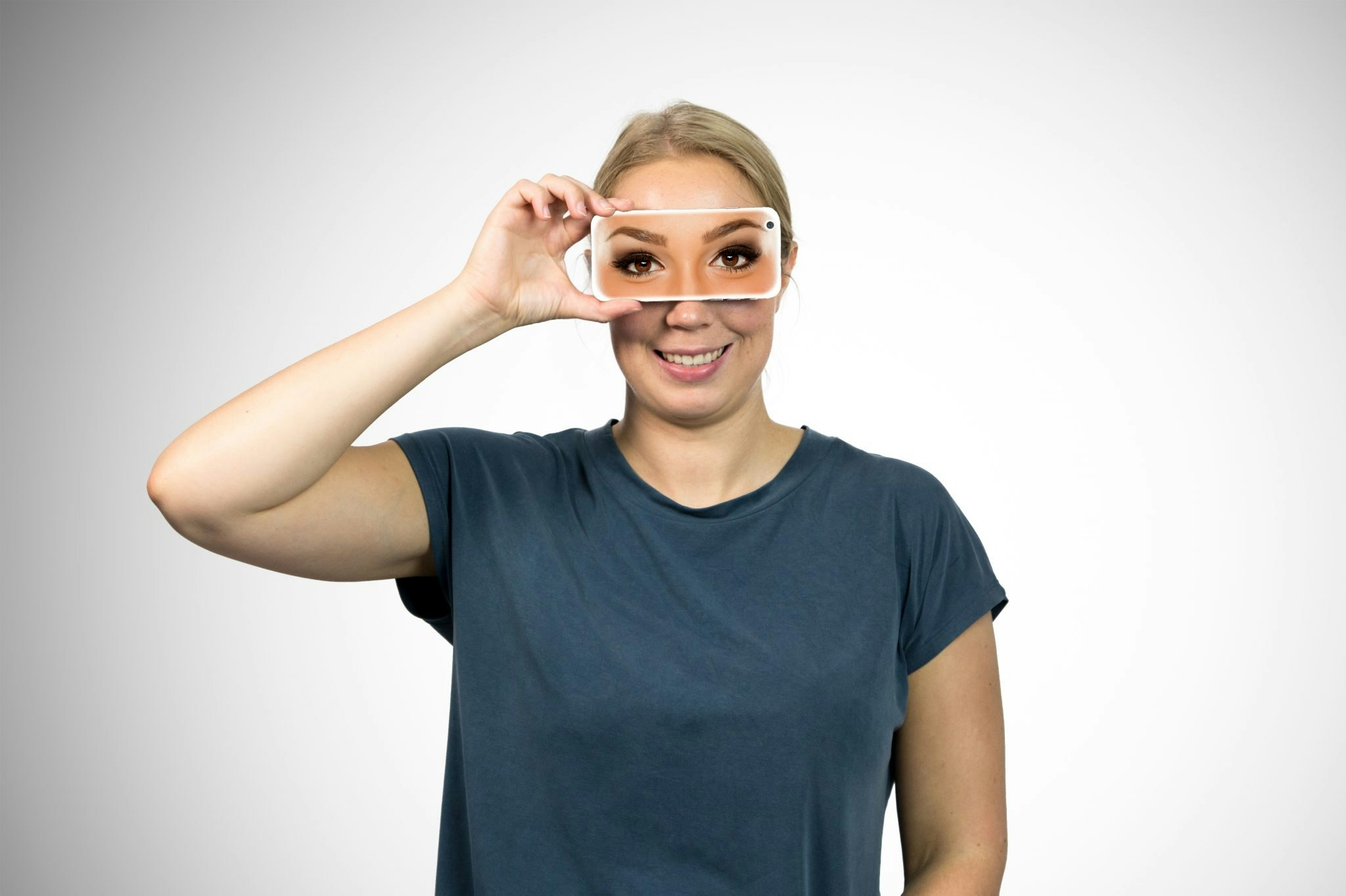 Indeed, Stefano La Cesa, co-founder of Italy-based startup Pedius, which enables deaf and hard of hearing people to make calls by converting speech to text, agrees, saying that he doesn't believe users should bear the whole cost of the product. Roughly 2% of Pedius' income comes from deaf and hard of hearing people, with the majority of it coming from companies who want to make their services accessible. Pedius gives users 20 minutes' worth of free call time a month, with a maximum price of £32 for an unlimited annual plan. The company has so far raised €2m since it launched five years ago. 
Pedius can charge consumers relatively little in part because there is no hardware. "At the beginning, we thought, 'Should we make a physical device or an online product?'. And we went for an online product specifically because of the cost," he says. "It's important to figure out whether or not we can turn a device into a service, like what we're doing with cars in cities. Not selling a mobility scooter, for example, but taking the scooter and leaving it where it's needed."
Hardware is expensive
There is a brutal reality in the world of assistive tech that hardware is pricey.  
Modern digital hearing aids with new technology like sound isolation or wind-reduction, for example, can cost between £1,400 and £2,200; while today's high-tech wheelchairs like the Whill Model C and the Carbon Black can cost up to £16,000; and the most expensive piece of visually impaired tech – the eSight glasses which claims to improve people's vision using video magnification – costs £9,995.
In February 2018, Israeli-based OrCam Technologies completed a round of investment funding which valued the company at a whopping $1 billion. The OrCam MyEye 2.0, a revolutionary artificially-intelligent device, that can be placed on any pair of glasses, enables the wearer to read print, store signs, barcodes as well as recognise faces. It retails at £4,200 and its first model was released in 2015. OrCam has an R&D department with 200 employees, working on upgrades and improvements to the device.
The newly-appointed UK head of OrCam, Reuben Isbitsky, says he is thinking about the issue of high prices.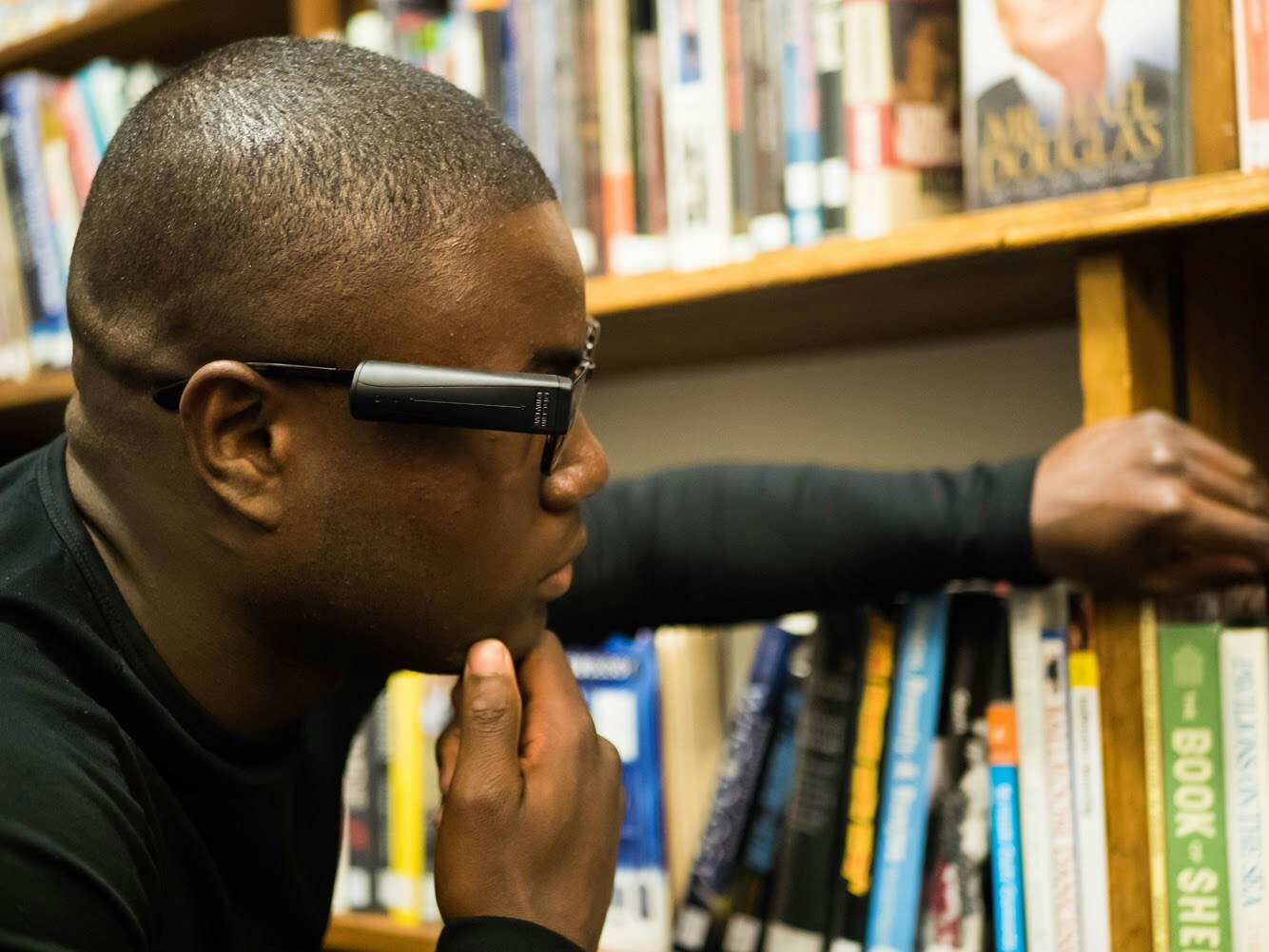 "It is a small market – designing a product for blind and partially sighted people, you don't have the economies of scale in the early beginning, and you also have a lot of support infrastructure that needs to be built – testing of the product with our community – all of those things mean that products for a niche market start out expensive," Isbitsky says.
"We are working on finding ways to make this more accessible for the people who need it most. The potential return on investment for the National Health Service to reduce things like social care cost because someone won't need help reading the post or getting out to read a bus schedule with the use of the OrCam is huge."
"I have been blind from birth, with braille displays, I had to be creative to find funds to pay for them, usually this involved some paperwork," German-based Bianka Brankovic, a member of the assistive technology Facebook group, tells Sifted. "As for developments like the OrCam, in Germany you can get it through your health insurance if you can prove a need for it."  
Scewo Bro's expensive too
Switzerland-based startup Scewo hopes to release its ground-breaking semi-autonomous stair-climbing wheelchair Scewo Bro in its native country at the end of this year – followed by Germany and Austria in 2020. The startup, which was founded in 2017 after CEO Bernhard Winter's then student project went viral, is also working on advocating for funding through other means.
"We are aware that it is not possible for everyone to finance Scewo Bro themselves," Tabita Rüegg, Scewo's marketing manager tells Sifted. "In Switzerland, we are working hard to ensure that the device is recognized by insurance companies and at least partially financed by the insurance company – the same applies to every country In which we expand."
A price for the Scewo Bro has yet to be determined, but are told that it will be comparable to the combined cost of an electric wheelchair and a stairlift in Switzerland – roughly 30,000 to 40,000 Swiss franc.
Innovation first
Still, some users are a bit more forgiving, and understand that these are businesses after all who have to make money. While free apps and cheaper mobility aids can do the same things as these services and devices, OrCam and Sciewo Bro could – and maybe should – be considered luxury items. 
European assistive technology startups are shaking up and expanding an industry that has been ruled by the same manufacturers for years. They are creating new and useful technical solutions to make the lives of disabled people better.
But they are likely to come under extended pressure to bring down prices and not be seen as exploitative of people with disabilities.
As one user of the assistive technology Facebook group tells Sifted: "I have always said that I can minimise the effects of my blindness if I have enough money to pay for all the things that will help me."