Europe's largest digital banking apps are seeing slow user uptake in the US amid strong local competition, new research by Apptopia shows.
Although it's still early days, the data shows the Europeans are lagging far behind local players like Chime, which now holds 60% of the US challenger bank market — a small but growing sector targeting America's "underbanked".
The European cohort is led by German digital bank N26 with 3.55% of the US digital-bank market — buoyed by an intense marketing campaign and an early launch in July 2019. 
Meanwhile, London-based neobank Revolut has secured 0.97% of the US digital market, having officially launched in March, and Monzo has 0.23%, made up of 20,000 waiting list downloads and its beta launch.
Apptopia - a mobile-analytics provider - told Sifted that these numbers were "less than exceptional" and that Revolut's post-launch downloads were "significantly below that of [US players] Chime, Current and Varo".
Europe's digital banks have seen their valuations surge as they look to expand internationally. Succeeding in the US would be a major prize.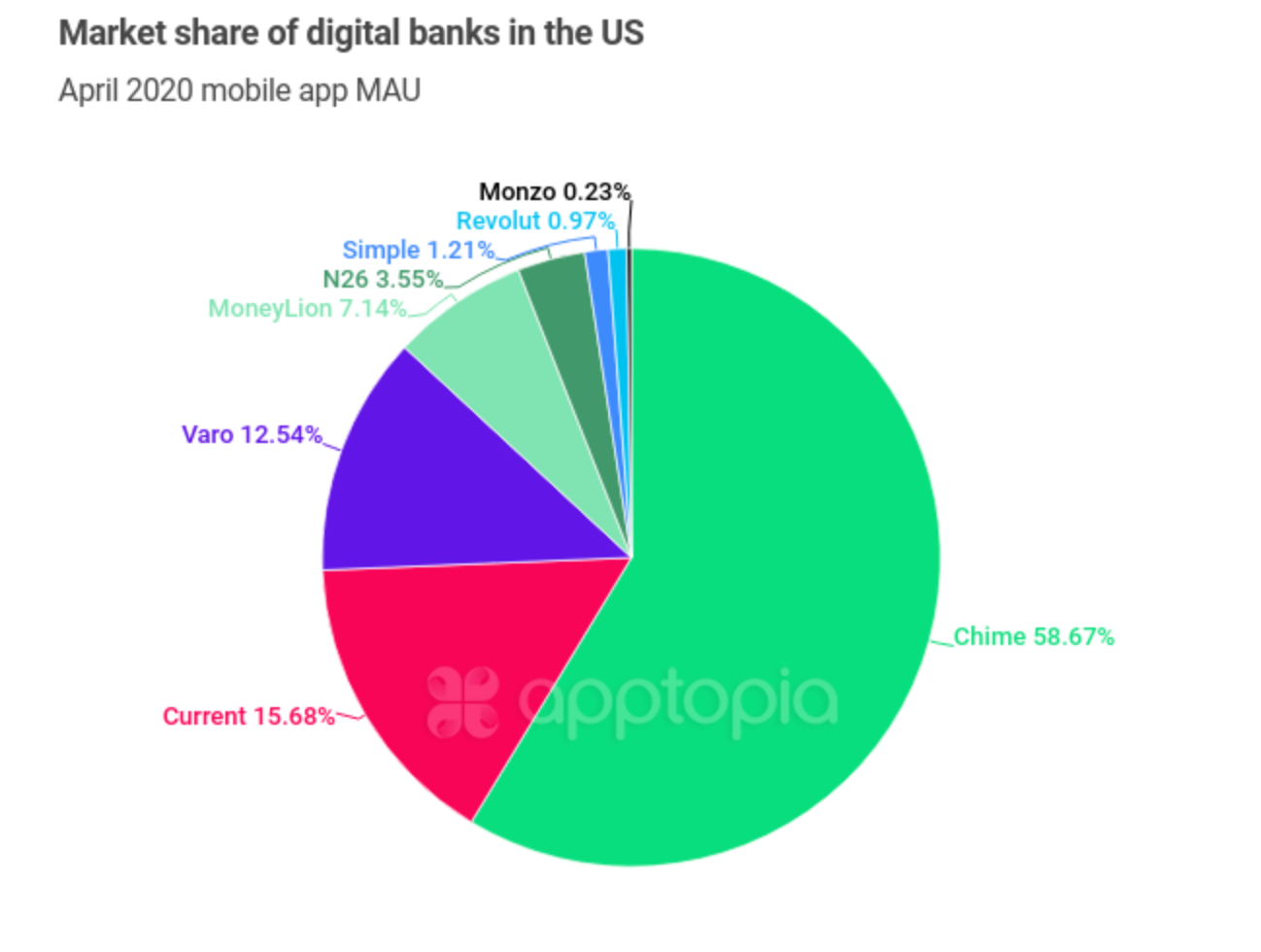 But it's not getting easier, with Chime seeing its numbers surge, having been approved to distribute federal stimulus packages. Meanwhile, another competitor Varo has been approved to become the first neobank to receive a US banking charter license. This will allow it to offer a full range of credit cards, loans and robo-investing.
European challengers are also up against increasingly tech-savvy traditional US banks. Apptopia estimates that traditional banks like Bank of America, Chase and Wells Fargo saw 180% more new monthly mobile users than digital banks did on average, over the past six months.
Even UK banking giant Barclays has been forced to scrap plans for an own-brand US digital bank after years in the works, a spokesperson confirmed to Sifted. The official confirmation follows earlier reports that hopes for the project had "fade[d]", having proven "extremely expensive".
Not all bad?
There is some good news, however.
Firstly, the data shows N26 has overtaken US player Simple, which launched in May 2012 and was acquired by BBVA two years later.
Meanwhile, Monzo has now officially embarked on the difficult, slow job of applying for a US bank license.
Revolut also seems to have piggy-backed off N26's campaign with a more impactful launch. Revolut saw 60% more downloads in the first 30 days after its March launch than N26 did in July last year, with Apptopia recording 26,000 downloads for the Revolut app in its first month post-launch.
Still, Covid-19 also seems to have complicated operations, given staff absences, cost-pressures and customer distractions.
In addition, the expansion into the US seems to have taken a toll on the European neo-banks' leadership. N26's US chief executive Nicolas Kopp announced he was stepping down earlier this year, while Revolut's US lead Dan Westgarth also left his role last month, replaced by chief executive Ronald Oliveira.
The US is not a winner-takes-all market, but can Europe's challengers take their share?