When you take part in an accelerator programme like Y Combinator or Entrepreneur First, your journey culminates with demo day — your chance to pitch your company in front of 1,000+ investors. 
At the end of our three-month YC experience, we pitched alongside 413 other startups from around the world that had been part of the programme. I was given 60 seconds to convince more than 2,000 investors we were worth their money. And due to the pandemic, YC had switched to a fully online programme, meaning the pitch was via Zoom — which was intense in a different way to investor pitches we'd done in the past. 
On the one hand you can't read the room, so you don't get any energy feedback from the audience. On the flip side it lets you prepare an environment that's more comfortable and familiar to deliver your pitch. We'd prepared extensively with the support of our YC partners, fellow founders and the whole Quan team in the weeks leading up to it. Although I delivered the pitch online, my cofounder Lucy was an arm's length away.
And our hard work paid off — afterwards we secured seed investment. Here's some demo day advice for other founders on the same journey. 
How do you prepare for demo day?
By the time you reach demo day in an accelerator or other similar programme, you're aiming to take the stage with clear learnings based on data. Maybe that's a better product, maybe you broke your product entirely and pivoted, or you've signed up more paid users than when you entered the programme and are that much closer to proving product-market fit. 
To reach that, my advice to founders is twofold: 
Set some clear and robust goals;
Be razor-focused on them from day one.
There's no "one" playbook, but as founders we felt as prepared as we could be by doing the following three things.
First, identify a key metric you want to considerably improve during the programme — in most cases this will be either revenue and/or user growth. For us (B2B SaaS) it was annual recurring revenue (ARR) — we set a target of $100k. 
After you establish a clear target, work out how each team member's work relates directly to it — just because a target is a "sales" target doesn't mean you can't translate what targets each part of the team has that support the company goal. Then, identify and connect with people outside your company that can help you reach this goal. In the early stages, warm introductions are the best way to get early users of your product (paid or free) so leverage past connections and your peers in the accelerator. 
Sifted Newsletters
Startup Life
Every Wednesday
How (and how not) to run a startup.
After you establish a clear target, work out how each team member's work relates directly to

it
Be clear about where you need support with your demo day pitch. Have a clear list of questions and ask to be connected with relevant people that have experience on the topic. For example, when thinking about our go-to-market strategy, I asked to be put in touch with other HR tech B2B SaaS founders to ask them five questions relating to their pre-product-market fit phase: questions related to sales, marketing and the key lessons they learnt. The interviews took 30 minutes, and after 10 calls I had some key insights that were super relevant and could be put into practice. 
Second, don't waste time reaching out to investors prematurely. They will use up a lot of your precious time if you let them. You need to build up an interesting story to tell (product, market, traction) and that requires you to be in building mode. When you're in build mode you need to park investor stuff; don't try to do both at once, especially not in an accelerator. 
Your investor process is like a sales process, so time-box it. As a founder, you need to know if you're in build mode or investor mode. Or, if you have a cofounder, split the roles. One of you focuses on building and the other on capital and investors.
The more that you can demonstrate that you've got the right people and you've got the right execution power, then the more you're a safe

bet
And lastly, I recommend building a strong group of fellow founders on whom you can lean for advice and support — this also goes beyond your demo day prep. Lucy and I have spoken with both seasoned entrepreneurs and first-time founders for a variety of reasons: from lawyer recommendations and hiring advice to heart-to-hearts about not having enough quality time with family. As a founder, you will be hit with many difficult times, and knowing there are others that have faced, or are facing, similar difficulties is therapeutic. 
How do you structure your demo day pitch?
Your demo day pitch needs to hit five key points:
A one-liner summarising the product
"Hello, my name is Arosha and along with Lucy we are the cofounders of Quan. Quan is an end-to-end platform to improve wellbeing and team performance."
The problem you're solving
"We do this first via a self-assessment which identifies the underlying causes of poor wellbeing, and then we match proven solutions for individuals and teams. Think of us like Peakon but for wellbeing."
Your founder experience (why are you the best to solve this problem?)
"Lucy and I have over 30 years' combined experience leading high-performance teams across companies such as PwC and Zalando."
When it comes to this bit of your pitch you need to really tap into who you are as a founder. Lucy and I have a long history of relevant professional experience — we understand our problem space very well. 
Prior to Quan I had my own consultancy in the team performance and wellbeing space — I've been able to think of the problem in a lot of different ways and connect with people that I've worked with in the past who can help me now.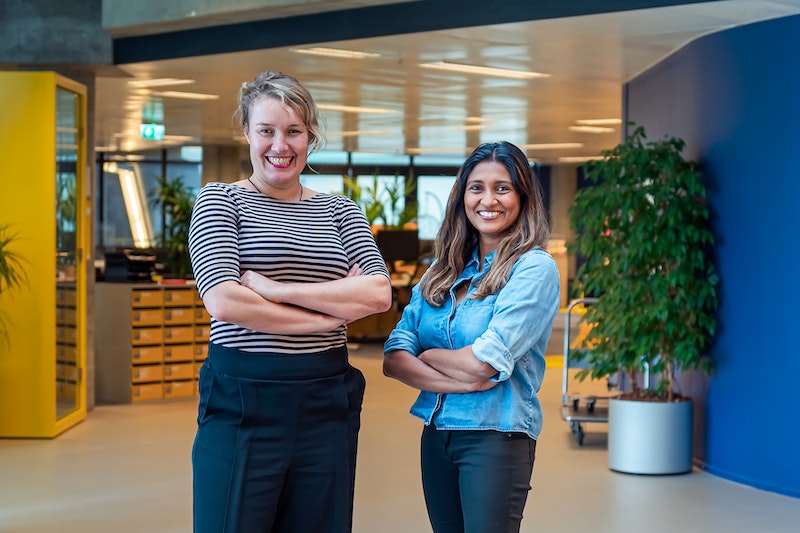 "Since launching our beta product 10 weeks ago, we have signed 18 customers for a total of $99k in ARR. We've also signed $324k of LOIs (letters of intent), including that audience."
Traction is the one you can really work on and have control over. It's also the element of your pitch that VCs are going to be paying airtight attention to during a bumpy market. 
The more that you can demonstrate that you've got the right people and you've got the right execution power, then the more you're a safe bet. This is especially the case during a down market — it's not about vanity metrics and growing at any cost, but rather a business that is delivering value.
Building a product that is being bought is what's going to guarantee Quan's longevity, not how much money we've raised. So our focus is exactly as Paul Graham says it: "Make something people want." 
"At a price point of $100 per user per year subscription, and with over 1bn knowledge workers in the world, this presents a $100bn market."
Market size is best calculated bottom up, with simple numbers to show unit economics. Show the potential, but make it tangible. 
One last piece of advice…
Accelerators are sprints, but you and your team are in it for the long haul, so pace yourself. Careful, focused preparation along with a solid dose of humility will ensure you're at your best on demo day — but also for future raises. After we closed our seed round, we're now building our investor network ahead of a Series A we hope to complete in the next 12 to 18 months. 
👉 Read: How to prepare the perfect pitch deck, according to VCs