Benidorm and Belarus are two places that have fairly little in common — one a sun-drenched nightlife destination for Europe's beachgoers, the other a country still trying to shake off its communist past almost three decades after the collapse of the Soviet Union.
But for Valencia-founded company builder Demium Startups, the two share a key characteristic: both are a goldmine of untapped tech talent.
Demium was launched in 2013 after founder Jorge Dobón struggled to get his own business off the ground in Valencia. Dobón was only 23 at the time but wanted to help other founders in his hometown navigate some of the challenges he had faced — principally a lack of investment capital in small hubs.
Now Demium runs incubators in 12 cities in seven countries, notably in Eastern European capitals like Kiev, Warsaw, Budapest and Minsk, as well as Athens, Lisbon, Barcelona and Madrid. 
It has successfully incorporated over 100 companies, with a survival rate (which they define as startups lasting beyond two years) of 75%.
Dobón's approach is fairly simple: identify cities that boast a lot of talent but lack a developed startup ecosystem, then recruit the brightest would-be entrepreneurs to join the programme.
Demium doesn't take founders with preconceived ideas, but pairs talented individuals together, who then develop a company from scratch. This process is informed by Demium's "ideation committee", which analyses trends and data to identify possible gaps in the market.
Culture shock
Dobón admits there are significantly different dynamics at play in Eastern Europe, compared with Spain.
"There is a different cultural fit with our model. The way we tackle that is that all of our teams in different cities are formed by local entrepreneurs," he says. "It's the managing director and his or her team, that are the ones who adapt the incubation program to the kind of cultural fit that they find in their market."
One of those is Denes Csiszar, who heads up the Demium operation in Budapest, which launched in 2019.
"The Hungarian education system doesn't support teamwork at all, so we need to educate them about proper teamwork," he says. "We also focus on raising awareness to the way people work together, especially because they are entrepreneurs, they need to be aware of their habits and behaviour so they may be able to manage people too."
At the same time, he says, Hungarians are not great when it comes to presentations and public communication, "so a significant part of our onboarding is to help them realise who needs to improve in which skills".
Going global
It's not just regional sensibilities that complicate Demium's task of launching startups across the continent — it's also the nature of the markets themselves.
"The local markets in Eastern Europe — let's say Belarus and Ukraine for example — they are not that big," says Dobón, "You have 50m people in Spain and sometimes you could create a €100-200m company just in Spain if you scale it decently. What we've found [in Eastern Europe] is you need to compete globally from day one."
This is certainly the case in Minsk, where Demium has just launched an incubator, headed by Dmitry Dosov. 
"Belarus is a small country, and we don't have our internal market," he tells Sifted. "So every startup has to do business on the global level. In Belarus, almost 100% of startups look to the global market."
Talent seekers
That said, while Eastern European countries might not have access to local markets of 50m people, Dobón insists that the region is overflowing with impressive deeptech talent.
"Reaching Eastern and Central Europe is an immense opportunity," he says. "We have, for example, companies in the computer vision space, the machine learning space, the artificial intelligence space, that we couldn't create in Spain. There is much more deeptech talent in those markets."
Hungary is not short of tech success stories, from LogMeIn to Prezi, AImotive and Tresorit, but, according to Csiszar, until Demium came along there was no one else on the market offering this kind of extremely early stage help to entrepreneurs. 
This is particularly important, he argues, in a country where the brightest minds are still somewhat wary of an entrepreneurial lifestyle: "We have amazing tech talent when it comes to technology, we just need to nudge them a bit more to take some risks."
Underdog mentality
Dobón verges on evangelical in his enthusiasm for the potential of smaller startup hubs, and seems to enjoy playing the underdog role.
"They need to do much more with less capital, and that allows them to develop survival skills because they need to compete globally but with lack of access to capital," he says. "We feel that hunger in an entrepreneur and we love it because you get to see the whites of their eyes. We love supporting them because they know how to make the most of what we offer them."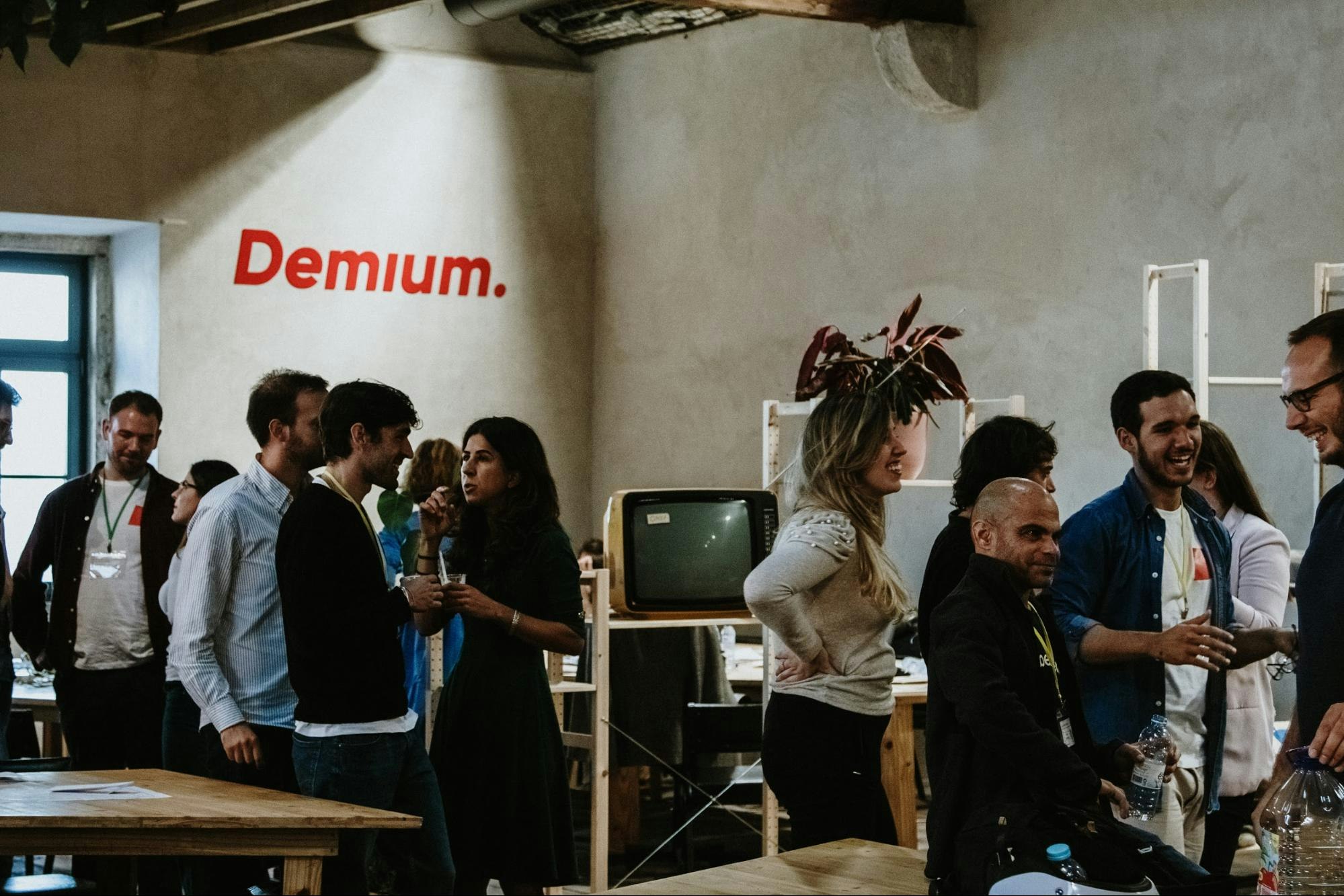 But the limited availability of funding does have major disadvantages for these markets, says Csiszar.
"An average startup funding round in the US is three to 10 times larger than a Hungarian one, meaning you must be three to 10 times as effective and smart," he explains. "There is, unfortunately, less room for making costly mistakes. You have to be more clever — but that's something we are traditionally good at."
Cross-border ambitions
While Dobón, Csiszar and Dosov all agree that it is Demium's commitment to local mentorship that has galvanised its growth, there are plans to integrate the hubs further.
"When in the near future we create cross-border founding teams, we are going to be really competitive," says Dobón. "An entrepreneur from Minsk will take advantage of being supported by a mentor from Valencia."
And while building companies in these very different places has its challenges, Dobón is a firm believer that it's this diversity that sets them apart.
"We are mixing the melting pot in Demium — we have people from so many different countries. We are really happy with the multicultural team we've built. There are people who do siestas and those who don't and that's just fine!"
Demium is now evaluating locations in Latin America in which to open incubators.
Five Demium companies to watch
Cuidum — founded 2015, Valencia Hub: marketplace for elderly care, care of dependent adults or home helpers. 50 employees.
Recoshelf — founded 2020, Kiev Hub: smartphone-based technology to monitor stock on retailer shelves. A recent Demium graduate and currently running a pilot with one of Ukraine's biggest retailers.
Influencity — founded 2014, Valencia Hub: data-driven influencer marketing platform which won the South Summit 2019 "Marketing and Content" award. 22 employees.
Berba — founded 2018, Bilbao Hub: business-to-business translation company using artificial intelligence to provide accurate translation at high speed. Nine employees.
Citibox — founded 2015, Madrid Hub: electronic locker provider for online shopping deliveries, which installs lockers in residential and office buildings. 82 employees.