The chairman of the dating app Thursday mistakenly sent a confidential email to a public-mailing list apologising for one of the company's cofounders being caught having "sexual activity" in the office, according to the company.
The letter, posted below, expresses "great disappointment" and says that the company's leaders "do not condone any sexual activity on office premises between employees." Chairman Tim Hammond added that, in line with government guidelines on coronavirus, the office has been "thoroughly cleaned".
Sifted was alerted to the note by this Tweet, and obtained a copy of the letter. The company has not responded to multiple requests for comment but issued a statement on its Instagram account saying: "We'd like to take this opportunity to apologise to anyone that received an unintentionally circulated email today. Thank you for alerting us to the mistake. Many have asked — was it rigged? No, but we'll run with it."
It's unclear which of the three cofounders — Sam McCarthy, Matthew McNeill and George Rawlings — were being referred to in the letter.
There is some reason to think the email being sent out widely could be a baroque publicity stunt, however, given it comes from a young company which has previously pulled pranks. Rawlings performed such a stunt last year on the streets of central London to draw attention to the app (then called Honeypot).
The dating app entrepreneur posed at busy spots with a huge cardboard sign saying: "I @GeorgeRawlings cheated on my girlfriend and this is my punishment. Do NOT download Honeypot." He later admitted it was a stunt.
Press coverage wasn't exactly positive, but Rawlings estimates that the number of downloads that resulted from the stunt equated to approximately £9,500 in online marketing spend. All that at a cost of £2.65 — the price of some cardboard and a pen.
But assuming the company is telling the truth, and there was an incident at the office which has been made public (in a particularly toe-curling example of sending an email to the wrong mailing list), it could be serious.
Last year, the chief executive of McDonald's was fired for not declaring an intimate relationship with an employee; an example that behavioural norms in the office are changing swiftly. Similarly, Thursday's investors may question the professional standards set by one of the company's founders.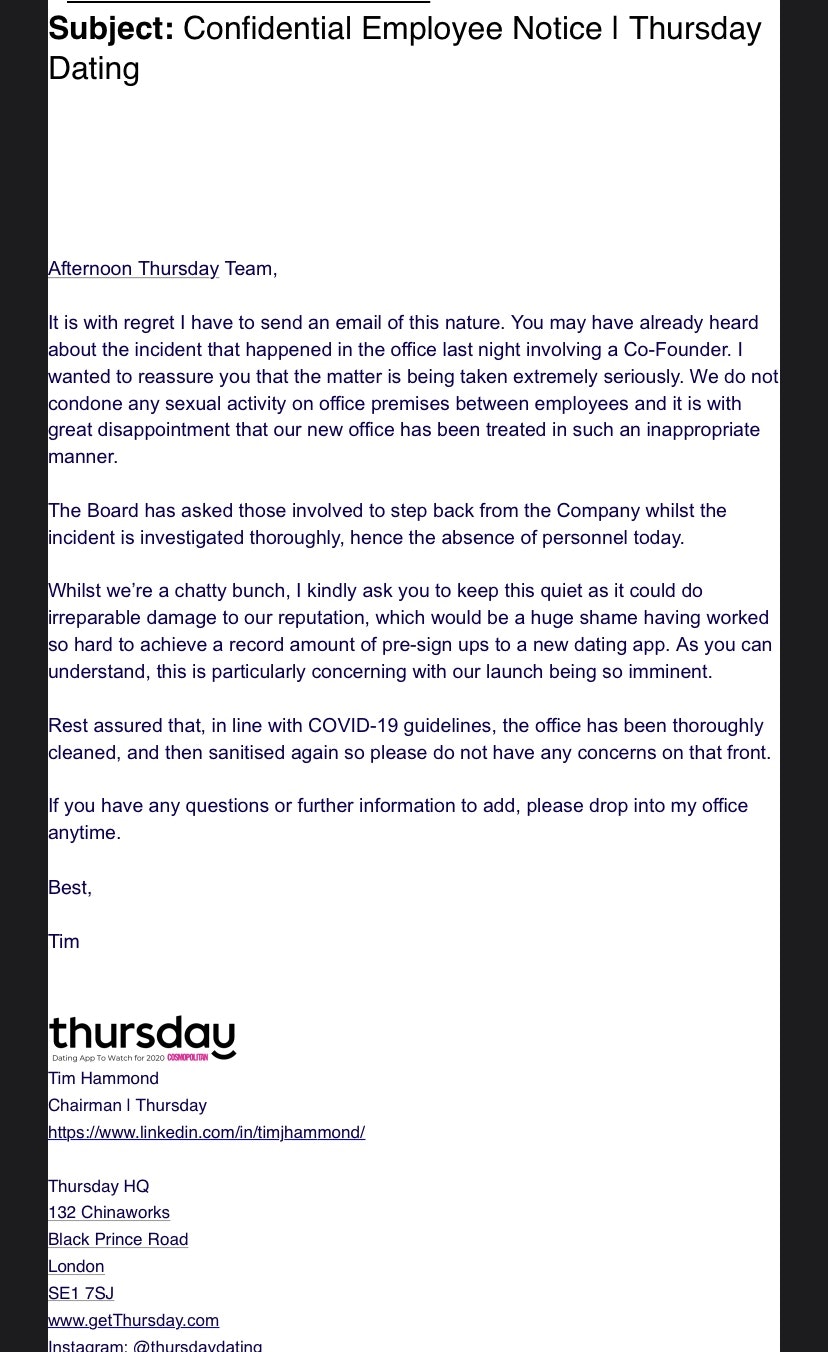 In a follow-up email to mistaken recipients also obtained by Sifted, the company downplayed the incident. It instead blamed the dynamics of a "mixed" office and seemed to suggest it had been an inevitable climax of "heightened impulses."