The number of people employed across Europe in tech startups has jumped 43% in the last four years, making the sector by far the fastest growing and most resilient job creation engine throughout the continent.
That's according to new data produced by the European Startups project for the Not Optional summit, an event involving Europe's leading tech founders, investors, policymakers and operators, hosted by Index Ventures and Slush. 
The data highlights how a generation of successful European tech founders is helping fuel record-breaking funding rounds and allowing tech companies to create new jobs at scale despite the Covid-19 pandemic causing a spike in unemployment levels across the wider business landscape.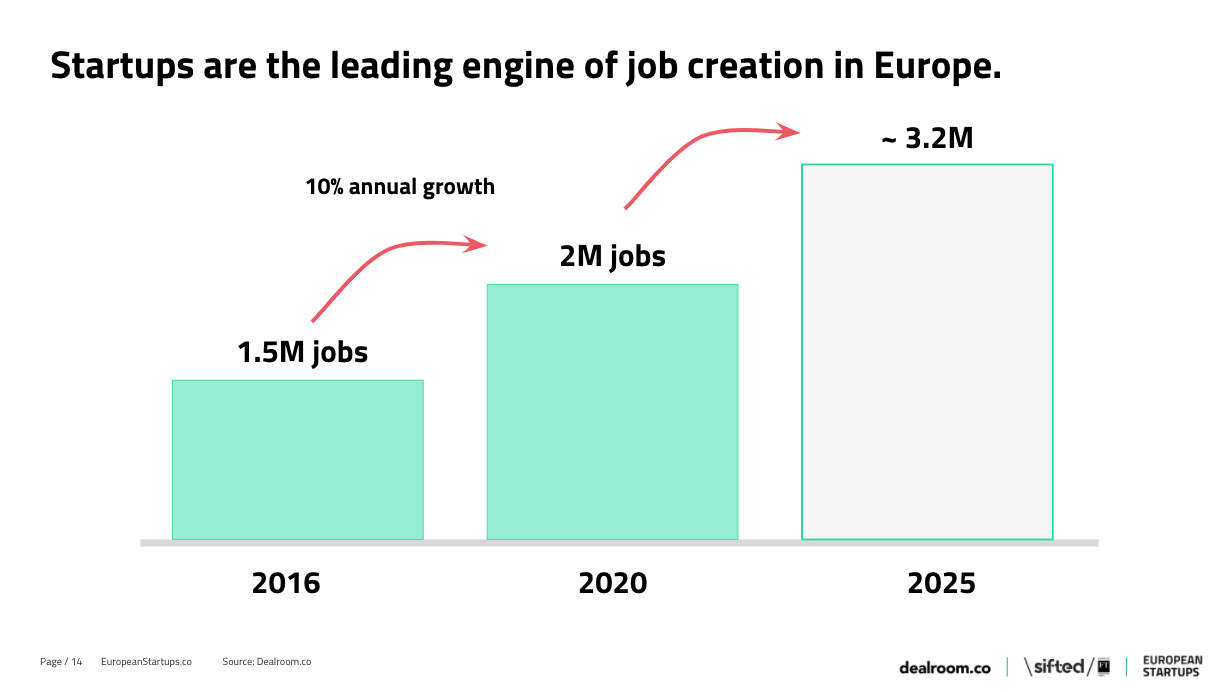 With two million people now employed in tech startups across Europe, the European Startups report predicts as many as 3.2m people will be employed in European tech by 2025. That's 10% year-on-year growth, with ecommerce, healthtech, fintech, and food verticals all expected to expand.
European VCs are on course to continue the record-breaking fundraising trend seen since 2015, tipped to raise a total of €13bn by the end of 2020.
But the data shows that European startups need at least three times more capital than has been raised in recent years by local VCs, meaning they're still being propped up by foreign investors. European companies are on track to raise a total of €35bn in capital by the end of the year.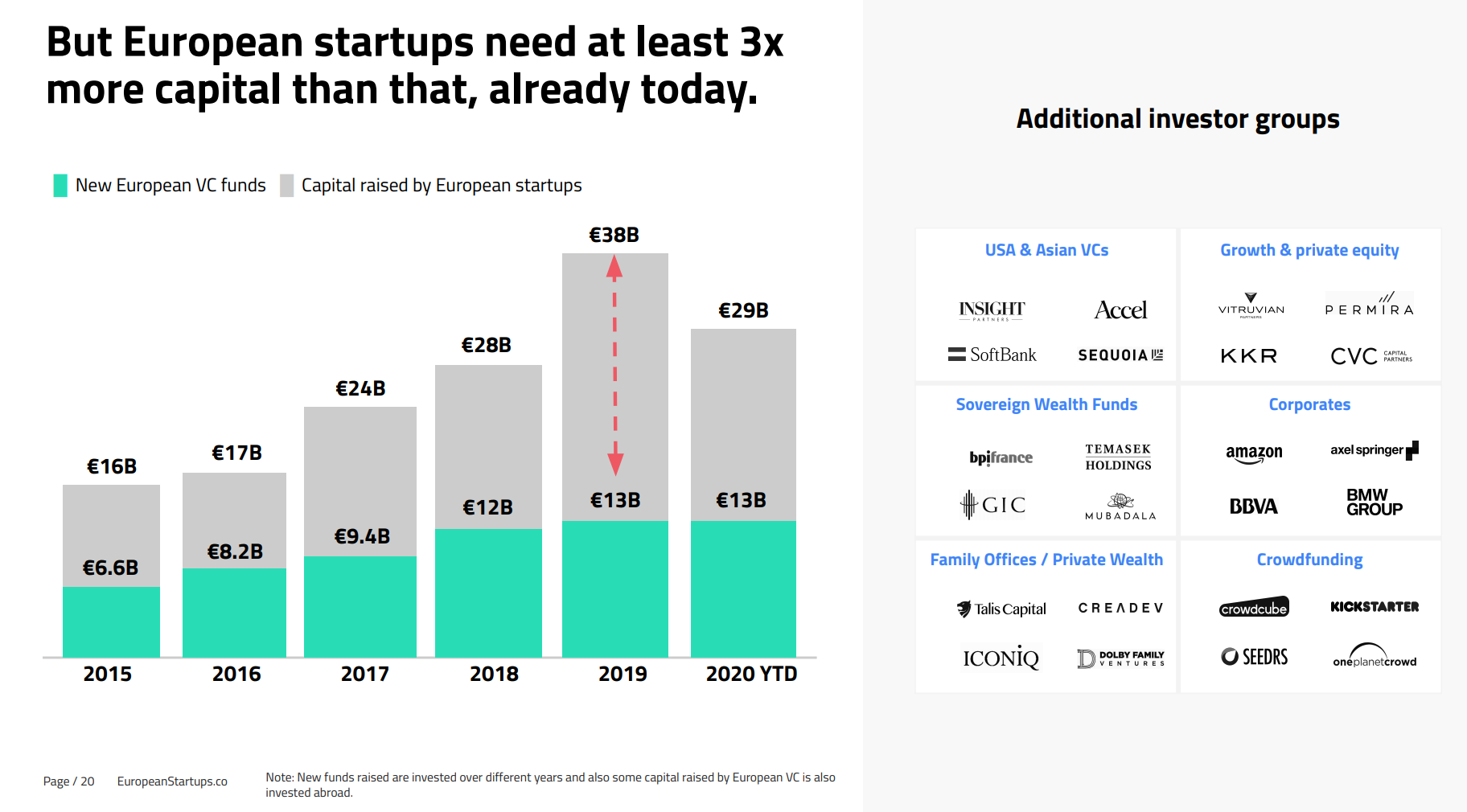 With European tech companies predicted to grow in size over the next decade, the funding gap between what startups need to raise and what is available in Europe is becoming more evident.
"There is no doubt in my mind Europeans will build some of the tech giants of the future. But we need to do more to harness the energy and creativity of entrepreneurs, investors and policymakers and ensure they work together to usher in Europe's tech-driven future," says Neil Rimer, cofounder of Index Ventures. 
"Europe will benefit from the innovation, growth and jobs that this will bring, but only if it makes supporting startups a strategic priority across the continent that is essential — not optional."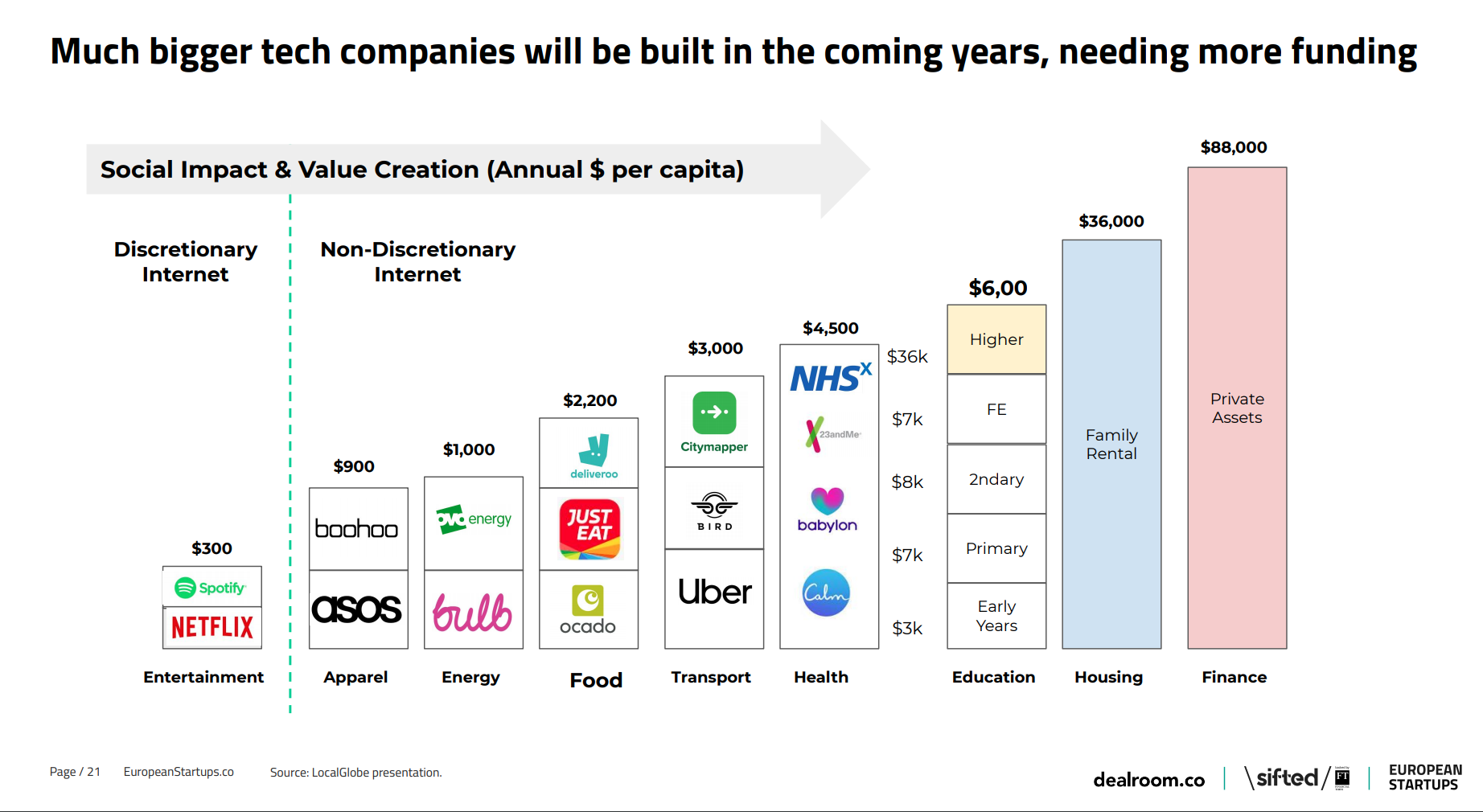 Here are 10 key data takeaways
Europe has created 205 unicorns since 2005, with founders and early employees from Europe's largest firms, including Skype, Spotify, Lovefilm and Klarna fuelling the next-generation of startups, scaleups and unicorns. The trend for experienced founders to invest as angels in the next generation of tech companies, plus a rapidly maturing tech ecosystem, is helping to establish Europe as an entrepreneurial continent, with startups now Europe's leading jobs growth engine. 
73% of European tech jobs are generated by 4,900+ startups. 
On average, each European startup employs 17 people.
Young companies are creating jobs at a rate of 10% year on year, ahead of the construction, real estate, and information and communications sectors.
The leading 10 European tech companies account for 77% of the value of the sector, but only 45% of the

employment.
The leading 10 European tech companies account for 77% of the value of the sector, but only 45% of the employment. Younger companies, particularly startups, are providing almost three-quarters (73%) of this increase in employment. 
Despite the record amounts of money being raised on the continent, European companies still depend on foreign sources of capital, particularly as they grow in size and scale. As rounds get bigger, most of the investment is likely to come from investors outside Europe. For example, in 2019, European VCs raised €13bn yet €38bn was invested in European startups; the difference coming from foreign investors. 
39% of total funding for European startups comes from the rest of the

world.
39% of total funding for European startups comes from the rest of the world. For funding rounds above $100m, this proportion rises to 60%. 
38% of global seed stage capital is now raised by European startups.
Yet companies looking to raise at Series B and Series C levels are experiencing a funding gap. At Series B, European companies take only 21% of global venture capital, falling to 14% at Series C. This is an opportunity for European VCs and also underlines how much more capital is needed by later stage European tech companies, if they are to grow at the same rate as US ones. 
Overall, the value of the top 10 European tech companies has jumped from €123bn in January 2020 to €215bn in October 2020.
The report is a research carried out as part of the European Startups project (a two-year initiative by Dealroom and Sifted, supported by the European Commission and European Parliament).