Community meetups are the secret to a flourishing tech scene. Or at least that's the suggestion of the chart below, which looks at how cities with more startup events also have more venture capital backed companies.
Today we at the Atomico insights team are filling in for Sifted's data guru Ian Hathaway, and highlighting this chart from the State of European Tech report on the relationship between community and success.
It shows a very high correlation (r-squared of 0.914) between the strength of tech community engagement within cities, as defined by the number of tech-related Meetups, and the rate of VC-backed tech company formation.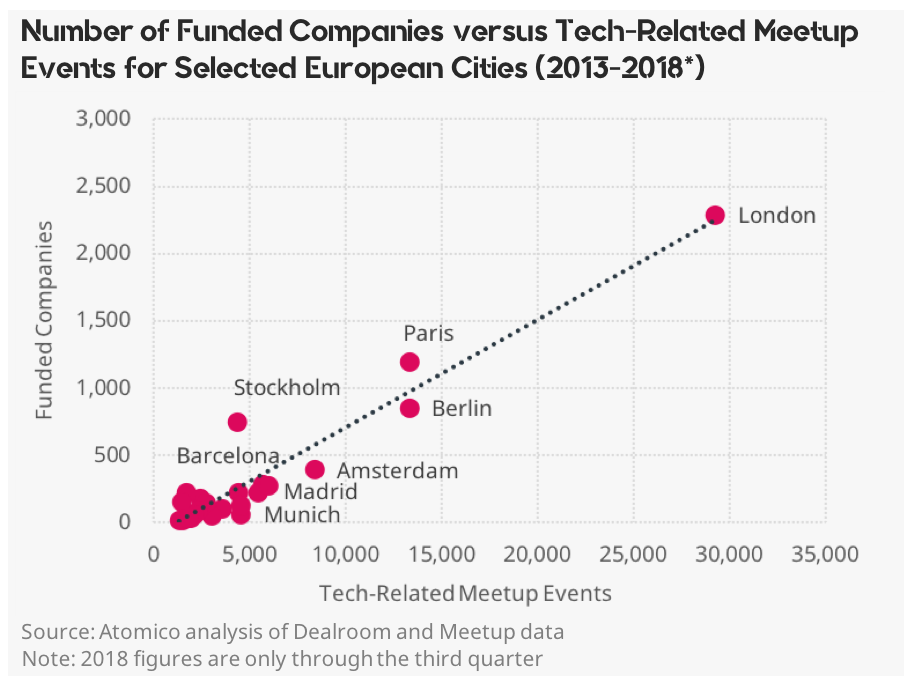 This all makes sense: if there are opportunities for like-minded individuals to share experiences and ideas, innovation will follow.
Take Berlin. The city is by far the largest hub in Germany by the level of capital invested, which represents more than 5x the level of the next largest Germany city.
But in terms of the underlying tech talent pool, it's only the third largest city in Germany, lagging behind the cities of Cologne and Frankfurt.
What sets Berlin apart? First, Berlin has been able to mobilise the local talent pool to direct its attention to tech entrepreneurship and startups. Secondly, Berlin has built an active and engaged community for those people to share knowledge.
If you can get those two really working, everything else will follow organically, including company formation, capital investment, job creation and more.
Sifted Newsletters
Sifted Newsletter
3x a week
We tell you what's happening across startup Europe — and why it matters.
This is because when cities succeed in building active communities around their engineering talent, the data suggests that capital investment follows in larger volumes.
The strength of tech community development is a critical leading indicator signposting the future potential of the European tech ecosystem.