Startups across Europe have been badly hit by the coronavirus pandemic — but reliable data on exactly what the impact has been, and how companies are trying to mitigate the effects of the crisis, is hard to come by.
Sifted found that in many countries in Europe, a large number of startups are using or plan to use job retention schemes to hang onto staff. We spoke to lawyers and VCs, who reckon that valuations at new funding rounds have dropped by 10-30%. And we've also looked into how certain sectors, like digital banks, have seen growth rates plummet during lockdown, while others, like sextech, have experienced a boom.
Now, a group of the UK's most prominent VC firms have teamed up to gather further data about the impact Covid-19 is having on their portfolios. 750 companies were contacted, 200 replied. They were quizzed on the toll coronavirus is taking on various aspects of their business, from hiring to advertising spend to fundraising plans.
The respondents ranged from pre-seed to Series C+ companies, in sectors including health to software-as-a-service to travel, with a variety of revenue models. Over 50% had at least 25 full-time employees pre-crisis, and 35% have raised more than £10m.
Find the full survey results here — or read on for our top takeaways.
60% have successfully renegotiated their workspace rent or are in the process of doing so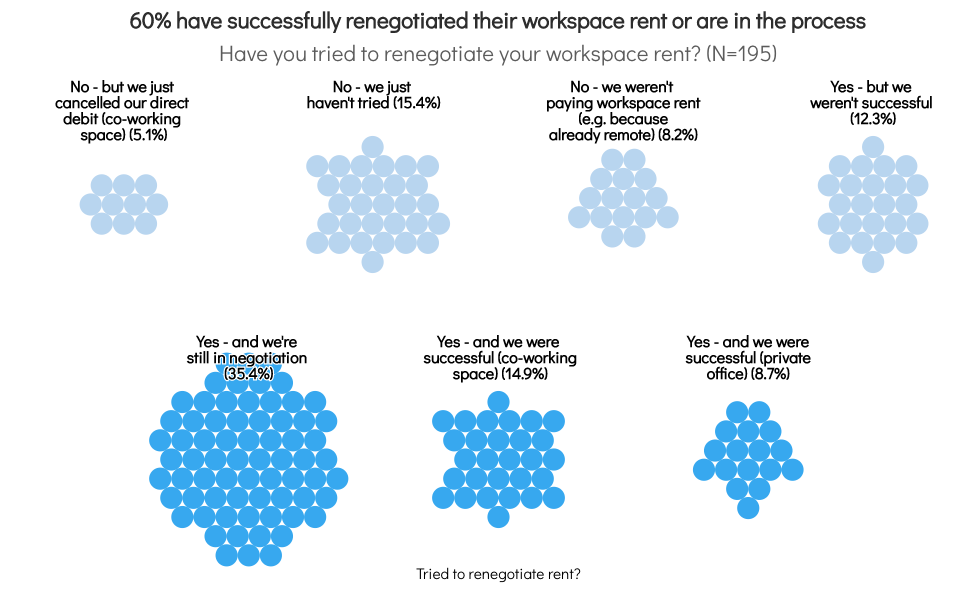 Coworking is one of the sectors expected to suffer a long-term, negative impact from the crisis. Not only are some tenants cancelling memberships (5.1% of startups surveyed) and other renegotiating contracts (14.9% of those surveyed), many companies are rethinking the value their office space brings altogether.
In March, a survey of over 14,000 coworking spaces in 172 countries worldwide by Coworker, a coworking marketplace website, found that 41% of coworking spaces have seen a negative impact on membership and contract renewals since the outbreak. 67% of spaces have experienced a drop in the number of new membership enquiries.
43% have stopped online advertising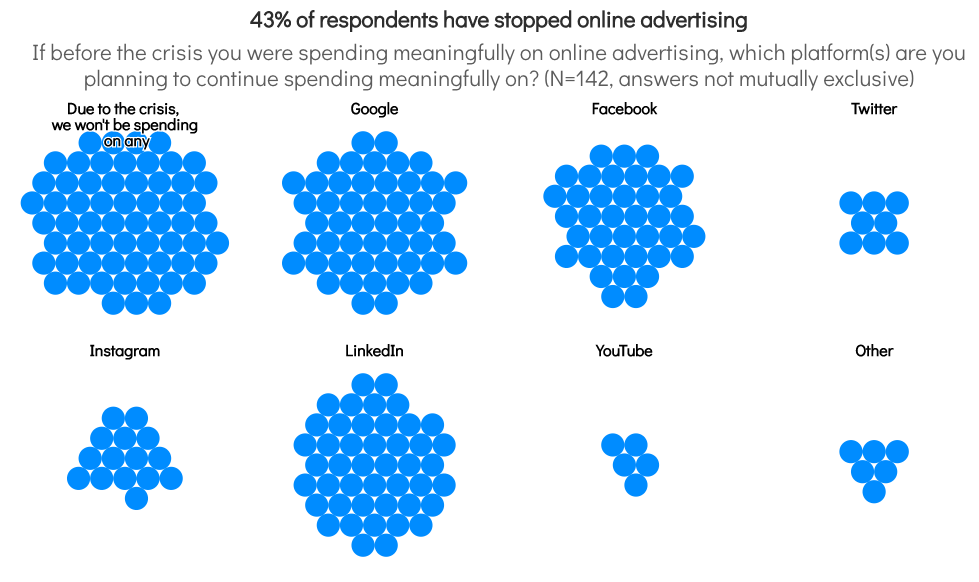 To acquire new customers, startups usually spend vast sums on Google and Facebook advertising — but not for the foreseeable future.
It's not just marketing budgets that have been cut, either; marketing teams are often first on the list to be furloughed, recruiters and employment lawyers told Sifted.
Sifted Newsletters
Sifted Newsletter
3x a week
We tell you what's happening across startup Europe — and why it matters.
30% of startups have cut salaries across the company by at least 15%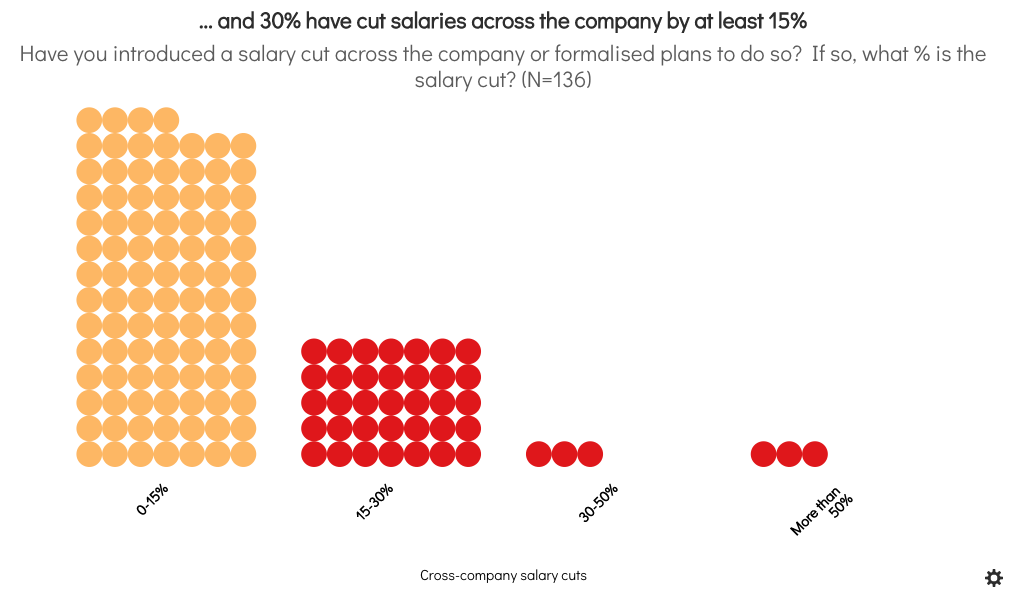 When it comes to staff, 16% of startups have committed to laying off at least 10% of their full-time employees.  Furloughing, a less dramatic path, is a more popular option: 26% have committed to temporarily laying off at least 10% of their staff.
Doubts remain about how many startups will be able to bring staff back once job retention schemes end, however.
Alongside layoffs and furloughing, 30% of startups have made salary cuts of at least 15%.
49% of respondents have frozen hiring, another 32% have slowed hiring
In March, the number of job postings and offers via startup and developer job sites dropped off — and the slump continues.
Otta, a UK startup hiring platform, has seen new job openings drop 43% over the past 45 days, with recruitment and HR roles disappearing entirely. At the same time, Otta has seen candidate numbers double.
A small number of companies, mostly those experiencing a boom due to the crisis, are hiring more than planned. (For a list of which startups are still hiring, see here.)
68% of respondents expect full-year revenues to drop more than 25%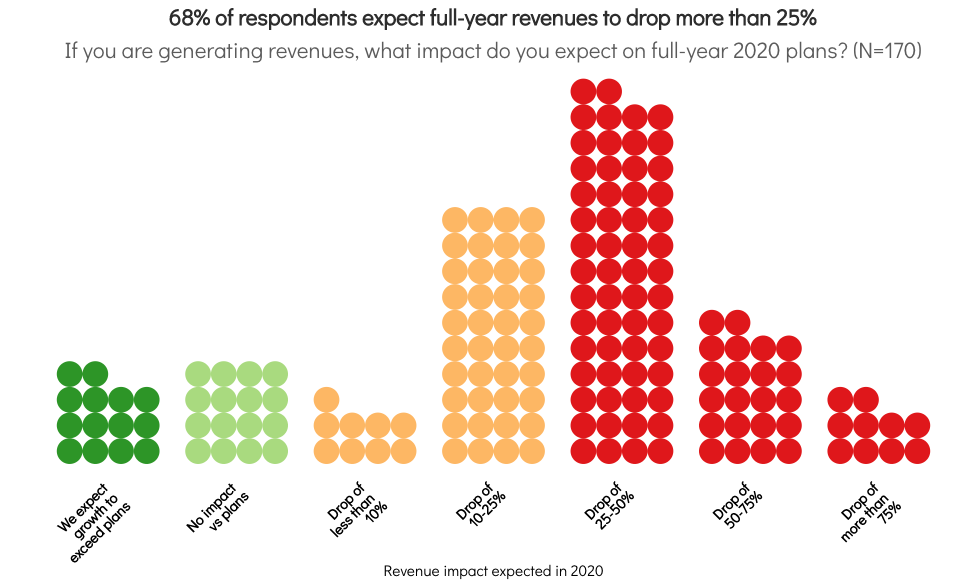 The reason for all of these drastic cuts? Revenue dropping off a cliff.
Startups are drastically revising their revenue expectations for the year, with more than two-thirds expecting drops of 25% or more.
39% of business-to-consumer startups have seen March revenues drop by over 50%, compared to 18% of business-to-business startups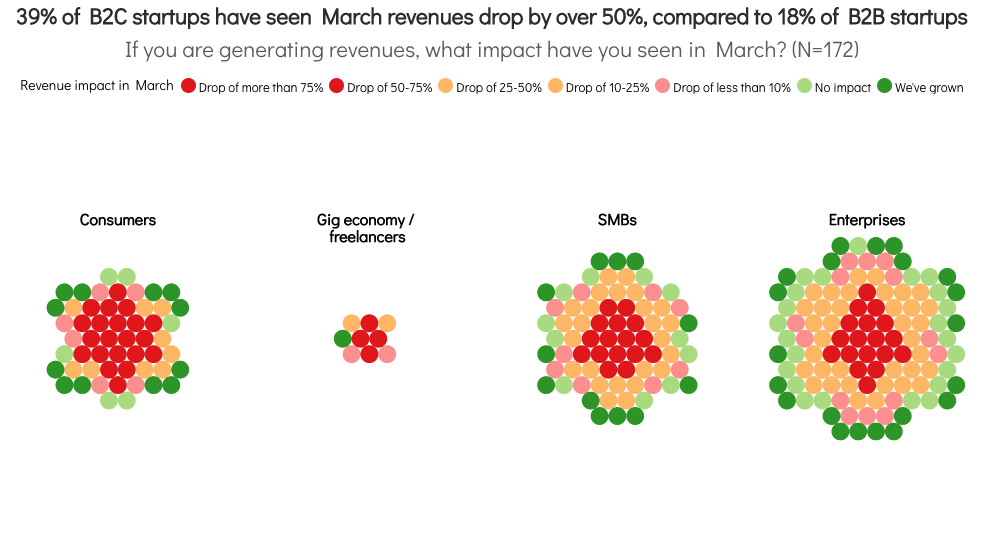 So far, business-to-consumer startups have seen revenues impacted more than business-to-business startups — but this is a result of a time-lag and will even out eventually.
40% assess their runway at less than a year (but a fair few reckon they have 18 months +)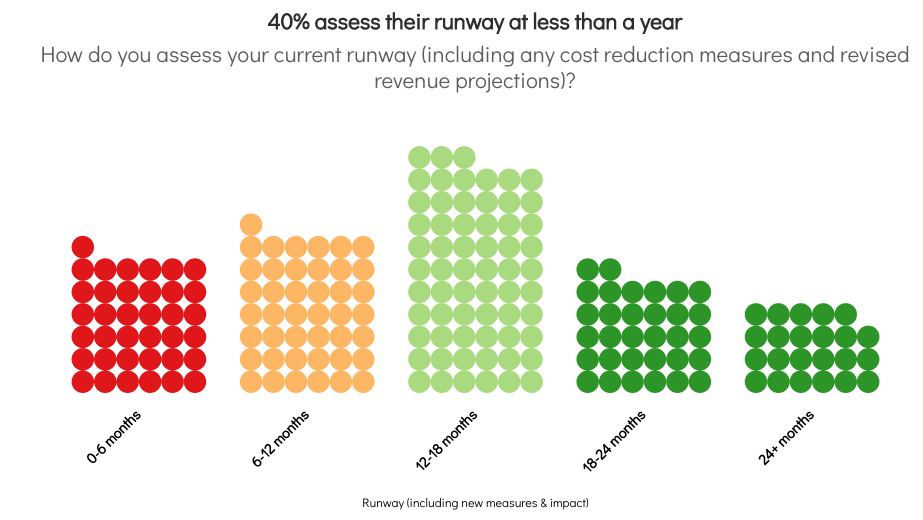 Many startups have a short cash runway — and this is always the case, crisis or no crisis. However, with revenues slowing and investors looking more cautious than they have been over recent years, having a short runway is a more worrying position to be in.
But, on the bright side, plenty of companies are flush with funding: 60% have more than a year's worth of runway.
33% don't believe they'd qualify for any loan though they may be interested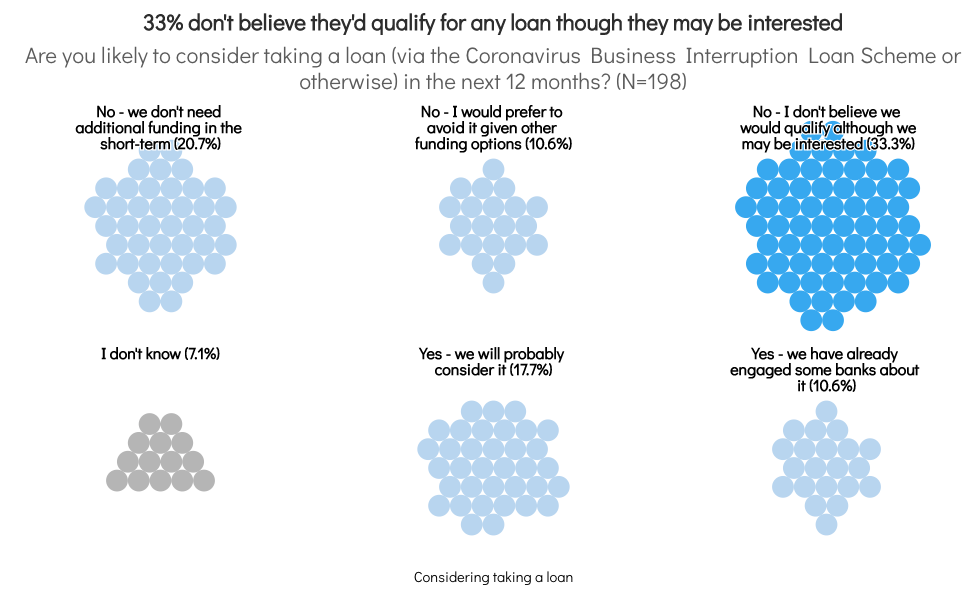 The UK's Coronavirus Business Interruption Loan Scheme (CBILS) has not been quite the lifeline many expected it to be when it was first announced in March. At last count, less than half of applications made had been approved.
According to the LocalGlobe survey, 33% of startups don't think they would quality for the scheme anyway.
41% are considering venture debt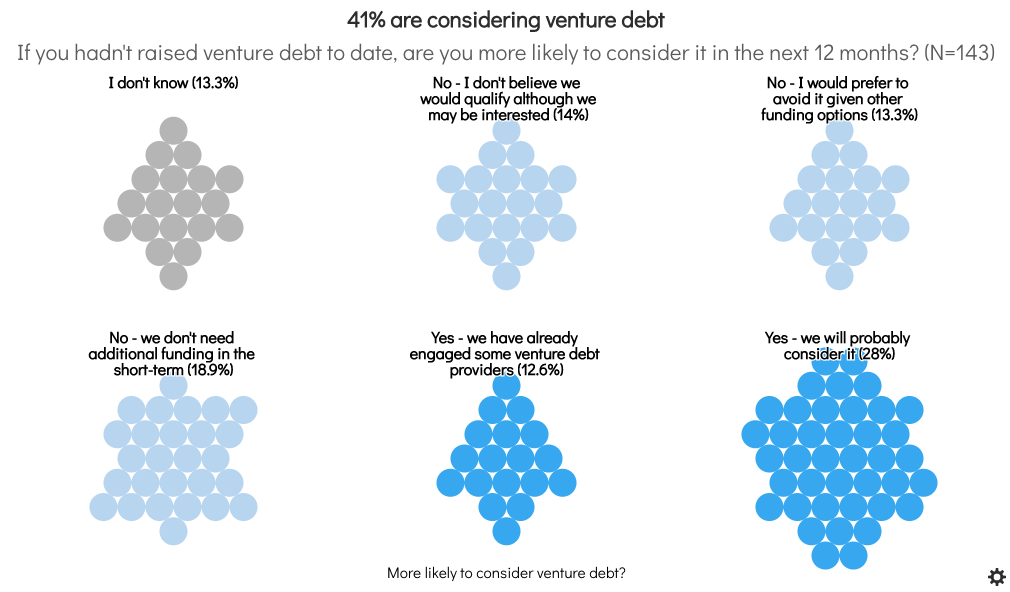 For startups expecting it to be hard to raise their next round of funding and struggling to access government support schemes, there is another option: venture debt. While 13% of companies would prefer to avoid it, 41% are considering it. (Here's what founders need to know about venture debt before taking it on.)
Finally, questions around people and cash flow are top of mind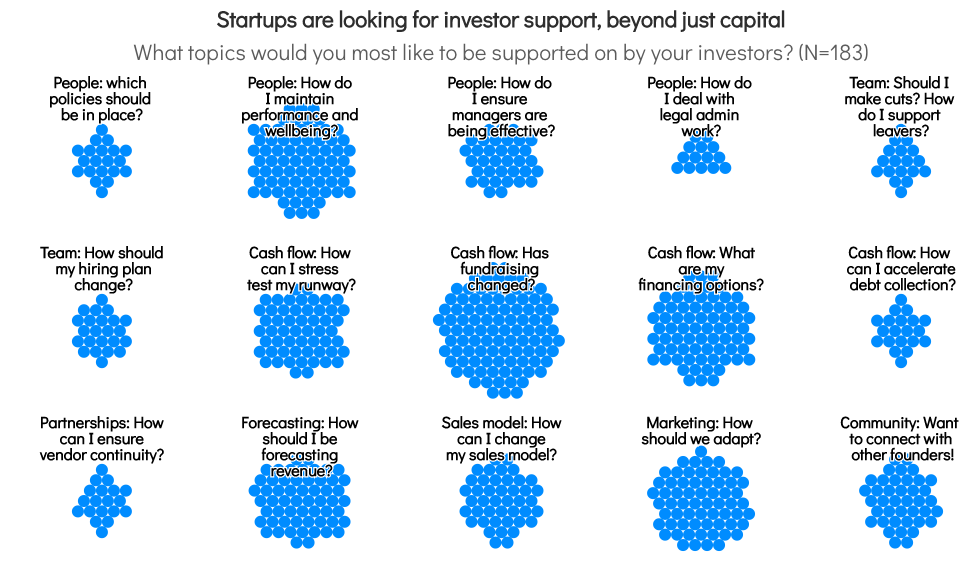 Startups have two concerns front and centre: how to best look after and manage teams during lockdown, and how to manage cash flow during the downturn. For tips on the latter, read this.