Imagine the ability to identify and prevent diseases without drawing blood or slicing someone open. The dream has inspired many founders — and driven some not-so-healthy hype. According to UK-based AlbionVC, there are over 50 startups working on diagnostics or clinical support in Europe.
But some diagnostics startups aren't just content to diagnose one thing — they want to make an all-in-one, full-body solution. Among those is a startup backed by Spotify founder Daniel Ek, which is developing a device similar to an airport security scanner. It claims it will be able to non-invasively gauge everything from blood pressure to irregularities in blood flow and skin conditions.
"If they get there, they're gonna be the biggest — they're gonna be the unicorns of healthcare," says AlbionVC healthtech investor Molly Gilmartin, talking about these all-in-one diagnostic tools.
What Ek's startup isn't telling us
UK startup Spectroma holds a small take in Ek's healthtech startup HJN. Founder David Herbada doesn't want to talk specifically about that collaboration, but happily shed some light on his business — from which it's easy to extrapolate how it might fit into HJN's full-body offering.
Sifted reached out to HJN about the Spectroma collaboration, but a spokesperson says there's no current collaboration and no plans for future collaborations either. HJN — in stealth mode — is keen to keep the information about what it's doing to an absolute minimum, which includes sternly advising people who have tried its diagnostic device not to talk about it with media.
Spectroma was founded during the pandemic as a spin-off from another diagnostics company that does imaging of tendon, muscle and joint issues. A collaboration with "someone in Sweden" — which seems likely to be HJN — inspired Herbada and the team to develop a solution to scan not just partial body parts. "We were going to image the whole body pretty much, like a CT [computer tomography] or an MRI [magnetic resonance imaging]," he says.
CT scans use X-rays and MRIs use magnetic fields and radio waves to get a picture of the inside of the body. Spectroma's device, however, uses ultra-wideband microwaves to image human or animal bodies. And according to Herbada, it's completely safe to use as many times as needed, making it a better alternative for CT or MRI scans when repeated imaging is necessary.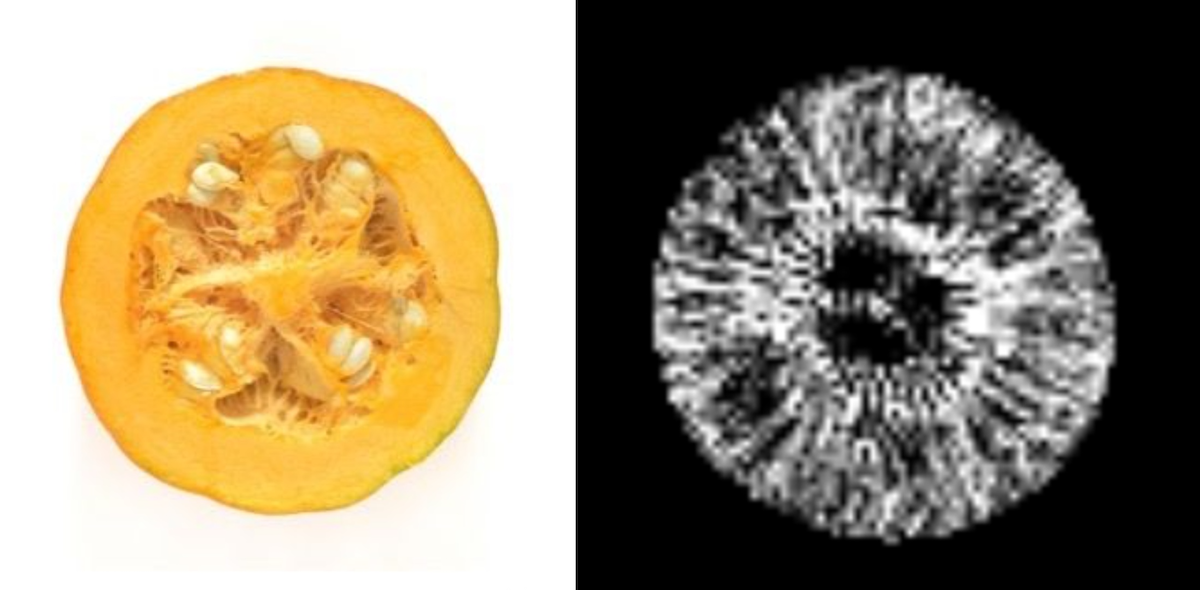 "We are using a fraction of the power of your mobile phone, and that's key for the system. You don't want to be exposed to very powerful microwave radiation, so it is low for safety reasons. But also, because we don't have to. By using a very wide band of frequencies, we don't need that high power," he says.
So far the images that Spectroma has captured are mostly of things like butternut squash, melons and other fruit. That makes it easy to compare the image with the real thing, as is tradition in medical imaging R&D.
And though it hasn't been used in humans yet, Herbada gives an example of how it could identify a case of fatty liver. Currently, a diagnosis requires biopsies, which means taking a sample of the liver with a long needle through the abdominal wall. With Spectroma's tech, a diagnosis could be done simply with blood biomarkers and non-invasive imaging.
He estimates that Spectroma will be doing human imagery on its device in the next year.
The Finnish cube
Ek's proposed "all-in-one" device is not alone. Three-year-old Finnish startup MedicubeX's walk-in box can measure more or less what a nurse would check on a patient entering a hospital: blood pressure, heart rate, oxygen saturation, respiratory rate, body temperature and weight. It can also measure electrical activity in the heart and the risk of diabetes just from attaching sensors to the skin — a novel detection method.
The box looks a bit like a call booth you might see in a coworking space. And you might even see them side by side in the future: cofounder and CEO Vili Kostamo wants the device to be part of more preventative care in daily life.
"We are also bringing technically identical stations to workplaces and big offices so employees can measure their risks several times a year, and they can react before they notice anything themselves," he says. "And this way we want to like reduce the total number of cases of cardiovascular disease and diabetes and their complications."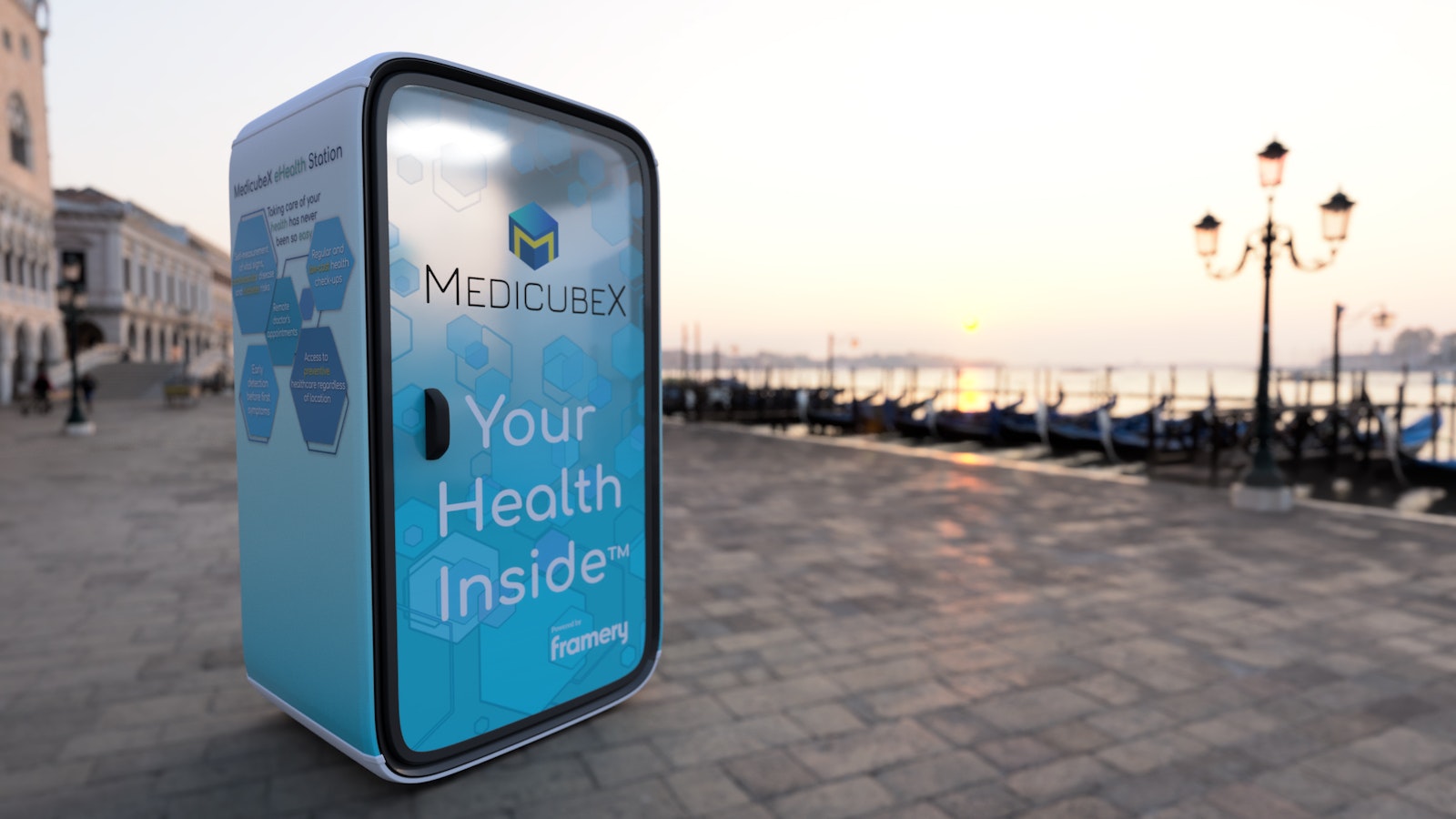 Unlike Spectroma and its proprietary tech, MedicubeX's box is based on repackaging existing technology in a user-friendly one-stop shop.
MedicubeX has raised €800k in a mix of crowdfunding, government grants and development loans and is looking to raise more at the beginning of next year. By using pre-existing devices, the startup has managed to develop its stations quickly by partnering with a contract manufacturer of medical devices.
According to Kostamo, the company has already signed a contract with one Finnish public health provider, responsible for half a million patients, which will start using the stations early next year.
"The idea is that in a hospital, for example, or clinics where this is going to next year, we help them deal with staff shortage," Kostamo says.
Challenges ahead
So while VCs are looking for the next big bet in healthcare, why aren't there more companies building all-in-one diagnostic tools?
AlbionVC's Gilmartin points out some areas where a more general diagnostics device may run into problems. If a device is user-operated, healthcare practitioners may not trust the results. If devices do need a practitioner to manage them, hospitals and clinics still need to pay staff costs.
Anothe is getting acceptance from clinicians by really proving their accuracy. That's a lot harder when you're doing everything.
"It's much easier to become really good at one area than in many," she says.
"The margin of error is always greater if you're doing only non-invasive tests so we want to make sure that everything we do is clinically validated and can be used for diagnostic reasons directly," says MedicubeX's Kostamo.
The future of primary care
What use is there for a primary care facility to take the tests when devices like Oura, Garmin and Fitbit are taking continuous measurements every day? Herbada asks.
Those devices give people an understanding of changes in their body, but the ability to see inside the body is key, he says: "By adding imaging devices that can actually see inside your body, you can measure respiratory rates, detect fatty liver, detect changing sleep patterns or restlessness and other changes from day to day.
"I'm not saying that all these devices have to be medically approved but they will obtain and process compelling enough data to raise a flag and tell you whether you need to see a doctor."
Spectroma and MedicubeX have a common goal of "totally changing the function and workings of primary care", as Herbada puts it. And according to him, there are a lot of other companies out with similar aspirations.
If these companies can overcome those issues as well as an economic downturn, there is a gap in the market for general screening, according to Gilmartin.
"These things can be quite capital intensive, even on the research and development side. And yet, If you can achieve something that is as general as that, that means your market size is really significant," says Gilmartin.