When lockdown is lifted, we will leave our sofas to cautiously re-emerge into a world very different from the one we left. Many of us have already had a taste of what it could be like, walking the (quiet) streets near our homes; hearing birds in the city and noticing children playing safely outside. Instead of unstoppable cars zooming by, there are bikes, many bikes.
It has been documented from all corners of quarantine that cycling has been booming and provided a lifeline in these slower times. But our cities were designed for automobiles, not bikes: we have paved them in tarmac and cleared the way for giant metal boxes that pose a threat to us all, in both accidents and air quality. 
Is there another way?
Before you leave isolation and climb back into your car, ask yourself, "Can I get there another way?" 68% of all trips made nationally in the UK are under five miles and over 50% of car journeys in London could be cycled in around 10 minutes. Things don't have to go back to the way they were. Never before have there been so many options to replace a car ride, many of which weren't even possible a year or two ago. 
Never before have there been so many options to replace a car

ride.
At Beryl we operate bike share schemes across the UK, and soon the US, and have been encouraged to see record ridership on our bikes throughout lockdown. Our purpose as a business is to get more people out of vehicles and onto more sustainable solutions.  
Today we are excited to announce the imminent launch of our e-bike and e-scooter, adding them to the bikes and cargo bikes we currently offer cities and the range of journey types we can serve. While e-scooters don't benefit the health of the rider as much as bikes, they can help a city's health, if rolled out responsibly and as part of a wider mobility mix.

Scooter skirmishes
E-scooters are a fascinating and controversial addition to urban mobility. In recent weeks, as people seek safe and independent transportation, it's been interesting to see cycling and bike share booming, but the same has not been true of e-scooters. In the US, spending on scooter rentals has fallen more than all transport options, by nearly 100%. Meanwhile, their European counterparts Tier and Voi wound down their operations in most major cities. 
Why is this? I believe it's partly due to the type of journey made by e-scooter, typically short leisure trips, often by tourists, which are either non-essential right now, or short enough they could be walked. Instead, people are turning to bikes for the comfort of longer, essential journeys that may be replacing a car or public transport, as well as using bikes for their daily exercise. 
As the UK prepares to commence trials of e-scooters in cities, I believe there are a few things to learn from Europe and the US. What is clear is that scooters need to be part of a wider mobility mix, with a range of modes to serve a range of journeys, and having multiple operators in one city does not work. Exclusivity enables profitable operations and a true mobility partner for the city; a partner they can control, test and iterate with. Vehicles are going to have to be of the safest design and there needs to be proper road accident reporting in hospitals. Finally, in a world where social distancing and pavement space are at a premium, vehicles have to be parked in enforceable, geo-fenced locations, agreed with the city.
Sifted Newsletters
Sifted Newsletter
3x a week
We tell you what's happening across startup Europe — and why it matters.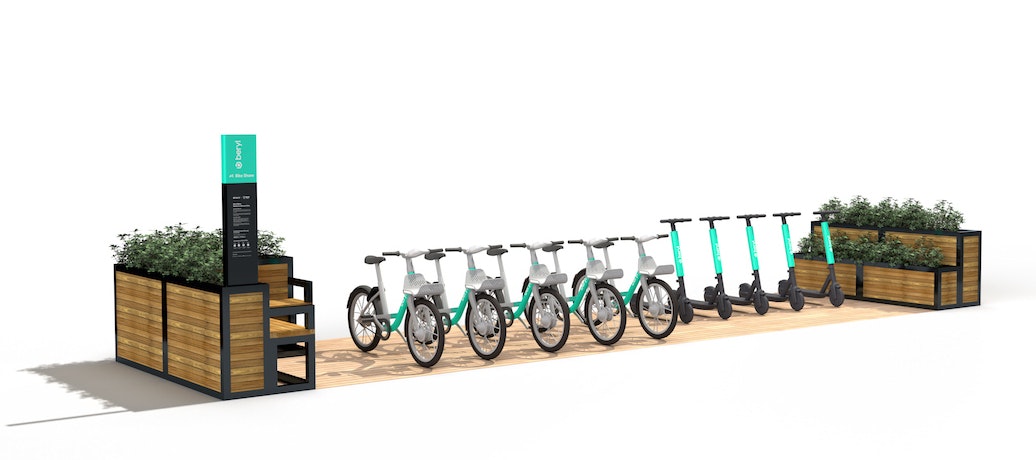 Making space for more sustainable options
If you redesigned cities today, you certainly wouldn't do it around the car. Today they carry on average 1.6 people, in London they account for 37.3% of journeys, yet take up approximately 80% of the space. They are one of the most polluting and inefficient forms of transportation. It's not easy to change hundreds of years of old infrastructure and reallocate the use of some of the most competitively populated patches of our planet, but Covid-19 has given us the chance to take a collective breath and reassess old habits that don't focus on the collective good. 
If you redesigned cities today, you certainly wouldn't do it around the

car.
Cities around the world are seizing this extraordinary pause to claim back the street space. Paris has created 650km of post-lockdown cycleways, New York has pledged to close 160km of roads to through traffic and Milan is redesigning 35km of central roads. London just announced its bold new 'Streetspace' plan, overhauling jet routes to enable an estimated tenfold increase in cycling and the UK government is investing £2bn into cycling and walking, including a £250m emergency active travel fund.
This is absolutely the right thing to do: now is the time to act for lasting change. Otherwise, as isolation ends, there is a real risk old habits are not only adopted but favoured. In China, as lockdowns are lifted and people desire to remain socially distant, Wuhan has demonstrated a drastic shift away from public transport into private cars, with 34% car trips pre lockdown almost doubling to 66% post-lockdown, with car sales skyrocketing. As air quality has been directly linked to increased fatality rates of the disease, this is absolutely the worst thing to happen to an area already hit so hard. Thoughtful action needs to be taken now to stop this happening elsewhere.
Wuhan has demonstrated a drastic shift away from public transport into private cars, with car trips almost doubling

post-lockdown.
However, I feel optimistic; change so often comes from crisis. The Netherlands only became a cycling nation in reaction to a period of terrible road traffic deaths, primarily of children, plus the oil embargo of the 1970s, causing the government to introduce some drastic pro-cycling measures. 
It will take a combination of two things — accelerated user adoption plus government support — to lead to lasting change. I hope we leave this crisis with the balanced tipped in favour of mobility solutions that benefit the wider community, rather than the metal boxes that endanger them.