Sadia Sheeraz, a final year social policy student at the London School of Economics, will in a few months try to enter a bleak UK jobs market where youth unemployment has surged due to the Covid-induced recession. 
"I'm terrified of graduating," she says, adding that she had watched her friends a year ahead of her "struggle" to get good jobs. "It didn't matter that they had LSE on their graduation certificate." Indeed, the current situation is "substantially more difficult" for graduates than in 2008-09, according to the Institute of Fiscal Studies.
But Sheeraz is taking solace from the fact that she's been buying into cryptocurrencies over the past 12 months — perhaps its most successful season yet. The price of bitcoin has jumped from £6k last year to £38k today.
While she says it's a "relatively small amount of money" she has had invested, the value of her positions — which she intends to hold long-term — now gives her a cushion to be able to live and pay the rent if she can't immediately find a job.
"There's so much comfort in knowing that because I'm financially independent, I will survive if I don't immediately get employed following graduation — I won't just suffer." As a working-class student, she says, "cryptocurrency really has given me a sense of autonomy over my options and what my money does."
The schools aren't alright
Sheeraz is not alone. While exact numbers on the exact demographics of crypto investors are hard to come by, research suggests that it's mainly young people who have been jumping on the crypto bandwagon in this tough year.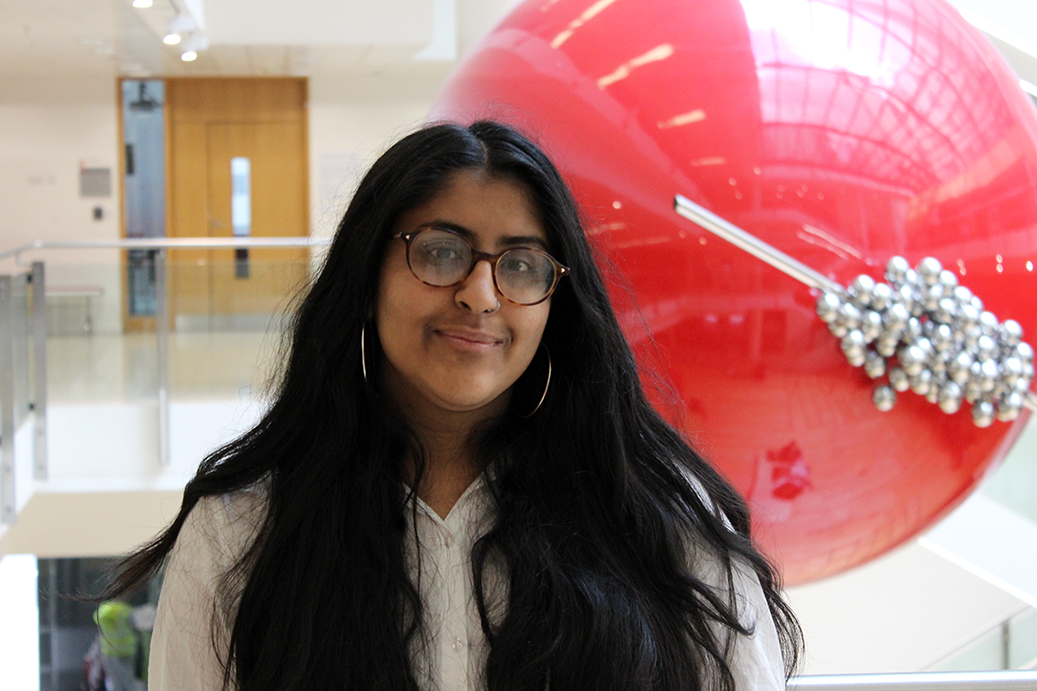 Last Thursday a survey by financial group Charles Schwab found that 51% of UK investors under 37 now trade cryptocurrencies, double the 25% of whom that buy or hold equities; while a report by the UK regulator FCA found that new crypto investors in the last year "tend to skew more towards being female, under 40 and from a BAME background."
The FCA report also highlights how people like Sheeraz are learning more from non-traditional sources about alternative investing than at university.
In a finance class at Leeds, for example, George Benton was taught that bitcoin was a bubble and would hit $0 — at the time, the price of one bitcoin was $10k. 
"I was at the back of the lecture theatre, all my mates were laughing, I was like 'No he's wrong. He's wrong. I'm not gonna say anything, but give it a couple years.' And here we are." 
While many university departments in the UK remain sceptical about the new market, little pockets of youth-led initiatives are popping up all over the UK — with an aim to introduce their peers to blockchain tech and particularly its financial applications.
Their goal is to upskill young people beyond day trading and into cryptocurrency and blockchain-related careers.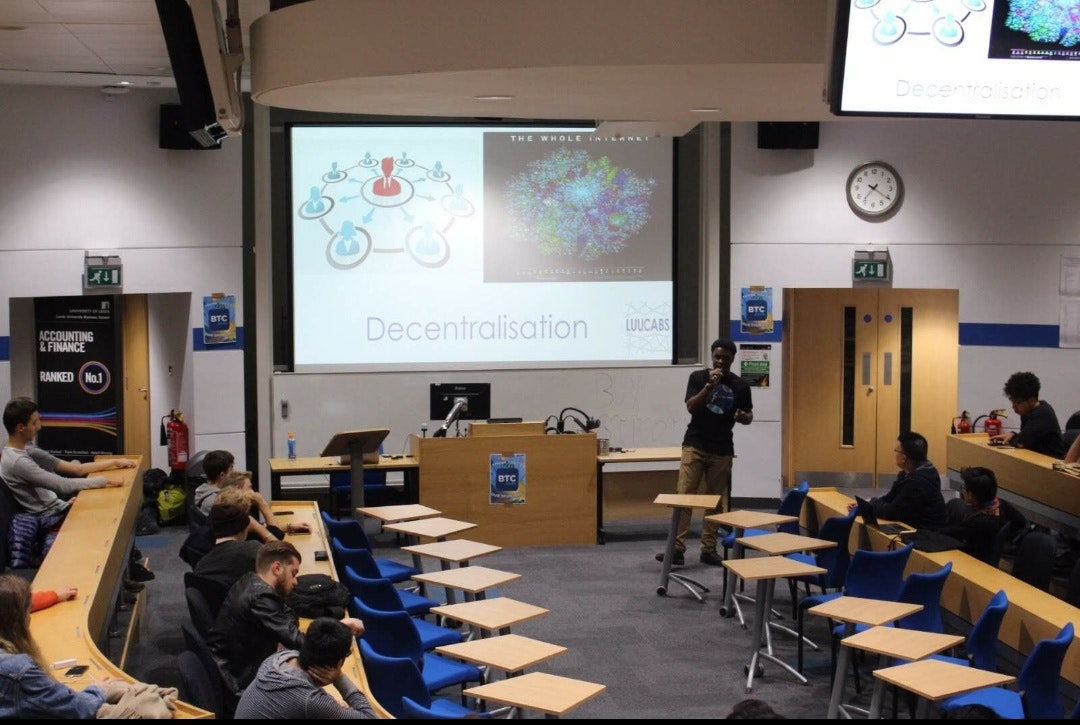 Benton is now operations lead at blockchain community Encode Club, and cofounded the first undergraduate cryptocurrency university society in the UK back in 2017 — LUUCAB (Leeds University Union Cryptocurrency and Blockchain). For him the rejection of mainstream finance has given him a career while others are struggling. 
To prepare the next generation, he says, academia needs to catch up. "I think there should definitely be a blockchain module in most computer science courses because the point of universities is to get people jobs at the end of the day," he says. "Maybe in economics, [professors should be] looking into the economics of deflationary currencies."
But Emmanuel Young, another founder of LUUCAB and currently a freelance journalist reporting for BeInCrypto, says that one of the exciting things about cryptocurrency is that it encourages intellectual curiosity and personal research.
I really admire the fact that in crypto there's this philosophy of

decentralisation
"I really admire the fact that, in crypto, there's this philosophy of decentralisation and 'do your own research,'" he says. Young, who has also cofounded Provence Intelligence, a cryptocurrency consulting firm, added: "The idea is to prompt people to go and research things themselves and provide for their needs, rather than provide complete one-to-one guidance."
Debates around widescale adoption and the environmental impacts of proof-of-stake vs work technologies (amid the climate crisis) are still ongoing. That being said, young people are proving themselves well-placed to understand and influence the future of the emergent technology. 
"I'm still learning," Sadia says. "It's also important that I don't lose track of those things that take priority over money, such as the environment."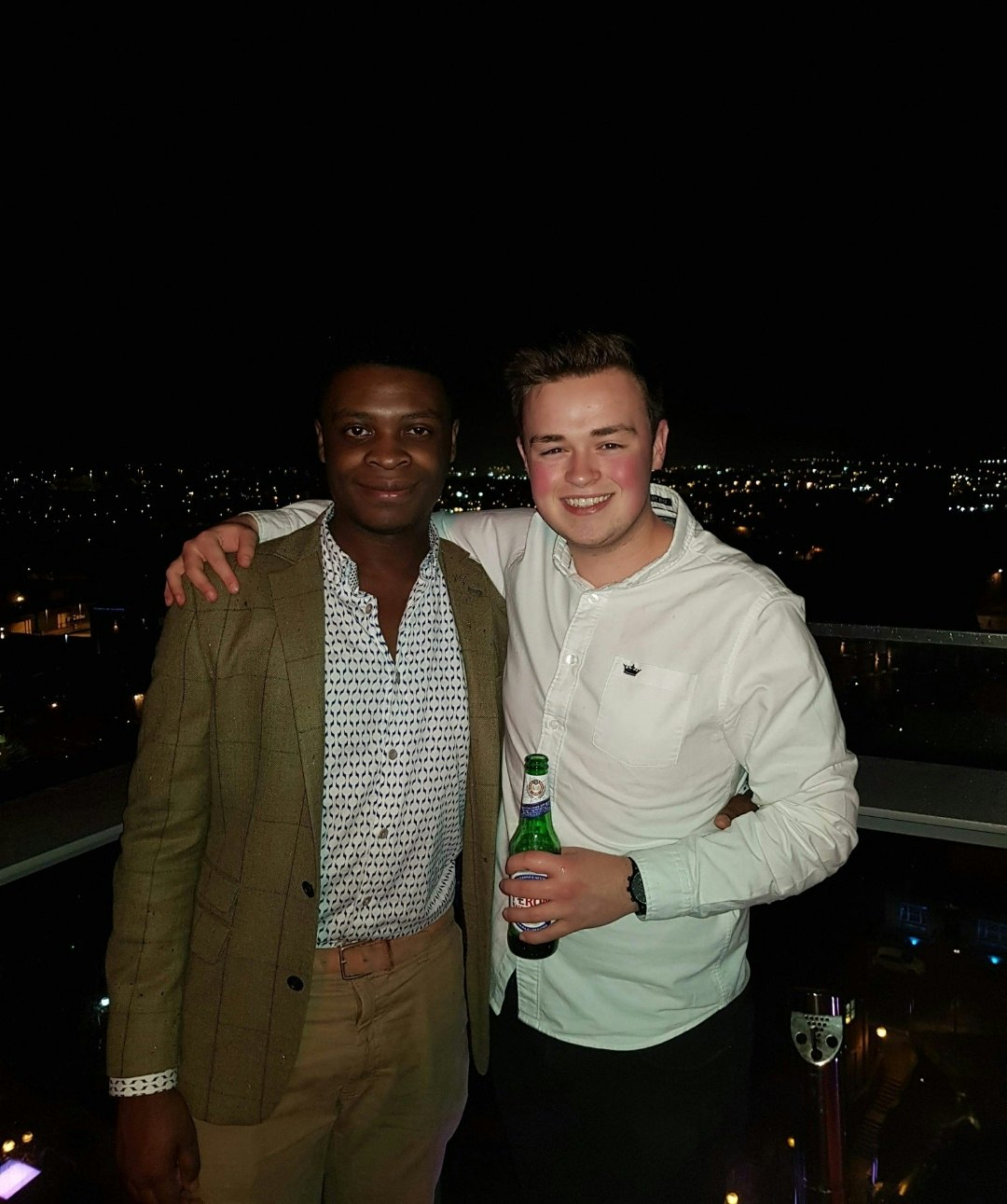 Cryptocurrency in the era of TikTok
But where do young people go to get that information?
There's a wealth of information on the internet, and Sheeraz has taken advantage of that.
Though she recommends "a lot of YouTube videos" and Investopedia, a dictionary for financial terms, her journey into cryptocurrency really began with TikTok. 
"At the beginning of the pandemic, I fell down this whirlpool of stocks, crypto and trading TikToks. I started to take it more seriously that money needed to change, money as we understood it needed to change. It was people like me casually making videos about crypto."
"There's this message on TikTok about cryptocurrency basically being another chance at redistributing wealth — if we can understand the mechanisms, people who have typically been excluded from traditional wealth could make informed bets that could help us build generational wealth. I think it really did inspire a sense of optimism in me that created that drive to actually get stuck in and figure it out."
It's so important that I understand it, because then I can help other people start to understand it as

well.
Gen Z are often perceived as a very political generation. As a social policy student, does Sheeraz see so-called 'revolutionary' potential in the tech? Is it even possible to address these wealth gaps?
"The rich have created these games of trading — they are able to turn their money into more money through these mechanisms in a way that the general population is not, and that's something that really irks me. That's why I feel it's so important that I understand it, because then I can help other people start to understand it as well."
Though there's certainly an anti-establishment edge to much of the cryptocurrency community, for Sheeraz, timing and ideology are more important than the potential of blockchain applications.
"I think there's a difference between the potential to be powerful and revolutionary, and the real-life development of it — because the politics and the people make a big difference." She's been inspired by the protests against SARS in Nigeria, where funds were collected and transferred using cryptocurrencies.
"We can bypass so many things that have maintained injustice for so long. I still have my bank, but I have some money aside that only I can control, only I can access and nobody can prevent me from doing what I want. I have optimism that this is a way to make sure you have a backup plan when [politically,] things go as far south as they can."
"It's people like me and [other working-class, young people] taking the time, accepting the risk of learning about crypto, investing in crypto and starting to get our heads around the system before it's completely dominated by impossibly strong hoarders and institutions."
It is this DIY attitude that has many worried though, with claims that too many young people involved in the sector do not understand the risks. The almost-adolescent market is still volatile. Combined, it now surpasses the value of silver, in March the price of bitcoin hit its all-time high of $60k, ethereum just broke its all-time high and last week crypto exchange Coinbase excited European fintechs as it listed on the Nasdaq.
But just last week the price of bitcoin fell 13% in a single day. 
The FCA research showed that some 59% of those investing in products like crypto admitted they may not have the means to withstand a significant financial loss. The FCA also found that over four in 10 do not view "losing some money" as a risk of investing, while 78% claim to rely on "gut instinct and rules of thumb" to know when to buy and sell. 
Sheeraz feels aware of the risks. "It's a relatively small amount of money [I've put into crypto]," she says. "If I lose it, it won't completely cripple me financially, but if I gain from it, I have an extra level of security.
A career, not just an asset class
Many people feel that by entering into the cryptocurrency space early, not only do they have a better chance at long-term financial gains, but also an opportunity to develop niche skill sets early on.
It's not just this fad, you can be employed in

it.
"One of the things George and I are very, very passionate about is [that] crypto is an industry," Young says. "It's not just this fad, you can be employed in it." This means that crypto is not just about whether cryptocurrencies go up or down, but something much more.
Such a future was not guaranteed five years ago. When he was 17, Young was blacklisted from most high street banks for brokering cryptocurrencies on eBay. "Even though all of it was above board...I got IDs for the people... they would stop the account, do an investigation for nine months, [and] at the end of the investigation they obviously said 'We're so sorry, here's compensation, here's everything back, here's the interest."
"The law only provides for suspicion of money laundering, not actual proof to basically stop your financial being."
If they don't see this as a proper industry...they're gonna see a

reckoning.
He started accounts with fintechs Monzo and N26 — which he still has — but now he gets paid in cryptocurrency. "I'm so proud...I don't need to use the external system, I call it now. If they [the traditional financial system] don't see this as a proper industry, if they just see it as a hobby or whatever, they're going to lose ground, they're gonna see a reckoning."
Their mission is still to educate young people about what's to come: a passion instilled in them from their recent university days.
The Leeds Student Union, to protect its members, wasn't keen on endorsing trading activities — but this didn't prevent the society from doing what it viewed as the fundamental work: education. It held and continues to hold workshops on the fundamentals of blockchain, how to keep money safe, how to send it safely — but never encourages students to "invest more than you can afford". 
The society — and Benton via his employer, Encode Club — also run hackathons which allow students to engage in the technical side of cryptocurrency at a range of difficulty levels. Benton says they're "great because it gives you a chance to actually do something, rather than just reading about it."
"We also just launched a talent arm, where we help pair companies [with students]."
Upskilling students
Toshinori Ishibashi is also very much aware of the power of hackathons to help students develop practical experience and get scouted by recruiters. A final-year economics student at UCL, president of its Blockchain Society and head of London Blockchain Labs' markets division, he facilitates them for its 500 student members — as well as offering consulting services and authoring academic articles.
Though the organisation pushes for both blockchain and cryptocurrency application education, around 80% of its members are focused on cryptocurrency.
Why do both? "It's important to understand what you're doing while you're doing. The academic aspect is very important in a student-led institution." For instance, "if you're investing in Tesla stocks, it's better for you to know what Tesla's doing than just buying [its] stocks."
Off the back of his experience, Ishibashi has secured an internship at a major investment bank — "my job will be to provide custodian solutions to institutions" — and hopes to one day join a VC firm. Naturally he's interested in fintech, but also spacetech and sustainability.
The earlier you know about it, the

better.
This all seems economics-heavy, though. Can and should students across disciplines, and including the arts, learn about cryptocurrency?
"Yes, 100%," he says, "everyone should learn about it. You [begin to] understand a lot more about the money system in the world, how inflation works and its major role in your life. The earlier you know about it, the better."
Create your own project
Since graduating with computer science degrees back in 2016, brothers Oscar and Barney Chambers have delved into multiple cryptocurrency projects — founding three of their own: first, Veggiecoin — a currency that allows users to donate to animal charities by mining it; then Brazio — a currency for the unbanked population in Brazil (it currently has 100k users); and most recently, Umbria Network — which allows DeFi applications on the ethereum blockchain. All three projects are coordinated by Online Blockchain, an R&D company.
"The whole technical side of [cryptocurrency] for us came way later, when we were coming towards the end of our university degree...Prior to that, it was just some magical internet currency that people were, you know, being naughty with," Oscar says.
Is this moment comparable to the internet in the 1990s? He reckons so. "Back in those days, there was a 'Wild West' internet where you could easily download a virus, for example, and have your security compromised."
"I think the cryptocurrency and the transition from typical finance to crypto finance and decentralised finance is as big of a jump as moving from traditional mail services to email," Oscar says. 
The Wild West-ness of it will decrease over time, and the trust will increase over

time.
"We have HTTPS now — a secure protocol for transferring information to the internet so that other people can't see what your emails say. There are going to be things like that come with cryptocurrency — standard wallets that people are using that have a good track record of not being hacked, things like that. So the 'Wild West'-ness of it will decrease over time, and the trust will increase over time."
"It's going to be better for the longevity of cryptocurrency and the adoption of cryptocurrency to just take your time, do things right and get this done effectively."
Plus, they say, for those willing to put in the work — opportunities in the sector are ubiquitous right now.
"Cryptocurrency is a really great place for people who've just finished their degrees to go because of the open source nature of it all. No matter what field you're in, really, you can get involved in this open community where you can get involved and what you bring to the table is this proof of whether you're hireable," Barney tells Sifted.
"Everyone I've met in crypto really believes in crypto and really loves what they're doing," he adds, and "are just really interested in sharing all of their knowledge with the world."
'This is the future — if we do it

right.'
Oscar's not so sure. "In cryptocurrency we've seen over the last few years a lot of people are kinda smash and grab with their projects. They do a massive IPO, raise a whole bunch of money and then run away with it — and that's really not doing anything for the general community or the evolution of finance." 
"There really is a calling for a group of people who have their head screwed on straight to say: 'this is actually the future — if we do it right.'"
Reads and resources
An accessible yet technical video introduction to how blockchain technology actually works
Cryptopedia, Gemini's free educational platform — e.g. how trading and investing concepts apply to cryptocurrency
Oscar recommends young people look into how sidechain, open source projects work. Some examples include: Compound, Uniswap, Sushiswap, Pancakeswap, Aave, Matic and Solana
Toshi recommends Bitcoin Talk — a very active forum with plenty of discussions
Andreas Antonopoulos is a OG blockchain educator. His YouTube channel is very accessible and covers a very broad range of topics, including the impact of cryptocurrency on economic models