Luke Lang cofounded Crowdcube, one of the world's first crowdfunding websites, in 2011. The goal was to help entrepreneurs raise money at a time when conventional fundraising was harder to come by due to the global financial crisis. His conviction was also that ordinary people would want to invest in companies they really believed in.
Since then more than 750,000 registered Crowdcube investors have invested £690m into close to 900 businesses on the platform, including well-known names such as BrewDog, Mr & Mrs Smith and Monzo. The Monzo campaign was particularly notable, raising £20m from 36,000 investors and helping the challenger bank create an early group of loyal users.
Numerous rival crowdfunding platforms have sprung up as well in recent years, including Seedrs, Kickstarter and GoFundMe, but Crowdcube remains one of the most dominant. We get into the psyche of Lang by asking about the books he likes and recommends. 
Before Crowdcube you had a career in marketing, is there a book you wish you'd read before starting a business?
Change is hard. As an entrepreneur you are constantly faced with obstacles, problems and challenges and change is a constant. "Switch: How to change things when things are hard" (by the Heath brothers) helps to reframe those challenges through engaging scientific studies and remarkable real-life turnarounds, that can switch your behaviour and deliver results, both personally and professionally. 
What was your favourite book as a child?
Roald Dahl's "Charlie and the Chocolate Factory." Who wouldn't want to own their own chocolate factory? This wonderful tale of Charlie Bucket is as magical today (I'm currently reading it with my young son) as it was 35 years ago when I first became enchanted by it. 
Are there any books that you frequently give as a gift?
I've recently become fascinated by the "The Belief Economy" by David Baldwin and have bought it for a chunk of the Crowdcube team. The best businesses today build communities that believe in them, not just buy from them. This eye-opening book explains why brands should stop selling and give a damn.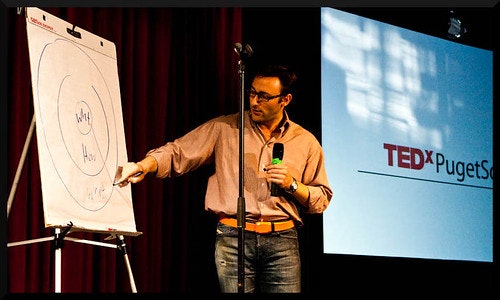 What about a specific business problem that you overcame with an idea from a book
We recently rebranded Crowdcube, and Simon Sinek's book "Start with Why," was instrumental in shaping my thinking. This book is for anyone who wants to inspire others, or be inspired, and explains how in business it doesn't matter what you do, it matters why you do it.
Is there a good introductory book on your area of expertise?
Actually, I'm not aware of a good introductory book on equity crowdfunding. I guess given the lack of quality literature on equity crowdfunding it'd make sense for me to author a book about crowdfunding, although I think a biography of Crowdcube's extraordinary, and sometimes tumultuous, tale of grit, optimism, bravery and passion to leave a mark on the world would be a mildly more entertaining read. 
The book most frequently recommended to you
I'm looking forward to Michael Lewis' "The Undoing Project: A Friendship That Changed Our Minds." It's a bestseller that's supposed to be an enchanting masterclass that will change the way I see the world. Can't wait! 
Enough about books, are there any podcasts / movies / tv-shows that have impacted you?
As a marathon runner, I'm really inspired by people that are always pushing hard at the edges and striving to continually innovate. I'm looking forward to watching Eliud Kipchoge's attempt to break the two-hour marathon barrier in Vienna in October, he has said that successfully doing so would be "like stepping on the moon!"
[caption id="" align="aligncenter" width="767"]
Current marathon world record holder Eliud Kipchoge[/caption]