More than a third of corporations cut their innovation budgets due to the Covid-19 pandemic, and around a third of companies stopped or decreased their collaboration with startups.
That is the stark picture painted by a recent study by Corporate Venturing Network, Tilburg University and Rotterdam School of Management, which conducted two surveys with a group of 40 to 50 mainly Dutch and Belgian companies.
One study was done in the early stages of the pandemic last April, and another in October when the pandemic had been ongoing in Europe for more than six months.
Despite many corporate innovators and strategists saying the pandemic was a catalyst to accelerate change, the brutal truth is that corporate budgets did completely the opposite. A large portion of companies went into survival mode and cut their spending on new initiatives — especially working with startups.
A third of companies cut budgets
This chart shows how companies were thinking about budgets in October, with a third reporting cuts to the budget. More than a quarter of companies cut the budget by more than 10%. Around 10% increased the budget — but this was small compared to those making cuts.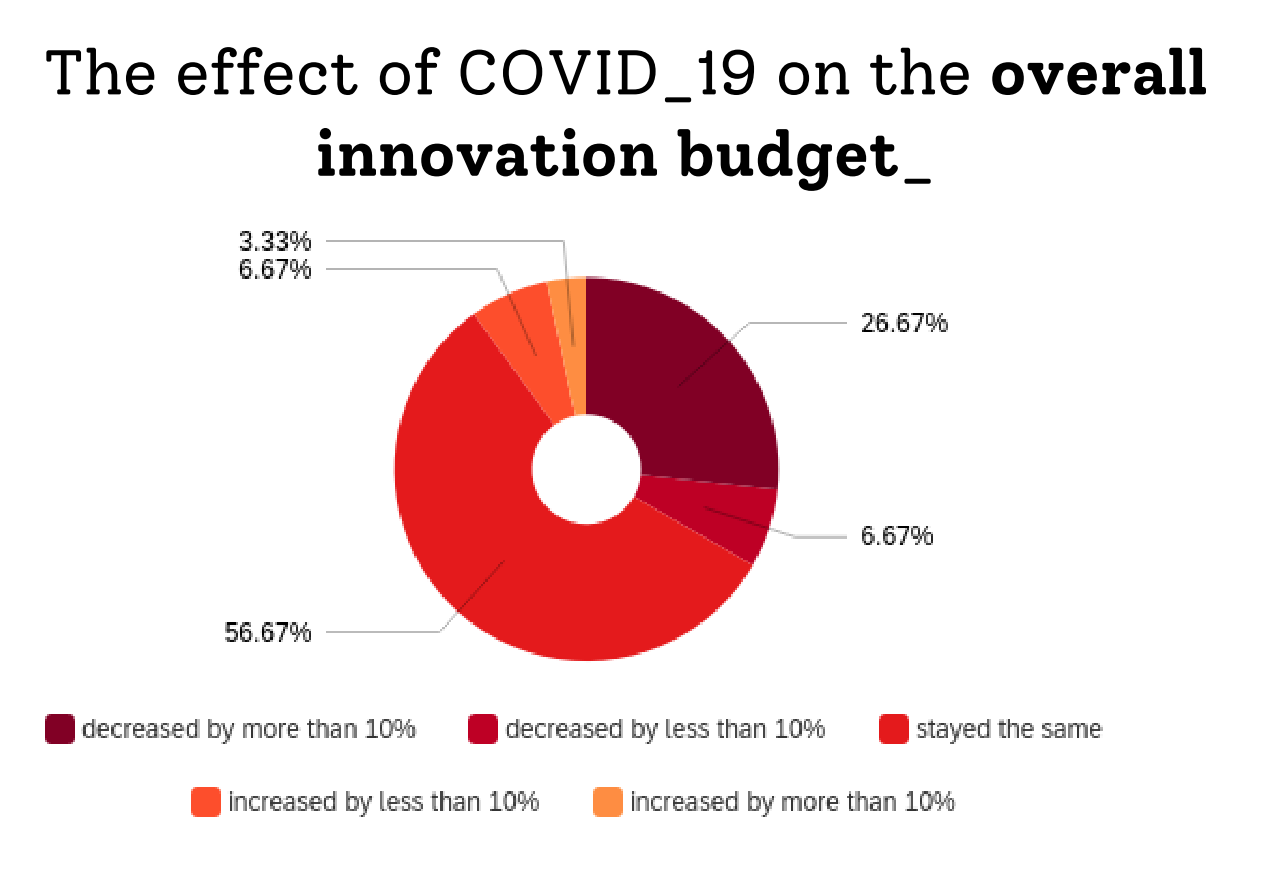 The surprising thing, says Vareska van de Vrande, professor of collaborative innovation and business venturing at Rotterdam School of Management and one of the authors of the study, was that it wasn't the companies that were hit hardest by the pandemic that cut their innovation budgets the most.
"We thought that the extent to which the core business was impacted would be the major driver in whether the company cut back on innovation," says van de Vrande. The companies in the study included airlines and oil companies which saw business fall dramatically during the pandemic.
"But in fact, this hardly drove the results at all," said van de Vrande. Instead, the research team found that the companies that had less experience in corporate innovation — that had been doing it for the least time — were the ones that cut back spending the most. Even if their business was hardly impacted by the pandemic, these were the companies slamming on the brakes.
"Those who were more experienced with innovation know that it is something you do for the long term, thinking five to eight years ahead, so even the pandemic is just a blip," says van de Vrande.
Pulling back: internal vs external innovation
Both internal and external ventures suffered cuts, although external ventures tended to see a greater degree of pulling back.
Some 42% of companies said they were making some reductions to the budget of internal ventures, with around 5% saying they had put all internal ventures on hold. Van de Vrande says business leaders she spoke to had often shifted their focus onto projects that were much closer to the core of the business and likely to provide results quickly.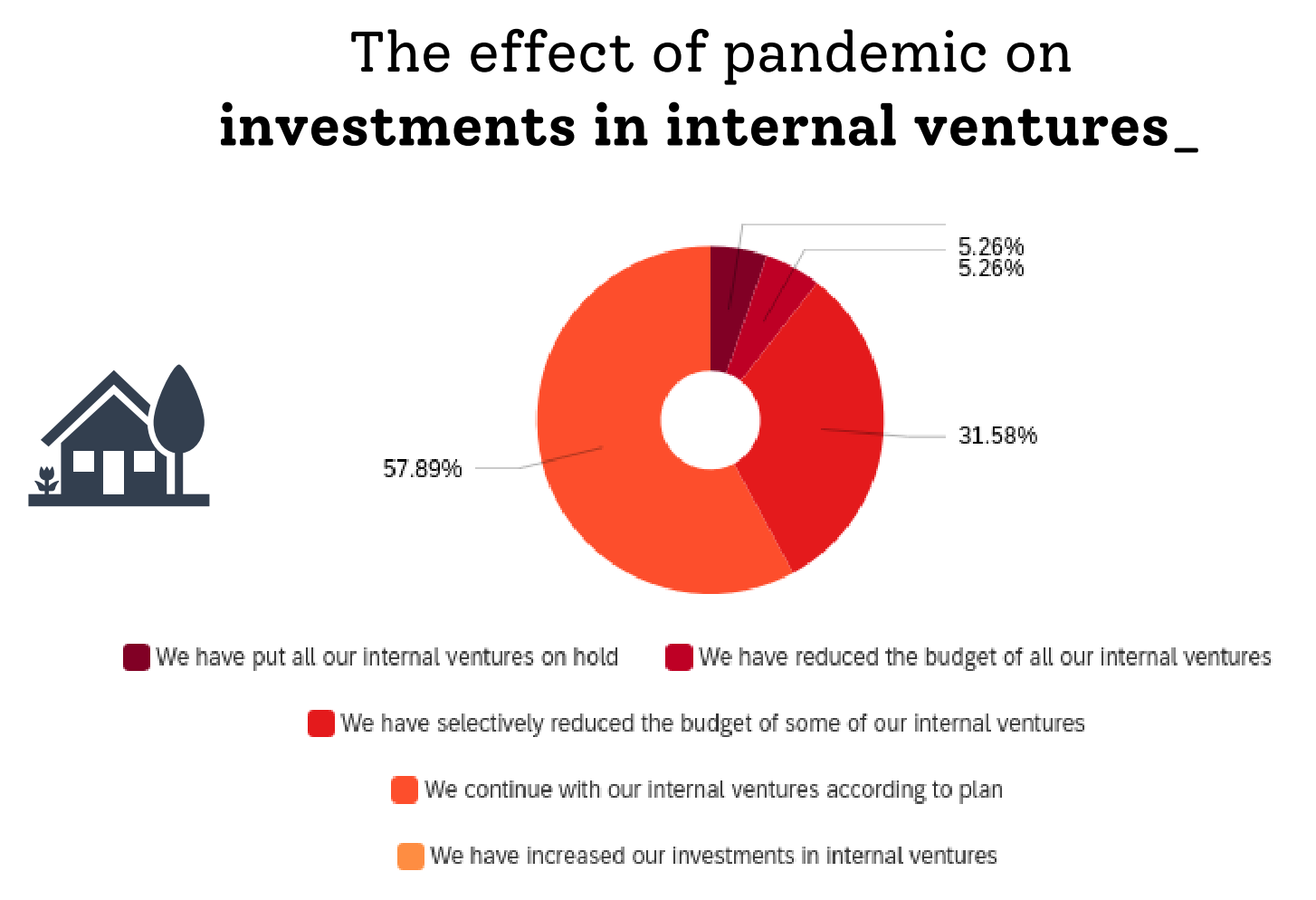 Some 45% of companies said they were spending less on external ventures. Some 5% said they had frozen all investment while another 10% said they were investing only in those veneers they had invested in before.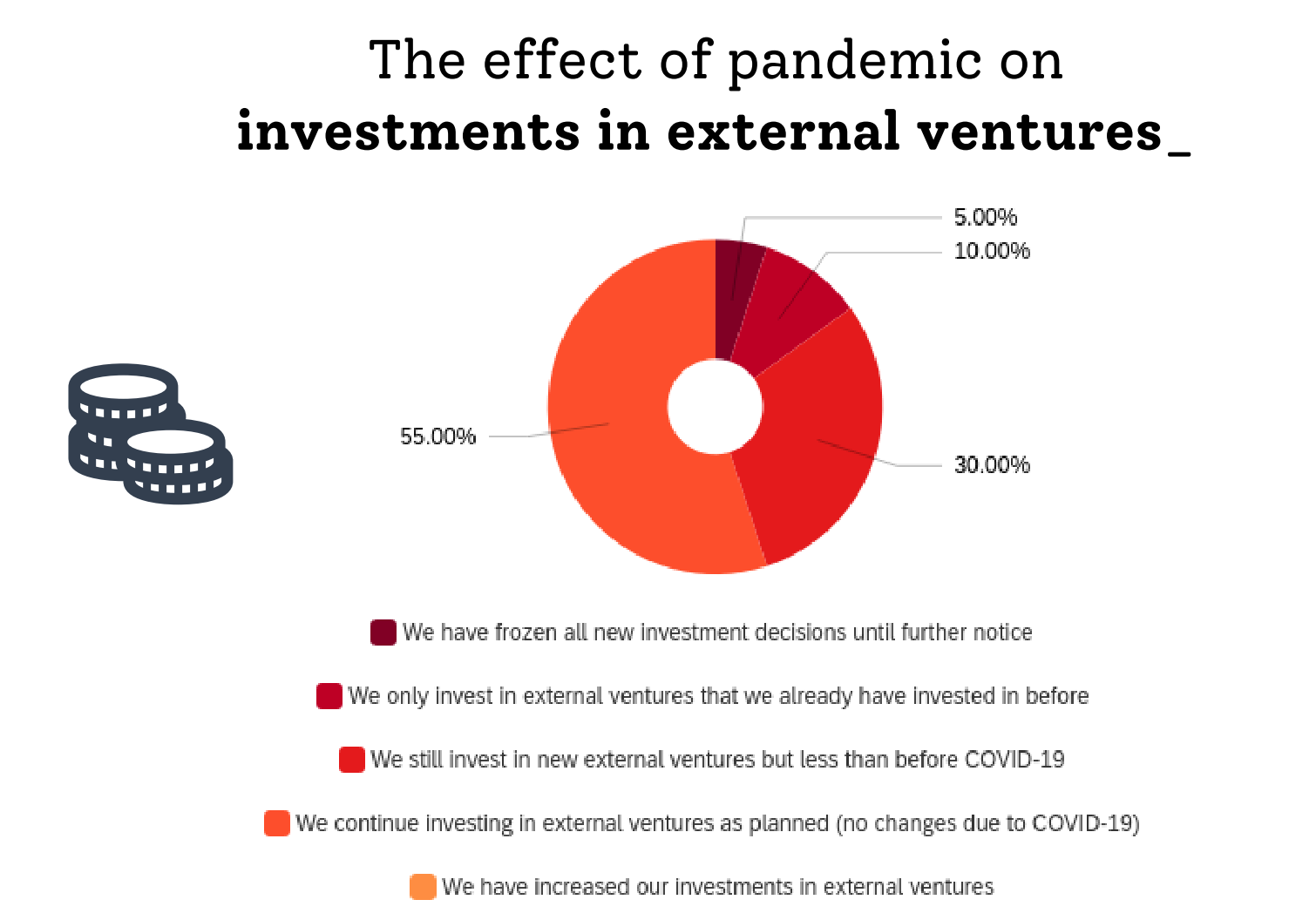 Startup collaboration
Collaborations with startups also took a hit, with 8.3% of respondents saying they had stopped all collaborations with startups, and a quarter saying they would focus only on existing relationships.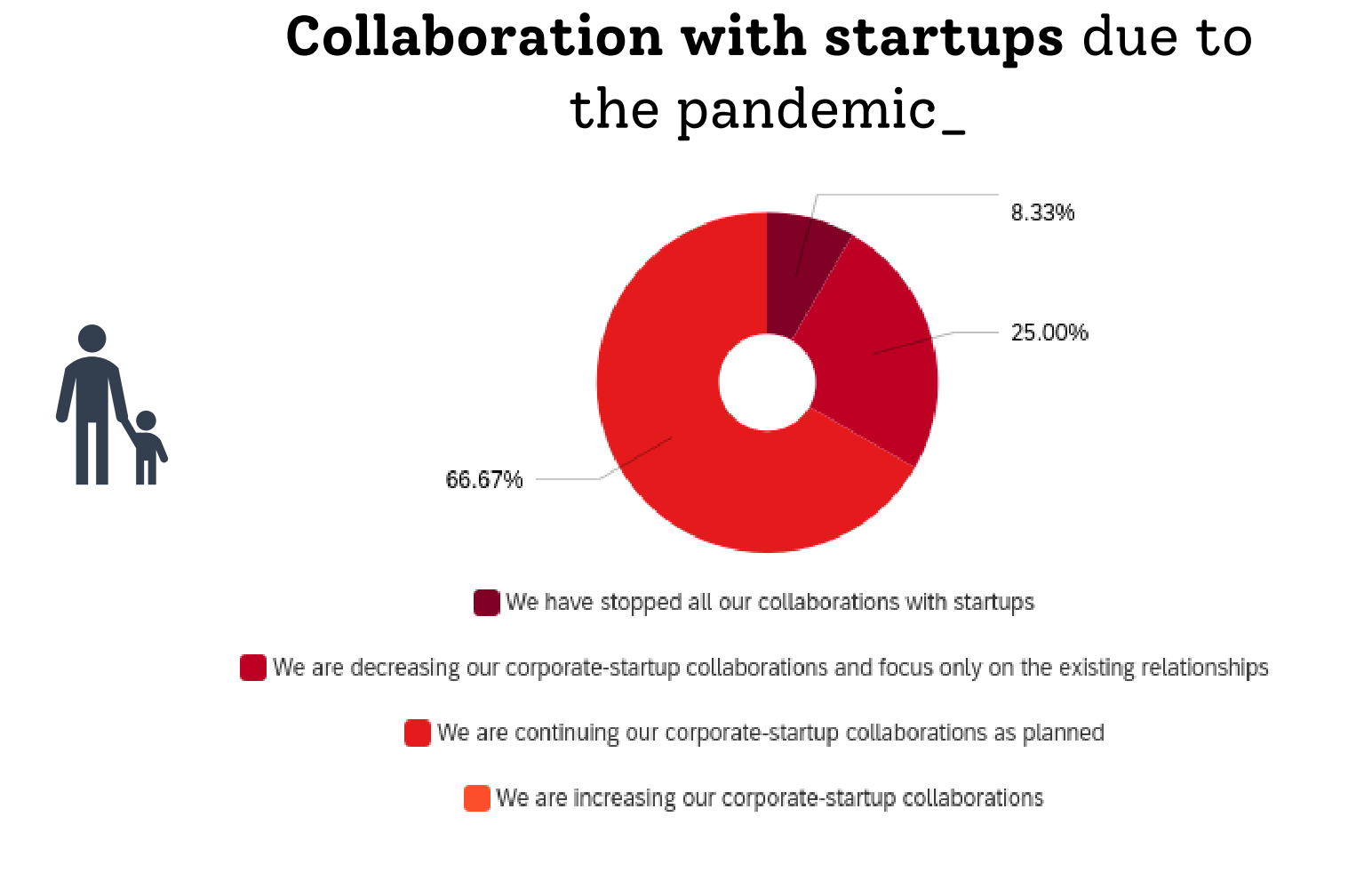 Cutting back on external ventures may have come partly through necessity, says van de Vrande. It was hard for corporates to meet new startups during the lockdowns and periods when travel was restricted.
"Companies that were new to this and didn't have the network found it especially difficult," says van de Vrande.
Returning to normal?
Although the cutbacks look fairly stark, on a more positive note van de Vrande says her team has already seen some recovery between the first study done last April and the second one done in October. At first companies had simply frozen everything, but by October had started to adapt to the new realities of the pandemic becoming more comfortable, for example, with online pitching events and doing deals with startups they had never met in person.
"It will be interesting to see which of those changes are going to stay," says van de Vrande. "Online pitching competitions, for example, can allow you to attend two or three a day in different parts of the world, which may be much more efficient."
But she says she is a little worried that companies have shifted so much to focus on startups they already know and projects very close to the core business. It means they are missing out on their longer-term, bigger bets, the so-called 'Horizon 3 innovation'.
"One of the warnings we are putting out to companies is don't forget your Horizon 3, otherwise you might end up with an empty pipeline down the road," van de Vrande says.
*****
The full research is available here.
The corporate venturing and entrepreneurship community have also put together these resources: