Corporate VC deals hit a record high last year, up 24% from the year before — and it was investments into ecommerce, online recreation and remote working tools corporates that drove the growth. 
Despite many companies being hit hard by Covid-19, the new data from Pitchbook shows that corporations continued to be willing to back promising startups. European VC deals with CVC participation accrued €19.4bn in value last year, compared to €15.6bn in 2019. There was, however, a shift to backing fewer but bigger deals. 
The value of CVC deals has risen every year for the last decade, and 2020's increase was spurred on by CVC participation in some of the year's largest rounds overall — like CureVac's €560m round (in which GlaxoSmithKline took part) and Swedish battery producer Northvolt's $600m round, which included participation from Volkswagen Group.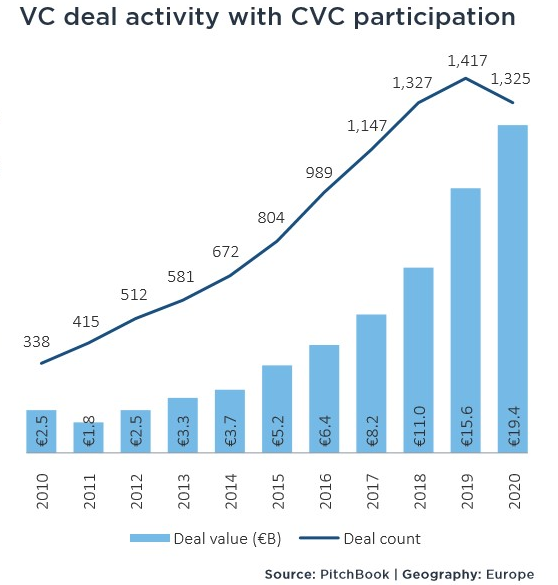 The increase in corporate activity was matched by an upsurge in general VC activity  last year, which saw a 14.8% increase on 2019. The growth was propelled by an increase in larger rounds worth more than €25m, many of which included corporate involvement.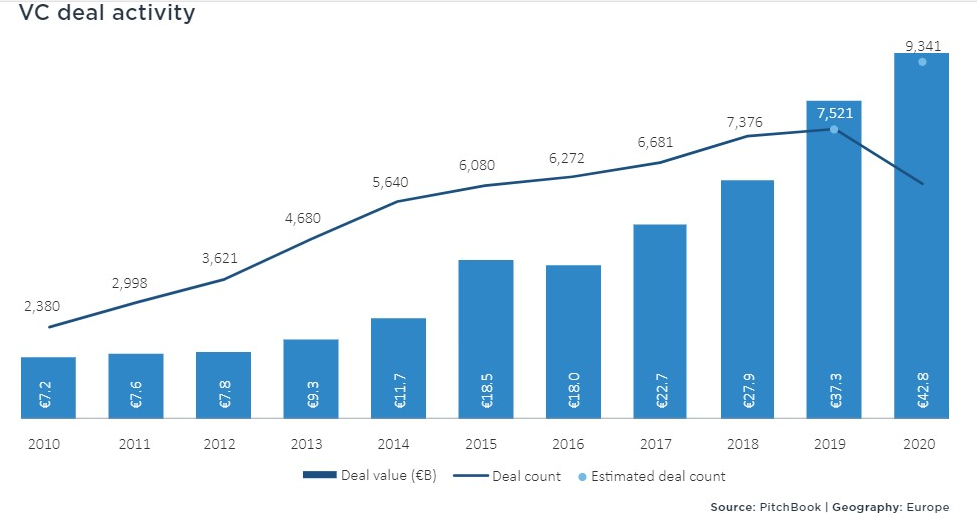 Corporates faced contrasting fortunes in 2020. As expected, it is companies in areas like ecommerce, software and remote connection tools who are driving investment into startups.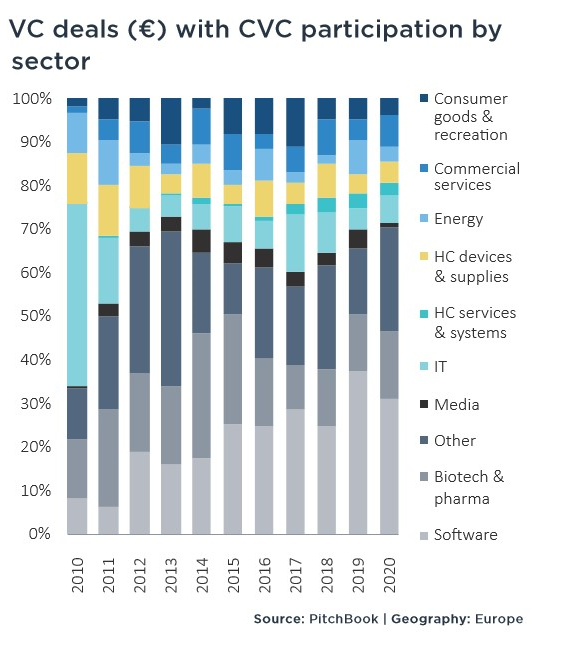 Case in point: the online events platform Hopin, which launched in 2019, experienced explosive growth across 2020 and closed a €106.2m round in the last quarter of the year, with participation from Salesforce Ventures. 
The data also shows that most corporates continue to invest in startups that align with their own research and development goals or complement their own operations. Electric vehicle manufacturer Arrival's round was an example of this —  it was backed by UPS, which will in turn order 10k of Arrival's vehicles.
For corporates, it's a strategy that often saves them money, as opposed to developing their own inhouse teams, and the increase in partnerships suggests the trend is set to continue into 2021.
Sifted Newsletters
Sifted Newsletter
3x a week
We tell you what's happening across startup Europe — and why it matters.