Aerospace
Farming from space
Airbus launched a precision agriculture tool, AgNeo, that uses satellite imagery to alert farmers to areas in their fields that need attention. It is precise enough to count individual apple trees and grapevines, says Airbus. 
With Airbus about to launch another crop of Pleiades earth monitoring satellites in a few months, it also seems keen to develop more products and businesses that will use those satellite images.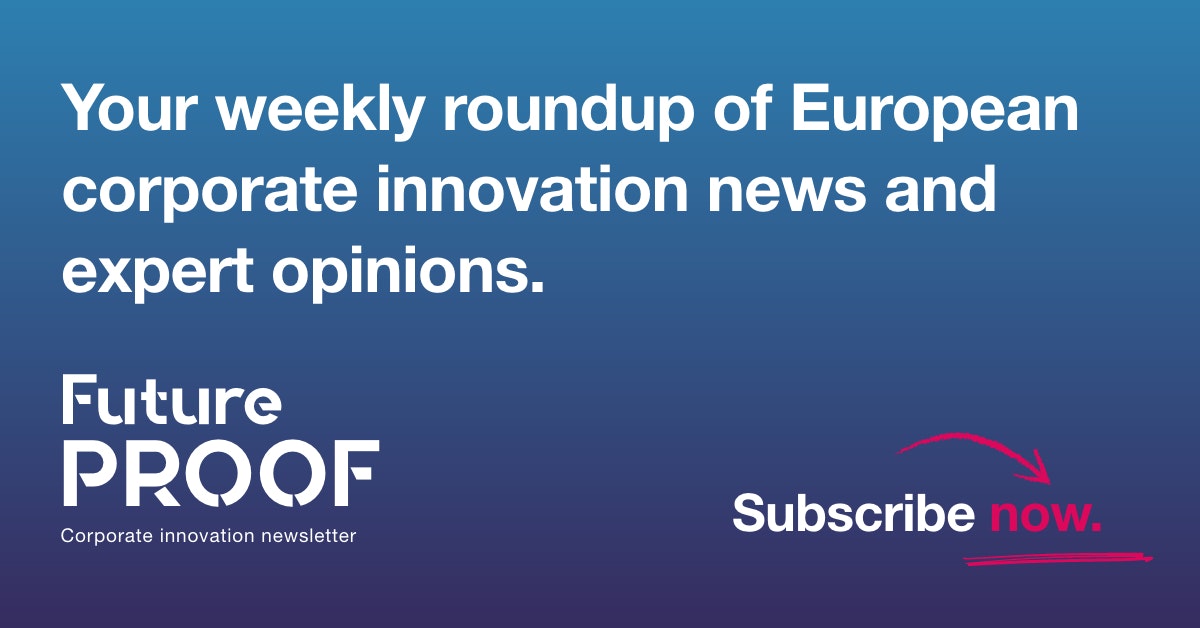 Computing
AI chips
ABB Technology Ventures became one of the new investors in Hailo, an Israeli startup developing smaller, faster chips for deep learning. Hailo raised a $60m Series B round, bringing its total funding to date to $88m.
There is a funding frenzy around artificial intelligence chips at the moment. The UK's Graphcore raised a $150m extension to its Series D round earlier this month from investors including Robert Bosch Venture Capital and BMW iVentures, and in December Intel bought Israel's Habana Labs.
Energy
Helen boosts venture team
Helen Ventures, the new investment arm of Finnish energy company Helen, has hired three new investors for the team. The venture arm was set up last November, with a remit to invest €50m over the next five years into startups disrupting the energy sector.
Efficient buildings
ABB bought Cylon Controls, a Dublin-based company that makes software to manage energy use in buildings, for an undisclosed sum.
Financial services
Mexican earthquakes
It is now easier to insure your home against earthquakes in Mexico as Super Seguros, an insurer backed by Munich Re launches a new hyper-local insurance that looks at unique local ground conditions to estimate earthquake damage risk. In theory it should make it more affordable for individuals to get earthquake insurance and there is definitely a gap to fill: Mexico is one of the world's most seismically active countries, with more than 1,000 quakes a year, but apparently only 6.5% of homes are insured.
ING goes SME
ING Ventures became one of the new investors in German startup FinCompare, which provides banking services for small and medium-sized enterprises (SMEs). FinCompare topped up its Series A round to €22m. SME banking is one of those "hot" areas for startups at the moment. Here is the Sifted take on how the offerings compare.
Scaling the Ladder
Allianz-backed life insurance startup Ladder Financial raised a $37.5m Series C round.
Ninja training
BBVA is planning to turn all its employees into "digital ninjas". The project to teach tech skills, started in 2016, has already trained 9,000 employees, and now the Spanish bank wants to roll it out to the remaining 117,000 as well.
The training involves workshops, talks and hackathons run by the likes of Amazon, Google and IBM, and involves a lot of gamification, getting people hooked on achieving higher levels. FYI, reaching black belt status look pretty hard — only 10 employees have managed it so far.
Healthcare
Reflux remedy
Cinclus Pharma raised €23.6m from shareholders, including Sweden's Recipharm Venture Fund, to develop its new remedy for gastrointestinal reflux.
Novartis funds fibrosis startup
Swiss pharma company Novartis led the $100m Series C funding round into Pliant Thereapeutics, a San Francisco-based startup developing a treatment for fibrosis. Novartis' investment arm also took part in the $105m Series B funding round into Akouos, a Boston-based biotech working on gene therapy for hearing loss.
Mobility
Self-driving insurance
UK insurer Direct Line Group is one of the investors in FiveAI, the UK-based self-driving car startup, which raised $41m to develop its software further. Direct Line's Gus Park, managing director of motor insurance, is taking a seat on the FiveAI board — self-driving will turn car insurance on its head, moving from assessing the driver to assessing the algorithms controlling the car. 
Self-driving wheelchairs
Ok, so maybe self-driving cars are not arriving until the middle of this century, but a lucky few will be able to try a fully autonomous, self-driving wheelchair at New York's JFK Airport, courtesy of British Airways.
The wheelchairs will give mobility-impaired travellers more freedom to zip around the terminal, without having to rely on someone to push them around, and will drive themselves back to a docking station once the trip is done. Given that the chairs can be programmed to take you to various hard-to-find facilities in the airport we're thinking we could lobby for these to be extended to the able-bodied travellers as well.
Hydrogen trains
Alstom has completed testing of its hydrogen-powered trains in the Netherlands. The trains already run in Germany and now the Netherlands looks like it could be the second country in Europe to introduce these emissions-free locomotives to replace diesel.
Security
Video monitoring
UK insurer Nationwide's corporate venture arm invested $16m in Deep Sentinel, a security company that combines automated video monitoring of properties with real human guards who can respond if a threat is detected.
Good reads
Who is liable when robots cause damage?
If a self-driving car hurts someone, in most European countries and some Asian ones liability lies with the owner. But in other cases there isn't such a clear owner/controller link with artificial intelligence, so we are still somewhat at sea over who takes the blame. Munich Re's Ina Ebert sketches out the various proposals being discussed by lawmakers.
TLDR: don't expect any clarity for years (and this is a big opportunity for insurers).
Can you handle the two types of digital transformations?
Every company has been working on digital transformation for, oh, the last 10 years at least. But digital transformation isn't just one thing — there are two distinct types of digital transformation, argues this MIT Sloan article — and companies need to master both. One type is digitising the core business to make operations run more efficiently (this might involve moving computing to the cloud, embedding artificial intelligence, putting internet-connected sensors on machinery). The other type is developing a digital product for customers.
The two types of digitisation work very differently. Digitising the core can be top-down, run and centrally planned by the chief information officer. The second type is probably run by a chief innovation officer and involves empowering grass-roots teams to experiment and break rules.
Which of these eight cultures characterises your company?
Harvard Business Review researchers mapped company culture on two dimensions — how people react to change (flexibility vs. stability) and how people interact (independence vs. interdependence). After canvassing more than 12,000 employees they have had interesting results, especially in terms of cultural differences.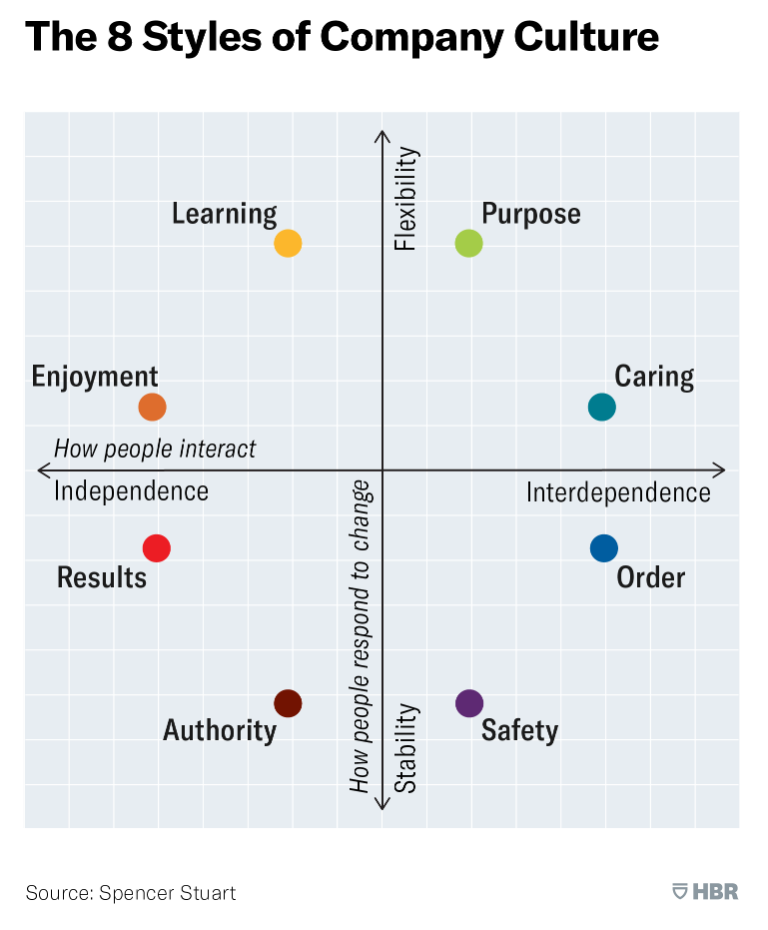 Perhaps unsurprisingly Asian companies ranked interdependence highly, while European and North American ones leaned toward independence and results. Eastern European companies put emphasis on safety. Middle eastern ones valued authority and those in South America put the biggest emphasis on having fun in the workplace. But the point isn't really to map out cultural stereotypes, but to understand what kind of culture your company has and what that means for how to bring about change.