Chemicals
Sustainable perfume
You don't often see BASF and Chanel in the same list of investors, but both the German chemicals giant and the French fashion company took part in the $12m Series C funding round for P2 Science. The startup, a spin-out from Yale University, uses renewable materials like vegetable oils to create speciality chemicals, such as the fragrances used by the cosmetics industry. At the moment most of these types of products are made from petrochemicals.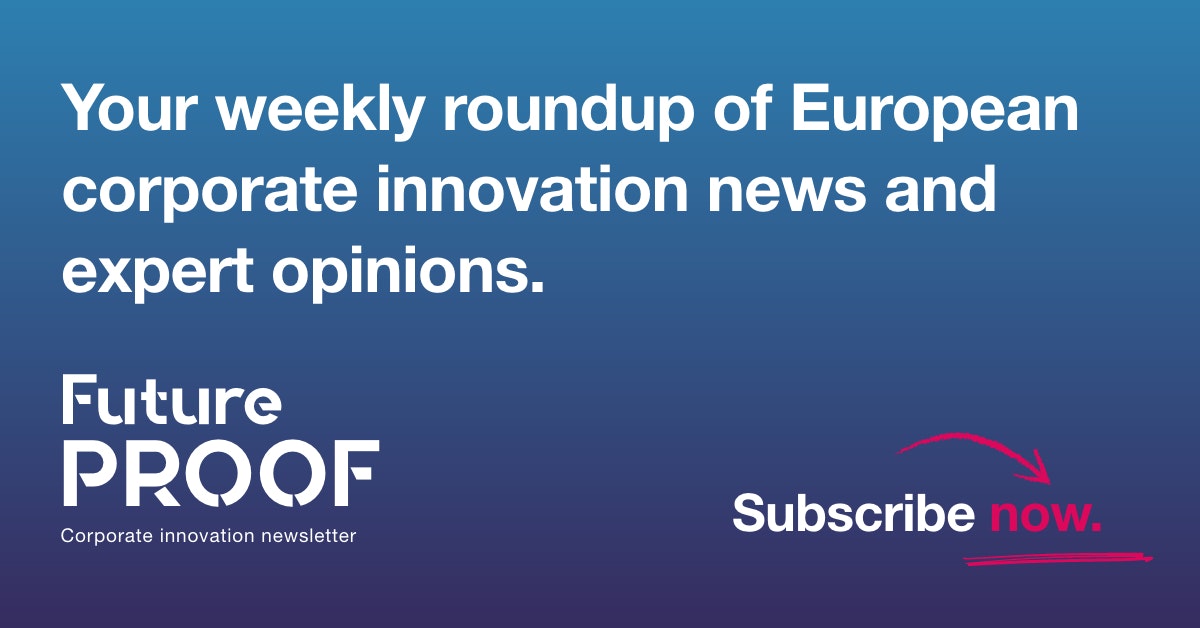 Consumer goods
Saving the world with glue-free trainers
Adidas wants to end plastic waste within a decade. Every company has recently announced similar eco-friendly aims, but Adidas has outlined specific operational changes, such as making shoes in a new way to make them more recyclable (hint: no more glueing).
Health hacking
Reckitt Benckiser, the maker of Dettol, Durex and Clearasil, is holding a 24hr hackathon, together with Startup Grind, to look for solutions to global health problems.
Energy
Eco-trading
BP Ventures took part in a $25m strategic financing round into Xpansiv, a company that provides a platform for "smart" commodities trading. It can be used, for example, to trade responsibly produced energy.  BP Ventures has invested in startups making low greenhouse gas cement and animal feed grown from methane-fed bacteria and says the marketplace could provide a way for it to monetise some of these products. 
Financial Services
Hot insurtech deals
AXA Venture Partners took part in the $100m Series D round for Policygenius, the online insurance startup. Insurtech is red hot right now, with some $4.36bn invested in the sector in the first nine months of 2019, according to a report from Willis Towers Watson. There are 10 insurtech unicorns (although Policygenius is not quite yet one of them).
Open banking tools
Crédit Agricole acquired a majority stake in Linxo, an Aix-en-Provence-based startup that provides application programming interfaces (APIs) and white-label apps for banking and insurance startups. Crédit Agricole already invested in Linxo two years ago, but now, with the EU's PSD2 (Payment Services Directive) regulation requiring banks to increasingly work with new fintechs, the French bank clearly sees value in owning the whole business and all its open-banking tools.
Healthcare
Bayer tries new artificial intelligence training methods
Bayer needs large amounts of patient data to train artificial intelligence systems on. But how can it access the data without violating privacy? Bayer is testing a system developed by Google, where artificial intelligence trains on the data locally, without transporting it anywhere.
Industry 4.0
Opening doors with your face
Siemens' Next47 was one of the investors in the $80m Series C round raised by Verkada, which provides advanced security camera systems for buildings. Investors are particularly excited by Verkada's newly developed two-factor identification for doors. Instead of just using an access code or staff card to get in, Verkada can add a facial recognition element too.
Sifted Newsletters
Sifted Newsletter
3x a week
We tell you what's happening across startup Europe — and why it matters.
Logistics
Jumpstarting electric van deliveries
UPS is buying 10,000 connected, electric vans from UK-based startup Arrival — a big jump from the 1,000 or so it currently has. UPS has also taken a minority stake in the company. It is not the only corporate to have done so — KIA and Hyundai bought a €100m stake in the company just two weeks ago. One to watch.
Good reads
Is it time to ditch the title manager?
Yes, it can still keep people a brief frisson when they are promoted to a position where they have staff to manage. Yes, there have been thousands of business books written about the art of management. But the role is increasingly out of date in the modern business world, argues this article in Strategy+Business.
No one — least of all millennials and Gen X — really wants to be managed. There's too much danger of being micromanaged, which everyone hates.
No one really wants to manage people any more. Modern business is more about the collaboration of minds than one person setting out the rules.
Work is increasingly about solving hazily-understood problems in creative new ways. The idea of managing this according to some kind of blueprint feels more and more ridiculous.
These are the skills the innovation workforce of tomorrow will need
What innovation professionals know about technology goes out of date quickly. But these four broad competencies should help keep you current, argues this MIT Sloan Management Review article.
Omniscience. Well, near omniscience — full omniscience is probably only for the gods. Innovation workers will need to know more about every aspect of business and especially the connections between them.
Entrepreneurial mindset. You'd think innovation leaders already had this, but we're talking more — more rogue, more hacking, more just-get-it-done mentality.
Bottom-line focus. Yes, if it isn't likely to ever make or save money, you probably shouldn't be developing it.
Ethical intelligence. There's a new kind of intelligence to join emotional intelligence and just plan intelligence. As artificial intelligence becomes more powerful humans increasingly need to provide an ethical lens.
How to do moonshots
Google's captain of moonshots, Astro Teller, explains how it is done and why it is often actually easier to make something 10x better than to make it 10% better.