Chemicals
Weed-zapping farmbots
There's an interesting challenge coming up for the $26bn global herbicide industry — two UK startups, Small Robot Company and RootWave, are developing an autonomous farmbot that can precision-zap weeds with electricity rather than pesticide.
There are already a lot of precision-spraying projects out there — Bosch and BASF have been working on a product they hope to bring to market in 2021, and John Deere bought Blue River Technology, a computer vision and precision spraying company, for $305m in 2017. But doing it without chemicals altogether is another step-change. One to watch if they can make it work.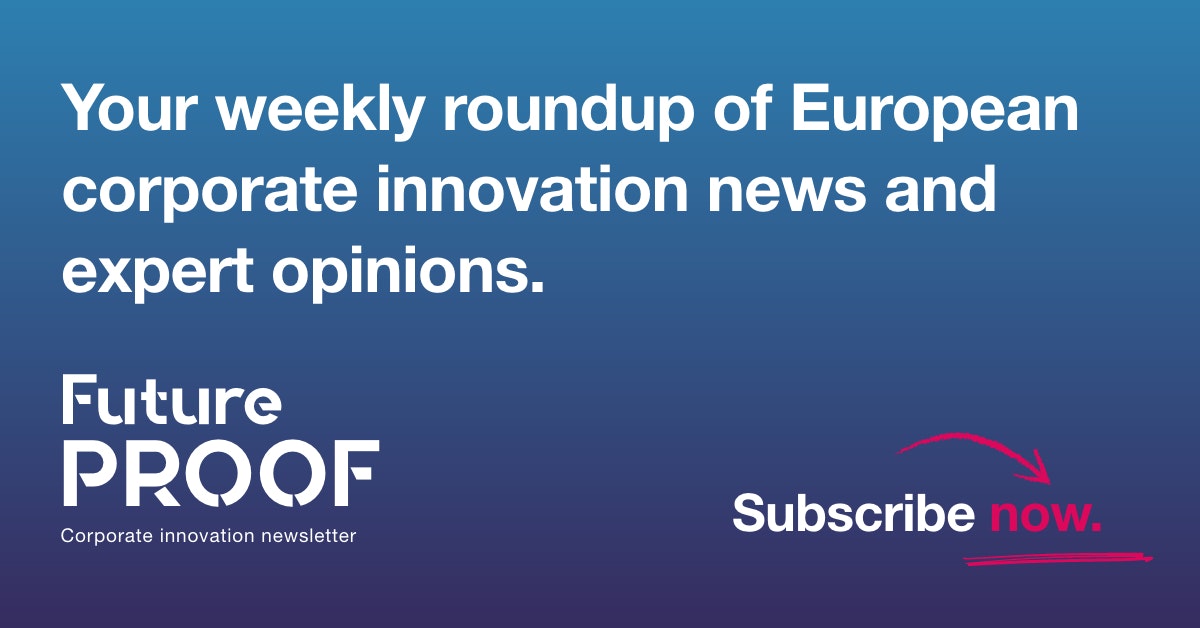 Financial services
Bóring?
But maybe boring is no bad thing. Sifted took a look at the launch of NatWest's digital bank offering Bó. There has been considerable scepticism about the £100m project, but the solid-but-uninspiring style might actually work for a silent majority who aren't looking for flashy banking gimmicks.
Not everyone is switching to a neobank
Figures from the UK's Current Account Switching Service also had some good news for established banks. Contrary to media hype, people aren't leaving Barclays for Monzo; most are leaving to go to Nationwide and HSBC. Indeed, Nationwide saw more net gains than Monzo and Starling combined.
Food and drink
Food Valley
Unilever has invested €85m in a new food innovation centre, located at Wageningen University in the Netherlands. Wageningen, nicknamed "Food Valley", is a fascinating centre of research for everything from disease-resistant bananas to robotic fruit pickers. Unilever is planning to use its new centre to research ways to tackle malnutrition, obesity, climate change and food waste. If it can do even one of those for €85m, I'd say it was pretty good value TBH.
Latin snacks
Nestle has invested into Angel Ventures, a fund investing in innovative food ventures in Chile, Colombia, Peru and Mexico that is set to reach $100m next year. The fund will invest in 20-25 companies and Nestle is hoping some of these will become future suppliers and partners.
Healthcare
Precision cancer care
Roche Venture Fund took part in the $85m Series C funding round of Black Diamond Therapeutics, a US-based startup developing precision therapies for cancers that don't respond well to standard care. Because, in theory, the therapies work across many different types of tumour, Black Diamond feels like it could be impactful. The company only came out of stealth mode last year but has already attracted $190m in funding including this latest injection of cash.
Targeting T-cells
Pfizer Ventures co-led the $53m Series B investment round into ImCheck, a French startup developing cancer immunotherapy for a small subgroup of T-cells that does not typically respond well to existing forms of immunotherapy. The Marseilles-based startup was already back by Boehringer Ingelheim Venture Fund in 2017 when it raised a €20m Series A round.
Sifted Newsletters
Sifted Newsletter
3x a week
We tell you what's happening across startup Europe — and why it matters.
Mobility
Safer self-driving
Volvo Group Venture Capital and InMotion Ventures, the venture capital investment arm of Jaguar Land Rover, invested in Apex.AI, a Californian startup that is building an "automotive-grade" version of robotics software for self-driving cars.
Apex.AI is promising to build a safer robotic software framework than its competitors, which clearly appeals to the transport industry — Toyota AI Ventures and Airbus Ventures already invested in the two-year-old company in a previous round earlier this year.
Apex.AI launched a pilot last year and is hoping to get safety certification next year.
Driving deals?
Volvo Group Venture Capital has also widened its exposure to new mobility startups by investing in Autotech Ventures, a $200m Silicon Valley fund. Autotech has, for example, invested in Frontier Car Group, which builds used-car marketplaces in emerging markets, and Outdoorsy, a marketplace for recreational vehicles. Volvo has its own corporate venture capital (CVC) portfolio of 10 investments but is hoping Autotech will bring more startups onto its radar.
Autonomous shuttles struggling to take off
BMW i Ventures and Toyota AI Ventures took part in the $50m Series B round for May Mobility, a US-based startup that is developing autonomous shuttle busses for use in a number of US cities. Shuttle services haven't been faring particularly well, in general. Chariot, the shuttle service bought by Ford, ceased operations earlier this year and Drive.ai was planning to shut up shop before being acquired by Apple at the last minute. Let's hope May Mobility has a better strategy in mind.
Electric shock ahead
There is a bumper pack of mobility news in the newsletter this week. Could the big flurry of investment by carmakers be because everyone has been reading the report from the UN-backed Principles for Responsible Investment (PRI)? This predicts that carmakers that are slower to transition to electric vehicles will see their value fall, while those quickest off the mark will see their valuations rise by 108% (a weirdly precise number, but ok).
Good reads
"Shocking rules"
Want to make crazily successful products? Put in place some crazy rules at your company. At least that is the theory that Ben Horowitz puts forward in his new book What You Do is Who You Are. "Shocking rules" — anything from ultra-cheap desks at Amazon to an insistence on returning customer calls the same day at Quicken Loans — build strong company cultures and strong companies, in turn, build good products. It may be worth trying, although probably easier to do if you are starting a new company rather than retrospectively applying the idea.
Do data like Netflix
If you want to do data like a boss, look at the way Netflix uses it, as explained in this ITProPortal article. Netflix is famous for using data to drive every decision at the company, and here is what you can copy from them:
Make sure the data is easy to find and easy for everyone to access. Make sure there is a list of what data is available and don't make people go through database administrator gatekeepers to get it.
The longer it takes to find data the less valuable it is. So organise it and streamline things so that you can quickly get your hands on the information you need.
Visualise the data wherever possible. Seeing is believing.
Something new, something old, something fast, something slow
If you want your innovation team to function well there are two fundamental tensions you need to resolve, explains Jennifer Jordan, professor at the International Institute for Management Development (IMD) Business School:
You need a combination of fast and slow thinking. Don't wallow so long in an analysis-paralysis death spiral that you are unable to try new things. On the other hand, when something fails don't move unthinkingly on but take time to consider a targeted and accurate pivot.
Old vs new. A team that has worked together for years functions well because there is trust and cohesion. On the other hand, it may need fresh ideas to get out of a comfortable rut. Know when to shake things up.
We've seen the future and it is full of seaweed
The end of the year is nigh and so come the avalanche for predictions for future trends. Here's a set from Quartz, looking at the 12 trends that will shape the next 50 years. They are all pretty much the ones you'd expect, the whole bingo-set of buzzwords including artificial intelligence, virtual reality and cryptocurrency. The ones that may surprise you more are: empathy (increasing in importance as we have to differentiate from machines) and algae (a potential replacement for everything from meat and petrol to materials for making trainers). Seaweed is going to rule the world.