Aerospace
Pocket-sized rockets
Airbus Ventures and Earlybird Venture Capital led a $17m Series-A round into Isar Aerospace, a German startup that is developing small space rockets. Isar, which was only founded last year, is one of around 150 small rockets being developed that would be capable of putting smaller satellites into orbit.
There is a flurry of interest at the moment in launching smaller satellites for everything from communications to surveillance. There is also increasing pressure to do this at a cheaper price. Heavy rocket launches — although they cost 10 times more to launch — are still more efficient at getting things into space on a cost per kilo basis. But if Isar can get costs down to $10,000 per kilo it will start to be competitive with big rocket prices.
A small rocket would complement the round of Airbus Ventures' other recent space investments including internet of things startup Astrocast, communications payload startup CesiumAstro, space situational awareness company LeoLabs and ground communications startup Infostellar.
ATI Boeing accelerator picks first 10 startups
268 startups applied and 10 were chosen for the programme, which is aimed at boosting the UK aerospace sector. Each will receive £100,000, three months of mentoring and a chance to develop a paid-for proof of concept with Boeing or GKN Aerospace.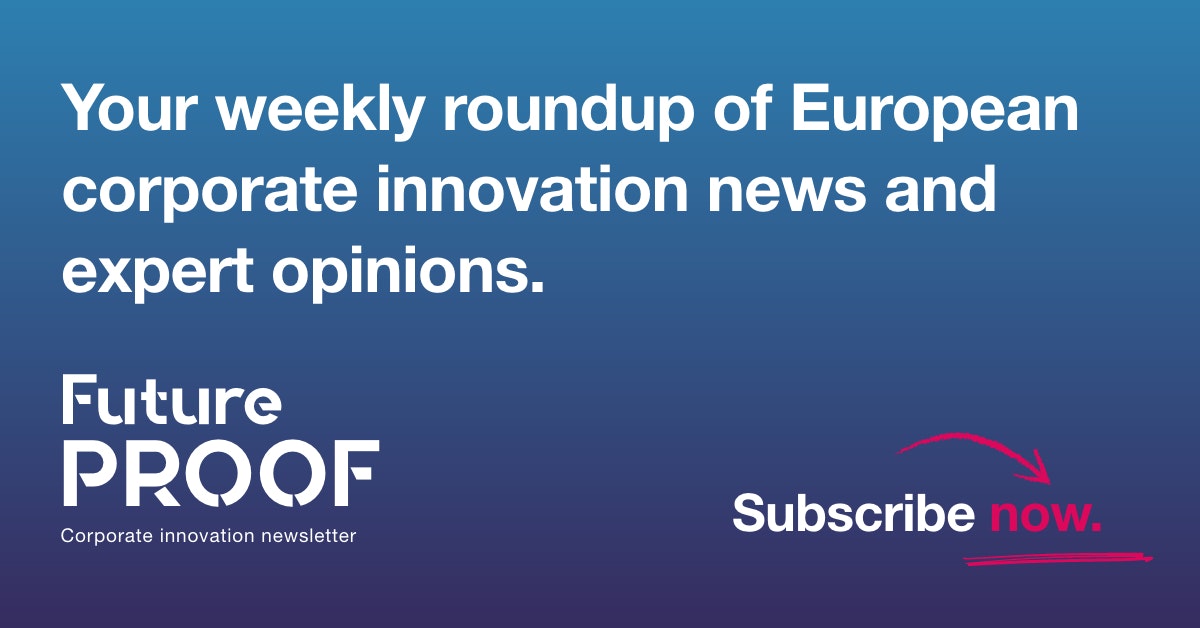 Financial services
German insurtech unicorn
OMERS Ventures, the venture capital arm of Canadian pension fund OMERS, led the $110m extension of B-round funding into Wefox, the Berlin-based insurtech company. Techcrunch suggests that this latest round gives Wefox Group a "unicorn" valuation of $1.65bn.
Wefox claims to be Europe's leading insurtech company, with more than 500,000 customers, and is understood to be planning to use the new funding to expand beyond its core markets of Germany, Austria, Switzerland and Spain. Samsung Catalyst Fund was also among the investors.
Healthcare
A t-shirt that monitors your health
Adrea, a French insurance company from the Aesio Group, was one of the investors in Chronolife, an artificial intelligence-based digital health company. Chronolife has created a machine-washable shirt with 10 integrated sensors to monitor things like heart rate, breathing, temperature and activity levels. These are sent to the user's smartphone via Bluetooth and from there can be shared with medical professionals. Chronolife is hoping to receive medical certification in Europe and FDA (Food and Drug Administration) approval in the US next year. 
Going "beyond the pill"
Nordic startup SidekickHealth has signed a deal with Bayer to develop a mobile tool to help people with peripheral arterial disease (where a buildup of plaque in the arteries limits blood flow to the limbs and head) manage their condition. As well as simply taking pills, effectively managing a long-term illness like this can mean making lifestyle changes such as more exercise and healthier eating (things people are generally pretty resistant to doing). Sidekick has developed a mobile-based programme that can coach people through these.
The company, founded by two Icelandic doctors in 2013, has already been working with Pfizer on a quit smoking programme, but now looks set to deepen collaborations with Big Pharma.
SidekickHealth is planning to raise a Series-A round and reckons the digital therapeutics market will be worth $32bn by 2024 — it is projected that chronic diseases will account for almost three-quarters of global deaths by 2020, so imaginative solutions are needed.
A gene editor on every desktop
Inscripta, a US-startup that is creating a gene editing device small and cheap enough to be installed in every biological research lab, raised $125m in a Series-D round.
The company also announced that its desktop device — which it calls the "first personal computer for biology" — will be ready to hit the market in 2020, priced at $350,000 per unit.
Thanks to the plummeting cost of DNA sequencing and the development of gene-editing tool Crispr, there is huge interest in tweaking biology. But currently work has to be done in specialist labs. Inscripta is hoping to put the tools on every scientist's desktop. Merieux Developpement, an investment vehicle for Institut Merieux, the French medical technology holding company, has been one of the early backers of Inscripta.
Mobility
Used cars in Asia
Burda Principal Investments, the growth capital investment arm of Hubert Burda Media, led the $19m Series B into Carsome, the Malaysian used car marketplace. The money will be used to strengthen Carsome's position in Indonesia and Thailand, the two biggest used car markets in south-east Asia. The region's car market is estimated to be worth $30bn a year, but is still highly fragmented.
Retail
Iceland wants to be more like Uber
Iceland, the British supermarket chain, is looking for startups that can help it route food and people better. The frozen food specialist is launching an innovation lab together with L Marks, the startup accelerator specialist.
Iceland is particularly looking for startups to help it route delivery vans more efficiently and would also like to find a "Uber type system" that can help staff schedule their shifts more flexibly.
Whether or not Uber itself ultimately is successful, it has changed employee expectations and working practices across several industries already. Anyone who deals with a large, shift-based workforce should watch this space.
Telecoms
Connecting the clouds
Orange Digital Ventures, Orange's early-stage investment fund, led the $24.3m funding round for InterCloud, the Paris-based startup providing cloud interconnect services. InterCloud helps big companies manage corporate assets that are spread over multiple different cloud providers.
Good reads:
Predictions for 2020
Sifted asked 28 of Europe's most prominent startup founders, venture capital investors and ecosystem builders for their predictions for 2020. Here are some of their insights:
The shift to electric transport will happen a lot faster than the public expects and 2020 will be the tipping point. Outsiders will reap the benefits of the transition
Artificial intelligence-powered cyberattacks will start to be more common
We will see exciting developments in the use of light — both in computing and life sciences
Traveltech takes over from fintech as the hottest sector
Poland, with its huge reserves of talent developers, becomes THE country to watch in tech.
You can read the whole list of predictions here.
What makes a good accelerator programme?
Everyone seems to run an accelerator these days, but what makes a programme really work for all participants? Hello Tomorrow, which helps match deeptech statups with corporate partners, surveyed 100 startups that had gone through accelerators and 15 accelerators to find out what works. Two findings particularly stick out:
Startups — particularly deeptech startups — really want money. They struggle to find investors so will be hoping to win funding or actual customers from the accelerator, rather than anything vague like mentoring and advice.
If you are going to provide some learning/advice do it in the form of mentoring. Startups see this as the most efficient way to learn. Seminars and classes, not so much.
How long does it take to deploy a machine learning model?
Up to three months for around 50% of companies, according to a survey of 750 business decision makers by Algorithmia. Corporate spending on artificial intelligence is going up overall, but little is coming out — 55% of companies surveyed had yet to deploy anything. So if your company's artificial intelligence programme is going a bit slow, don't worry you are probably not alone.