Disruption
Disrupted by death
Last week we said a sad goodbye to Clayton Christensen, the Harvard Business School professor who brought the word "disruption" into every corporate boardroom around the globe. Christensen died, age 67, from complications related to leukaemia but his ideas will continue to shape business.
His book, The Innovator's Dilemma, (named by the Economist as one of the six greatest business books ever written) examined why big companies were able to be blindsided and outcompeted by small scrappy competitors who cater to a new or low-end market. This applies just as much for minimills outdoing big steelmakers in providing cheap rebar as it does for Netflix upturning the movie industry. Here are some of Christensen's best innovation lessons distilled.
Financial Services
Cloud finances
BNP Paribas took part in the $80m Series E financing round for Currencycloud, a London-based startup that provides a money transfer platform for financial services companies. The international money transfer market is worth around $700m annually and Currencycloud lets providers enter the market without having to build their own networks. TechCrunch speculates that the company is worth somewhere around $220m.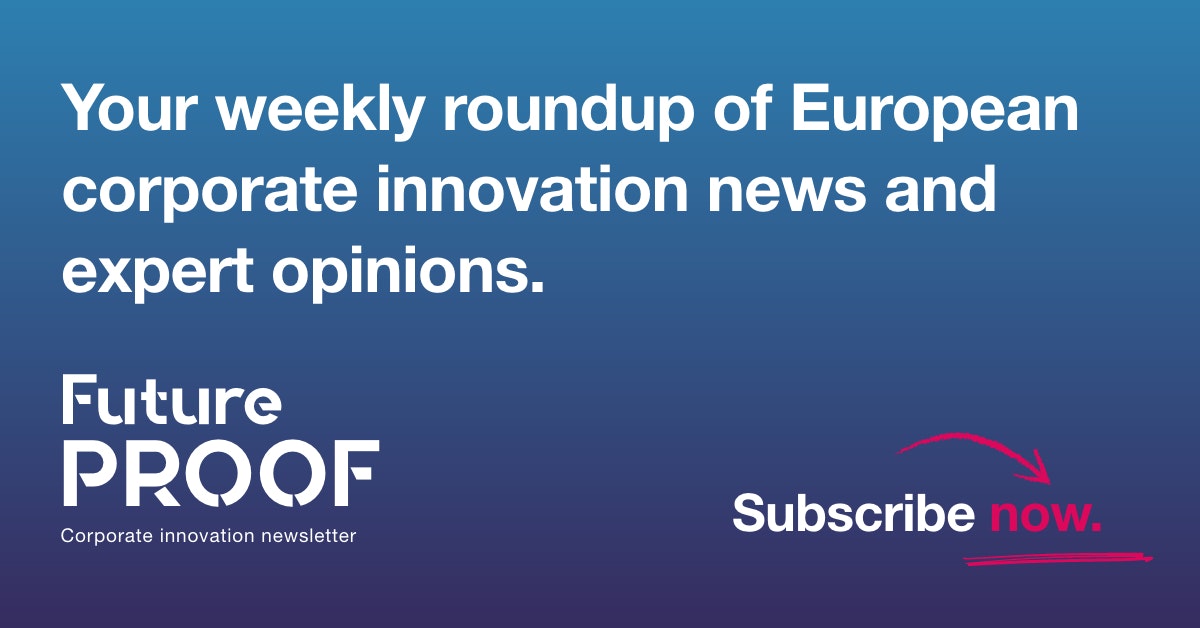 Food and Drink
Responsible drinking
AB InBev is launching the second year of its 100+ accelerator, an incubator for startups working on sustainability issues — anything from recycling packaging to helping small farmers in Africa access banking services. Last year the programme received applications from 700 startups and AB InBev picked 14 teams, who received a total of $50m worth of contracts.
Healthcare
Sanofi partner set for initial public offering
Revolution Medicines, a US-based startup that is developing immunotherapy treatments for solid cancer tumours in partnership with French pharmaceuticals company Sanofi, has filed for a $100m flotation. Revolution has a lead drug in clinical trials and will need the proceeds of the initial public offering to help get through the vast research and development costs that are associated with this stage of getting a drug out of the lab and onto the market.
Regrowing your liver
No, we're not talking dry January. HepaRegeniX, a German startup developing a treatment for chronic liver disease, raised a €11m Series B financing round from investors including Boehringer Ingelheim Venture Fund (BIVF). The startup, spun out from University Hospital Tuebingen, has had good results in pre-clinical trials for a drug that helps liver cells regenerate and now wants to move to clinical trials.
The leap from Fitbit to blood pressure monitor
Halma, a supplier of health and safety equipment, has taken a minority stake in Valencell, a US biometric sensor startup. Valencell's biometric sensors can provide highly accurate measurements of heart rate and blood pressure, bridging the gap between consumer wearables and medical devices.  The idea is that the startup will work with Halma companies on joint projects.
You can read more about how Inken Braunschmidt, Halma's chief innovation officer, thinks about startup partnerships here.
Industry 4.0
Making supply chain management (almost) sexy
Siemens' venture arm, Next47, took part in the $60m Series B funding round for scoutbee, a Berlin-based startup that helps companies find and manage suppliers digitally.
Scoutbee competes with companies like Tradeshift, Proctrix, Pymnts, B2B-Center and Bonfire Interactive, but there is plenty of room in this huge market. Procurement is not sexy, but it is big, often the largest cost category for businesses representing 43% of total costs (Bain & Co). The global market is expected to be worth $7.3bn by 2022 (IDC).
Mobility
Reinventing the wheel
Michelin and Bridgestone are in a race to launch puncture-proof airless tyres. It has been tricky to launch these for passenger cars so far, but Bridgestone is launching a tyre for trucks, which uses a web of recycled thermoplastic rather than pumped air.
Fleet operators are desperate for a new solution — trucks have, on average an air-related issue with tyres every 8,000 miles, any each minute spent dealing with these costs money. Michelin, meanwhile, is starting from the other end of the vehicle scale, supplying lawnmowers and golf-carts as a starting point.
The most efficient electric engine?
BMW iVentures, the German carmaker's investment arm, invested $25m in Software Motor Company (SMC), a Silicon Valley-based company that says it is developing "the world's most efficient electric motor".  All car makers are racing to develop more efficient motors that could give a longer driving range for electric cars. The SMC approach comes somewhat from left-field — the company was previously working on motors that heat and cool large buildings. But BMW believes the technology could also have applications for cars.
Software
M12 hunts for European startups
Microsoft's venture capital arm, M12, is back hunting investments in Europe (after a small hiatus while it had no Europe-based partner). It is kicking off with two deals, one with SuperAwesome, the UK-based childsafe internet startup and another for Comtravo, the German business travel company.
M12 chief executive Nagraj Kashyap tells Sifted there are no bargains, even in Europe at the moment. But selling the corporate angle — and a potential link-up with Microsoft — can often seal the deal.
AI that advises on how to get a job done
AB InBev's investment arm, ZX Ventures, took part in the $35m Series E funding round in Catalant, the US startup that uses machine learning to match the jobs that businesses need to get done with the right staff and skills.
Catalant, which was founded in 2013 and which received early seed funding from Mark Cuban, one of the investors on the US reality TV series Shark Tank, says 30% of Fortune 100 companies use the software. GE Ventures is also an investor.
Telecoms
Managing mobile ads
Deutsche Telekom Capital Partners took part in the $210m Series D funding round for AppsFlyer, the mobile advertising measurement company. This round makes the San Francisco-based company a "unicorn" with a valuation of $1.6bn.
AppsFlyer has a dashboard that plugs into platforms like Facebook and Google, helping brands and agencies calculate the effectiveness of their campaigns. Brands who use it include Nike, HBO and Walmart.
Good reads:
Why corporate innovation labs fail
Corporate innovation labs have produced poor returns and results in recent year, and a number of corporations, including Coca-Cola, Target, Adecco, Disney and Ogilvy, have shut their labs down. But why, exactly, have things been going wrong? This Insead article identifies six reasons:
Nobody knows exactly why the innovation lab exists. It was probably founded because a competitor had a lab and the company didn't want to be left out of the trend. There are no clear expectations for key performance indicators or return on investment.
The lab is focused on tweaks and enhancements rather than disruptive innovation.
The core business doesn't connect with or believe in the lab.
The parent organisation is worried about the disruption that the lab might bring about.
Corporate executives and entrepreneurs can't reconcile their mindset differences.
The parent company is too impatient.
Innovation is not fun
There is a misconception that innovation is all about inspiration and fun blue-sky thinking workshops. This article by Jesse Nieminen (a Future Proof reader, too) aims to put would-be innovators straight.
It is not about being creative but actually creating something. Ideas on their own are worthless.
It is psychologically tough. There is a great deal of failure and criticism to field.
It's not glamorous. Innovation teams always have too many ideas and too few people. You will have to roll your sleeves up and do the mundane tasks.
It always takes a lot longer than you expect. Facebook is supposed to be a "quick" success story, but it was three years after launch before the general public was allowed to sign up to Facebook.
Humans trump artificial intelligence
Another great article that puts AI into perspective. For all their Go and chess-playing prowess, artificial intelligence is unlikely to ever trump humans, says this Prospect article. AI is unlikely to develop common-sense any time soon, and the biggest risk from artificial intelligence is not some Skynet-like controlling intelligence ruling over us, but the unthinking application of inadequate systems. Less Hal in 2001: A Space Odyssey and more "computer says no" in the Little Britain comedy show.