Fun fact: In 2019, Gen Z outnumbered millennials, we now make up 32% of the world's population.
But Gen Z is still surrounded by misconceptions — terms like "snowflake" and the idea the upcoming demographic as self-obsessed, entitled, and overly emotional. None of this is helpful if companies are going to understand the incoming generation of workers — and if big companies are going to work with startups led by Gen Z founders.
Sifted's choice: Gen Z entrepreneurs to watch
Meet the top founders under 25 in Europe; the first of a series looking at the bright minds of Gen Z.
Read more.
I am trying to help bridge the gap at InclusionZ, a platform that I have founded to help corporations work with Gen Z partners and employees. We help companies engage, attract and retain junior staff and we also help young professionals get careers and skills training.
At InclusionZ, we are passionate about empowering the upcoming generation of future leaders. During the pandemic, my team and I have been delivering workshops and consultancy sessions to support Gen Z Founders. The InclusionZ enterprise network has now evolved into several global startups led by Gen Z entrepreneurs who are looking to scale their businesses.
1. Power resides within our uniqueness.
During the early period of founding InclusionZ, a corporate client saw my age (19) as a "weakness". At first, the influence of InclusionZ's 'by Gen Z, for Gen Z' aspect was underestimated. A senior staff member proposed that someone older would be 'best fit' to handle the project. However, as the project progressed it was clear that older age does not amount to results. Companies should understand that youth is precisely our strength. It allows us to observe Gen Z's authentically, their buying behaviours, attributes, and belief systems.
2. We take diversity really seriously.
Gen Z is the most diverse generation in history. We represent the growing racial and ethnic diversity of the world (48% identify as non-white) — so it is not only understanding people who are younger, but understanding a generation who are instinctively more inclusive. InclusionZ conducted a worldwide study centred around Gen Z attributes. Research has shown that 63% of the Gen Z population believe in sharing and exploring new ideas and experiences that promote diversity.
3. We are competitive and entrepreneurial.
A significant attribute of Gen Z is that we possess a highly competitive spirit. The upcoming demographic is often focused on getting things done as they come, which is why patience is not one of our notable attributes.
Gen Z are risk-takers and very entrepreneurial; this generation has more numbers of fast-rising entrepreneurs than any other in history. A recent study shows that 58% of Gen Z want to own their businesses, and 14% are owners of entrepreneurial startups.
Startups run by Gen Z Founders are assembled on teamwork. We have genuinely adopted the famous proverb "If you want to go fast, go alone. If you want to go far, go together." Corporations need to ensure that they have cooperative company principles if they want to effectively partner with Gen Z entrepreneurs. Communication is key! Gen Z thrives in inclusive environments where everyone is valued.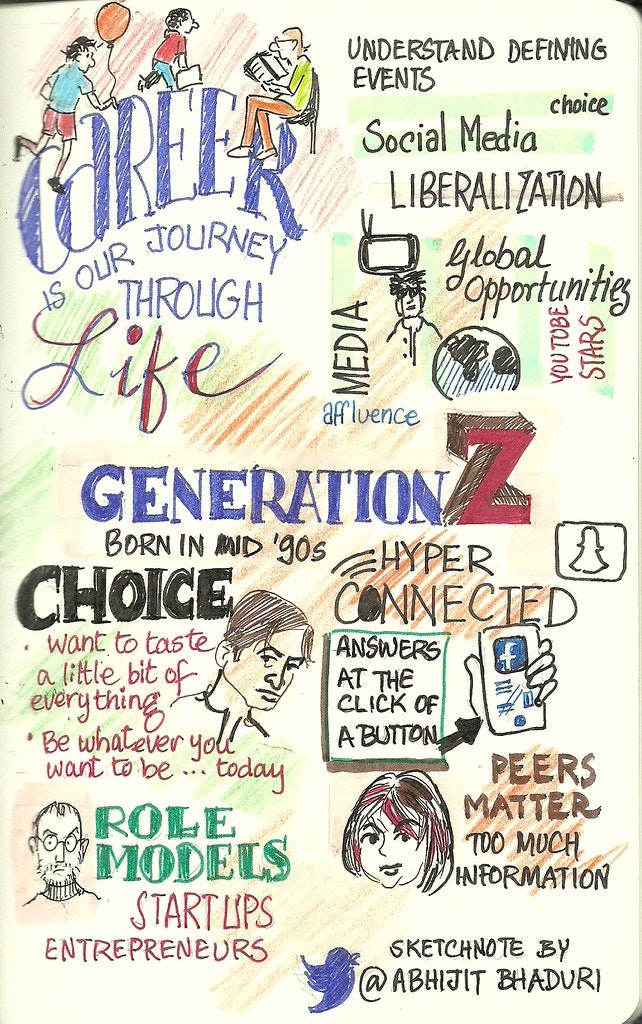 4. We are even more tech-savvy than you realise.
IBM CEO Ginni Rometty forged a fascinating term "new collar jobs" to refer to the nature of jobs currently taking over the employment market. New collar jobs refer to jobs that require an adequate level of technological know-how and knowledge of digital techniques/skills, which Gen Z is perfect for.
We were born into the digital age. Research conducted by Dell Technologies reveals that 98% of Gen Z have used technology in their schools, and 80% want to work with cutting-edge technology in their prospective careers. Companies can benefit from the digital age by giving Gen Z employees more autonomy over the tools they use. Due to the fact, an unconfined working environment can optimise innovation and performance.
5. We like to move fast.
It is not news that Gen Z spends an incredible amount of time on the internet. There's access to limitless information on various topics that can generate new ideas to adapt to changes in the fast-changing business world. We learn fast, we are passionate, and we create opportunities for ourselves. Companies should be open to transformation in the workplace to optimise Gen Z's fast customs. Numerous corporations attain an "if it ain't broke, don't fix it" mentality, which confines business development. Through the renovation of procedures, Gen Z will seek ways to progress and upskill fast.
6. We like to be listened to.
We are a very opinionated generation. Having grown up with social media, we want our voices to be heard…Corporations should pay attention to feedback —the good and the bad. Based on the response, companies should take action accordingly. Employers must understand how they deal with situations, may impact Gen Z's willingness to share their views in the future.
Marcus Rashford, Malala Yousafzai and Greta Thunberg. These are the people who are already changing the world — and will be running it in the future. It's time to learn how they think and how best to work with them.