"Let me start out with an Italian restaurant that has been around for over 100 years. It's called Monte's in Williamsburg," Olivia Cohen says, speaking into her iPhone as she records her voice. 
It's a spot worth visiting for "solid red sauce classics," family-style dishes, and overall "very amazing nostalgic vibes," she explains. And they've even maintained the classic decor too, which she loves.  
After she has finished recording her 90 second clip, another woman, named Marie, chimes in with her take on the best Italian restaurant in town. Locanda Vini e Olii on Clinton Hill in Brooklyn is a winner, she says. It's housed in an old pharmacy, where the aesthetics are "super cute" and the food is "very rustic."
These musings on Italian food are just one example of the kind of discussions happening on Beams – a collaborative short-form audio app that launched in April this year. 
On Beams, users can start a group, record themselves speaking on a particular theme and then invite others to collaborate with them asynchronously by sharing their views or experiences.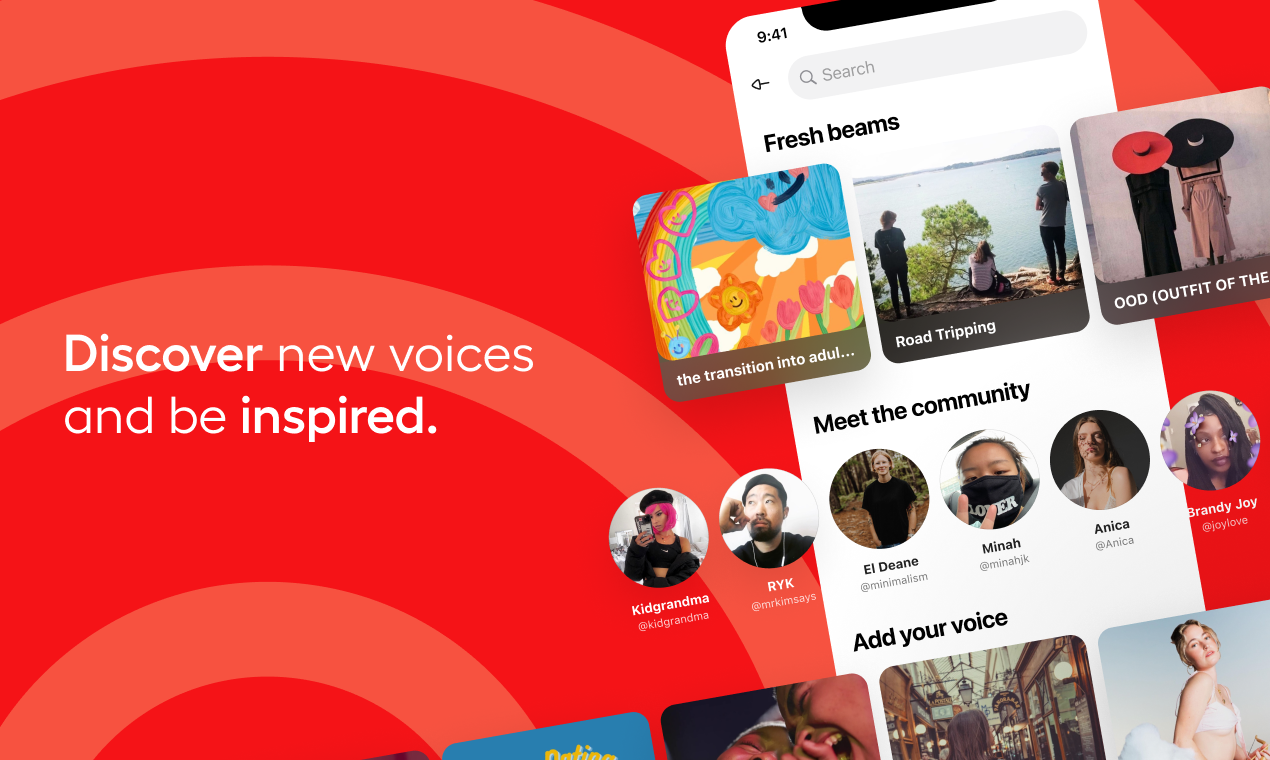 So far, Beams has stacked up 10k monthly active users, as well as $3m in funding. Its backers include VC firms Mangrove, Redalpine and Wavemaker, and business angels that are founders and ex-executives of Facebook, Instagram, Tourlane and N26.
Beams' four cofounders say the platform is less like Instagram or TikTok — where the emphasis is placed on the individual creator and their number of followers — and more like a Reddit forum or Discord server, where people discuss hot topics, spar with each other and build communities around shared interests. 
Social experiences that encourage sharing and collaboration could prove popular for creators and social media consumers, say the investors Sifted spoke to — especially as Gen Z is increasingly looking for low-pressure, more authentic ways to connect online.
A 'collaborative group concept'
The biggest social media and creator economy platforms such as TikTok, Twitter and Instagram all have one thing in common: they're built for what Beams' cofounders Alan Sternberg and Matej Balantič call "single followership."
"When you sign up to these platforms as a user, it's very clear that the goal is for you as an individual to grow your audience," says Sternberg, who is based in Berlin. 
This model is what has partially given rise to influencers who, with the backing of millions of followers, can monetise their content — and, if they're lucky, secure thousands of dollars in brand deals. But it also has its problems. 
According to Sternberg, single followership creates a "pressurised environment" for creators — not least because racking up likes and followers is what gets you noticed by brands in the first place.
"As a creator [with a followership to maintain], you become known for creating content on one specific thing. You become more of a brand and less of a human with a wide range of interests," he says, adding that creators get "kind of punished by the platform" they're using if they try to deviate from their niche.
"Your content isn't seen, you lose followers, and you ultimately stop growing your audience," he adds.
Beams wants to do things differently, says Balantič, who was a former engineering manager at Soundcloud. On Beams, there are no profiles to follow and no likes. The aim is to shift the onus from the individual creator and "place the ownership on the group" — enabling users to "express themselves in multi-faceted ways" and dig deep into their sprawling interests and views.
The concept could prove compelling for influencers who, as solo creators, may be feeling burnt out by the constant pressure to churn out content, and might be seeking something new.
Influencers with vast followings will know when they join Beams that they're not the only creator in the

room.
"Influencers with vast followings will know when they join Beams that they're not the only creator in the room. They have a role to play in the social circle," adds Sternberg. "But we definitely believe that there will, at some point, be influential groups on Beams that will be able to monetise their content and expand their influence."
A shift to the 'knowledge sharing economy'
Online social experiences will, in the future, become much more collaborative — which puts Beams in a good spot, says Ollie Forsyth, global community manager at Antler VC, who has been closely watching the growth of the creator economy and its crossover with social media.
The creator economy is quickly shifting towards "the knowledge-sharing economy," he says, which will cause influencers to interact more closely with their superfans.
"Creators are going to become a kind of high school teacher — which means that, at some point, we're all going to consume information from five creators we absolutely love," he explains.
"For that to happen, there needs to be much better technologies for creators to interact with their superfans in a collaborative capacity" — which could include formats like live interaction, brainstorming sessions and virtual environments. Beams, which is built to encourage group participation, could, Forsyth speculates, help creators get closer to their audiences. 
[embed]https://twitter.com/ollieforsyth/status/1396569373226278912[/embed]
Sternberg says Beams is a platform where people can learn from and educate each other, and hear points of view from around the world — all through the power of voice. 
A poignant example is a recent beam called 'Voices from Kabul' created by a young student in Afghanistan, who explains the current plight of the Afghani people as the Taliban seizes the city. Other prominent voices that have joined in on the discussion include Farzani Kochai, a female member of parliament and a campaigner for women's rights, who has decided to stay in Kabul while her other colleagues have fled.
"We see so much potential for connections around moments like this, and our platform as a safe place for these honest and vulnerable conversations to take place," a company spokesperson told Sifted.
What I love about Beams is the raw, unedited sound clips you hear — no fancy microphones or post-production editing. Just an idea presented without the pretence of

perfection.
El Deane, who set up her own podcast in 2020 and now avidly uses Beams, agrees: "What I love about Beams is the raw, unedited sound clips you hear — no fancy microphones or post-production editing. Just an idea presented without the pretence of perfection — which seems to be what's required to 'succeed' on Instagram."
There's also less "FOMO and stress" on Beams than there is on Clubhouse — a social audio app that lets people gather in live audio chat rooms to discuss different topics and that blew up earlier this year.
While Clubhouse is widely considered to be the first mover in the audio vertical, users say the app struggles to produce round-the-clock quality content as it relies on hosts and users being live on the app constantly. 
Beams' asynchronous format, however, allows users to add their voice to the debate whenever they're free. "It fits in with people's lifestyles easily," says Balantič.
Depressurising social media
Wanting its users to have honest and vulnerable conversations on the app is part of the reason why Beams chose not to implement likes, comments or followers on its platform.
According to Sternberg, showing how many 'likes' a piece of content has creates "competition and unnecessary pressure" for the user. But on the other hand, you cannot have a social platform without incentives, he adds.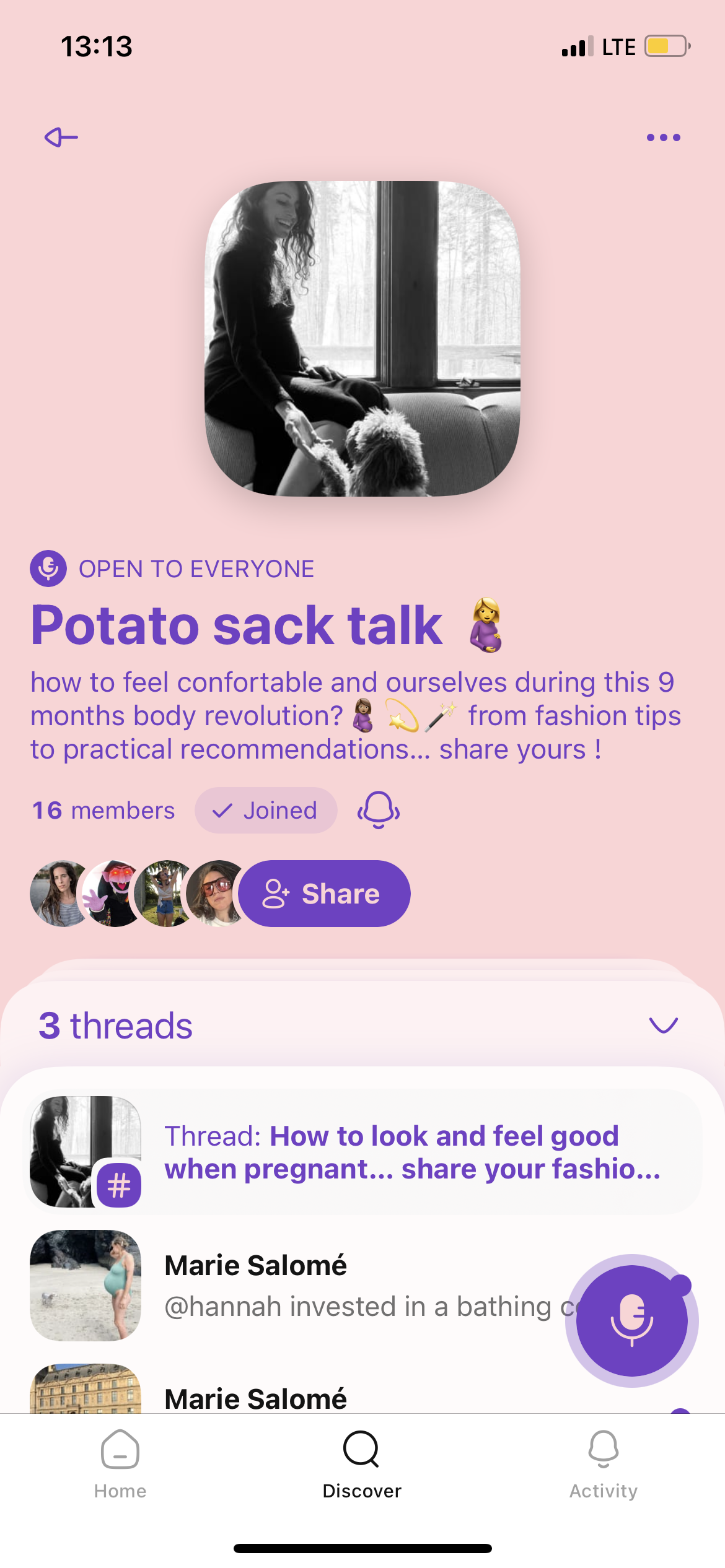 Beams' solution is to allow groups to privately see how many 'listens' their content has had on the platform and how many 'members' have joined their group. In the future, Beams also plans to bring 'reactions' like "insightful" or "funny" to the platform to allow users to give "qualitative, rather than quantitative feedback" on content.
"The way we [incentivise people] is not through publicly announcing to everyone how successful you are, but giving you private insight into your success," explains Balantič.
The founders' decisions chime well with current consumer sentiment as well as the actions of other social apps.
Significantly, Facebook and Instagram made it possible in May for users to hide the number of likes they receive on posts to "depressurise people's experience," the social media giant said. 
In Europe, Yubo, a French social app for teens which was launched last year, consciously built its platform without likes, followings and influencers in a bid to make socialising less polished and more authentic.
And Polywork — a new professional social network app that raised funding from Clubhouse investor A16z last month — has consciously omitted "systems of stress" such as likes and followers from its platform.
We might just be at a point in time where we're going to see an emergence of different types of engagement strategies for users and

creators.
"We might just be at a point in time where we're going to see an emergence of different types of engagement strategies for users and creators," says Forsyth. Likes and followers are now pretty "old school" but whatever follows will need to be just as fresh and engaging.
"If someone starts the trend and it becomes super hyped, it can drive enormous virality — and VCs will certainly come knocking on those doors," he adds.
For Deane, it's Beams' "innovative and inclusive" community that keeps her coming back to the platform. 
"Beams ticks so many boxes for me because it enables me to continue with what I love: podcasting — as well as meeting, and connecting, and creating stories and ideas for a platform in a very real and accessible way."