Mind reading was once the stuff of science fiction but, since Elon Musk and others have begun work on neural interfaces, the idea of a computer reading human thoughts is becoming less far-fetched. Understandably though, not everyone loves the idea of a tyrannical billionaire implanting a chip inside their skull.

Today, a spinout from Imperial College London called Cogitat has been awarded a £500k grant from the UK innovation agency, Innovate UK, to develop its AI-powered technology that it says can read your brainwaves — without needing to drill a hole in your head. 
This non-invasive tech, the company says, is already being put to work helping stroke patients to rehabilitate, and could one day let us control prosthetic limbs, and even cars, with just the power of our minds.
I went along to the lab to give it a test.
How Cogitat's tech works
Cogitat — cofounded by Allan Ponniah and Dimitrios Adamos in 2020 — has a difficult task on its hands. By opting for a non-invasive solution, the startup gets a less clear picture of what's going on electrically in the brain than you'd get from a physical implant inside the cranium. 
The team, made up of 13 neuroscientists and machine learning experts, is working on algorithms that can find patterns in the blurry electrical signals that make it through our skulls, to detect electrical patterns that correspond to thoughts.
Everybody has different brainwaves, and they're different at different times of day, so there's no consistency in the brainwaves that you

measure
The company doesn't build its own hardware. Instead, it's building software to use with third-party EEG (electroencephalography) devices that measure the electrical signals from our brain.
"It's very difficult to decode the signals from the brain from the surface of the head with EEG devices," explains Ponniah. "That's because everybody has different brainwaves, and they're different at different times of day, so there's no consistency in the brainwaves that you measure — and the signal is not very strong."
Ponniah hopes that, by going for a non-invasive solution that works with a wide range of third-party hardware, Cogitat's technology will be more widely available to therapeutic and commercial partners. In the commercial space this could be anyone making VR technology, and in the therapeutic context it'll initially be working with research hospitals.
Testing it out
Cogitat's algorithms are now able to read thoughts from the motor cortex (the part of our brain that controls body movement). 
There's a catch, though: for this to work, users need to put on an EEG cap with electrodes touching the scalp — it's easier to get clear results if that person has a shaved head. 
"Does everyone at Cogitat have to have a shaved head then?" I ask. "It is recommended," Adamos wryly responds.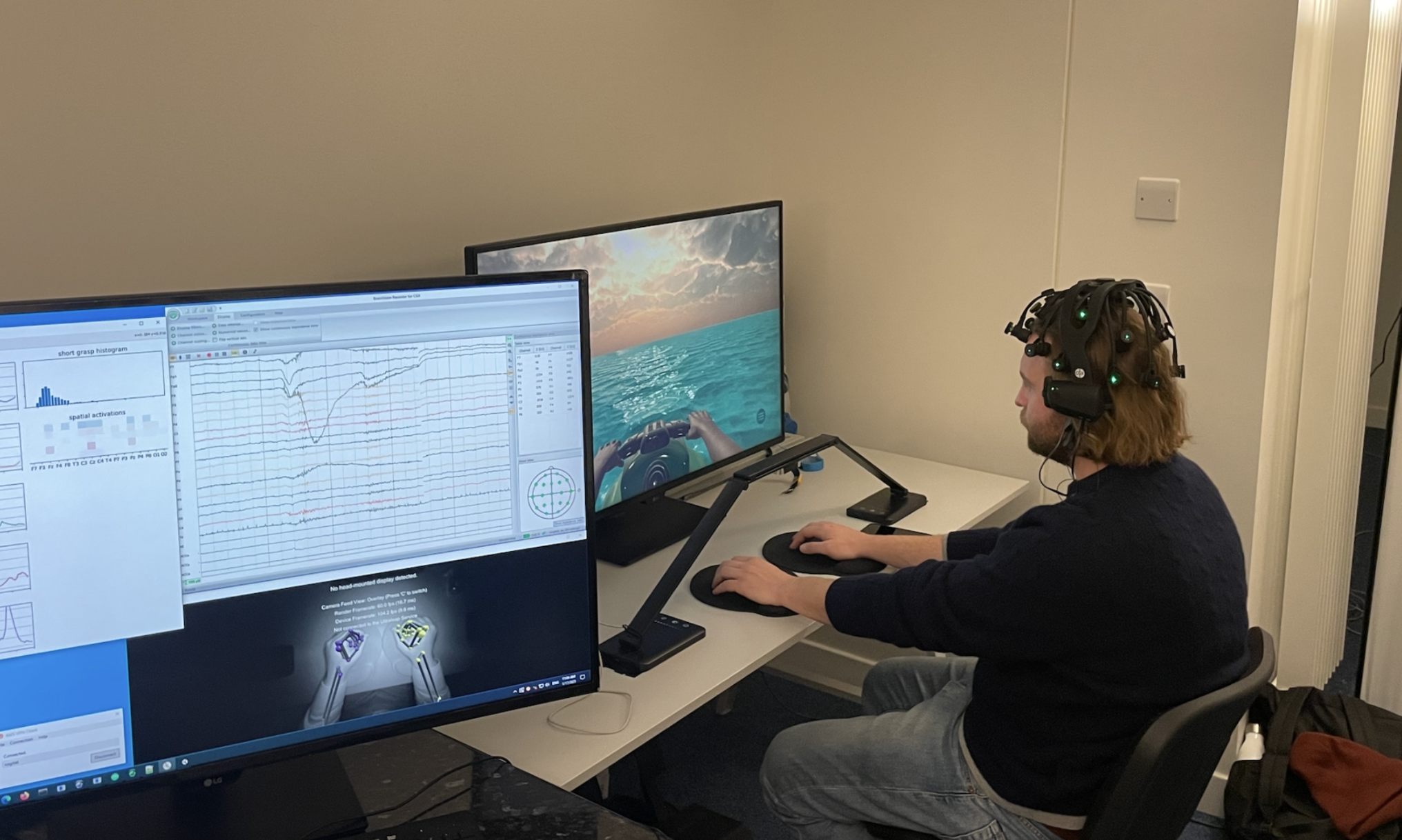 Despite being far from bald, I put on the cap and sit in front of a screen with a jet ski simulator loaded up. 
I'm instructed to clench my hand as if I'm gripping the throttle of the vehicle and, even with an unruly mop like mine, the motion is copied by the avatar on the screen with impressive accuracy.
Perhaps even more eerily, I'm then instructed to simply think about clenching my hand and, sure enough, the avatar follows my mental instructions most of the time (Cogitat says the accuracy is currently around 90%).
How could Cogitat's tech be used?
Ponniah says he thinks there will soon be commercial applications for this technology in gaming and the metaverse, as it could let disabled people control the technology without the need for handheld controllers.
If you can imagine moving your hand and you can see your hand moving on the screen, this can start the process of

rehab
Personally though, he's more excited by the therapeutic potential. Cogitat's technology is already being put to work by researchers at University College London, who are exploring its use in helping stroke patients to rebuild the mental links between thoughts and movements.
"If you can imagine moving your hand and you can see your hand moving on the screen, this can start the process of rehab," Ponniah explains.
As Cogitat improves its algorithms to read brainwaves with more reliability and accuracy, other applications could include prosthetic limb control "in the near future" and controlling devices like drones and cars "in the far future", he adds.
For now, the startup is generating revenue by selling its technology to researchers, and is also exploring partnerships with large commercial VR headset companies.
As well as grant funding, Cogitat raised a pre-seed round back in 2021 from Metavallon VC and Creator Fund. Ponniah says he would look to top that up if the team identifies a vertical that needs a quick go-to-market strategy.
The competition
But Cogitat is far from the only one working on non-invasive neural interfaces, and competition to win deals with the likes of Oculus will be fierce. 
Others in the space include Munich-based CereGate and Lausanne-based MindMaze (which has raised more than $300m in VC funding), but Cogitat believes that its team's combination of neuroscience and machine learning expertise will allow it to compete in this increasingly populated field.