Around 400 people work in CMR Surgical's vast 55,000 square foot office in Cambridge. A cluster of part-built robotic arms are visible across the indoor "street", and to the right, employees clamber across on the city's largest indoor climbing wall.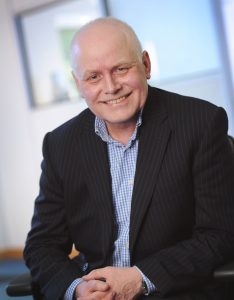 Martin Frost, the cofounder, tells Sifted that the office's high-tech atmosphere makes it feel "like Silicon Valley". Right or not, the surgical robot startup has already attracted funding worthy of a California tech giant: this month it closed a supersized £195m investment round. 
Not only was this Europe's biggest ever medical technology investment, but it pushed the startup's valuation over £1bn making CMR Surgical one of Europe's first healthtech unicorns.
Frost's affiliation with America is deliberate, an ode to the global impact he dreams of making.
Versius, the startup's four-armed robotic surgeon, is designed to allow complex operations to be completed with just a few tiny incisions rather than one big one. While the startup declined to specify the robot's exact size and price, Frost insists it is more "portable", "transportable" and "affordable" than its main Californian rival: Intuitive's Da Vinci robot. This currently dominates the market but requires around a square metre of floor space and costs nearing $2m.
Whoever wins out will win big. Worldwide revenues from robotic surgical assistants now hit around $4bn a year and are growing by 20% annually predicts CMR Surgical.  By 2022, the size of the surgical robots and artificial intelligence market is expected to be worth $18bn.
The company is now rolling out its robots within the NHS and plans to have hundreds in hospitals around the world in the coming years.
Sifted met Frost the man behind the machine…
So what's the big problem you wanted to solve?
What's broken is that the best way to have most soft tissue surgery is through keyhole minimal access surgery and at the moment there are millions of people in the world not getting it.
What motivated you personally?
My mum died when she was very young under a surgical procedure, which could and should have been done better. I was destroyed, obviously. But with the benefits of time I've been able to build a business to address the bigger questions, this raised: How do we improve surgery? And how do we standardize surgery across the world?
What's been the biggest learning on your journey to becoming a unicorn?
Twenty years ago, I thought it was a disadvantage to ask for a lot of money. By definition raising an awful lot of money sounded harder. 
What I've discovered is that people who have an absolute fortune can only invest in funds that are very, very large. So the key is to find not just the problem to solve, but the biggest possible problem to solve. For financial investors that says 'If we succeed, we succeed with big numbers and even if we don't 100% succeed, we still succeed with very big numbers'.
Is there a leadership mantra you follow?
I probably put more time into people than anything else, finding them, making sure they're okay. My job really is to clear the way so they can do their job.
You also have to live your mission. We talk about ambition and humility, and integrity and being fair and responsible. If I am not those things when I'm outside this building, people will know that our values are paper thin. They have to be authentic. I'm a fairly extrovert person, so people always know what I think and I feel!
"You have to know when to shut up and listen."
What are the pros and cons of being an 'extrovert' founder?
The strength is you're not worried about communication. It's what you like doing. A weakness of being an extrovert is that… I think it's important to listen as it is to communicate. And when you've assembled a team of diverse talent you have to know when to shut up and listen.
Just because I shout louder doesn't mean I'm right. There are people who might have better opinions than me but are just not bold enough to shout them out. 
What has your experience of the NHS been?
Of course, it is difficult. The combination of Strategic Procurement guidelines and local decision making inevitably makes life hard. But then, the amount of support we receive from the NHS and from life science innovation people in government, that's been significant. 
I don't think it's possible for any health service or medtech business to get off the ground and make headway assuming the UK alone will sit behind it.
You have to plan to go global. Whether we like it or not, we live in a global economy. You have to figure out how your idea or technology works all around the world. 
"If Brexit means less diversity, I hate it."
How will Brexit shape this 'global economy'?
Diversity is a massive strength, especially in an innovation-led business. If Brexit means less diversity, I hate it.
In practical terms, because we set up the business to be global from day one and because we already have a global supply chain we were already mitigating any possible fallout from Brexit. It's painful but we are dealing with it. 
When will your tech get so good that robots can complete surgery on their own?
Will it be in my lifetime? I'm not sure… 
The big innovation surgery needs before that's even conceivable is a huge development in imaging technology. That needs to be able to recognize the tissue the robot is looking at: the difference between good and bad tissue. 
At the moment we have a tool which extends the abilities of the surgeon and we are going to be in that paradigm for 10 years or more. Although, we will start to see happen some procedures being done semi-autonomously first, like automatic suturing.
"By 2023, there will be hundreds of our robots in Europe." 
You're rolling your new "Versius" robot out now. How many will be live in hospitals by Christmas?
Most of our robots will be used in public hospitals—that isn't to say all of them. We will, of course, sell into private systems too, but we're designed to be universally accessible and affordable.
There will be several out in the wild by Christmas, including in the UK. By 2023, there will be hundreds of our robots in Europe. 
If you could magically change one thing for health startups what would it be?
Medtech as a sector in the UK is relatively under-invested in. It's unloved and you end up in this catch 22 because there haven't been any big medical device success stories.
Private Equity companies and VCs don't see it an attractive area, so they don't raise the funds and you end up in circular analysis where startups have to approach more generalist sources of capital who need more comfort around the regulatory risks and time scale. 
I would love to demonstrate that this sector is investible. We want to show that you can leverage a lot of the capabilities in the UK to build a successful business. I very much hope that in 10 years time this will give way to a thriving young medtech scene that isn't there today.