Clubhouse has been a pretty lonely place for Europeans since the invite-only social media app launched in the US last year, with big money investor backing and celebrity endorsements. 
That is, until now.
The hottest social app in town has turned its growth-hacking sights on the European market, leading to an explosion of growth in recent weeks and with some of the biggest names in tech now hosting regular panels and discussions.
The UK and Germany now have the highest number of app downloads outside of the US (119,548 and 92,659 respectively according to data from App Figures). Last week, Clubhouse became the most downloaded app on German iOS.
Since you have to be invited to Clubhouse by someone who is already using the app, interested parties have taken to Twitter to beg for invites, while some users with invites to spare are selling them on Ebay for a hefty price. Far from slowing growth, this has only seemed to make the app more desirable.
Akash Bajwa, an analyst at Augmentum Fintech, was one early adopter starting his own Clubhouse chat room, the European Tech Club, in October when few Europeans were on the platform. At the time, he says, the Clubhouse founders did not seem to be focused on growing their European user base.
"But lately, Clubhouse seems to be prioritising user growth in Europe — perhaps because of Twitter Spaces launching this year," says Bajwa, pointing to the number of journalists, politicians, VCs and founders now on the platform. "Clubhouse seems to be executing growth-hacking quite well."
The success of the social app has already led to some tough questions in Europe though. It may have, of course, already collided with European data protection regulations. There are concerns over moderation and diversity on the platform. There is also a bigger question: can it keep this momentum going? 
Where it all began
Clubhouse first gained popularity in Silicon Valley in March last year — when entrepreneurs Paul Davison and Rohan Seth released the first beta version of the app to a select pool of users.
Sifted Newsletters
Sifted Newsletter
3x a week
We tell you what's happening across startup Europe — and why it matters.
These users — who were mostly well-connected entrepreneurs and investors from the West Coast — became quickly smitten with Clubhouse, and VCs scrambled to invest. 
By mid-May, VC firm Andreessen Horowitz (a16z) won the race to back Clubhouse, plugging $10m into the fledgling company, and even paying $2m to purchase shares from existing shareholders. The financing brought Clubhouse's valuation to $100m, just a few months after its founding. 
Nine months later, and Clubhouse this week raised a Series B funding round at a $1bn valuation led by Andrew Chen at a16z. Chen wrote in a blog post that Clubhouse has grown to nearly two million weekly users worldwide. 
[embed]https://twitter.com/andrewchen/status/1353390171912212480[/embed]
In the spring of last year, Clubhouse's early users were mostly celebrities — such as MC Hammer and Kevin Hart — and high-profile tech figures from the US. Anyone who was anyone appeared to be on the app which only "added to the allure," one early user told Sifted.
There was a feeling that any important conversation worth having in 2020 was being hosted right there on the app. On Clubhouse, discussions are held in real time. They start spontaneously and disappear once everyone leaves the room, as if replicating the transience of everyday speech.
"After the tragic killing of George Floyd and the onset of the 2020 Black Lives Matter movement, users could log into Clubhouse and listen to the deeply personal takes of figures such as Oprah, T. D. Jakes, or Deepak Chopra," said a user who is close with the Clubhouse founders, and who received an invite early on.
The "candid" retelling of stories caused many users to clock up to six to seven hours a day on the app, she adds.
'Prioritising user growth'
Bajwa says that the Clubhouse founders seemed to be "tinkering" with the platform in Europe between the period of September to December last year. But now, they've really started to target rapid growth. He uses the example of Germany, where Clubhouse has achieved "exponential growth" through tactical invite-sharing. 
Bajwa has a hunch that Philipp Gloeckler, who hosts the Doppelgänger podcast with Philipp Klöckner, was chosen by Clubhouse as one of the first "influencers" in Germany to be given an invite, since he has a "credible following" in the tech community. 
Gloeckner reportedly announced on Doppelgänger that he had received a Clubhouse invite, and then created a Telegram group where he invited one person to join. That person then had to invite another two people to Clubhouse — and so on and so forth. 
"Since then, the number of high profile people joining in Germany has only further accelerated Clubhouse's growth, as top VCs, journalists, and politicians joined," adds Bajwa.
Clubhouse has reportedly grown so quickly in Europe that it's already collided with European data protection regulations. To invite other people to the app, Clubhouse users have to share their address book — one of the oldest "growth hacking" tricks in the book, wrote Dragos Novac in his weekly newsletter on European VC.
Lockdown mingling
The opportunity to eavesdrop on interesting conversations, connect with experts, and even bump into people you know are what has drawn many of Europe's tech community to Clubhouse. 
Clare Jones, chief commercial officer at startup what3words, says that Clubhouse has recreated a lot of the tech events and conferences that have been "missed so much during the pandemic." The app has also provided a platform for women in tech and VC to support each other on things like fundraising, or "managing difficult dynamics" in the tech space.
"Seeing women support each other and offer advice has been pretty powerful, I think."
For Nick Russell, entrepreneur in residence at Conception X in London, it's the "huge movement of diverse participants talking about everything from work, to life and love," that has kept him using the app.
Additionally, the low-bandwidth format of Clubhouse — which many have described as the modern day radio — is perfect for those worn down by endless Zoom calls. 
"Voice is a powerful medium that requires a different kind of attention [to video]. You can leave it running in the background," adds Russell, who was pleasantly surprised when he climbed into an Uber the other day to hear Clubhouse, rather than LBC radio, playing on the airwaves.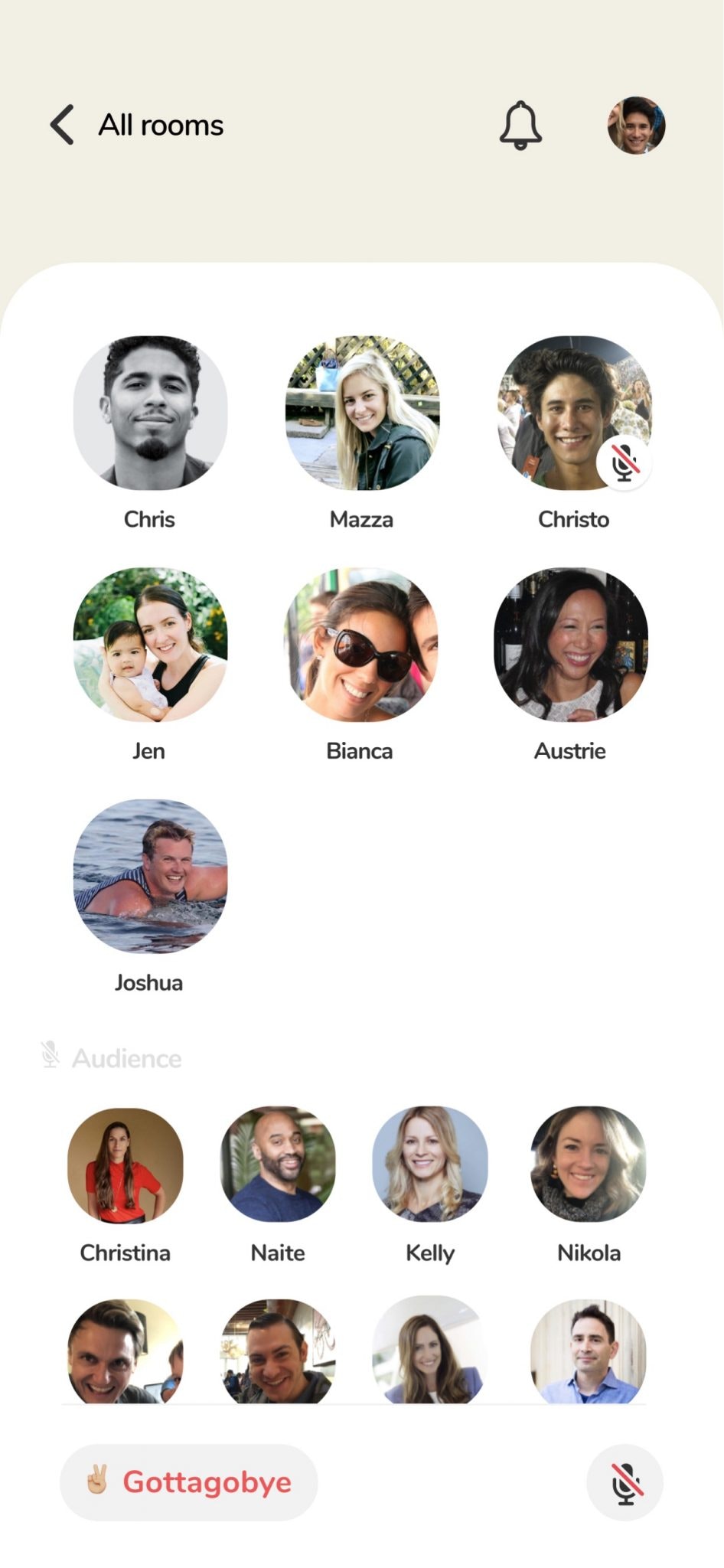 Without the pressure to "show up" for video, travel and tech author Lauren Razavi tends to tune into Clubhouse at 10pm in the evenings when in her pyjamas — just as the American VC community is getting active on the app.
"It's hard to say whether I'd be spending so much time on Clubhouse if it wasn't for lockdown in the Netherlands, but right now, it's fully embedded into my nighttime routine," she says. 
Calls for moderation tools
There are, however, problems with the Clubhouse app that haven't gone unnoticed by the European tech community. 
There's an obvious dearth of women on the platform, which is "hardly surprising considering the app was started by tech bros in Silicon Valley and is passed on through invites," says John Stanley Hunter, fintech journalist at Finance Forward. 
Other issues remain with the platform's lack of moderation tools, which are needed to navigate large debates. While it's possible to report hate speech on the app, Clubhouse has come under fire in the past for not taking effective action against abuse. 
"Clubhouse is still relying on people to self-regulate on the app, especially as moderators find it hard to monitor conversations in massive rooms," says Pratima Aiyagari, venture partner at Nauta Capital. 
Some female users told Sifted that they've experienced sexism and misogyny while using Clubhouse — and few perpetrators have been held accountable. 
Clubhouse will have to find a solution for this soon otherwise it could be quite

dangerous
Anu Adebajo says that she joined a room with emerging managers raising funds to share her insights as an experienced LP and VC. 
"The room was completely taken over by men who had little to share because they had either only just made their first LP investment or were still looking," she says. 
This is a pattern that she's seen happen in other Clubhouse rooms. "Where there are women who are as qualified or more qualified to speak they get ignored, passed over, or worse, the things they say get repackaged by men in the room without acknowledgement [from other users]," Adebajo adds. 
In Germany, additional concerns have been raised about users who may be harnessing the platform to promote harmful ideology.
Valerie Krämer, who's building a B2B Saas platform in stealth mode, says that the absence of effective moderation might allow "racist groups" to go unchecked. 
"Clubhouse will have to find a solution for this soon otherwise it could be quite dangerous," she adds. 
For any type of consumer social product that has user generated content, moderation is key to ensure "long-term [member] retention and growth," says Pippa Lamb, partner at Sweet Capital, and an angel investor in Clubhouse.
She uses the example of Yubo, a Paris-based app that helps teens make friends online. The company quickly scaled to 40m users as "moderation was built into the product from day one." 
Building a safe space needs to be top of mind from the very

beginning
"All leading social audio apps in the category must prioritise safety features, whether it be more moderation tools, regular feedback townhalls, blocking and reporting functions," says Lamb. "Chalk, another social audio player in the space even notifies users when a screenshot is taken during a conversation, for example."
Ultimately, the challenge for any company growing very quickly is "fixing the plane while flying it," adds Lamb. "Building a safe space needs to be top of mind from the very beginning."
Clubhouse, it seems, is aware of this. In a statement yesterday, the company said it will be investing in "advanced tools to detect and prevent abuse" and increase the training resources available to moderators. 
"What people want to see is more awareness from moderators and others on stage to call out sexism/racism," says Adebajo. "Sometimes this stuff definitely goes unchecked, especially when a moderator brings lots of their likeminded friends on stage."
"It can be hard to speak up in those cases as a lone voice."
Sustaining the craze
If Clubhouse stays true to its word to attend to these issues, huge opportunities could lie ahead in the social audio space.
Ollie Forsyth, global community manager at Antler VC, says that many of the companies "innovating in the area" are based in the US and Asia, and Europe is yet to birth its own "household name."
Could Clubhouse plug this gap?
"I think the biggest question for community infrastructure platforms like Clubhouse is whether they can monetise the platform for creators," adds Forsyth. 
"As a podcaster, I do not get paid by streaming platforms — music artists do. If I am bringing mass audiences and notable names as guests, I want to be paid in some way. If Clubhouse can provide ways for podcasters to monetise, as well as record discussions, it could be a game changer."
Clubhouse is certainly aware that monetisation is a pressing issue — not least because it will help the company itself to earn money. The Clubhouse app is currently free, with no premium membership plans and no ad-support. Adding monetisation for users will enable Clubhouse to "take a cut for its services," reported Techcrunch. 
Yesterday, Clubhouse confirmed in a statement that it will be introducing products "over the next few months" to help creators get paid. These include tipping, ticket sales, and membership models — where creators can charge members that are part of their private 'clubs.' 
Other potential avenues include creators building their own community softwares that they can license or sell as a SaaS model, says Forsyth.
Another question posed by many in the European tech community is whether the Clubhouse hype will last beyond Covid-19. 
Lamb says that the pandemic has expedited trends in voice-audio — especially in Europe — as the need for virtual networking dramatically increased during lockdown. 
"In the same way you might switch on the radio for company, social audio apps offer a tonic to solitude," she says. But, once the world is back to the normal rhythm of life, will apps like Clubhouse be as appealing?
"It will be interesting to see how Clubhouse can sustain its craze," says Forsyth. "Houseparty was a craze in [the first] lockdown, but now friends aren't using it, and investors aren't talking about it either."
And, with people already raving about the roll out of Twitter Spaces online, will the Clubhouse hype be over before it's begun?