Hessam Lavi believes that tracking a company's carbon footprint should be as easy as installing Google Analytics, and as simple to understand as a Wikipedia entry. 
That's what his startup, Climatiq, is building. It's launching a public beta where developers will be able to access an open-source portal containing thousands of vetted data points, which they can use to integrate carbon tracking apps and widgets to their own software — all free of charge. 
The startup says it's the first to create a truly open-source, application programming interface (API)-first solution for carbon accounting. 
It's also raised $2m in funding led by Berlin's Cherry Ventures, announced today, with a number of prominent angel investors in tow, including Jens Lapinski, the former head of Techstars Berlin, and Paul Forster, the founder of jobs search engine Indeed.
What's so interesting about a climate database?
The business model for most carbon accounting startups and consultancies involves getting hold of the emissions factors needed to translate business activities into an amount of carbon emitted, then putting it behind a paywall (either in the form of consultancy fees or subscription charges) for businesses to access it. 
Climatiq, however, believes this data should be free to access, in order to get as many businesses measuring — and managing — their carbon footprints as possible.
By aggregating this data and formatting it in a way that makes it easy to understand and compare, Climatiq's database essentially serves as "a layer of technical infrastructure that enables others to build bespoke applications on top, or use it in existing software," says Philipp von Bieberstein, another of Climatiq's cofounders. 
The idea is that other businesses — such as ESG tracking companies or logistics providers — could get their developers to add emissions calculations to their own software, using Climatiq's API. 
"Or you could take the API and plug it in with your own data that you have as a company," von Bieberstein explains, "so you can check in every day, identify outliers, make predictions and run analysis."
One example of how early users (Climatiq is unable to disclose the names of the companies it is working with) are building on the platform is a logistics firm that's figuring out how the impact of shipping products to customers changes depending on the modes of transport used for each leg of the journey. It's also working with tech companies to calculate the real-time emissions associated with cloud providers such as AWS and Microsoft Azure. 
Most interestingly, Climatiq also plans to give companies the option of contributing their own data to the platform, making it possible for others to understand the exact environmental impact of using their products or services. 
This is a potentially game-changing idea. Scope 3 emissions — those which occur along a company's supply chain, such as when shipping products out to customers or buying ingredients from suppliers — are the most difficult for a business to measure, but often account for the vast majority of a company's environmental impact. Danish beer giant Carlsberg, for example, reckons its Scope 3 emissions are more than 10 times that of the direct emissions from its breweries. 
Tracking these figures down from suppliers is extremely difficult — and often, companies rely on estimates for this part of their carbon footprint.
"Scope 3 is 90% of emissions, but nobody can calculate it well because the data isn't there," says Isis Baulig, Climatiq's third cofounder and CTO. "That's the ambition that we have." 
Climatiq has recently hired two climate scientists whose task is to vet any new data being added to the platform.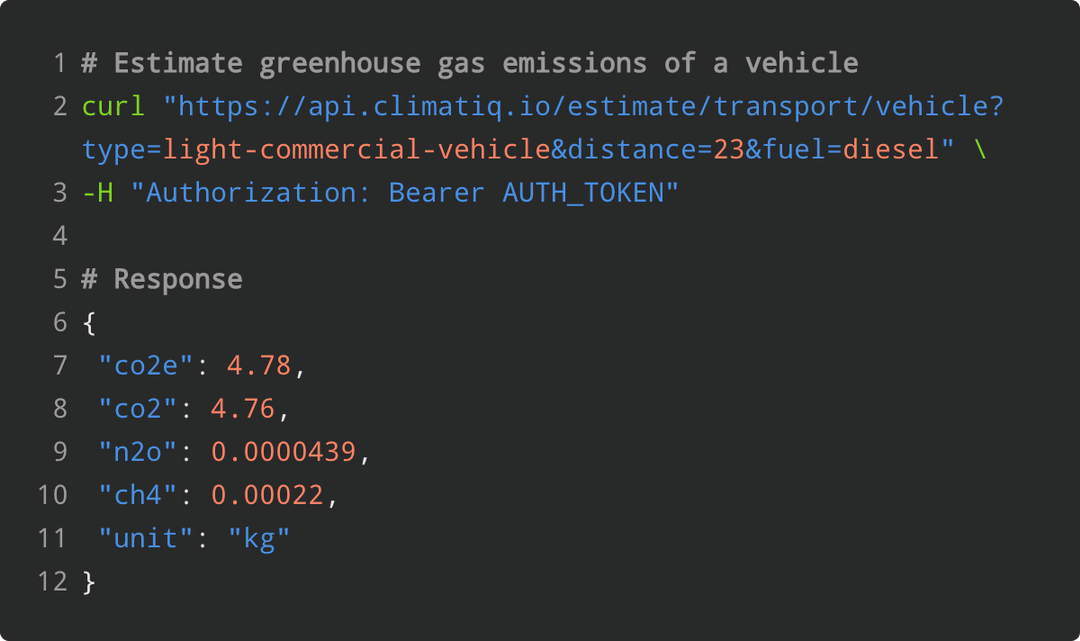 How will Climatiq make money?
Climatiq is not the only startup to attempt to help companies automate their own carbon footprint tracking.
In March, data science company Tomorrow announced it was closing down its carbon accounting software platform, Bloom, which allowed businesses to plug in their own data and get real-time updates on their carbon footprint. It charged a small fee to banks, bookkeeping apps and smart meter providers in France and Denmark to use the platform. 
Its problems were two-fold, it explained in a blog post. Revenues were low, leading investors to question the business value of the idea. Meanwhile, the customers it was targeting said they needed hands-on support in order to really get going with carbon footprint measurement. 
Climatiq says its Wikipedia-style climate database will always be free to access, but it does plan to charge bigger businesses for additional enterprise features. 
On the question of how usable developers will find a carbon emissions database, "of course it's complex, depending on how deep you want to go," Baulig says. "But at the end of the day, if you want to track fuel and energy in buildings, which is the most-used type of calculation, you don't need a PHD in climate science. You need to know where to find the data, and that you're looking at the right data."