Tallinn-based VC firm Change Ventures has announced the closing of a €49m fund today, the largest seed-stage fund raised in the Baltic to date and the latest sign of an accelerating boom in the region.
Baltic startups raised more than €1.5bn in 2021 — triple the amount raised in 2020 — according to the Baltic Startup Funding Report, released by Change Ventures today. And the pace appears to be increasing: €1bn of the fundraising came in the second half of 2021, and 2022 got off to an even faster start.
In January 2022 alone Estonian identity verification startup Veriff raised $100m to become the latest unicorn from the region, mobility startup Bolt raised €628m and fintech startup Tuum raised €15m, barely two years after being founded.
"As we look at the data, the Baltic states look pretty damn good," Andris Berzins, managing partner at Change Ventures, tells Sifted.
Backing Baltic stars
To date, Change Ventures has backed an impressive roster of Baltic startups, including Veriff, Planet42, Nordigen, Printify, Interactio and Fyma.
Through its latest fund, which has already been making investments, it will continue to back young Baltic startups, aided by a roster of limited partners that include C-suite luminaries from some of the key startups in the region, among them Vinted, Printify, KiloHealth, Lightyear and Oberlo.
The VC firm has also brought on board a new partner, Kärt Siilats. "She was running Mojo.capital, a late-stage fund in Western Europe that happens to have invested in a bunch of other Estonian teams, and she's moving back from London to work with us here in this region," says Berzins.
There is now a push to back more diverse teams. Change Ventures claims that 43% of the startups that have already received money from the new fund are mixed-gender teams — and it expect this to reach 50% shortly — compared to Europe-wide figures of around 9%.
Six unicorns and counting
For a region with a combined population of 6m, the Baltic countries punch above their weight. In terms of unicorns, Estonia alone now has six: Skype, Wise (or TransferWise, as it used to be called), Pipedrive, Bolt, Playtech and now Veriff.
According to the latest report, over 30 Series A and growth rounds were announced last year in the Baltic states, with Estonia producing more startups per capita than Israel, and the countries combined now generating as many startups per capita as mature ecosystems like the UK.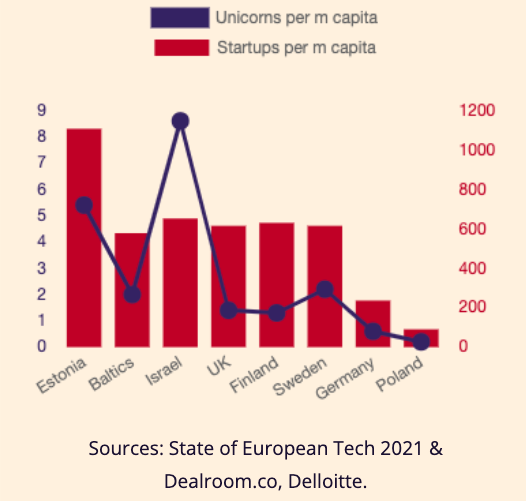 Cheque sizes are going up dramatically. The size of Series A rounds in the Baltics doubled compared to the first half of the year, with pre-seed round sizes continuing a steady two-year rise, to reach a median value of €400k. The average seed round in the region now clocks in at just below €1.5m.
"The speed and the scale of growth is pretty shocking. If you compare 2020 to 2021, it's triple the amount of money that's been invested in this region, from half a billion euros to €1.5bn," says Berzins.
The growth is not coming from Estonia alone. While the Estonian ecosystem is more mature than those in Latvia and Lithuania, the second half of 2021 saw Lithuania having a similar number of pre-seed rounds as Estonia, and a record 13 seed rounds closed, compared to 18 for Estonia.
Angel impact
According to Berzins, Estonia's recent success is intricately tied to the ecosystem created by earlier unicorns like Skype, Wise, Pipedrive and Bolt, which have helped to create the next generations of founders. "We're seeing that same effect starting to happen in Lithuania and Latvia. Our thesis is that this region will become an outlier in Europe, one comparison being Israel," he says.
Berzins also puts this down to the growing presence of active angel investors, many coming out of Baltic unicorns themselves.
"This vibrant ecosystem of angels is hugely helpful, and at the same time is pushing quite a lot of capital into the early stage, which is why you see some of the pre-seed round sizes and prices rising. In pretty much every single investment we do we have angel co-investors that we're investing alongside, who are helping bring knowledge, mentorship to younger founders," he adds.
The latest report also found that some Estonian "super-angels" are now leading seed deals themselves directly.
Baltic startups only 
Berzins says that the latest fund is committed to only investing in companies that come out of the three Baltic states, as each continues to grow as a key startup hub.
"It's become clear to us that we are not interested in spending time outside this region because there are so many opportunities in this region," he says. "It's perfectly big enough to support a sizeable seed fund like ours."