Digital banks have dominated headlines and venture capitalists' wallets this year. Over the last 12 months they've raised $2bn between them across Europe, with Germany's N26 raising a whopping $300m alone. But aside from competing over eye-watering valuations, it can be tricky to tell how the online digital banks are progressing — and who's in the lead.
We've compare the data behind the four biggest retail players and what the next year may bring.*
N26 got started first, but Revolut now boasts the most downloads
Because the banks launched at different times, it's difficult to compare their relative success in real-time. Therefore, the graph below is adjusted for time, which shows that the banks all got off to a similar start in their first few quarters post-launch in their respective home locations.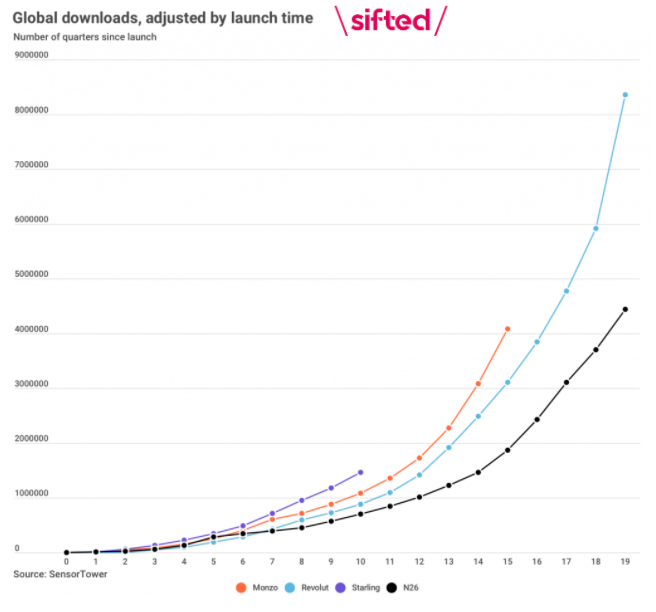 All four players have invested heavily in mass marketing campaigns in the hope of boosting their customer numbers, particularly in the UK - which is seen as a major fintech battleground. N26 is the newest to Britain, while the other three are London-native. Yet so far, the German bank seems to be lagging there in terms of British monthly active users.
Still, it's worth remembering that vanity numbers like download figures aren't everything.
"[We're targeting those] who a bit more premium, a little bit older, a bit more mature," N26's UK general manager Will Sorby told Sifted in April.
Show me the money
All the digital banks still operate at a loss, but Revolut reported the most impressive net revenues at the last count, reportedly bringing in £58.2m in 2018. It's a few years older than Monzo, which brought in £9m, but it also comes down to costs: on average Revolut loses £9.16 per user, while Monzo's users cost them £15.
Revolut's premium service also offers a small inflow (£16.8m in 2018), joining N26 in charging select users for certain features. The German bank says 30% of its users pay for its premium features.

Meanwhile, Revolut has a Lithuanian bank license, meaning it is not a UK bank yet and cannot offer loans there like competitors Monzo and Starling. Nonetheless, it does have approval to operate in the UK post-Brexit.
Otherwise, they all share the same basic revenue model of collecting interchange fees: the 0.2% cut that European banks take from merchants every time you use your debit card.
N26 has the most investor cash (for now)
Germany's N26 currently has the largest venture capital-backing. But Revolut is set for another large fundraise, and is rumoured to be in talks with mega-investor SoftBank for a $500m raise. While Revolut currently has the smallest war chest of the group (its peers closed some of the biggest fintech rounds of 2019), its next raise is likely to put it ahead. 
Sifted Newsletters
Sifted Newsletter
3x a week
We tell you what's happening across startup Europe — and why it matters.
Nonetheless, Revolut also plans to raise $1bn in convertible loans, opting primarily for debt. Given it's set to make £175m this year however, this doesn't make total sense - even taking into account wanting to be in "hyper-growth" mode. One potential symptom is that the fintech has inflated its reported annual revenue, commenters suggest.
"There may be clever accounting tactics at play," one fintech investor told Sifted.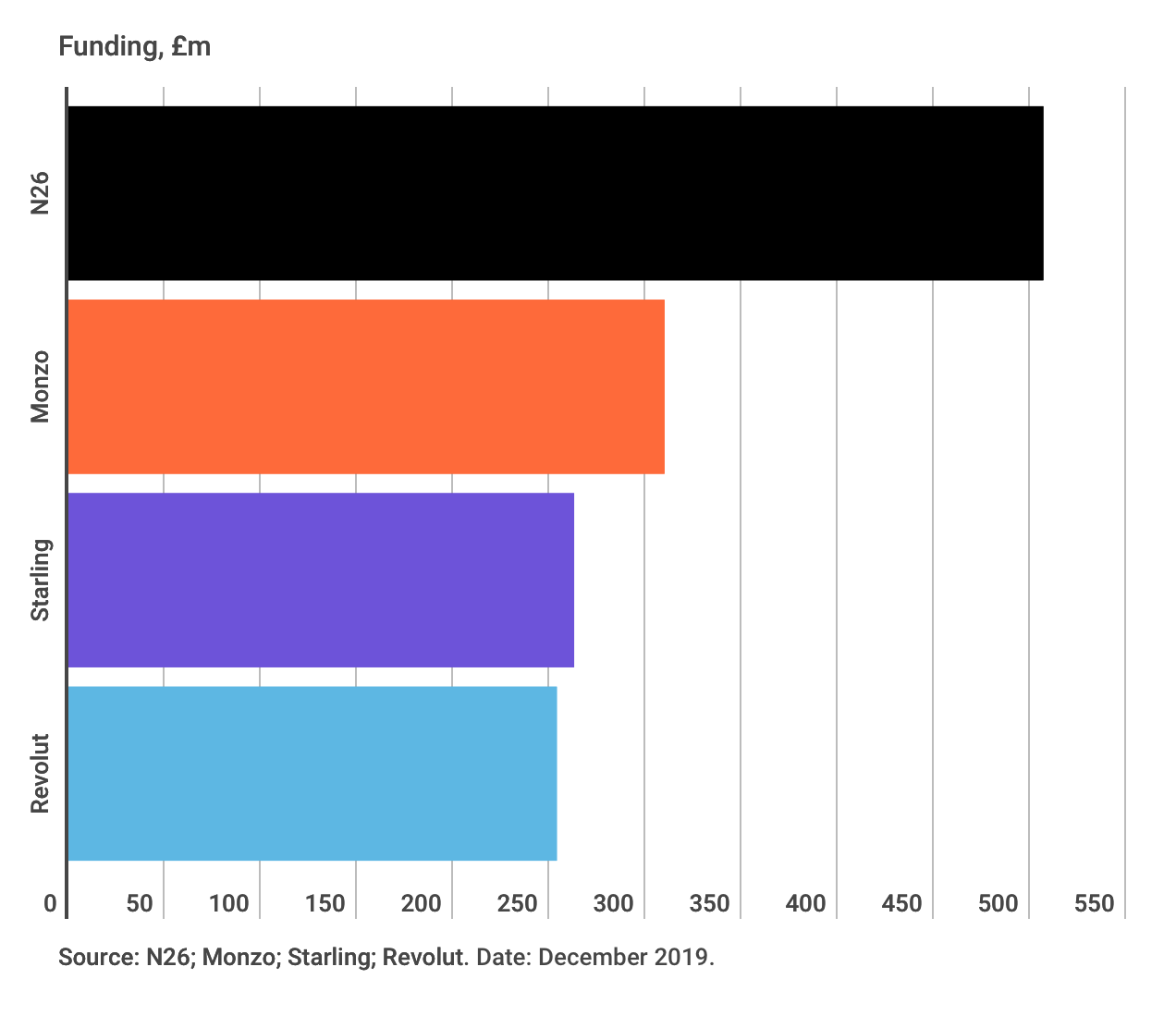 But popularity isn't everything
One of the most important benchmarks for banks is how much users trust them; and how much money they're willing to deposit. The last results show Revolut is leading the way here.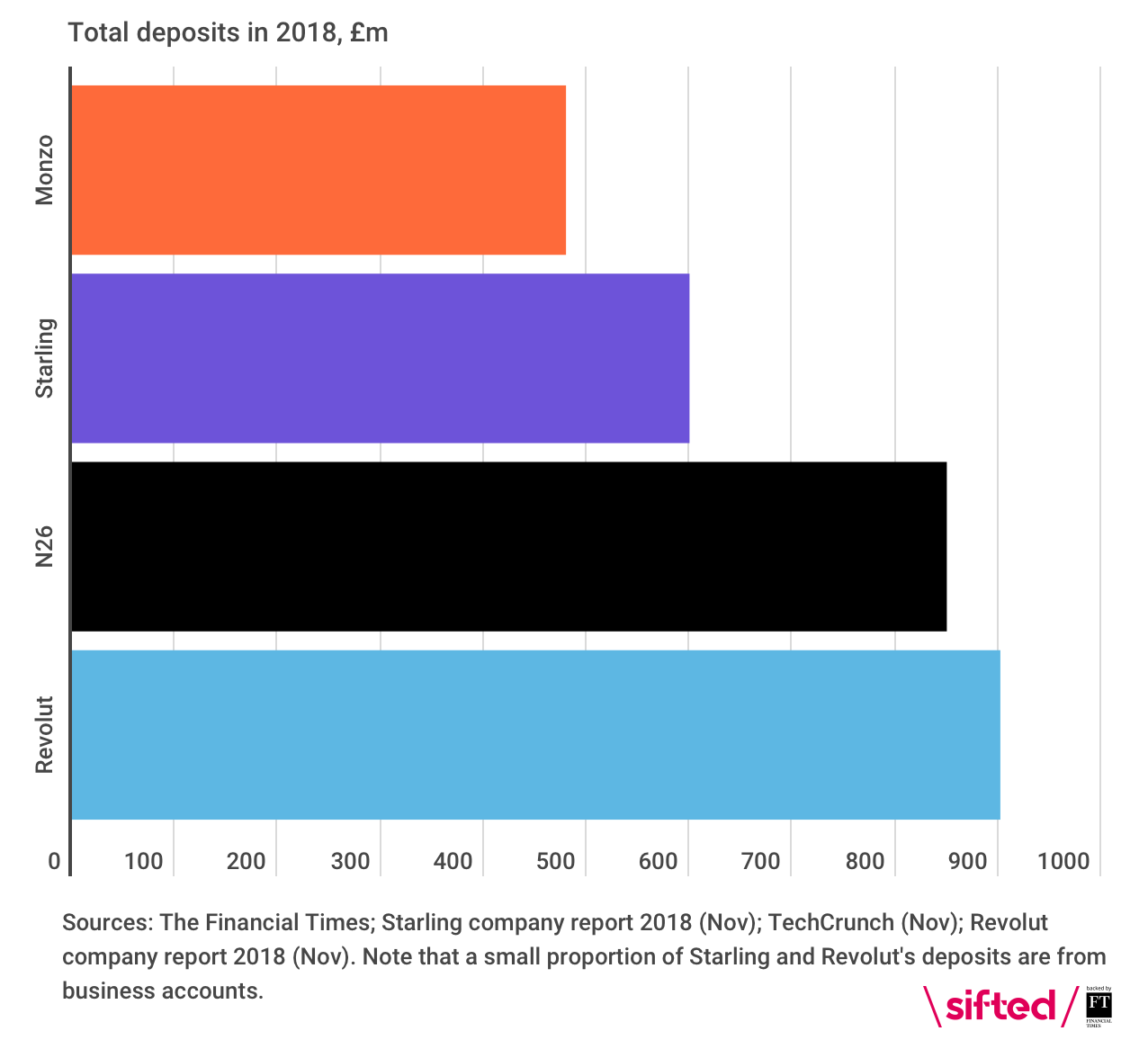 It's also important to assess deposits by user numbers. While Monzo has considerable popularity in the UK ( one in 20 adults now has an account with them), its average customer only deposited £142 in 2018. Users at its slightly older counterpart Revolut deposited an average of £251.66.
Nonetheless, Monzo is likely to see some improvement here next year given its major push to become users' primary account. This seems to be paying off following good progress with the Current Account Switch Service in the third quarter, lured by their "early pay-day" feature. Monzo also has strong user activity, with about 70% of its customers using the card at least once each month.
The public vote: Android app ratings
N26 is trailing behind its peers when it comes to app satisfaction — at least for Android users... To its credit, however, it is still the only digital bank to be truly digital by offering a desktop user interface as opposed to being mobile-only. It may now wish to invest in its smartphone features.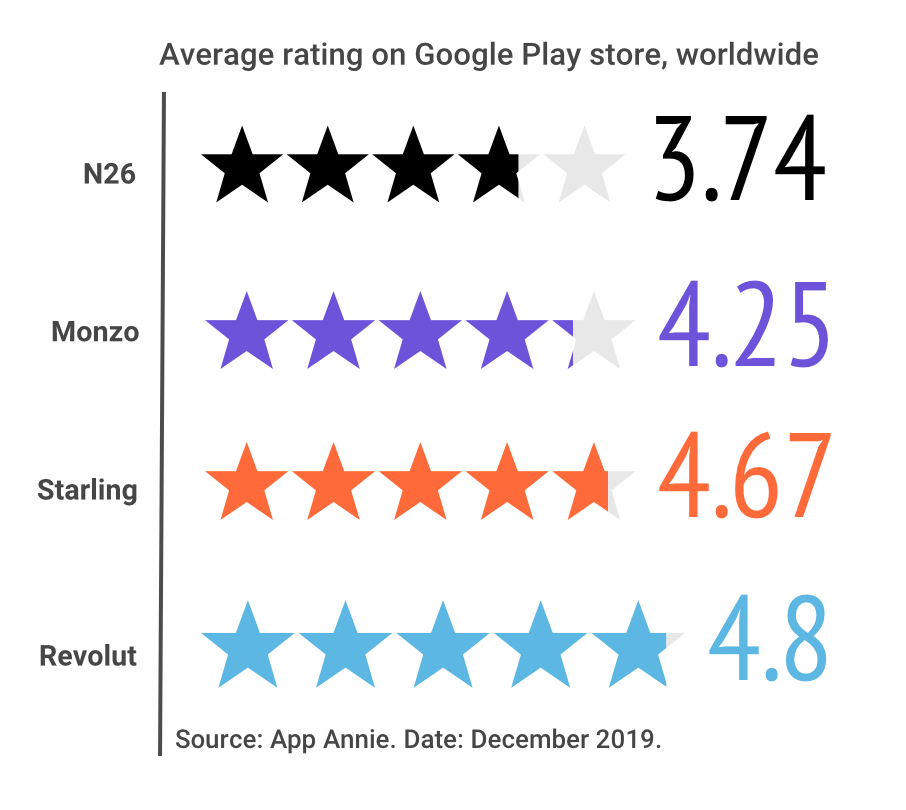 Revolut's employees like it best... apparently
After a slamming report in Wired earlier this year about Revolut's culture, it seems the company has cleaned up its act and is now the most popular of the four. That, or it's including clauses about Glassdoor reviews in employees' contracts... Meanwhile, the other three have seen their scores drop dramatically this year, with Starling dropping most from an average rating of 4.67 in February to 3.2 now.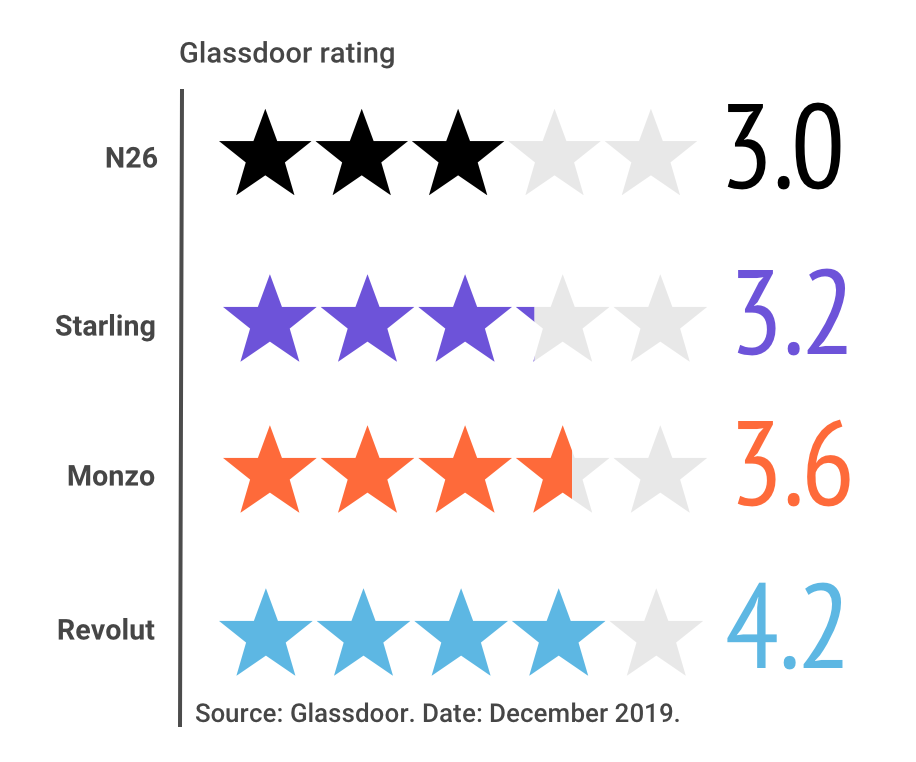 One issue for employees across all the banks is the impact of fast growth. Indeed, all the chief executives have seen their approval ratings on Glassdoor fall off a cliff this year. N26's chief executive Valentin Stalf scored 47% in satisfaction. Even Monzo's Tom Blomfield has gone from 100% in February to 87%.
"Everything is basically waved away in favour of 'hyper-growth',"one early N26 reviewer said. 
"This is not the place if value your mental health or work/life balance," read an unsually negative Revolut review.
Starling, the lean employee machine
Starling Bank has been credited for its "leanness" and indeed the company continues to moderate its staff-base. This is in part because its chief executive Anne Boden is intent on making the bank profitable as early as next year, meaning keeping costs down (unlike her peers).
Starling is also the only one not operating beyond the UK yet, although it plans to launch in Ireland in the new year subject to regulatory approval. Its 1,000-person strong team is now spread across offices in London, Southampton, Cardiff and Dublin. Meanwhile, Revolut has 20 offices or co-working spaces; over half of which are in Europe, and has 500 hiring positions open.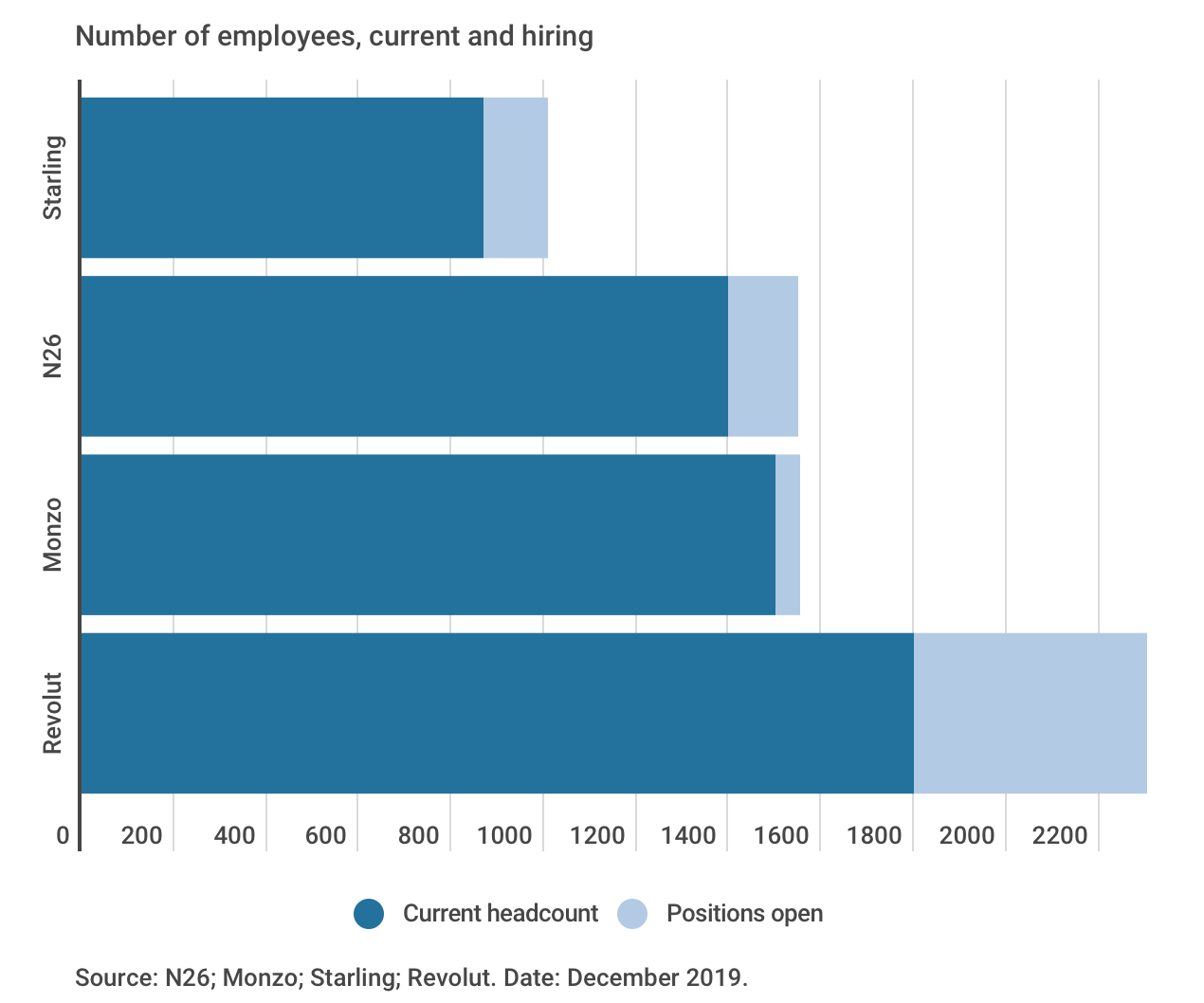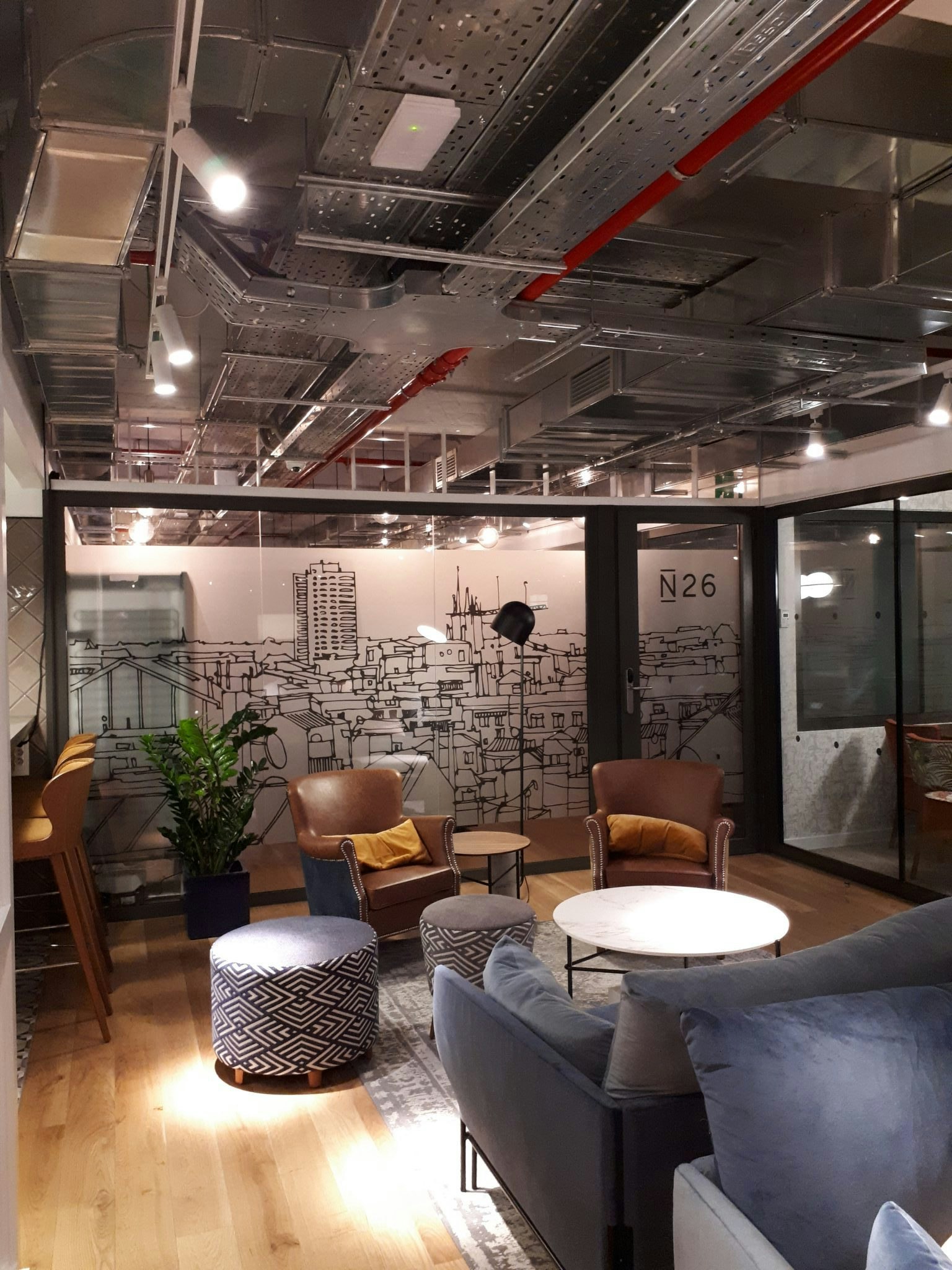 And what's next?
The banks have promised us the world when it comes to what's in store.
Revolut told Sifted it would have its teenage offering — "Revolut Youth" — ready by year-end, but it's still nowhere to be seen. Meanwhile, Starling is behind on its promise of launching credit cards, which may have taken a back seat due to delays to its Irish bank license. And Monzo still has business banking to tick off from its to-do list.
But it hasn't all been talk. Monzo has delivered on its loans offering, which insiders say has gotten off to a strong start. Meanwhile, Revolut has come through on its plans to launch in Singapore and commission-free stock trading. And N26 has rolled out in the US; the first of the group to do so.
The pool of major players across Europe is also growing, with Lunar set to be taking the Nordics by storm and Bunq dominating in Holland. Meanwhile, Tandem — the oft-forgotten UK challenger bank — could begin to make waves with its competitive savings account offering.
* This piece follows on from an earlier version in February, based on fresh data and analysis