It's -2 degrees outside the old children's hospital on of the outskirts of Riga. A few toddlers in thick padded onesies play at reception but most patients have moved to a second newer hospital site near the centre of the Latvian capital.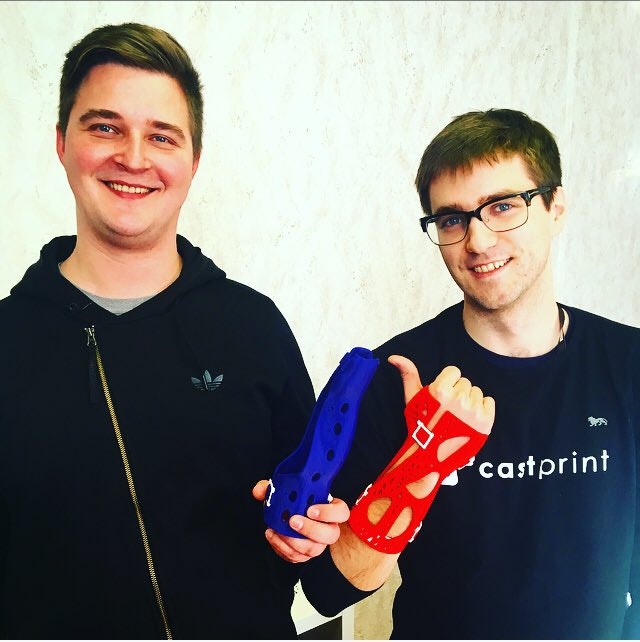 Local entrepreneur Sigvards Krongorns works at the very heart of the Seventies medical complex. Through a maze of empty beige hallways is the CastPrint workshop, where he's on a mission to revolutionise how doctors treat broken bones.
What is CastPrint?
"Traditional plaster casts are heavy, uncomfortable and itchy — we want to use 3D Printing to change that," Krongorns tells Sifted. A tabletop Ultimaker 3D-printer whirrs out wet purple plastic beside him as he speaks and bright, beautiful, organic casts line the window sill.
CastPrint 3D-prints personalised, lightweight casts that are designed to be more comfortable to wear. Because they can be taken on and off, the devices also allow patients to start rehabilitation exercises earlier. This can speed up patient recovery time and save users money (a CastPrint cast costs around €100, but often reduces the number of expensive physiotherapy sessions required).
CastPrint cofounder Janis Olins, who previously worked with Krongorns at PwC, cups his elbow as he recalls the icey fall that sparked the duo's entrepreneurial journey together: "I had to take eights session with a physiotherapist, each costing €30. She said if I could've started the rehabilitation two or three weeks earlier, I would only have to visit her two or three times."
Given that rehabilitation sessions cost between €20-40 a pop in Latvia, the market opportunity to the two friends was clear (it is predicted that by 2024 the global medical 3D printing market will be worth around 1.2 billion dollars).
Conquering Latvia
Krongorns and Olins launched CastPrint in 2017 off the back of consultations with over 20 doctors. The same year the startup raised €20,000 from prominent European business-to-business accelerator Startup Wise Guys and in a matter of months, it had patients actively asking to trial its products.
Last year, the business catered to over 100 customers (30% are those with holidays planned who don't want a sweaty cast stopping them from swimming).
Many have been referred by the startup's early medical advisors (it now has official partnerships with seven private clinics in Latvia), but a number of consultations have also been driven by curious patients (CastPrint's partnership with the children's hospital, for example, came about when patients who had heard kept asking for its services, says Krongorns).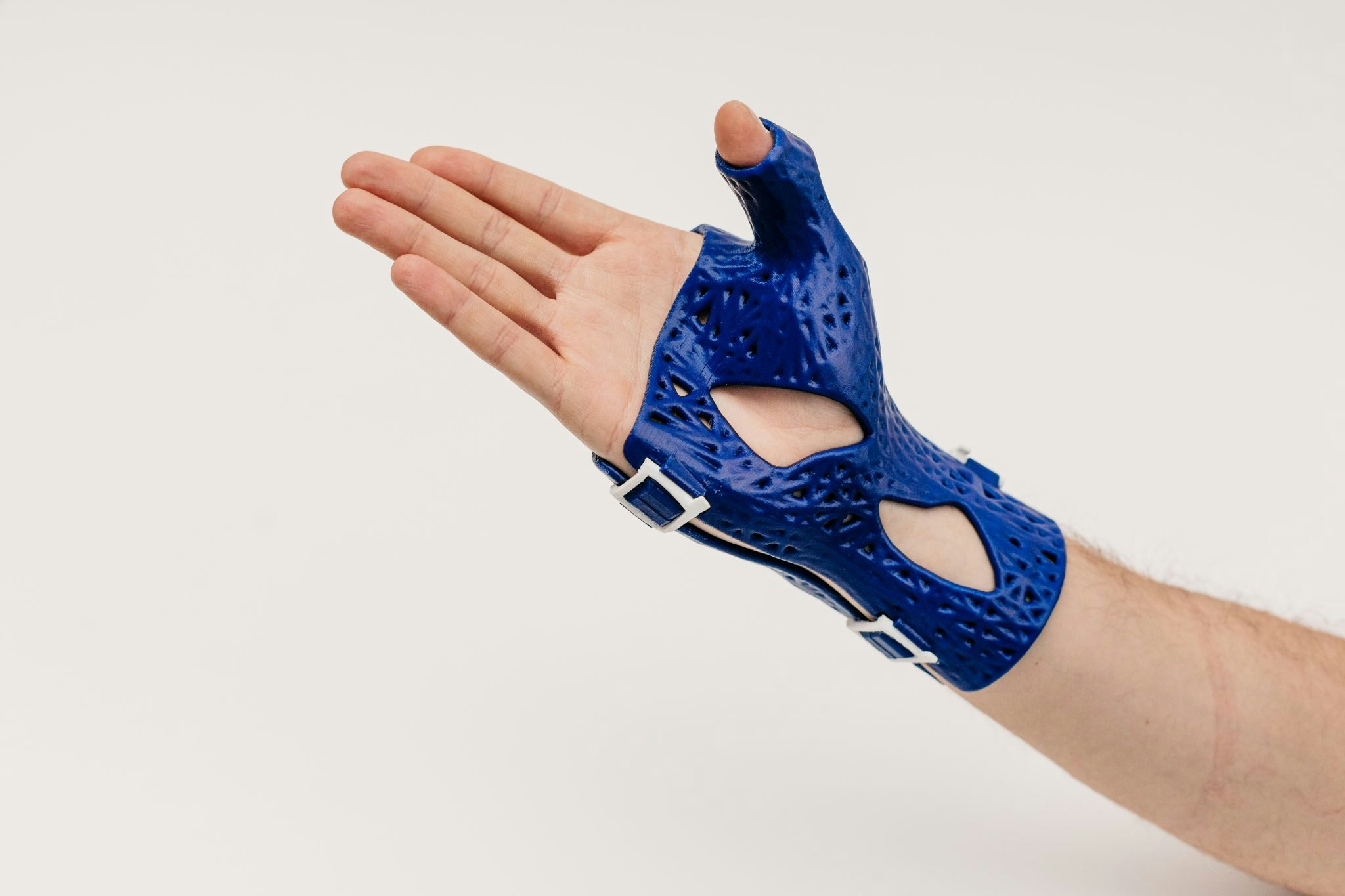 Bumps in the road
This isn't to say CastPrint's startup journey has been smooth. The first challenge the founders faced was the fact that neither had technical backgrounds or were capable of 3D design. "There are not too many 3D designers in Latvia and the ones who are here like to do art," says Olins.
He says the team lucked out when it met architect Matijs Babris who was able to make vital hiring connections and recommended the Structure Sensor scanning technology that CastPrint uses today (to map and 3D-model its casts).
Currently, the team faces another more bizarre hurdle: working out what they are.
"From a regulatory perspective, Europe doesn't know what we are, we fall into multiple categories and none at the same time," Olins says. The startup could be seen as a "first-class medical device" manufactured as a standard, or as a custom-made device; it could also be seen as a "treatment method" or as a "service". Different regulatory categories require different procedural steps and taking the right ones will be vital for the startups continued growth, says Olins. "If we are not sure what we are, then the clinics and the doctors will be even less sure and they don't want to risk anything."
CastPrint, which is currently fundraising a round of €250,000, is already preparing to scale into other European countries, likely starting with Helsinki, Finland. It aims to target private healthcare first to prove the concept, before opening up conversations with universal healthcare providers. "Our goal is first and foremost to be accessible and that's why we use printers that are quite common, not industrial €500,000 printers which would push the cost of a cast up sky high," says Krongorns.
Challenges ahead
Jérôme Wittamer is cofounder and Managing Partner at Expon Capital, a Luxembourg-based venture capital fund focused on exponential technologies and impact investing in the Nordics, Baltics, Central and Eastern Europe and Israel. He was a judge at TechChill 2019, where Sifted met CastPrint and saw Krongorns take part in an impact-themed pitching competition.
"The biggest challenge I see for CastPrint is distribution and access to its markets," he tells Sifted. "Europe's prosthetics leaders may not be able to provide the same kind of service, but they know all the buyers and users and already sell to them."
"What if such a leader was to adopt 3D printing, offer on-site scanning and provide 24h delivery? How competitive would CastPrint remain?" he asks. It's likely, he suggests, that CastPrint's success hinges more upon the team's ability to create a disruptive distribution model than on their technical capabilities.
There are also other pioneering 3D-printed medical device businesses to consider. In Europe, startups like Andiamo have been 3D-printing wearable devices for children with disabilities since 2013 (the London-based business last year won a $500,000 WeWork Creator Award grant). Similarly, Spanish startup Exovite has received funds from the European Commision to build 3D-printed splints for those with muscle injuries.
Turkish designer Deniz Karasahin (creator of Osteoid) and Spain's Jordi Tura (Xkelet) have each taken home prestigious awards for their 3D-printed cast concepts. And startups like Mexico-based MediPrint (backed by non-profit accelerator MassChallenge) and US-based ActivArmor (which raised  $300,000 last year) are building rival cast-printing businesses elsewhere in the world.
Krongorns, who has already seen 4x year-on-year growth this year, is confident that CastPrint will be able to make the right business connections and decisions when it counts. He also believes that working closely with healthcare practitioners and businesses will allow the startup to explore horizontal business opportunities (like 3D-printing in orthodontistry, for example) and shift its services as market needs change.
"We know about the future possibilities, of not just printing casts but printing organs, bones and implants," says Krongorns. "That's why we're not bound by the cast, we're building this with the medical community and will keep developing new ideas for them to meet their needs."