Carbon offsets, which each represent the removal of a certain amount of carbon from the atmosphere, are traded on markets.
There are international carbon trading markets where countries trade emissions and removals, and there are "voluntary markets" where companies can buy and trade them too. 
On those markets, there are different types of offset.
Energy offsets reduce carbon emissions by transitioning sources away from fossil fuels and towards renewables. Nature-based offsets use plants, trees, soil or the ocean to remove carbon from the atmosphere. There are other forms too, like community-based project offsets, but nature and energy offsets are two of the largest categories.
Energy offsets have typically been the most popular. They're the cheapest to buy, typically costing two to four times less than nature-based credits. However, according to a report by Sylvera, nature-based credits are becoming increasingly sought after.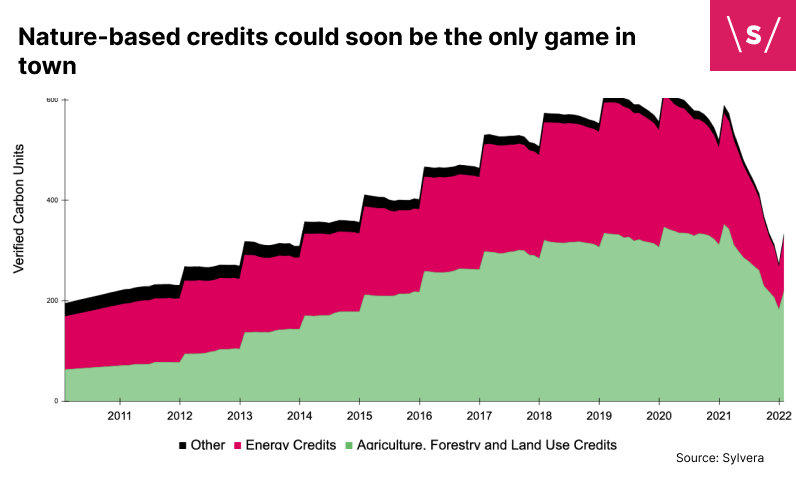 The chart shows verified carbon units traded on the voluntary carbon market.
Energy credits were snapped up early on — because they were the cheapest. Since 2021, the data shows, a decline in the availability of energy credits has pushed buyers towards nature-based offsets. They were already more expensive, but the increase in demand has pushed the price even higher.
There's been an explosion in demand for credits across the board.
The diminishing inventory of credits mean the price of all VCMs (verified carbon units) is increasing. Carbon credit transaction levels were 288% higher in 2021 than 2020, and the dollar value exceeded 2020's total by 23 times last year.
Demand is set to continue increasing across the next five years, Sylvera predicts, with supply lagging behind, meaning continued upward price pressure.