Companies of all sizes are committing to 'net zero' — the holy grail sustainability status where carbon emissions are balanced out through reduction, removals and offsets.
To get there, they'll need to spend a fair bit of money on measuring their carbon footprints. And there's no shortage of startups — and VCs — hoping to cash in on these goals.
This year, money has poured into European carbon tracking startups. This includes a $7.8m raise by Sylvera, a startup that vets carbon offsetting solutions, $3m raised by Plan A from investors including SoftBank, a $5m funding injection for French carbon-tracking startup Sweep, and UK carbon measurement and removal platform Supercritical's $2.75m round, led by LocalGlobe.
More deals in the space are due to be announced in the coming weeks.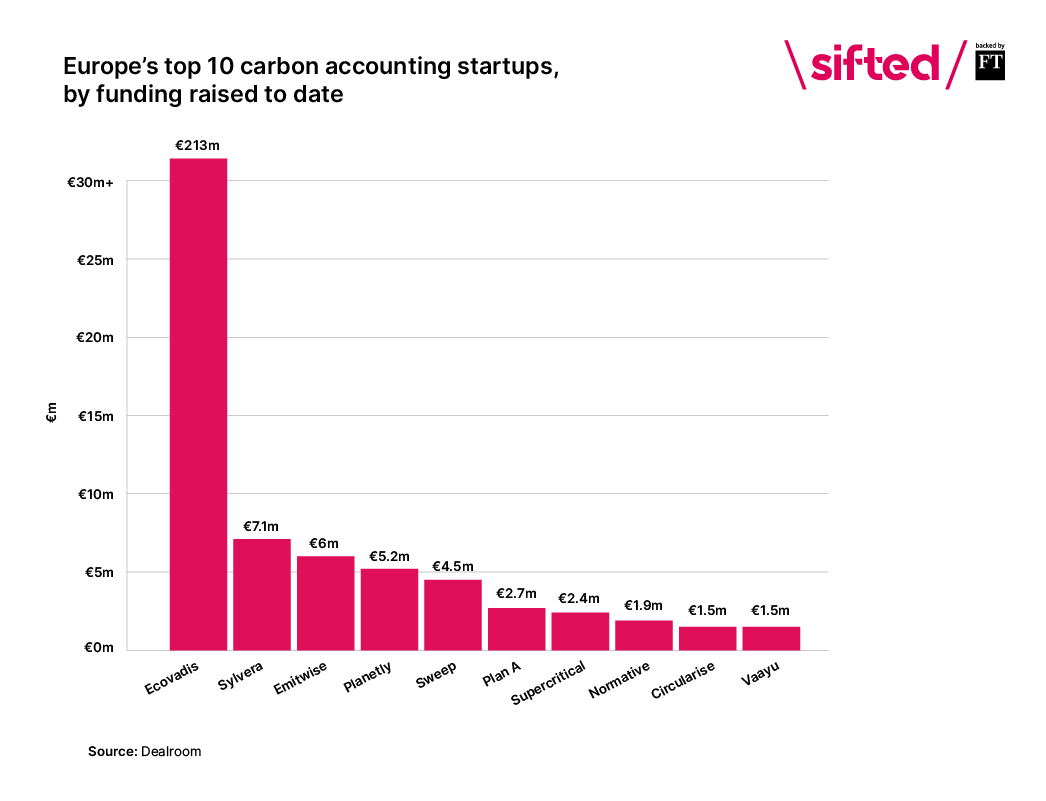 "It's no secret this is a huge area of interest for the venture industry," says Remus Brett, a partner at LocalGlobe. "Particularly in the last two years, the number of carbon offset, accounting and related startups that we've seen has absolutely ballooned."
But there are questions surrounding this nascent space. Many are concerned the trend for achieving carbon neutrality via the purchase of offsets is making it easier for planetary resource-sapping business as usual to continue.
Then there are the business models themselves. Is a speedy carbon assessment (which relies on estimates) any match for an expert climate consultant who can answer questions on what to do about these emissions? And can these startups convince enough SMEs — who they are targeting with their lower-cost services — to actually dedicate sustained budgets to carbon reduction and removal?
We crunch the data (from Following the Footprints' MEASURE database and Dealroom), and speak to the carbon accounting startups and VCs looking to back them.
What do carbon accounting SaaS startups actually do?
The first step for any business hoping to achieve net-zero is to measure its carbon footprint.
Traditionally, this is where a consultant would be called in. But now a number of startups are turning this complex process into a product. The tech layers they have added include rapid assessment tools where companies can plug in their own data to calculate their carbon footprints, dashboards that help businesses to monitor progress (and see if they're doing better than their competitors) and easy-to-purchase, curated ranges of carbon offsets.
Some of the startups, such as Plan A and Sweep, also provide consulting on how a business can reduce its impact, and can provide more detailed assessments. Others have developed USPs around the range of carbon offsets they offer (Supercritical, for example, focuses on carbon removal technologies) or the industries they are targeting (CarbonCloud focuses on helping food and beverage businesses measure their carbon emissions).
"Measuring your carbon emissions is hard; every business transaction has the potential to create more or less carbon emissions," says Raphael Güller, the cofounder of Sweep, of the technical challenge at hand. "Onboarding takes a long time because you need to find all of that data. A lot of the rapid tools [use] estimates to get to a footprint that's probably quite accurate, but doesn't allow you to see the detail."
How do carbon accounting startups make money?
When it comes to pricing, the carbon consulting industry has traditionally been shrouded in mystery.
Not all of the startups Sifted spoke to would give specifics on their pricing and money-making strategies — Plan A, for example, gave a wide range of €5k-150k per year for its platform — but a few were willing to shed some light.
Klimato, which helps restaurants calculate the carbon footprints of their menus, says it currently has 200 customers in Sweden, Norway and Denmark, who pay £330 per month on average to use its services. CarbonCloud, meanwhile, currently has 42 customers in the food and drink space, including oat milk giant Oatly, catering firm Compass Group and startup energy drink brand Tenzing. Its prices start from €250 per month, per product a company wants to measure.
For growth companies, Sweep says fees start at $850 per month — but large enterprise businesses, its prime target customer, need to enquire for custom pricing.
Supercritical, which is targeting tech startups, charges a subscription fee to use its platform and a commission on the offsets it sells, with spending at £115 per tonne on average.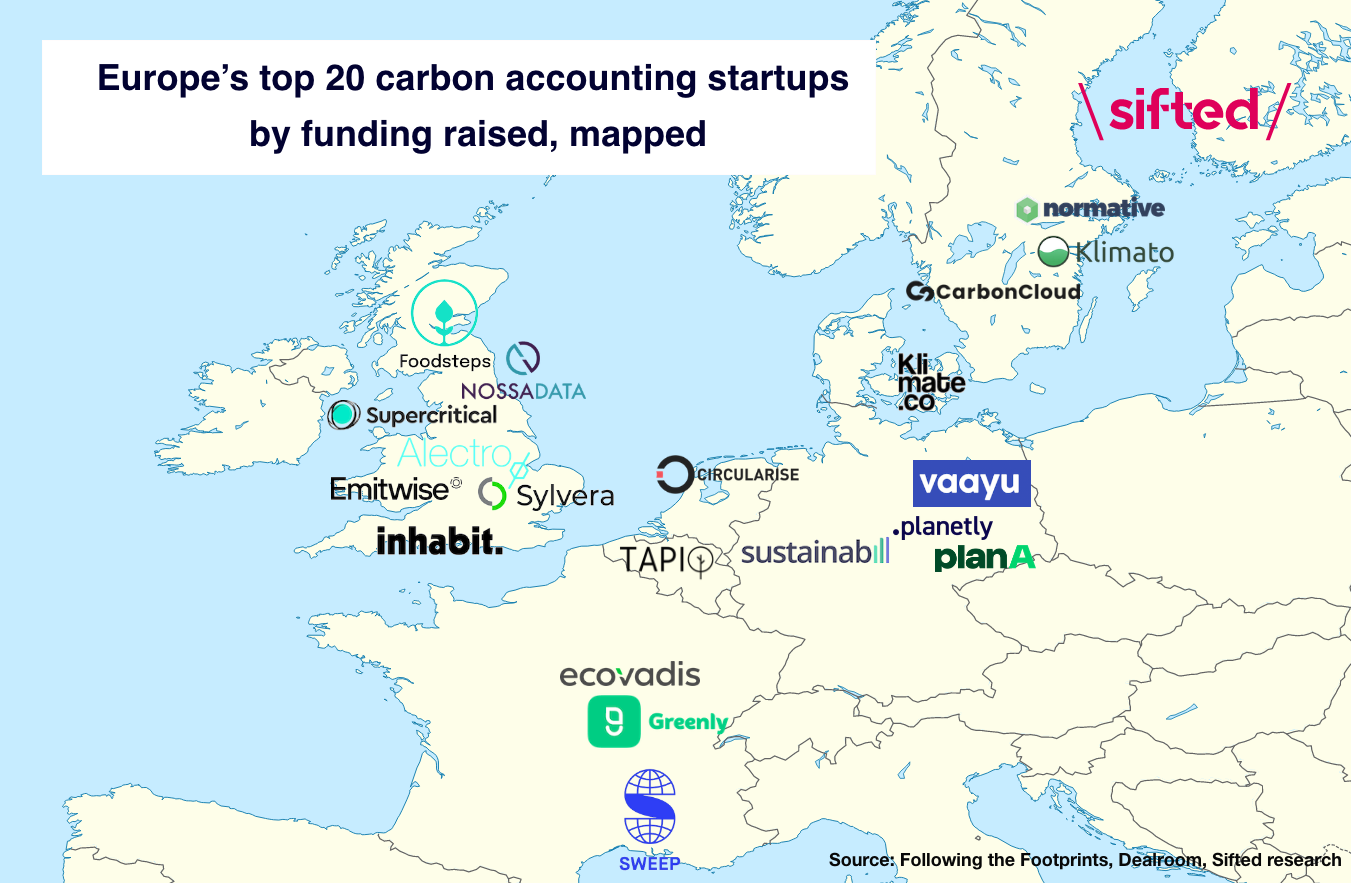 How much of a difference are they really making?
Offsetting has become a popular first step for businesses to go from carbon-guzzling one day to claiming carbon neutrality the next, but it is not the approach endorsed by climate experts or in the Paris Agreement.
It is instead recommended that businesses first try to reduce their emissions as much as possible, before using offsets as a last resort for whatever can't be eliminated.
The reliability of carbon offsetting schemes has also been called into question. A 2017 EU study found that 85% of offsets were used to fund decarbonisation transitions (such as the shift to solar energy) that would have happened anyway. Offsets that focus on removal are also vulnerable: technologies like carbon capture and carbon removal are yet to be proven at scale, while tree planting schemes cannot guarantee their plants will reach maturity.
Sylvera's platform promises to monitor the quality of offsets purchased in order to mitigate some of these concerns.
Few of the businesses Sifted spoke to shared details on how much they were helping their clients to reduce emissions (surprisingly, CarbonCloud said it does not track this figure). Plan A "focuses on reducing emissions" and has helped customers do so by an average of 15%, according to cofounder Lubomila Jordanova.
Vaayu says that so far in 2021, it has helped customers offset 500 tons of CO2e, and by the end of 2021 it expects to have helped reduce 1.5k tons of CO2e. Klimato, which does not provide offsets to its customers, helped reduce 1,615 tons of CO2e in 2020; this year, it expects that figure to ramp up to 5k tons.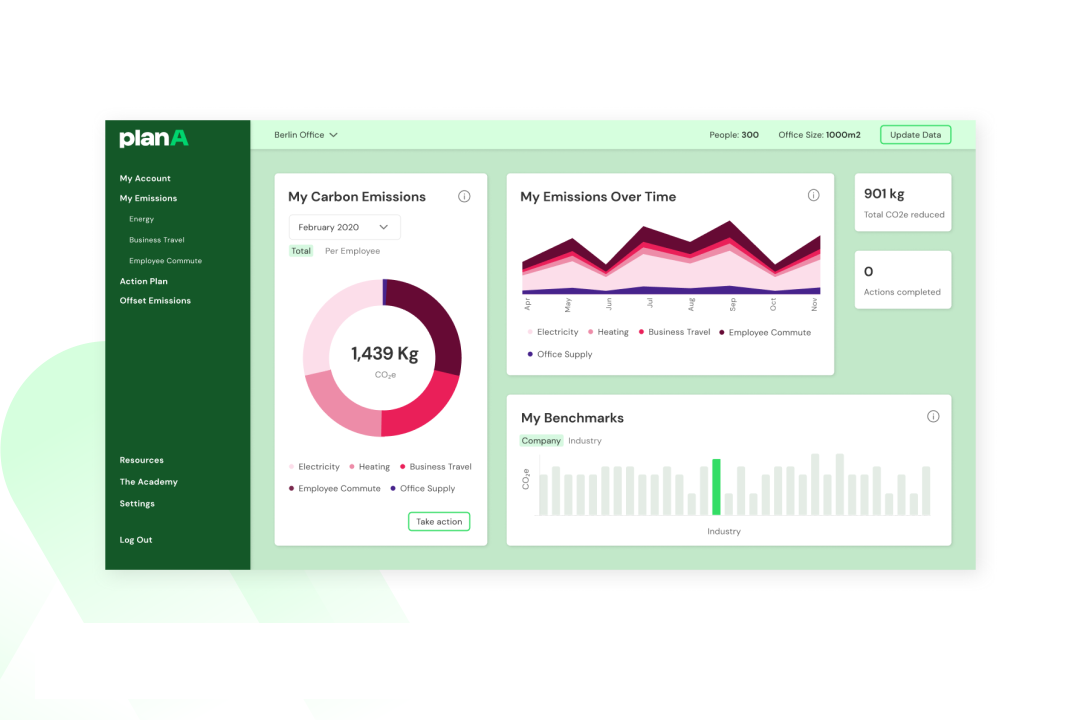 How can they scale their businesses?
Carbon accounting SaaS platforms have a captive audience in front of them. According to the Energy and Climate Intelligence Unit, 21% of the top 2k public companies around the world have now set net-zero targets. Spending on sustainability is up, too: an October 2020 survey by the Carbon Trust found that 63% of corporates plan to increase their sustainability budgets over the next year.
The challenge, however, will be reaching customers beyond the world's biggest companies. SMEs are an "incredibly attractive sector" when it comes to selling software, LocalGlobe's Brett says. "[But] when under challenge, anything in the discretionary [spending] pot will be questioned."
Is carbon offsetting essential for a small business to survive? "For many, you'd argue it's not," Brett says. "It will become [essential], but there's still a lot more talk than there is actual allocation of budget to offsetting."
In July, a study commissioned by Tech London Advocates found that 59% of tech startups have not yet measured their environmental impact, while a wider survey of UK SMEs found that nearly 40% did not have a sustainability plan in place, and 30% don't intend to develop one.
Increased government regulations — normally not a favourite among scrappy upstarts — could help to push SMEs towards carbon accounting SaaS platforms. "Environmental issues have become a lot more prominent in society at large, and that's been followed through with a lot of regulation," says Omar Majid, head of sustainability at PE firm Salonica Maroon.
"That's going to really force asset managers [like hedge funds and VCs] to report on environmental impact, and by extension their companies. So anything that makes their lives easier is inherently going to be attractive."
More sophisticated functionality such as improved tracking, or the ability to forecast the financial impact of an action taken to reduce emissions, could help to bring more customers on board.
"What will be a real gamechanger is understanding how much natural capital and social capital is being created and destroyed," says Majid. "That's a long way off, but it's what we should be aiming towards."