Cancer is one of the biggest killers globally, accounting for nearly one in six deaths according to the World Health Organisation. But catching it early can bring about a massive reduction in the mortality rate.
Oxford Cancer Analytics (OXcan), an Oxford-based startup, has come up with a way of detecting some of the deadliest types, like lung cancer, at an early stage by using machine learning to analyse blood tests.
It's just raised a $3.7m follow-on to its seed round led by UK VC Eka Ventures, with participation from UK research charity LifeArc, Chinese tech company MegaRobo Technologies and British investor Oxford Technology Management.
It plans to use the fresh cash to expand its international footprint and develop products to tackle some of the deadliest cancers, which would benefit most from liquid biopsy early detection.
Liquid biopsy (blood test) as an early detector
It's possible to detect cancer early with liquid biopsy blood tests — a lab test on a sample of blood that looks for cancer cells from a tumour or small pieces of DNA, RNA, protein or other molecules released by tumour cells into a person's bloodstream. It's not always that easy, however, because of the huge amounts of data and biomarkers. Also, you won't always be able to tell from DNA if a person has cancer and, if they do, what kind of cancer they have, according to OXcan's president and COO Andreas Halner.
"The fact of the matter is that early-stage cancer detection for the deadliest cancers just doesn't exist yet. And that's what we're trying to solve," says Halner.
OXcan is specifically focused on proteins in the blood and has tailored its machine learning software to narrow down the search for cancer indicators to a few dozen biomarkers, out of the hundreds to thousands available from a blood test.
"Our approach has been able to detect lung cancer in about 600 samples, and really succinctly differentiate those with early-stage lung cancer, late-stage, as well as those without lung cancer. We're further using this method on other cancer and disease types," says Peter Liu, OXcan's CEO and cofounder.
Sifted Newsletters
Sifted Newsletter
3x a week
We tell you what's happening across startup Europe — and why it matters.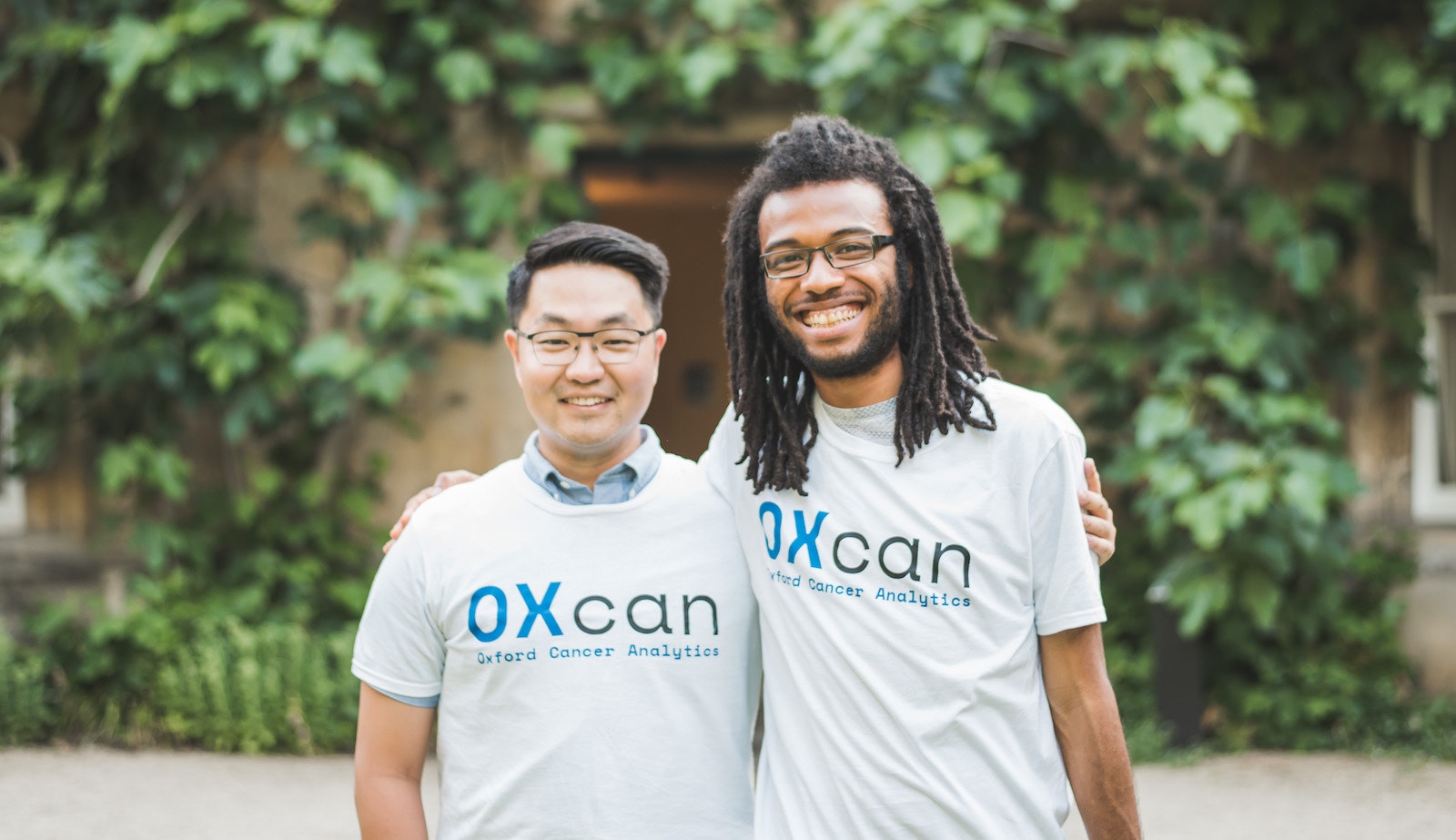 Lung cancer is one of the deadliest types of cancer, and in the UK it accounts for around 21% of cancer deaths. Although early diagnosis is essential for improving patient outcomes, more than 75% of patients are diagnosed at an advanced stage, according to the NHS.
OXcan's technology for detecting early-stage lung cancer is currently being tested at a number of hospitals, including in Oxford and Liverpool in England, and St Andrews in Scotland.
"There is a specific definition criteria for who is at high risk for cancer, both lung cancer and other cancers. And in the case of lung cancer, these are patients over the age of 55, to about 84 — and they're currently eligible for high-risk screening," Liu says.
The current method of screening is a low-dose CT (computerised tomography) scan — which, Liu adds, unfortunately, doesn't always pick up the disease. "We specifically teamed up with these programmes to implement a simple blood test that is a lot less expensive and more sensitive than doing traditional imaging and biopsy approaches," he says.
The liquid biopsy cancer detection space
OXcan has raised $5.5m in total and is planning its Series A later this year. It is, however, not the only healthtech startup working on liquid biopsy blood tests in the cancer space.
Another one is Scotland's Dxcover, a spinout from the University of Strathclyde, which is working on the early detection and identification of cancer by employing infrared spectroscopy. Starting with brain cancer, its platform combines hardware with AI algorithms to analyse a patient's blood and detect the presence or absence of disease. So far it's raised $6.2m.
Switzerland's Hedera Dx is one of the best-financed startups in this space in Europe. In September it raised €14m from a range of investors, including Top Harvest Capital, Inventure, Air Street Capital, Amino Collective and GRIDS Capital. By using circulating tumour DNA (instead of cell-free DNA) from blood plasma, it is launching a solution that streamlines the process of finding the right therapy for different cancers and enabling hospital labs to run clinically actionable liquid biopsies in-house.
OXcan's pitch deck
Sifted's take
With one in two people having cancer at some point in their lives, there is a need to find it early, not just to save lives but also to minimise the cost of treatment.
If OXcan's solution works for a number of early-stage cancers with a lower cost and more effectiveness than a CT scan, it could have tapped into a huge market. If the company's hospital tests go according to plan, the Series A fundraising planned for later this year should bring it the cash it needs to take its solution global.
Watch this space.