A third of the global economy in 2020 is industrial, be it manufacturing, mining, construction or utilities. It's also a sector that's has experienced very little digitalisation — until now.
Venture capital investment into industrial tech — technologies like artificial intelligence, robotics and 3D printing that can help digitise the industrial process — has increased nearly ninefold in the past six years in Europe, according to a new report by Dealroom. We're entering Industry 4.0, say the authors of the report — and Europe looks well placed to lead it.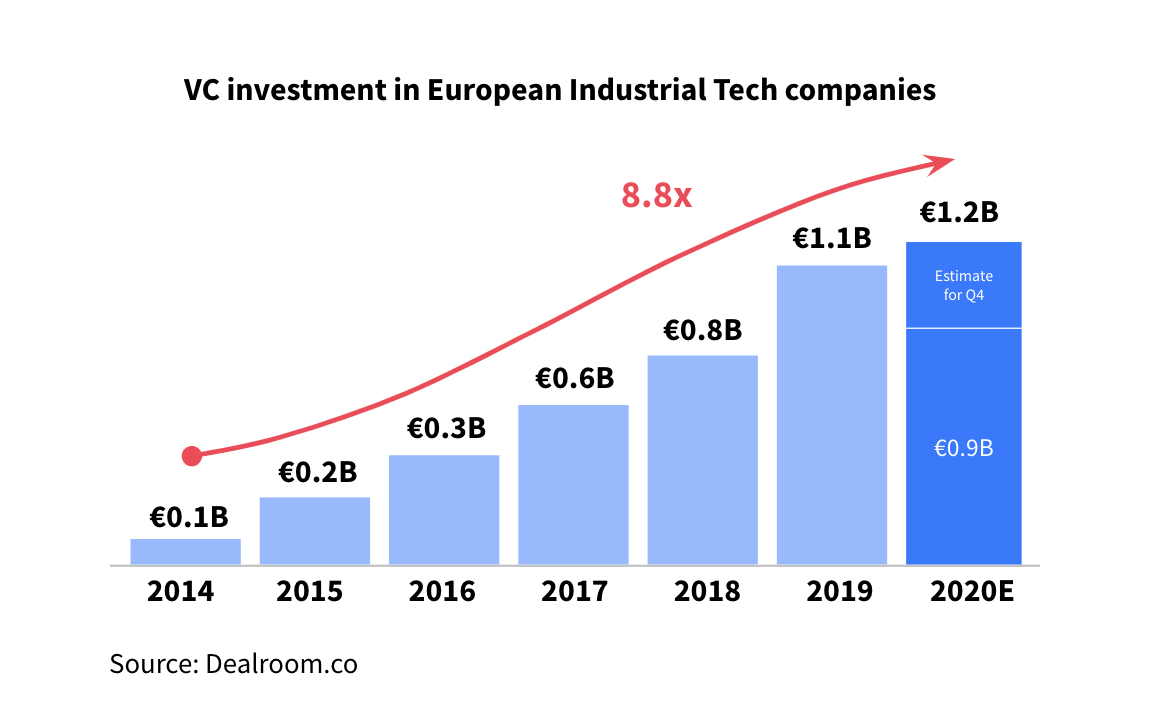 "Industrial innovation is a huge opportunity, and particularly in Europe," says Marie-Helene Ametsreiter, a partner at VC firm Speedinvest which specialises in industrial tech.
And startups are the key, Ametsreiter says. "The success of this digitisation is dependent on startups receiving the support they need to provide this innovation, and we are committed to ensuring Europe is able to capitalise on its head start in industrial tech."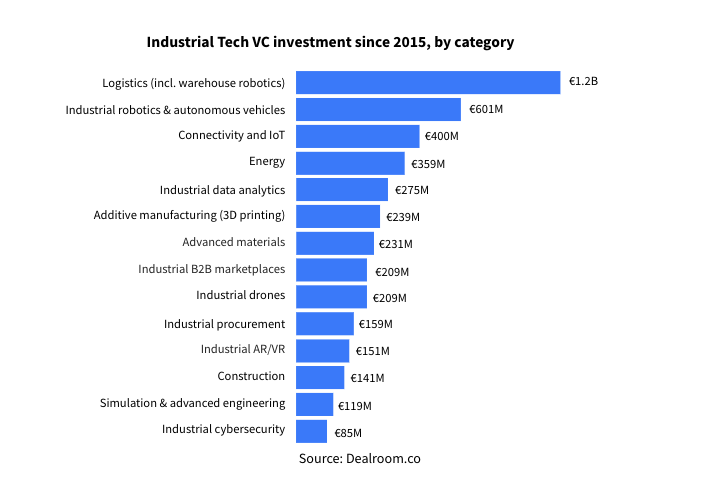 Logistics and robotics
Within industrial tech, it's logistics startups that are securing the most investment — €1.2bn since 2015. 
The European logistics sector turns over €1.1tn per year, employs 11.5m people and is at the forefront of the rapid digitisation of Industry 4.0.
Logistics includes startups working on warehouse robotics, like Danish company Rackbeat, which develops software to streamline warehouse processes and French company Exotec, which just secured $90m for its warehouse automation technology. 
Startups working on robotics for the production process, like Paris-based Universal Robots, also receive a lot of the VC investment going into industrial tech, and companies working on autonomous delivery solutions such as Skyports, which develops delivery drones.
The countries leading the way
German and French industrial tech startups have received the most investment out of European countries. Together, they've raised €1.9bn since 2014, which is roughly 45% of the total across the whole of Europe.
Germany is also home to plenty of business-to-business focused VC firms, like La Famiglia, which earlier this year raised a €50m fund to back startups working with industry, logistics and supply chains.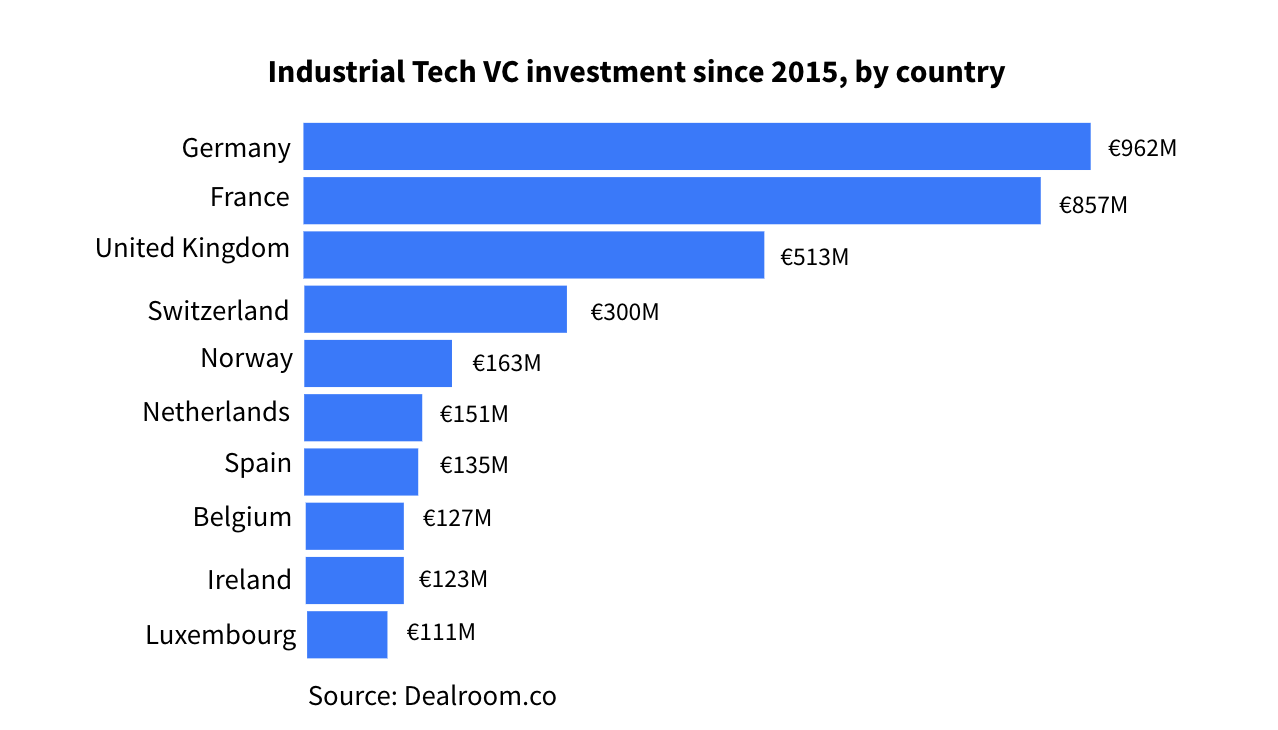 The investment into industrial tech in Germany matches its position as the biggest manufacturing country in the world, followed in Europe by Italy.
On its own, Germany accounts for over a quarter of all manufacturing output in Europe, with its machinery and automotive industries bringing in the most money.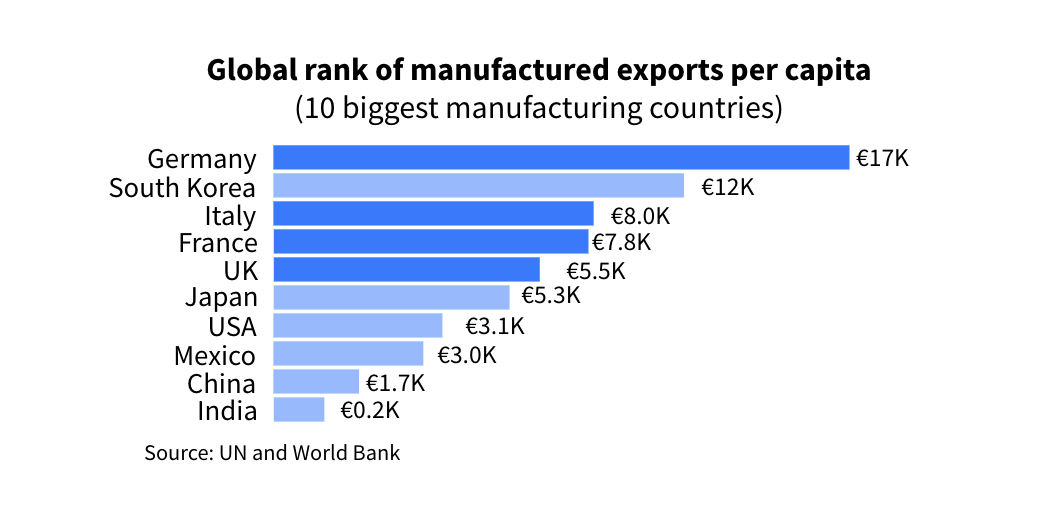 Focused VCs
More and more VCs are opening specialised funds for industrial tech, Dealroom also found.
Firms like Point Nine and Join Capital are investing in seed-stage industrial tech startups, Atomico and Earlybird in Series A and investors like Accel and Woodford have started funding industrial tech startups looking for later-stage funding.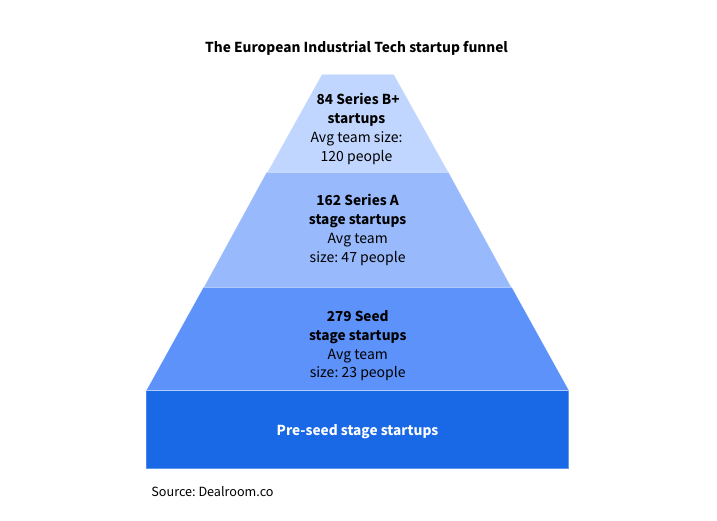 For Yoram Wijngaarde, founder of Dealroom, several factors that converged in 2020 have led to the acceleration  of industrial tech.
"Industrial tech is at a similar inflection point as enterprise tech/cloud was in 2010," he says. "Digital adoption is accelerating. The pandemic, political climate and actual climate change have accelerated the sense of urgency around themes like decentralisation, cybersecurity, customisation, sustainability and more — all of which contribute to the snowballing momentum of Industry 4.0."