When we dropped in to see what the buzz was about at London's new pay-as-you-go startup marketing agency, we didn't know quite what to expect. There's no obvious comparison which captures Buzzbar's new type of business model: a physical store for startups to walk in and get to work with marketing creatives straight away.
Perhaps that's why the two founders, Anna Downey and Paulo Ricca, come up with eclectic ways to describe their business concept: Apple's Genius Bar for marketing, or "a bit like McDonald's", even though their shop on Shoreditch high street hardly feels like a fast food restaurant. It's a cross between a gleaming white Apple store and a new startup office, complete with house plants, modular furniture and a fridge stocked with Japanese Asahi beer and juice made from wonky fruit.
Just as McDonald's is the go-to burger bar for the masses, Buzzbar wants to be the go to startup marketing agency for super-early stage startups seeking marketing advice, who can't afford a hefty bill for an agency. The team is trying to harness the same values to offer an affordable and reliable service where customers always know what they're getting. This time that customer is Sifted on a reconnaissance mission, inadvertently subjecting our own new media venture to Buzzbar's scrutiny (more on that later).
Buzzbar is not the first company to target the bootstrapped early-stage startup market. Others have created digital marketplaces for on-demand services such as website design and social media management including 99designs and Fiverr (tagline: "for the lean entrepreneur").
East London HR consultancy, People Up, offers a free drop-in clinic for startups who care about, but can't afford, advice on "people" issues.
But Buzzbar is one of the first to make "in-person" fundamental to the business model, with plans to expand beyond the Shoreditch bar. Conversations are already underway for "Buzzbar on tour": pop-ups in coworking spaces and elsewhere.
"There is definitely a demand for pay-as-you-go marketing, with quite a few services providing for this need," says marketing consultant Ben Judah, referencing "gig economy" platforms like 99designs and Fiverr.
"But I've not seen many with a physical infrastructure like this."
[video width="1920" height="1080" mp4="https://content.sifted.eu/wp-content/uploads/2019/04/25134747/Sifted-x-Buzzbar.mp4"][/video]
Sifted Newsletters
Sifted Newsletter
3x a week
We tell you what's happening across startup Europe — and why it matters.
How does it work?
Whether clients drop in or pre-book, the service always starts with a 30 minute consultation in-person to get to the bottom of what the client is looking for. According to Downey, around 40% of the cost of using a marketing agency is the charge for time spent on emails and phone calls back and forth.
It's an expense that most startups simply can't afford, so Buzzbar have done away with initial pitches and briefs sent over by email. Instead, the whole process happens "side-by-side" with the client directly involved at all points.
"It's a bit like an agency, and a bit like a coworking space," says Downey, who has worked at and co-founded digital agencies with more traditional approaches. "I have a deep passion for startups, and I found I couldn't service clients the way I wanted," she explains.
After the consultation, clients move on to sessions with relevant Buzzbar creatives; these could be a workshop on brand concepts with visual and content experts, a website audit with SEO pros, or an hour in the "code bar" for technical website work or graphic design.
Downey calls it "horizontal working", rather than the hierarchical process inside an agency with ideas moving up a chain of less to more senior experts.
"Ideas get diluted when they move up and down," she says, "And there's no way for a client to contribute in that chain." What's more, the client will be paying for the inefficiencies and time-wasting this process involves, she adds.
Before starting work, Buzzbar experts provide an immediate estimate for the hours the project will require, and clients are quoted the cost based on a personal rate (£50 per hour), business rate (£65 per hour) or business plus (£85 per hour) for more substantial projects, which includes a dedicated account manager and a Slack channel with Buzzbar creatives.
Startup founders and other clients are encouraged to use Buzzbar as a coworking space to get on with other work while their hours are in progress, so that they can be looped in to conversations whenever needed.
Side-by-side working is also about empowering the clients and getting them to "buy-in" to the creative side, which the team hopes will reduce the time spent on back-and-forth feedback when clients aren't happy with the final product.
After leaving Buzzbar, clients get access to a personal dashboard where they can monitor project progress, manage budgets and invoices, make requests and even receive invites to events hosted at Buzzbar for its community of startups and entrepreneurs.
The operation is slick, but will it scale?
Coworking spaces have already started introducing pop-up, on-demand services for startups, almost unintentionally.
Hugh Hudson, managing director of Finsbury Business Centre, one of London's first coworking spaces with alumni like Deliveroo and Onefinestay, says he's regularly approached by service providers, including the "big four" accounting firms, Peninsula HR and private healthcare providers wanting access to his startup community. Instead of any formal partnership, Hudson has invited them in to run drop-in clinics or pay-as-you-go sessions.
"Startups are eager for good value services," he says. "More than that, they're looking for strategic partnerships, where everyone has the opportunity to gain from the interaction."
Buzzbar is trying to meet this appetite for mutually-beneficial, community-focused services. If all goes to plan, Downey imagines a global franchise — like the Apple store, or indeed, McDonald's — where clients return again and again, lured by the valuable services, opportunity for networking, and maybe also the team's Wellness Wednesdays yoga sessions, or the wonky fruit juice.
Test-drive: Sifted under scrutiny
Sifted did not pay for this consultation but Buzzbar provided quotes for what they would usually charge for the work
The tasks:
Sifted redesign
Redesign our Sifted flyers
Get feedback on our recently launched website
Develop a social media strategy for Instagram, LinkedIn, Facebook and Twitter
Flyers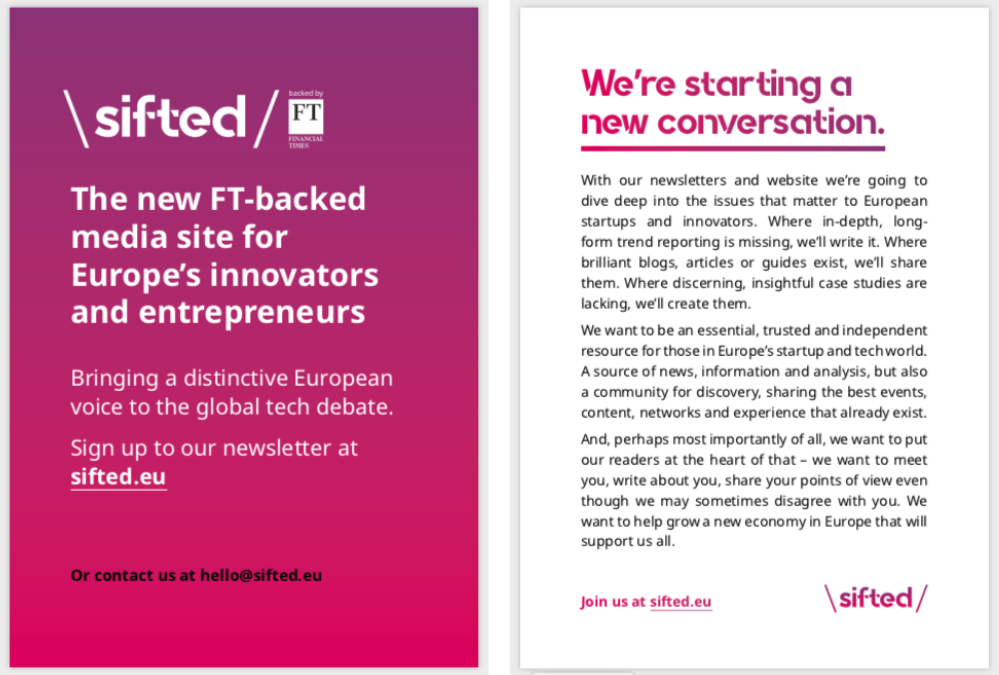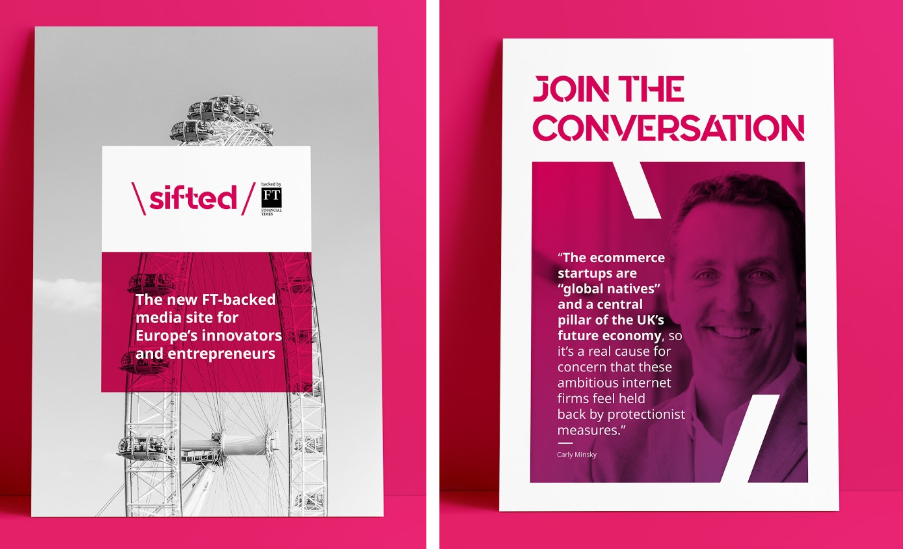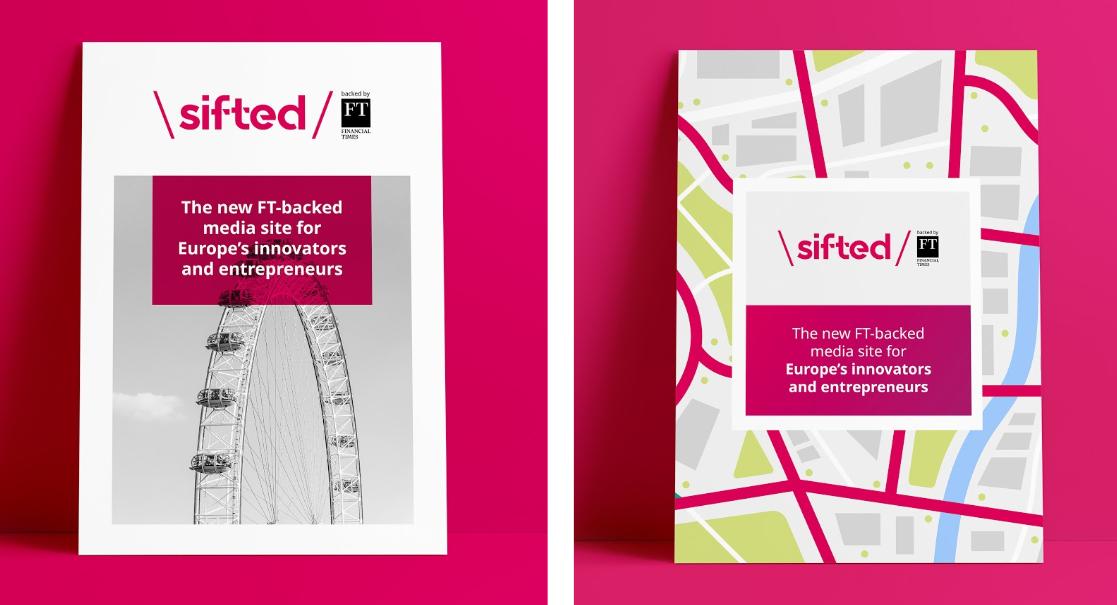 Buzzbar's visual designer advised us to simplify our branding on the front of the flier, and add a  photo or illustration to "bring people into a space or experience".
The team strongly recommended adding social media handles on the front.
Buzzbar's content and copy expert told us to cut down on text and make better use of limited space by showing what we are about, rather than explaining. "Don't prove, do!" they said. We decided on using compelling quotes from articles we have published, to draw people to the website to read more.
We had a long discussion about the exact wording we should use to describe ourselves: are we writing about and for "entrepreneurs", "startups", "founders", "innovators" and what would the most inclusive term be? This is still an open question.
The final small but important tweak was to change the key phrase from "We're starting a new conversation" to "Join a new conversation" to make it more active and compelling.
Website
Among the hoards of suggestions, we particularly found these helpful:
Homepage:
Change the top row of articles on the homepage to a slideshow with full-width images
Use clickable tabs for readers on the homepage to select to see article feeds by interest
Make the newsletter sign-up call-out bigger
Don't use the word "newsletter" in the call-out, and instead say something like "join us…" or "be the first to know…"
Add more spacing
Change the font for article headlines to a simpler, more recognisable font so that readers' eyes will unconsciously recognise the shapes of words they are interested in
Add a hyperlinked "Read more" under article descriptions on the homepage, to add another push to click
Article pages:
Add more internal links to other articles in the margins and body of the article so that readers have different options of paths to take around the website
General
Test a pop-up when readers go to exit the website, asking if they want to sign up, or presenting them with a different article
Social media
We didn't have time for social media