The coronavirus pandemic has ruptured many businesses' plans for 2020 and beyond — leaving most to make tough decisions to last out the year.
If there's been one resounding piece of advice for founders from venture capital firms and the tech Twitterati, it's been this: cut your spend and increase your runway.
But how, exactly, should founders be managing their cashflow — now and over the coming months?
Last week, Sifted partnered with spend management company Soldo and gathered a (virtual) panel to find out. On the big screen were Darren Upson, vice president of small business in Europe at Soldo, Caroline Tulloch, chief financial officer at online restaurant startup Taster and Sonali De Rycker, partner at venture capital firm Accel.
Here are the highlights of that discussion for those in need of expert advice on how to keep their business afloat.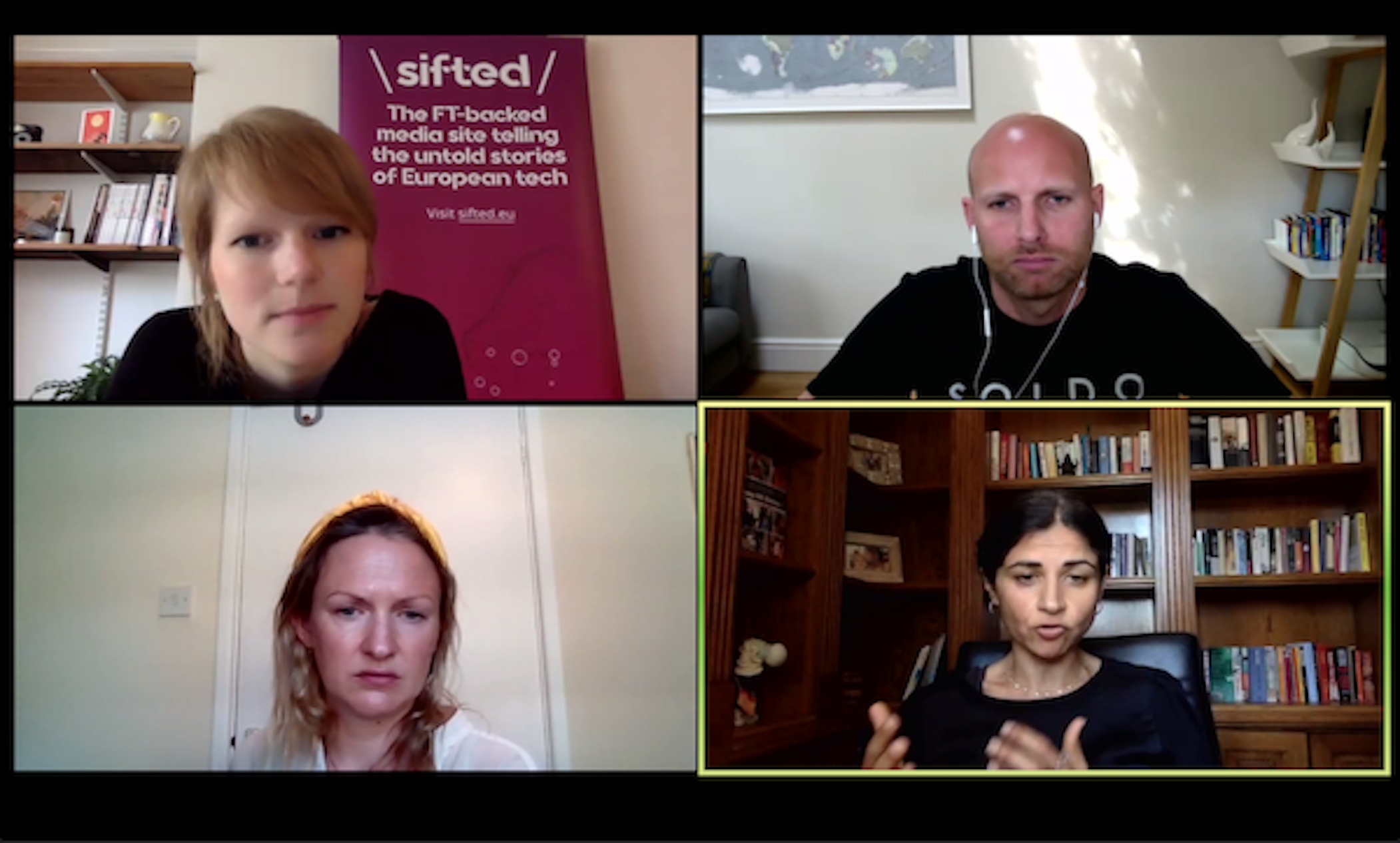 1) Start from scratch
The world has changed, and your financial plans need to too.
"Start from a blank sheet of paper and build it back up from zero to reexamine your strategies. Build up each of your cost lines in the P&L [profit and loss], think about how you are going to attract customers and gain revenue, and what the most cost efficient way of doing that is," says Tulloch.
Re-evaluate your business and get down to the

bone.
De Rycker echoed this: "Step back and think of your narrative in 2020. Covid-19 gives you the air cover to re-evaluate your business and get down to the bone."
2) Think twice before offering freebies
While lots of companies have started offering their services for free, Upson pleads that you tread carefully here.
"If the market's not there, and you're giving your product away for free, then actually you set customer expectations. So, I would recommend that if you're going to do it, knock 75% or 50% off rather than completely free, because if you've got something that's free then it's just an extended trial."
3) And think thrice about marketing
"Don't even think about events for a while," says De Rycker. Instead, she suggests substituting them with other content marketing strategies such as online webinars that can be utilised efficiently right now.
4) Keep an eagle eye on spending
Check up on how you're spending money as often as possible, due to the ambiguity of current events.
Upson says: "What you can't do is bury your head in the sand and carry on spending money as you were before Covid-19 and expect things to be okay. It's about moving at pace. It's about making sure you understand what you're spending, and where you're spending it. But more importantly, understanding when the signals show the market is returning as well."
5) Track your metrics
Tulloch advises figuring out which metrics are key, keeping a close eye on them — and adapting your plan depending on whether they're looking good, or bad.
"Setting yourself the metrics, whether it's around revenue, whether it's around growth or whether it's around customer churn, that's core to your business. That will trigger a change of course in action, whether that be further cuts if things are worse than you expected, or whether that be further investment if things are a little bit better than you'd budgeted for."
6) Work backwards
You need a clear vision going forward, so work backwards for the best results.
You have to have a view of where your market and product will be in 12, 15 or 18 months from

now.
"You have to have a view of where your market and product will be in 12, 15 or 18 months from now. And then you work backwards to what you think you need to actually execute on that," says De Rycker.
7) Ace your customer acquisition
It'll work hand-in-hand with bringing in revenue.
Upson stresses the vitality of continuing to focus on retaining existing customers: "Ultimately, if you do the right thing by your customers, we believe that actually you will have stickier customers as a result."
"Take an ROI [return on investment] approach to it. Usually the highest cost is in acquiring the customer in the first place. And then making the additional sales is a lower cost approach, and generally a lower resource intensive approach too. So that's likely going to be the lowest resource, lowest cost way of attracting additional revenue to the business," advises Tulloch.
8) Know exactly when cash is coming in
You need to know exactly when you should be paid — and when invoices have been missed — more than ever.
"Whatever tools you are using, make sure you're extracting those metrics in as timely a way as possible so that you're looking at forward cashflow perhaps on a daily basis, depending on how hard you've been hit as an organisation," says Tulloch.
Chase invoices like never before, says Upson.
"All the products out there like QuickBooks have invoice chasing capabilities built into them, so make sure that you're actually configuring them to optimise your invoice chases," he says. "You can also look at GoCardless and things like that to help remove the friction points in terms of receiving payments through."
This is easier for consumer-facing companies; it's a bit more complicated for business-to-business startups.
Try going through every single one of your creditors and negotiating new terms such as

payments.
"You have to dig deeper and go into the nuts and bolts, contract by contract, to see what's happening with existing customers and how much they owe you," says De Rycker.
"Also, try going through every single one of your creditors and negotiating new terms such as payments. It's not going to help forever, but it will definitely extend your runway a bit."
9) Cut costs
It's not just about cutting off the fat, dig into the bone.
"If it feels too easy, or even just straightforward, then you're not cutting deeply enough," warns De Rycker.
If it feels too easy, or even just straightforward, then you're not cutting deeply

enough.
"You need to cut back on customer acquisition costs. The customers you're bringing through now aren't essentially going to behave in the way that you've built your your business models up until this time," advises Upson.
De Rycker agrees: "Really thinking about your customer acquisition costs is very important, but also your entire go to market strategy — your sales, your account management and your customer onboarding."
Don't overdo it, advises Upson. "Rather than cutting costs completely, phase it back, understand what the characteristics are and what you're seeing in terms of trends coming from that. You need to cut your cloth to suit in a situation like this."
10) Retain phenomenal talent
Keeping top talent will ensure your survival — and you need to be careful of making cuts that could push them to leave.
If you lose great talent, that's a red

flag.
"If you lose great talent, that's a red flag — you need to look at your team and think about who you really need. Every company is going through a rough time, and so it's all relative in some sense, and you should be able to retain talent," De Rycker stresses.
A big thank you to Soldo for sponsoring the webinar — and many thanks to our panel.
Soldo's spend and expense management solution lets you take control of company spending and automate your financial processes from payments to accounting. Soldo also integrates directly with Xero and Quickbooks, and is trusted by over 60,000 companies including Monzo, Nested, Curve, Gymshark, Citymapper and TrueLayer. Check them out at www.soldo.com.
We'd love to hold more webinars like this over the coming weeks. If you'd like to partner with us and sponsor one of our webinars, get in touch with helen@sifted.eu.