Tatiana Jama doesn't actually run France's entrepreneurial ecosystem. It just seems that way.
A serial entrepreneur, investor, activist, business advisor and political whisperer, Jama's resume has made her one of this nation's most prominent startup figures. Over the past decade, the 40-year-old has turned her attention to addressing the gross imbalance between men and women in the French startup economy.
That keeps her pretty busy, but she has still somehow found time to join me for lunch.
I am sitting in the 1st arrondissement of Paris on the terrace of Moulin de la Vierge, a modest bistro that she suggested, nestled in the Place des Petits-Pères. She parks her electric bike nearby and joins me at the table.
Wearing a bright yellow sweater and her trademark mischievous smile, she orders lunch and chuckles.
"We're sitting at Place des Petits-Pères and I'm eating a croque monsieur," she laughs, reflecting that her choice of location and dish have inadvertently injected some very male vibes into our lunch interview.
It is a humorous juxtaposition for the founder of a European fund — SISTAFUND — that specifically backs female entrepreneurs and gender-balanced teams.
"I swear, I didn't do it on purpose."
Purpose has always been something of a north star for Jama in her professional life. Her reasons for becoming an entrepreneur and then an investor were primarily to achieve the greater goal: being in a position to change the world.
"I want to have real impact," she says.
"Real impact is having 100m [euros] focused on women entrepreneurs, to reinforce their economic power. That is the impact I want to have."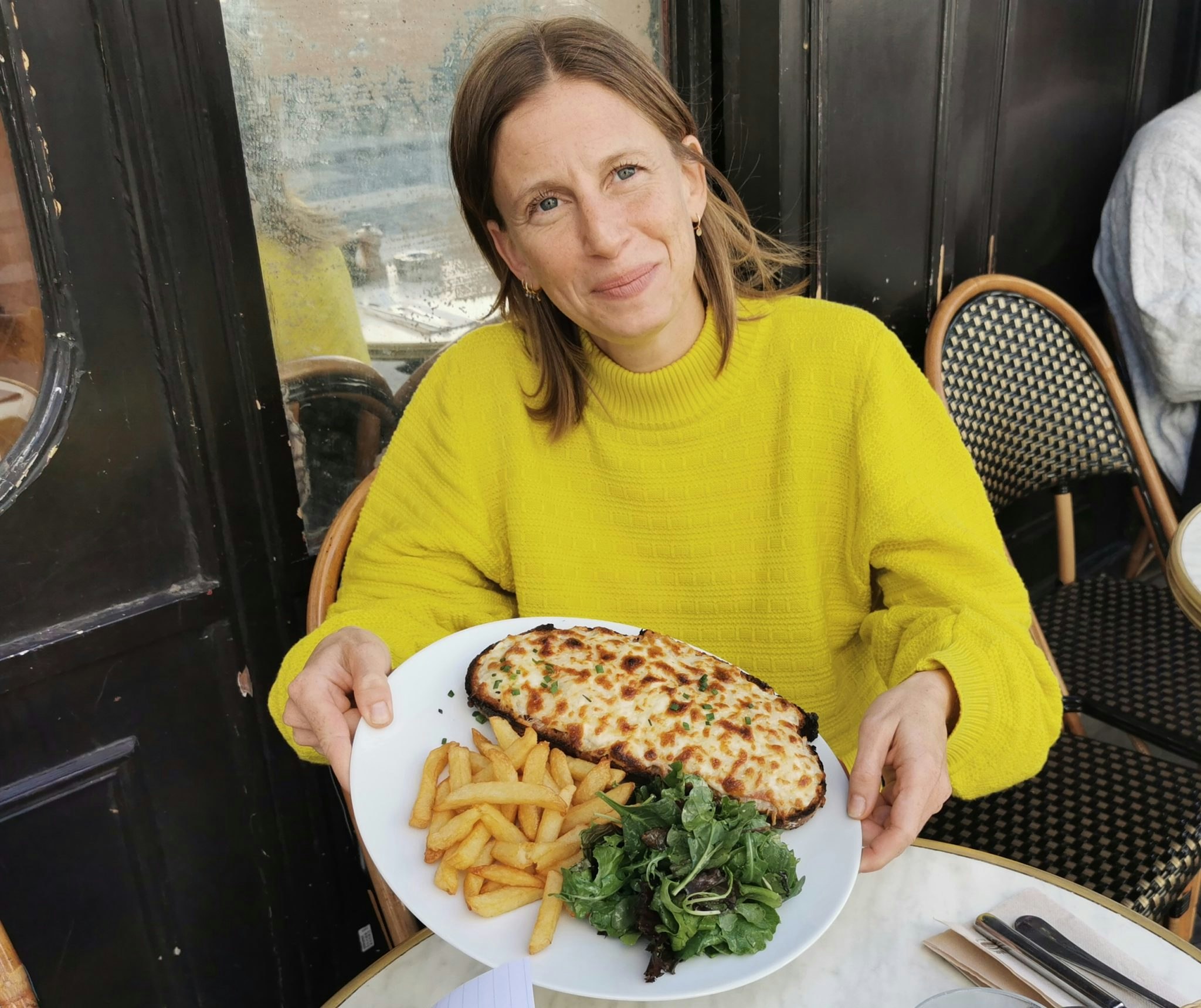 An immigrant's tale
If the restaurant was simple, the reasons Jama chose it for lunch were not. She loves the food and her office is nearby, and being located away from the main road, it is calm and cosy. "The good side of Paris," she says.
It is also on the edge of the neighbourhood known as the Silicon Sentier, which was the nexus of Paris's fledgling startup scene, where France's first accelerator Numa and mobility unicorn BlaBlaCar first set up shop in the 2000s.
But it is also where Jama, the daughter of immigrants from Cuba and Poland, grew up, at a time when the former garment district was known for being one of Paris's Jewish quarters rather than an innovation hub.
Jama's mother and grandmother were entrepreneurs, both running small fabric shops, but she wanted to be a lawyer, inspired by the hit US TV show Ally McBeal. After her law degree, she quickly became disillusioned with a legal career and pivoted to business.
"The problem is I really thought that once I have the robe, I'll have superpowers," she says.
"But it wasn't at all like Ally McBeal. I realised that you had to wait 10 years in order to be able to have your say. I was impatient. I didn't want to spend it [like that]."
Instead, she enrolled in Paris's famed HEC business school and began building the network of entrepreneurs and investors that would play such a significant role in the years to come.
First among those was Lara Rouyres. The pair have now cofounded three companies together. Their first, Dealissime, was acquired for an undisclosed sum by LivingSocial, the American group-deal rival to Groupon, in 2011.
While the deal was likely small by Silicon Valley standards, it was seismic in the embryonic world of French tech.
It wasn't easy to explain to her family why she abandoned a lucrative career in criminal law to go door-to-door trying to persuade small businesses to sign up for Dealissime.
"It was so much less prestigious, but I've never felt so alive," she says. "I needed that energy. It's the best decision I ever made."
The LivingSocial exit gave Jama enough money to start angel investing and she has since backed more than 20 companies, including Regaind, an AI startup acquired by Apple in 2017.
She also became a partner in French accelerator 50 Partners and a board member at the international French tech think tank The Galion Project, European investment fund Eurazeo and startup campus Station F.
Moving from one success to another, she began to understand that her experience was the exception and not the rule for women founders in France.
"I was very, very naive. I thought it was okay, being a woman and entrepreneur, and I didn't understand why everybody was asking me about [it]," she says.
"When I realised it wasn't, I wanted to change it."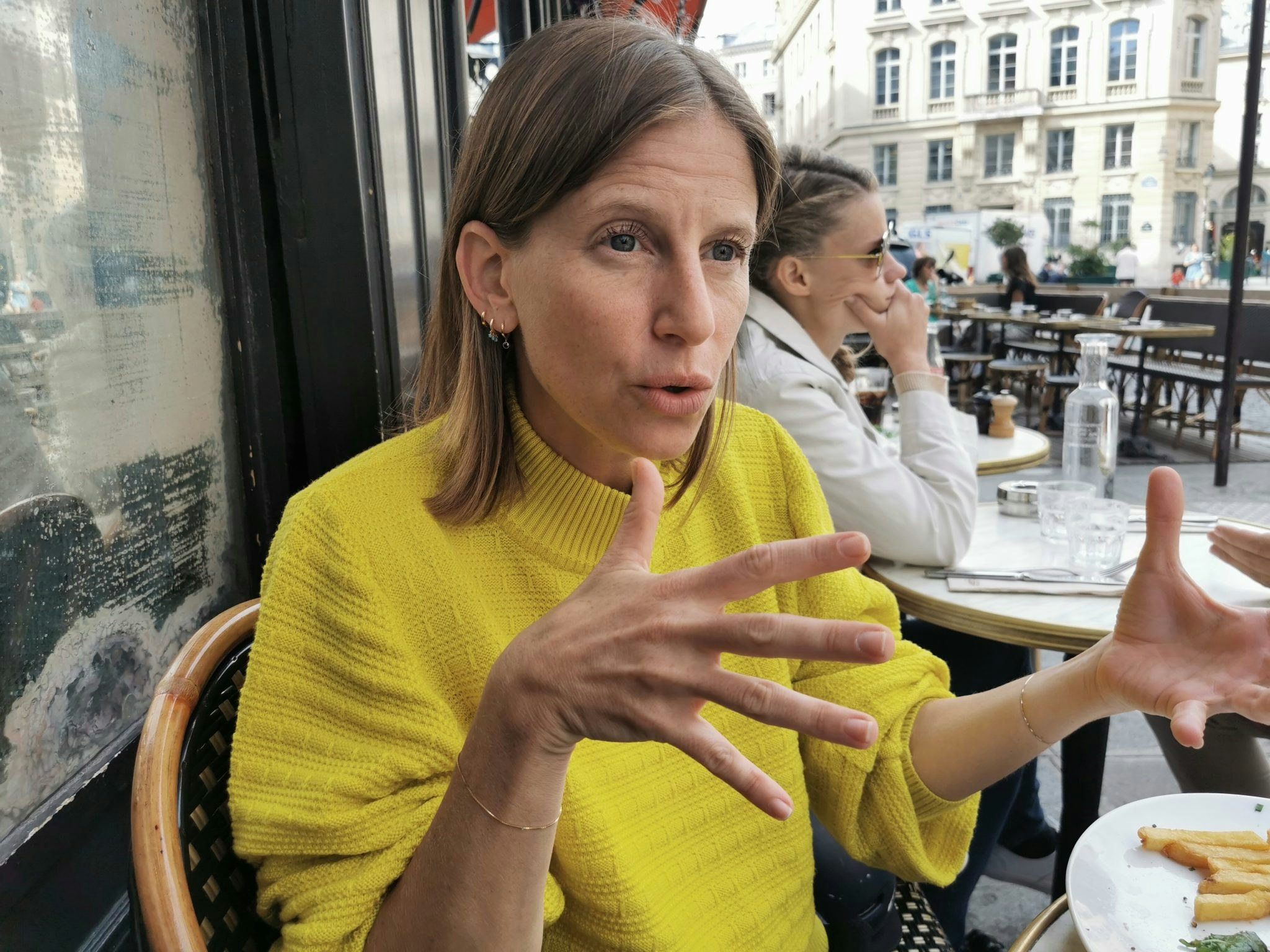 Getting active
Jama's tech activism had started much earlier.
Back in 2011, she cofounded a community of tech entrepreneurs and investors known as Les Pigeons, in response to a new tax proposed by the then-president, François Hollande, of the left-leaning Socialist Party, that entrepreneurs viewed as punitive.
In the face of public outcry, Hollande withdrew the measure and instead pivoted to embracing entrepreneurship in France.
Hollande's administration would eventually launch La French Tech Mission and oversee the creation of the state innovation bank Bpifrance in 2012. He also appointed a former investment banker as minister of the economy.
That man was, of course, Emmanuel Macron.
By the time Jama turned her attention to the question of women in tech, Les Pigeons had taken on an almost mythical quality, with many in France's startup crowd considering it to be the spark that really catalysed the nation's startup momentum.
In 2018, Jama cofounded SISTA with Céline Lazorthes, a friend from her HEC days, and Valentine de Lasteyrie, an investment partner at family office Fiblac, to advocate for greater gender diversity in French tech.
SISTA's annual reports, which chronicled the dismal representation of women in startups and venture funds, made a splash, leading to a charter that more than 100 VCs have signed which commits them to gender equality goals.
SISTA also developed a reputation for playfulness in getting its message across. On one occasion, the fund published a video in which prominent men in the French tech ecosystem were asked versions of questions that Jama has faced over the years: How do you manage imposter syndrome? What advice would you give to young men who want to be entrepreneurs? Is it difficult for a man in 2022 to prioritise his career over his family?
In another video, tech billionaire Xavier Niel gamely plays the role of assistant to a female executive as he seeks her advice on what to wear to the upcoming SISTA Summit. When he holds up a classic grey business suit, the woman shakes her head and says, "Xavier, it's not your aunt's wedding. You have to be more sensual if you want people to listen to you".
Rewatching the videos after our meal, Jama laughs gleefully. But behind the humour is the fact that these were all things she had actually experienced.
"People would tell me I need to talk louder. Or they would ask me about my morning routine. There are these biases and many of these guys don't even realise it," she says.
Even if the number of women raising money in France remains stubbornly low, Jama is proud of the work SISTA does.
SISTAFUND, founded alongside Jérôme Masurel, managing partner of startup accelerator 50 Partners, announced its first close of €30m in 2022. The fund backs female-led companies from pre-seed to Series A in areas like fintech, healthtech, SaaS and consumer.
It received a stamp of approval this summer when the French government announced it was among the first VC funds to be pre-approved to receive money from the second Tibi initiative, which encourages large institutional investors to invest in venture funds to back scaleups.
Having received this imprimatur, SISTAFUND is almost assured of being able to approach these institutional investors to raise the balance of its €100m goal for its first fund.
Jama continues to leverage this growing visibility for other causes: she helped organise Protégé Ton Soignant, which helped source medical supplies for healthcare workers in the early days of the Covid pandemic, and works with Ensemble Ukraine, a collective of tech leaders that gives support to the war-torn country. She also sits on the board of Conseil National du Numérique, the government's tech advisory council, and in 2022, was awarded the Chevalière de l'Ordre du Mérite (National Order of Merit) by President Macron.
In May, she found herself on stage at Viva Technology conference — posing questions to Macron.
"How are you going to get funds, but also LPs, to invest money in women entrepreneurs?" she asked the president.
Amid his dense analysis of gender inequity in tech, Macron took a moment to salute Jama. "We need greater transparency in this sector, which you did with SISTA."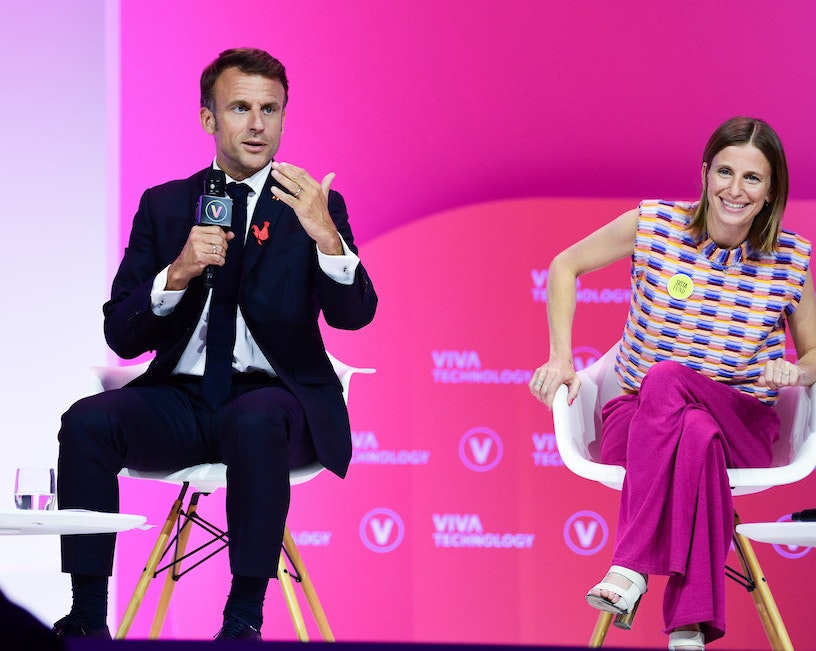 Superpowers unlocked
As our lunch winds down, we reach the moment that Jama says she has been waiting for: dessert.
We walk into the restaurant's patisserie next door and choose from the rows of delicacies lining the glass case. Chocolate eclair for her. Dark chocolate cake for me.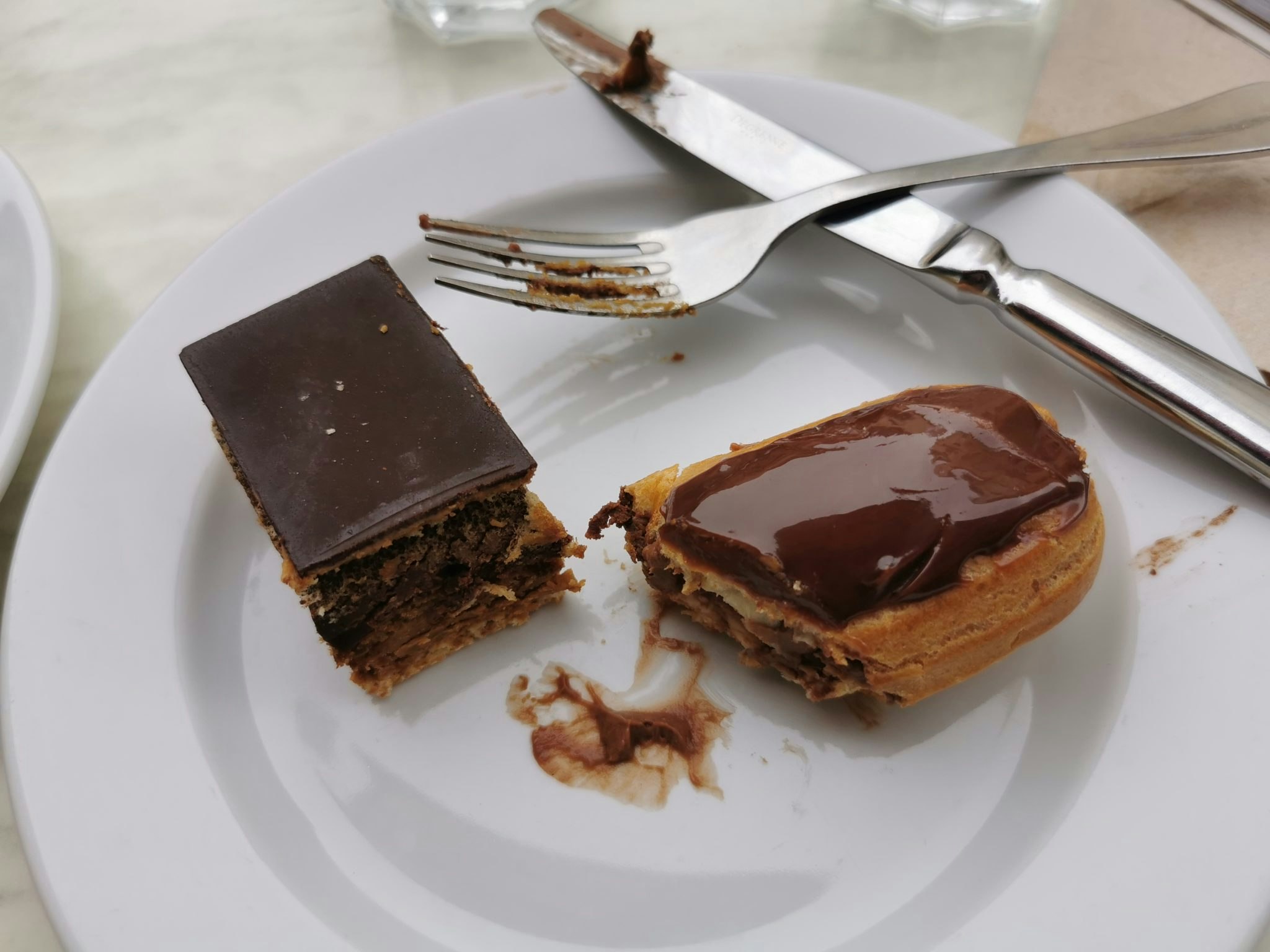 I ask how she manages the potential chaos of so many projects. She says this is just her natural state of being and that the key has been pursuing these ideas with people who are friends and kindred spirits.
"That's the question I've had my whole life," she says. "But I think my strength is not being only an investor or being only an entrepreneur or being only an activist or being just a theatre lover. It's the mix of everything that gives me my singularity. And also, it's fun and I love the creative part. We find all these crazy women who are not having so much fun in their corporate world and then come to SISTA to have fun and change the world."