As one of Spotify's first employees and the person responsible for guarding the much-hyped startup's precious reputation, Sophia Bendz ducked the limelight for years. Today, things have changed. She's one of Europe's most prolific angel investors and few female VC partners — and often she is the story.
Bendz has picked Garba, a modernist bistro in central Stockholm, for our brunch. In comparison to most other restaurants at this hour, it isn't overly crowded and serves sweet treats rather than three-course meals. It's not the kind of place I'd imagine many business people having lunch.
Sporting a colourful shirt and jeans, Sophia has already picked a table when I arrive. Her immaculate but relaxed outfit and make-up are impressive — considering she's living in a garage at the moment.
"We have neither a kitchen nor a shower — I pop over to friends or the gym when I need one," she says with a big, cheerful smile.
She's not down on her luck but between homes, having recently bought a beautiful villa in one of Stockholm's most sought-after suburbs.
When I first interviewed Bendz in 2017, she rarely spoke to the press, perhaps an old habit from her Spotify days when she was the last frontier between pushy journalists and the inner workings of Europe's most famous startup (at the time).
Since then she's become a well-known figure in European tech, not only as an angel investor but as one of Europe's most notable female VCs, first at Atomico and now at Berlin-based early-stage firm Cherry Ventures.
The waitress arrives and Bendz orders French toast, a coffee and an orange juice, and I pick a chicken Caesar salad.
But I want to hear about how she got to where she is now — so we start at the very beginning.
The Spotify journey: how to generate hype
Before Spotify, Bendz worked at PR agency Prime. She was introduced to Spotify cofounder Martin Lorentzon at her brother's birthday party in 2006. Spotify had yet to be registered as a company but the founders were already far along the path of developing the idea.
Bendz wanted to be part of building something new — and this was her chance. She started helping the company later that year and joined full time in 2007.
Maybe we had more guts to stay off-record for longer. We had strong founders, an extremely talented team, and funding was already

secured
It wasn't just Bendz and investors like PJ Pärson at Northzone that found the idea behind the streaming platform exciting. Journalists desperately wanted early access to the platform. And Bendz's strategy — to not give beta access to press — is perhaps why she's so known for her leak-quashing skills.
"Our communications strategy then was not to waste people's time on something that was not a finished product," she says. "We wanted a lot of time to finish building our product, hire the team and build the company."
"Everyone at Spotify was so excited about the product but we had to keep people from talking" because the company was often deep in negotiations with record labels, she says.
Her strategy worked to Spotify's advantage. Rarely has a startup in Sweden been so hyped.
"I was responsible for the email address info@spotify.com and there were many creative and strange ways people tried to get hold of the beta," Bendz says, laughing.
Bendz focused on giving beta-version access to the "movers and shakers" in Stockholm's creative, tech and startup scene. And those with access were able to invite others.
"We had one person in the creative field that had shared his beta access with 3,000 people. When we saw that, we realised we had a pretty good market fit."
Our food arrives and we tuck in. Bendz's French toast looks delicious.
Car-washing offer
While a majority of journalists were turned away, there were a few exceptions. One was renowned BBC tech journalist Rory Cellan-Jones.
Shakil Khan, one of Spotify's early angel investors and now deeply involved in Spotify founder Daniel Ek's investment company Prima Materia, approached Cellan-Jones at a tech event. His pitch: he'd wash Cellan-Jones's car himself if the journalist didn't find the tech interesting.
Cellan-Jones had at the time neither heard of Khan nor Spotify and was given a code to try the desktop version of the music streaming service.
"But I liked it," Cellan-Jones chuckles when I reach him on the phone. "Tech was a lot different back then but I was struck by how intuitive it was — with a click of a button, all the music that you wanted to listen to was there."
The approach is in stark contrast to the coverage-thirsty startups that dominate today.
"Maybe we had more guts to stay off-record for longer. We had strong founders, an extremely talented team, and funding was already secured," Bendz says. Creandum and Northzone invested in 2008.
Building a brand from scratch
But generating hype in Sweden is a lot different from building a global household brand. So how did Spotify do it?
There were three key areas in which Bendz believes Spotify stood out. First, they never compromised on user experience — key to becoming the "best" music service in the world for online listening. Second, by making the users the ambassadors and sharing early access by invite-only and word of mouth, Spotify played into the desires of its audience. Last, it had a clear brand from day one.
"We had our own unique way of communicating ourselves and a clear way of doing things. We made our own fonts, our own audio ads, movies, colours, images and videos and had our very own in-house team that produced all the communication," Bendz says.
But Spotify wasn't alone. There were others with similar ideas like US-based Spiralfrog and Napster and France's Deezer. Later came Tidal and Apple Music. And Americans were snobbily sceptical of her mission.
I'm not a former Goldman Sachs number junkie, but a former operator good at brand strategy and

comms
"When I told them about Spotify, they said: Good luck, we have iTunes here," Bendz remembers immigration officers telling her during numerous trips to the US in 2010. "When I returned five years later and told them where I worked, they were super excited.
"It was one thing to get tech people interested in Spotify but when normal people got excited, that was the key."
Bendz left Spotify after giving birth to her first child. Having seen the company grow to many hundreds of employees and successfully launch in the US, she felt like her task was done.
"After those seven or eight years with a constant fear of dying, never being laid back and always another product launch in sight, I have a weird view of what is being productive at work," she says and laughs.
We finish our meal and neither Bendz nor I leave empty plates. Bendz kindly offers for me to try what's left of her French toast, which she says was amazing, but I decline. We order a cappuccino each and shift our focus to her career as an investor.
Becoming an angel
Bendz did her first angel investment in 2012 when she was still at Spotify. It was in social shopping website Tictail, founded by a person she had worked closely with for the branding of Spotify, Carl Waldekranz. The startup has since been acquired by Shopify. As word that she was doing investments spread, her portfolio grew.
"In the beginning, it wasn't like I had a lot of liquidity," she says. "Back then, I did a lot of sweat equity deals offering my know-how and experience."
Today, she has a list of 52 angel investments, including in edtech Sana Labs, smart ring Oura, home insurer Hedvig and cannabis femtech startup Daye.
She wasn't sure what her next step post-Spotify would be until she was recommended to fellow Swede Niklas Zennström, cofounder of Skype and the London-based investment firm Atomico.
"I remember standing in the gym when I got Niklas's email suggesting a coffee meetup," Bendz recalls.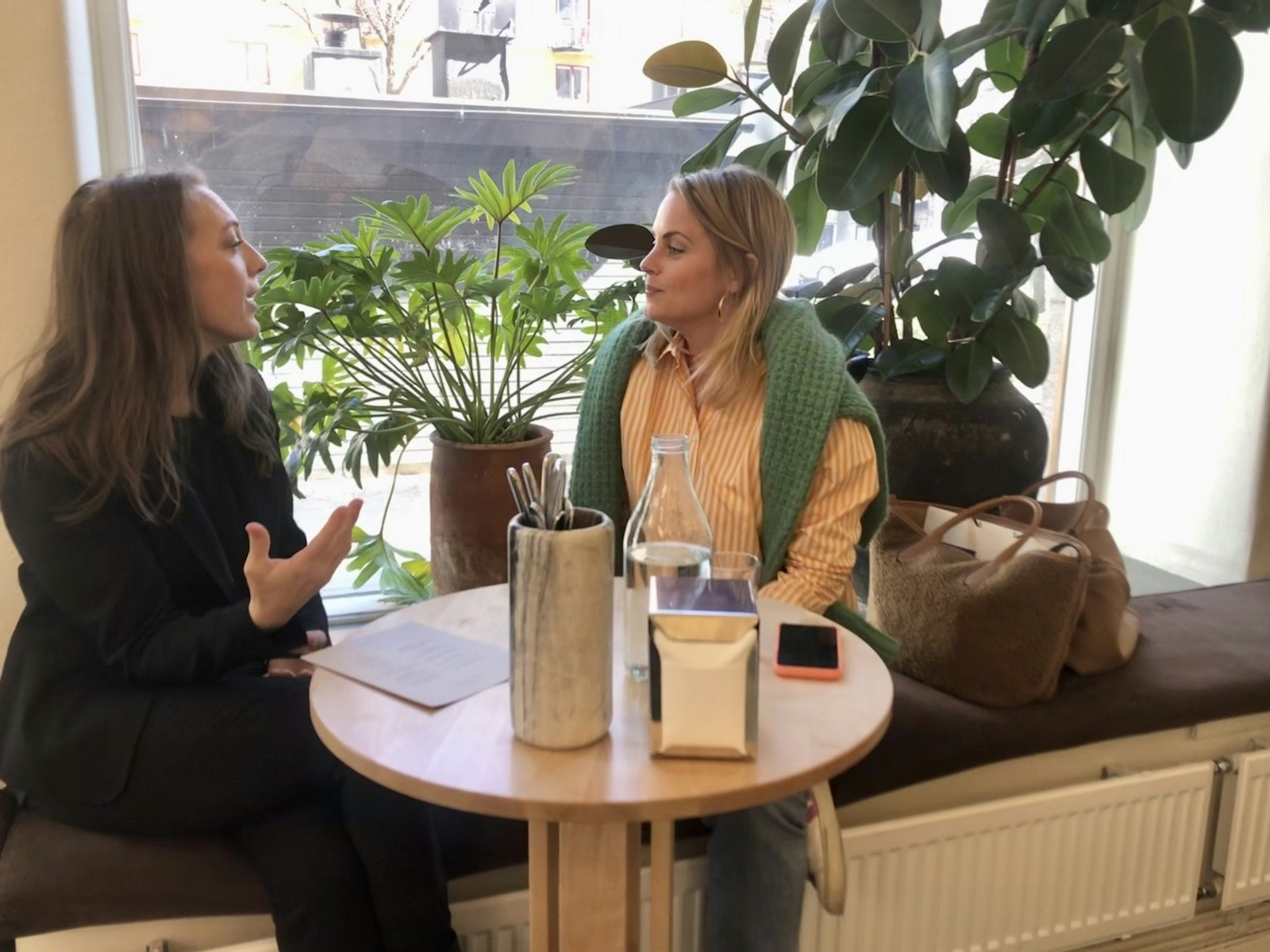 Bendz clinched a job in 2016 as an executive-in-residence at Atomico by pitching her angel investments as well as her idea about an angel programme for Atomico.
She worked closely with Atomico's cofounder and partner Mattias Ljungman on Nordic sourcing. She ended up leaving the firm in 2020, mainly over the mismatch between her skillset scouting early-stage companies and Atomico's Series A-and-up investment strategy.
"It is a huge difference between doing Series A investments in comparison to pre-seed and seed," Bendz says. "I am not a former Goldman Sachs number junkie, but a former operator good at brand strategy and comms. The best product-market fit for me is to do early-stage investments."
However, she doesn't regret joining Atomico as her job in investing. "It was great working with Niklas. He is a great visionary and is driven more by creating real change than big returns."
The angel programme
But she did leave an important legacy at Atomico: an angel programme. When Bendz set up Atomico's programme in 2018, it was a rare offering among other European VCs. Fast forward to today, and it's a key way for many later-stage VCs to get a view of what's happening at early stages in the ecosystem and access to high-quality inbound investment opportunities. As Bendz puts it, "the best deals come from the best angels".
Bendz's plan for the angel programme was twofold. "From my perspective, and this may sound pretentious, but I wanted to give more people access to the world of investments.
"I found angel investing both so much fun and also educational. In the end, it was angel investing that gave me a job in venture capital. Since it had worked out for me, I wanted more people, and especially women, to get the opportunity to do the same."
Bendz is a natural salesperson and very likeable. And perhaps that is what makes her good at closing deals.
"This job is pretty sales-oriented; you have to sell yourself and your fund to the startup community, to the LPs, to other VCs to get them to co-invest with you and also to top talent for them to want to join your fund. There are a lot of hats to wear," she says.
Despite her personability, Bendz admits she doesn't always win every deal. In one instance at Atomico, she sensed that the company already had term sheets from other top-tier venture capitalists.
"I remember I was going over to its office and knocked on the founder's door," she says with a bit of embarrassed laughter, though she "still lost the deal".
Fixed mindset versus growth mindset
As an investor, Bendz often compares her work with founders to what she experienced at Spotify. In her view, energetic, passionate people are more fun to work with and give you that added energy.
"The opposite happens when you work with a founder who you find has a fixed mindset and doesn't want to develop. I think it is important for a founder to want to be able to develop, grow and adapt," she says.
After those 7-8 years with a constant fear of dying, never being laid back and always another product launch in sight, I have a weird view of what is being productive at

work
At the Berlin-based Cherry Ventures, which Bendz joined as a partner in 2020, she's found her sweet spot — investing at the pre-seed and seed stages focused on the Nordics. And according to her, Cherry is successful at getting its startups to the next level.
"80% of our portfolio companies do successful Series A rounds, which statistically is very good," Bendz says.
At Cherry Bendz has invested in a number of high-profile startups, like the Swedish fintech Juni and the Finnish carbon removal startup Carbo Culture. However, with Cherry only investing in 10-12 startups a year out of 3,000 pitches, there are a lot of no's.
"Most of the time, the companies don't fit our investment strategy. The sad thing about this job is that we have to say no to a large majority of those who are looking for money."
The bill arrives and I pay for the meal. Bendz takes a selfie of us and later posts it as an Instagram story. And although we aren't friends, in a strange way she makes me feel like friendship is just another meetup away.