Aerospace
Go higher or lower for more eco-friendly flights
Flying planes at slightly higher or lower altitudes could decrease the negative environmental impact suggests new research from Imperial College London.
Consumer goods
Sound and touch
Robert Bosch Venture Capital co-led the $20m Series B funding round into UltraSense, a Californian startup that uses ultrasound to create a touch interface on any kind of surface, plastic, metal, wood or ceramic. Using soundwaves for user interfaces is an emerging technology being explored by a number of companies, from carmakers to appliance manufacturers. 
Investments in breakthrough technology like this are one reason why Robert Bosch Venture Capital is one of the few corporate venture arms named in Sifted's list of 29 deeptech investors you need to know.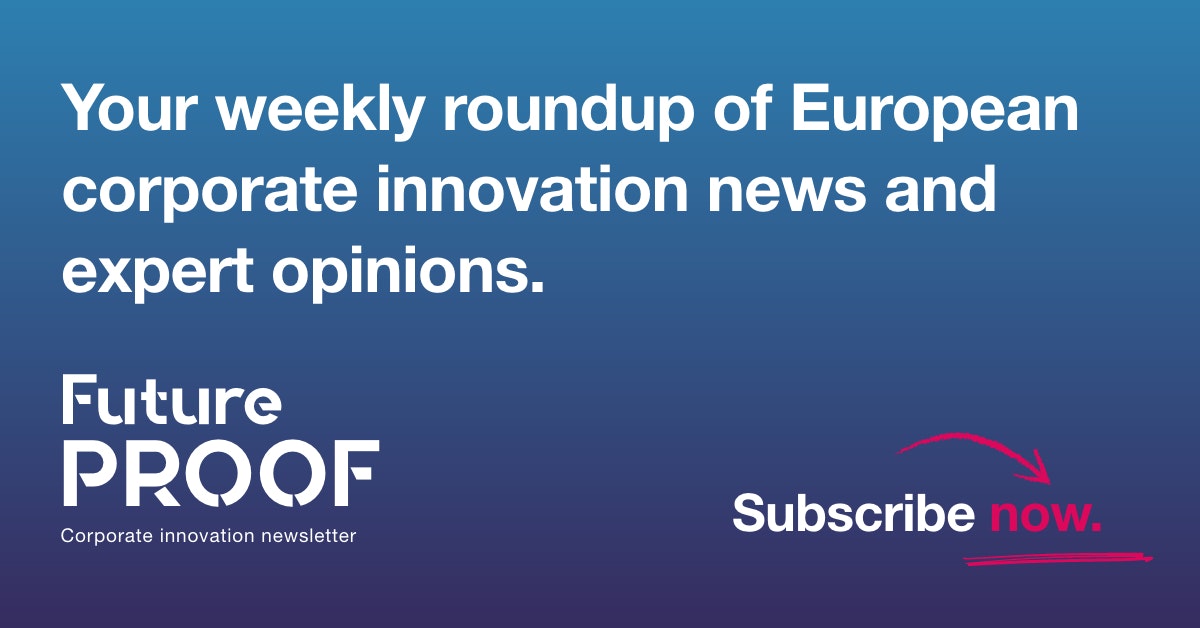 Financial services
Finance for gig workers
Spanish bank BBVA and venture capital fund Anthemis invested in the £1m seed round of Wollit, a UK fintech offering gig workers an income guarantee/loan service to help smooth out lumpy earnings as the hours they work fluctuate.
Eight predictions about the future of banking
Leaders from Visa, money transfer company TransferWise and US fintech CashStacks talked about the evolution of banking at the World Forum Disrupt Summit last week. Our favourite suggestion: banks should reframe themselves as identity management services.
Food and drink
Tackling food waste
Unilever teamed up with food waste startup Too Good to Go for a pilot to see if they could sell off close-to-expiry food items at a discount. The trial in Belgium saw the company sell off around 2,000 items, including Knorr soups, Lipton Lychee Ice Tea and Ben and Jerry's ice cream through the Too Good to Go app, saving them from landfill. 
Restaurants and supermarkets have already been working for some time with Too Good to Go and its Swedish rival Karma, but now food manufacturers are increasingly getting in the game.
Legal
Breakthroughs in law
Deloitte Legal has teamed up with Conception X, the venture builder, to help UK PhD students create new startups that could disrupt the legal industry. Deloitte partners will mentor the PhD students in exchange for getting a first view of the tech that could change the sector.
Logistics
Stickers for tracking
If big-name investors were a guarantee of success, Wiliot, an Israeli-US tracking startup, would be a sure-fire winner. The company makes Bluetooth stickers that can make everyday items, from clothes to Amazon packages trackable and just raised $20m to develop the concept further. Corporate investors Amazon Web Services, Samsung and Qualcomm had already backed the company. Now Avery Dennison, Pepsico and Maersk have joined them.
Mobility
Low battery
Audi has had to halt production of its electric e-tron SUV because of difficulties with battery supplies. Audi had planned to build 80,000 e-trons this year but LG Chem, it's South Korean battery supplier can apparently only promise 40,000. Jaguar Land Rover has also had to reduce production of the I-Pace electric SUV because of problems with battery supplies from LG Chem.
There was better battery news, though, for Volkswagen, which is understood to be developing secret, patented battery technology to be used to power an advanced new electric sports car.
More funding for scooters
Tier, the German e-scooter rentals company, whose investors include French insurance company AXA, topped up its Series B funding round, taking it up to more than $100m. Scooter companies are locked in a capital-intensive expansion battle, plus Tier is trying to transition to greener practices to win some eco-kudos.
Designing future cars
Renowned car designer Frank Stephenson, who has been helping Lilium Jet design flying taxis, talks about where he draws his inspiration from and what is in store for cars in the future.
Buying cars online
Jaguar Land Rover's investment arm InMotion Ventures was one of the new investors in Digital Motors, a US-based startup that helps car dealerships do deals with customers online.
Sports
Blockchain for fans
FC Barcelona is planning to launch blockchain-based Barça Fan Tokens, costing some €2 each, by the end of this year. It is an attempt to get closer to the fanbase. Holders of the tokens will be able to take part in online chat, games and can compete for Barça-theme prizes. Is it just a new way of cashing in on the club's 300m fans around the world? Or does blockchain really have some benefits for sports clubs — for example, Lancashire Cricket Club's use of blockchain-based tickets to increase security?
Good reads:
Why do corporates speak the way they do?
This article in Vulture is a long but excellent look at where all those meaningless garbage phrases — all the circle-backs, the parallel-paths, the syncs, (even futureproof is in there ?) — come from. There is a lot of musings about the very specific, strange business culture of the 2010s monied Silicon Valley startup world, but also interesting thoughts about why business language is the way it is. It is encapsulated in this question: "Do CEOs act like jerks because they are jerks, or because the language of management will create a jerk of anyone eventually?" Answers on a postcard, please.
Stop calling it innovation
Speaking of buzzwords, "innovation" is one of the worst ones out there according to this Harvard Business Review article. "Innovation" sounds great to shareholders and boards. To the average employee, though, it sounds like having to do extra work for no extra pay — or in the worst-case scenario losing your job. Worth bearing in mind when you are trying to rally the troops behind your new initiative.
How to do product launches like Spotify (hint, think ancient Greek philosophers)
Gustav Söderström, head of research and development at Spotify, tells Wired how the Swedish music company ensures success for its product launches. He advises to forget the idea of rushing out a crappy minimum viable product — the days are gone when consumers had the patience for this. Instead, focus on some internal modelling — the Socratic method is one of the techniques Söderström likes.
Image: "Camp Nou Stadium" by farhad.Guli is licensed under CC BY 4.0