When the coronavirus pandemic hit Europe and people across the continent went into lockdown, companies spent weeks checking in with their employees. Heads of talent became 'heads of remote working', sensitive to the personal struggles their teammates might be going through. As furloughs and layoffs were announced, founders wrote heartfelt messages to their teams explaining the decisions they were making.
Now, a few months down the line, a new crisis is rocking us: protests across the world in response to the death of George Floyd are emphasising the unsettling truth that discrimination still exists in our society. 
And the Black Lives Matter movement is revealing something else too: businesses are much better at reacting to infections than injustice.
LinkedIn lacking
In 2020, protests do not just take over streets, but social media platforms too. On both Twitter and Instagram hashtags like #blacklivesmatter and #diversity are trending, while learning how to be an ally has become the new top skill. 
However, there is one social platform that has not felt the winds of change. On LinkedIn, the world's largest business platform, members have had other topics top of mind. 
Some tech companies have shared their support for the movement through the platform, including Google, Glovo and Trustpilot. But some of Europe's best-known startups, such as N26, Bolt and Vinted, which have a combined following of 150,000 followers on LinkedIn, are still silent. 
True support, however, takes a whole lot more than social media posts.
Many of the companies and investors that have jumped to post about, or send a newsletter in response to, Black Lives Matter have done so without making any actual effort to support diversity under their own roof. Employees and customers alike aren't stupid; they can see through these empty gestures. 
Youth entertainment startup Kyra TV shared a statement in support of the community, only to then be rebutted by ex-employees revealing unfair practices. Klarna, the Swedish payments giant, released a statement addressing the uncertainty and crediting that it must "do better, internally" (the company's board is not diverse in terms of ethnicity or gender, with just one female member) — but gave no clear examples of what it will do to enact this change.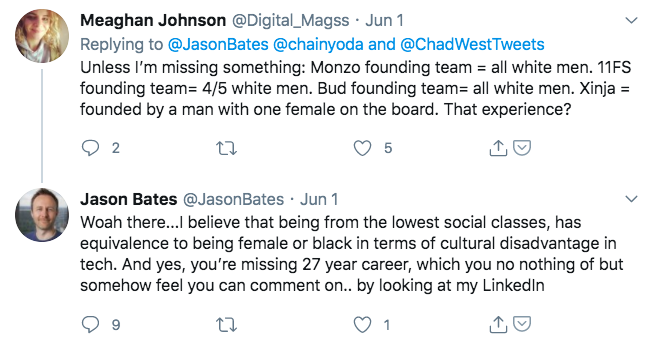 Meanwhile, Monzo and 11:FS cofounder Jason Bates waded into a Twitter debate about privilege — comparing being from a low socio-economic background to being female or a black woman in tech — and was rightfully questioned by the twittersphere. This outlook shared a consensus sentiment: that people who lack diversity probably don't see the injustice many are facing now. Bates later apologised for his tweet. 
However, not all companies managed to completely fumble the handling of the crisis in diversity. In the US, Ben & Jerry's led the way, sharing a blunt view on white supremacy. VC firm SoftBank launched a $100m fund to invest in founders of colour. 
In Europe, Lego has pledged $4m to organisations dedicated to supporting black children and educating all children about racial inequality. Diversity in tech community YSYS organised an oversubscribed event discussing 'How to mobilise, influence and ally', while co-working space TechHub London took to social media to "[amplify] the voices of initiatives in our ecosystem that are actively supporting black founders". Fintech company TransferWise acknowledged that it doesn't have the answers, but has shared resources to support and donate. Hiroki Takeuchi, founder of fintech company GoCardless, turned to the 'BEAM' group within his own organisation to ask for their advice — and then shared it. 
Show your employees that you care
More companies should be doing the same: focusing on their black employees and their needs, like they focused on their remote employees a few months ago.
Now is the time to really talk directly to your black employees and understand what they are going

through.
"Now is the time to really talk directly to your black employees and understand what they are going through," say Rene Germain and Ebisiemen Ajayi, chapter leaders of the Talk Tech Association. It's also important, they add, for businesses to recognise that "this is a Black issue, not a BAME or POC issue; we are not one singular homogenous group with the same issues". 
But too few managers have done so. Various organisations, including job platform SocialFixt, have released guides on how to hire and retain black staff, yet I've heard black startup and tech employees sharing their experiences on social media and through private messages, stating that their own managers and founders haven't reached out to ask how they are. This simple gesture of empathy could be the difference in becoming an ally and losing great staff members.
Ask the hard questions: are you struggling to find black people to hire and if so, what are you

doing?
Over the longer term, business psychologist Chanelle Mauricette encourages businesses to "Ask the hard questions: are you struggling to find black people to hire and if so, what are you doing? Companies must offer bias training, create inclusive practices and listen to their internal staff in order to truly change". Abadesi Osunsade, founder of tech community HustleCrew, has called for VC firms pledging allegiance to share the percentage of black founders they've invested in.

Five ways to make a change
Here are the top five things you can start doing today:
1) Look and share what's inside your organisation:
Make a note of all the inclusive behaviours you are displaying vs. what you'd like to do.
Audit your pay and promotional gap: what are the differences in gender, ethnicity and progression?
Send a company-wide communication to acknowledge what's happening, with clear citations of what you will do as a company to ease the situation.
2) Educate yourself and others:
Start with unconscious bias training (please note, this should be delivered by a diverse and intersectional person) and go north from there.
Share learnings within the cohort and send follow up notes.
Have quarterly check ins with clear KPIs to see what improvements have been made.
Create internal accountability circles especially for hiring and retention. 
3) Support black organisations:
This isn't lip service; this means active investment, resource and time. 
Address the need for social justice publicly, with clear examples of what actions you plan to take internally.
Make sure all events and activities include representatives from all intersectionalities, especially black communities.
Donate your time, resources and funds to black communities.
4) Reach out to your friends, family and colleagues:
Listen to what they have to say.
Stay curious and ask questions to learn.
Don't take it personally if they don't respond straight away as this is an overwhelming time.
5) Walk the walk: 
Share your exact next steps on creating inclusive cultures and how the community can keep you accountable.
Invest in SME black-founded businesses.
Diversify board members and senior leaders consciously.
Sonya Barlow is the founder of Like Minded Females, a global community dedicated to reducing inequalities and providing a foundation to succeed for womxn and underrepresented individuals.
Correction: A previous version of this piece said that Revolut communications head Chad West had compared "being from a low socio-economic background to being female or a black woman in tech" as well as Jason Bates. West actually said that he would like to see a bigger focus on socio-economic backgrounds in tech as well as focus on gender, sexuality and ethnicity.