Over the last few weeks, the biggest learning experiment in living memory began, as schools around the world closed and students moved en mass to study online at home. UNESCO, the United Nations education agency, estimates that now 91% of the world's students have been affected by school closures.
Parents, struggling with the challenge of homeschooling, may be tearing their hair out, but for edtech companies, this is the big chance to show what they can do.
Almost all the edtech providers are using this as the world's biggest 'try before you buy' opportunity, offering their services for free. If you want to learn to play an instrument, pick up a new language or check how to do quadratic equations, there has never been so much free-of-charge instruction around. Estonia, for example, is offering the nation's entire suite of edtech products free of charge to other countries during the crisis.
Huge increases - not just from school kids
Obviously, usage is up. Photomath, the Croatian app that shows you how to solve any mathematical equation you take a picture of, sent us this chart of what happened to usage of their site in Italy earlier this year. After an initial dip as the Covid-19 outbreak began, usage picked up as schools closed and then doubled from previous levels.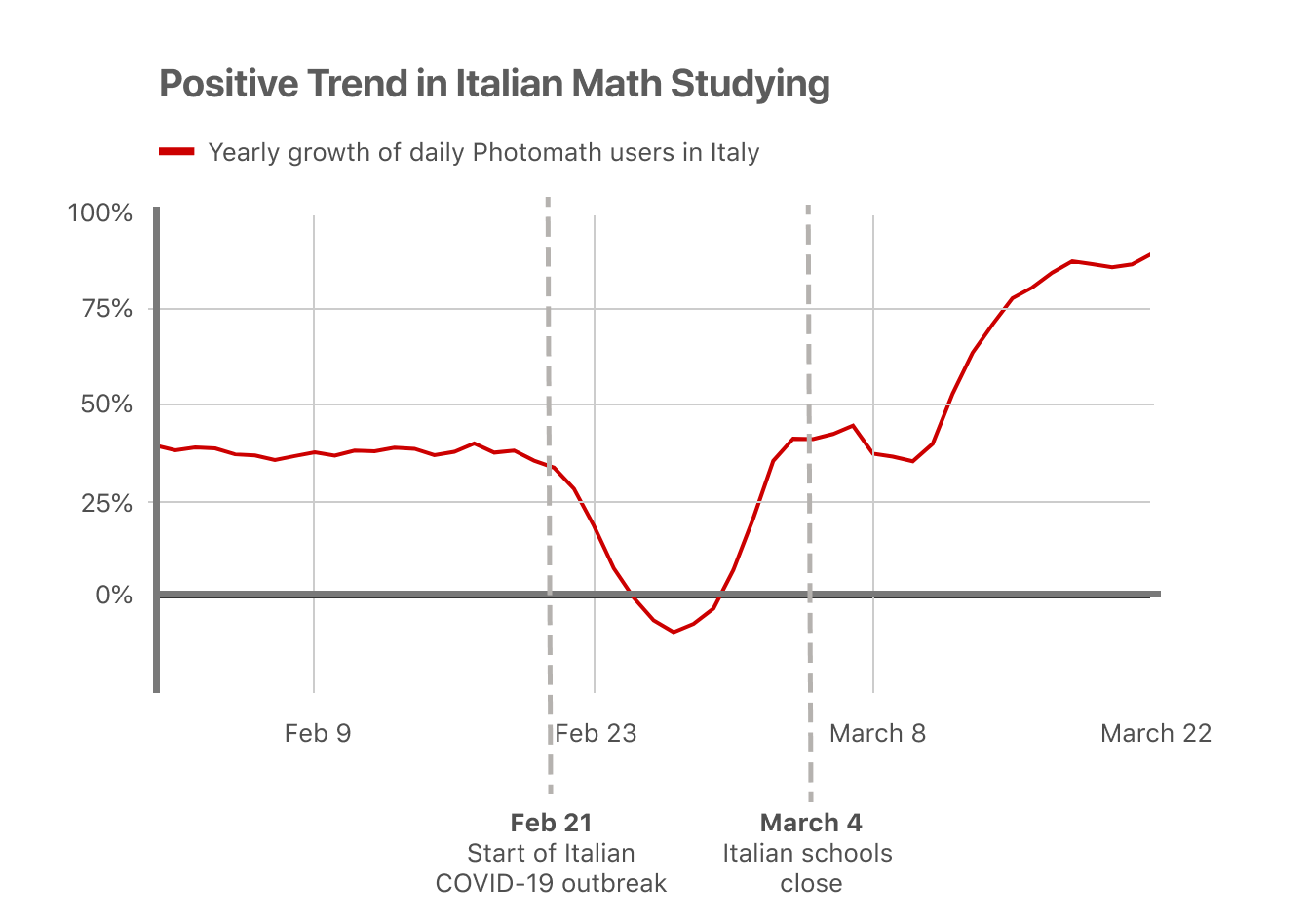 With no peers or teachers to help, an increasing number of students are having to turn to tools like Photomath to help get schoolwork done.
And it is not just students. Brainly, the Polish homework help site popular in places like India and the US, says it is gaining a new userbase of parents during the crisis.
"What we see is so many parents are struggling with homeschooling, they are coming to Brainly to check if the answer they gave is correct," says Michal Borkowski, the Krakow-based company's cofounder.
Kahoot!, the Norwegian educational games app, meanwhile, has gained another new user base: companies. Big companies already used Kahoot! for events and training, says chief executive Eilert Hanoa, but now are using it even more in areas such as onboarding people or even just building motivation.
Kahoot! revenues increased 220% in the first

quarter
Overall, says Hanoa, Kahoot! has seen a spike in remote learning usage, around five to six times normal levels. The company has been adding 100k new users a day in the recent period, and invoiced revenue increased 220% year-on-year to $6.4m in the first quarter of this year.
Kahoot! is now reorienting some of its development work to prioritise bringing out self-study features — and is one of the European startups still hiring.
Who are the big edtech winners so far?
Google Classrooms, Duolingo, Kahoot! and Photomath are among the most popularly downloaded apps in some of the countries that went into lockdown recently, according to data from AppAnnie.
These are the statistics from Italy, Spain and the UK: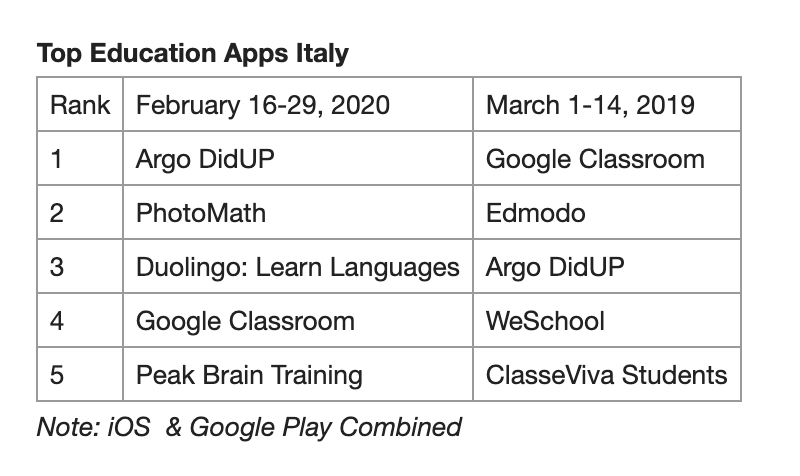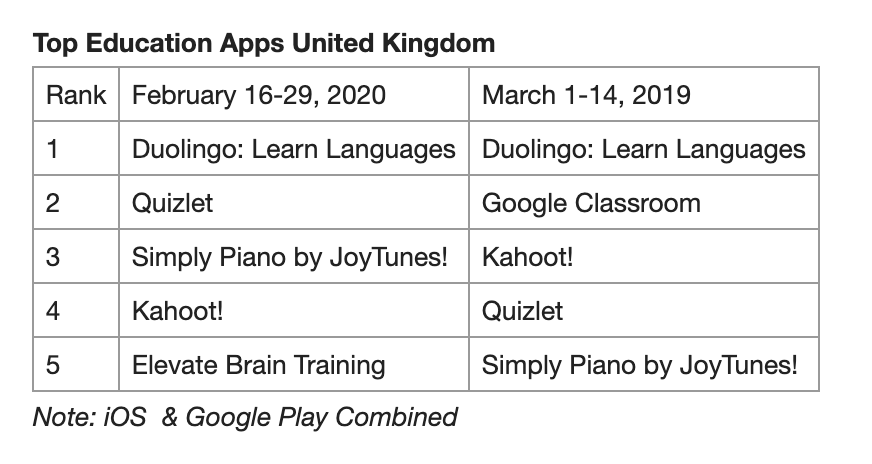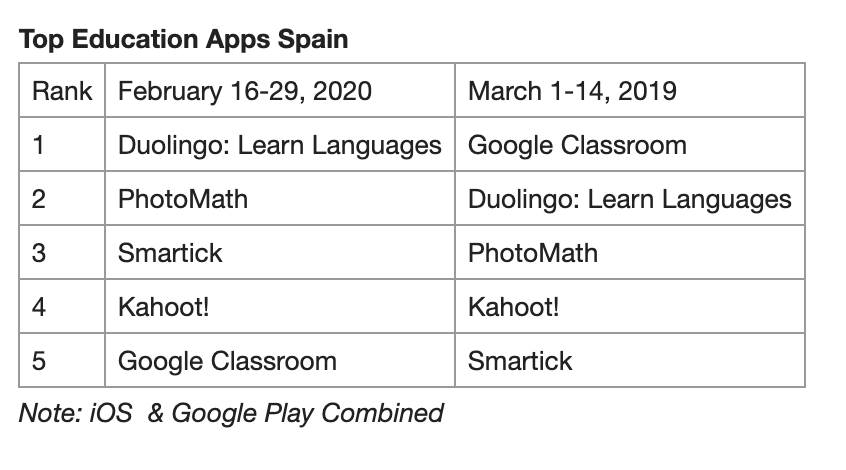 Edtech companies are also some of the most likely businesses to get funding rounds at the moment; Estonia's Speakly, a language-learning app, closed a €900k seed funding round led by Finnish Superhero Capital recently.
Might this be a better way to learn?
Lingvist, the Estonian language app, argues that learning with a mathematically-optimised app can be much more efficient in some cases than classroom teaching.
This could be an order of magnitude more efficient than normal

teaching.
"This could be an order of magnitude more efficient than normal teaching," says Mait Müntel, the chief executive and cofounder. "When people are learning online, all their answers and mistakes are data that maps how the memory works. Using this data the computer chooses the next most efficient exercise for the student."
Müntel — a Cern scientist who helped discover the Higgs Boson before founding the language sapp — says one study of 500 university students showed that the group using Lingvist learned four times faster than a control group of students.
Lingvist began as a language-learning service for individuals, but now, as a result of the global school shutdowns, is developing more tools for schools to use. It also believes that the AI-assisted language-learning system it has developed could be used for other subjects as well.
The future of learning is not evenly distributed
Many parents who thought their children might spend lockdown engaged in face-to-face video conferences with teachers have ended up disappointed. In the US, video learning seems to be more common. A survey done by Brainly in the US found that some 73% of students had taken part in online teaching via video call.
In the UK only 4% of students at state secondary schools have teaching via video call, compared with 34% of students at private secondary

schools.
But in the UK, for example, this has been much less common — unless you go to private school. Only 4% of students at state secondary schools have had this kind of teaching during lockdown, compared with 34% of students at private secondary schools, according to Teacher Tapp, the UK app that surveys aspects of teachers' lives.
It looks likely that already difficult inequalities in the UK school system will increase during the school shutdown. Teachers surveyed by Teacher Tapp found that teachers at fee-paying secondary schools felt 13-year-old pupils should be doing three to four hours of schoolwork a day, and expected most students to be achieving this. In state schools, teachers expected the same amount of work, but only a minority felt this would actually be achieved.
Is this going to change education forever?
Edtech providers are not banking on a permanent big shift away from offline schooling.
"It is important to look at opportunities from this offline to online change, but it is too early to say how we adjust. In the near term, I think students are going to super-appreciate school. They will miss the social life you build there. This is the most important part of offline schools," says Brainly's Borkowski.
Some teachers will discover that they love recording video and may carry on doing

it.
"I think we will show that online learning can be super-efficient in some cases. Things like tutoring will move online. Some teachers will discover that they love recording video and may carry on doing it."
Kahoot!'s Hanoa agrees. "I am not a big fan of cutting off school, which is a method that has been going for centuries and has been highly optimised."
But we may see an increased use of technology in some cases, believes Lingvist's Müntel.
"In general we believe in blended learning. Human teachers are really important. Some things you can't replicate with a computer, and there are some things that computers do better," he says. "Computers are amazing for individual deep practice work. But exercises like brainstorming work better in person."
Keep it in perspective
Much as the increases in edtech use might be exciting, we need to keep everything in perspective. Sure, the downloading of educational apps doubled in Italy as it went into lockdown. But it was still a tiny fraction compared to the download of games. (Games are the big spike you see on the far left of the chart. Educational apps are one of those low ones, in the middle, the 5th one from the right):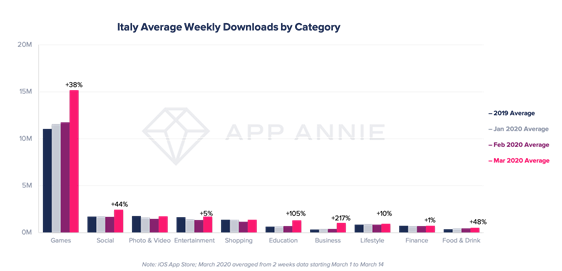 Edtech still has quite a long way to go in competing against other online experiences. Yes, you may be able to teach yourself Mandarin or life-drawing for free right now, but if you look at the AppAnnie numbers, it's pretty clear that most of us are not taking the self-improvement route during lockdown.