VCs aren't just investing in space, they are actually going into space — Chris Boshuizen, partner at DCVC, a California-based investment fund, was one of the passengers that flew on the same Blue Origin spaceflight that saw actor William Shatner become the oldest human to go to space.
But then, everyone is going into orbit these days — more than 600 people have now been, and a large proportion of those trips took place in the past year.
When billionaires like Jeff Bezos, Elon Musk and Richard Branson massively reduced the cost of launching things into space this completely changed the rules of the game, making it possible for a whole new set of companies and countries to join the space race — including in Europe.
"They've invested massive amounts of money on moving forward our ability to launch rockets into space. Now it costs a fraction of what it used to, and it has opened up this market. People get hung up on space tourism for rich people, but actually, what it's doing is allowing us to put in more satellites," says Mark Boggett, CEO at the Seraphim Space Fund, Europe's first VC fund to focus on space tech.
I mean, five or six funds in two years, on the same vertical? It's something

new
Some $7.7bn of private investment went into spacetech globally in the first nine months of 2021, according to Seraphim's Space Index, which tracks spacetech deals. It makes 2021 already a record year.
"We're at the dawn of a new era. The launch bottleneck has held back space investment, it's been the number one problem," he says.
Is spacetech really taking off in Europe?
If you just count the number of European VC firms focused on space, the answer is definitely yes.
"In the last two or three years, four or five vertical venture capital firms appeared, starting with the Seraphim, and then Primo Space, and then the Luxembourg guys, and then the German guys, and then recently a Bulgarian fund that does private equity. I mean, five, six funds in two years, on a vertical, it's something new," says Matteo Cascinari, partner at Primo Ventures, a Milan-based VC fund focusing on space.
"This is something that two years ago didn't happen and now is happening. So we see many, many, many different signals that the sector is really taking off," says Cascinari.
Sifted Newsletters
Sifted Newsletter
3x a week
We tell you what's happening across startup Europe — and why it matters.
A huge number of new spacetech startups are also being created. Dealroom lists more than 450 spacetech startups with headquarters in Europe.
Those startups are also able to generate revenue from different sources, not just government work, says Adam Niewinski, cofounder and general partner at OTB Ventures, a central and eastern Europe-focused VC firm.
"Income is now generated from B2B revenue streams rather than sole reliance on government contracts. Many corporations are now beginning to understand the commercial benefits and information from space technology. For now, the customer base in this market is mainly US and Japanese companies rather than European, but in the near future I expect European corporations to join this market when they realise the value of spacetech as more than just science fiction."
And, of course, we are starting to see exits. "We have witnessed a flurry of liquidity events (primarily via mergers with SPACs). These data points indicate a certain level of maturity and momentum for the sector," says Pierre Festal, partner at Luxembourg-based Promus Ventures.
Can European spacetech keep up with the US, Russia and China?
Europe is definitely starting to put the money in. According to the Seraphim Space Index, this year Europe edged ahead of North America for the first time in average deal size for spacetech investment.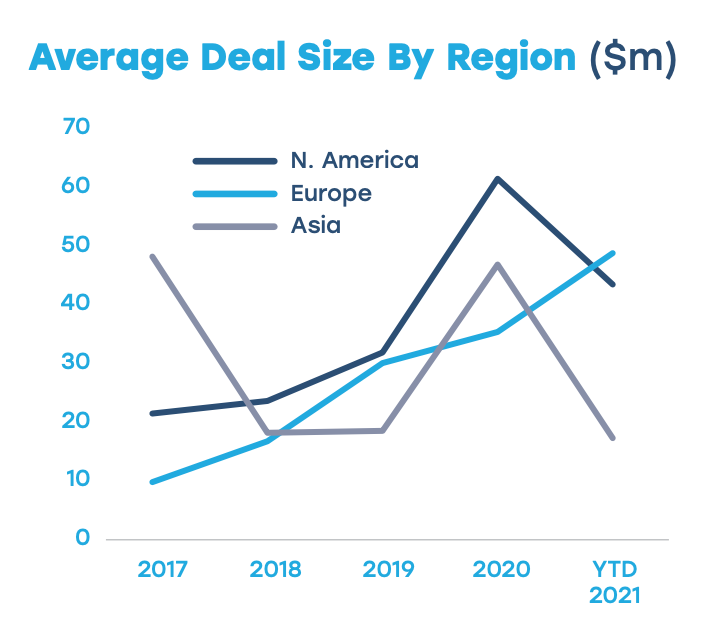 Admittedly the £360m fundraise by OneWeb, the satellite company bailed out last year by the UK government, may be skewing things in 2021. But other trackers show that European investment in spacetech isn't just a one-off, but has been growing steadily over the last five years.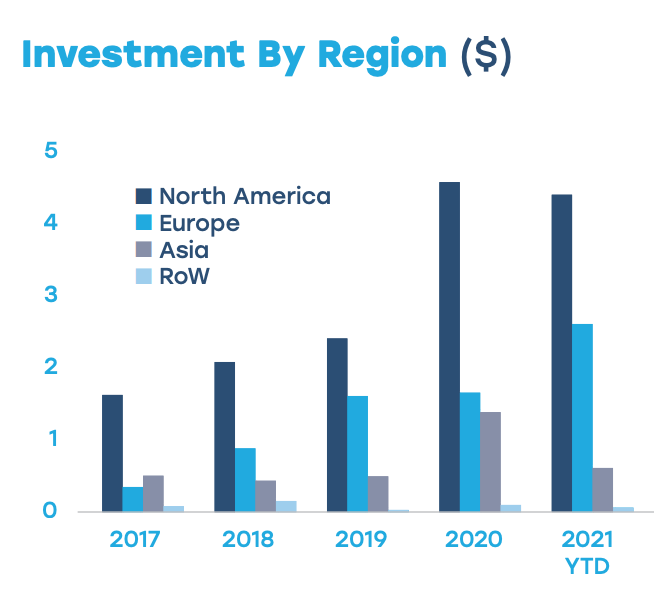 Much of the investment to date has focused on rockets and launches, something that the US has dominated — though European startups like Isar are now coming on the scene. "Europe can still join this race but it needs to put this high on its agenda, with public-private sector partnerships and a long-term view to commercial contracts in the industry," says Niewinski.
Alexander Schmitt, entrepreneur and VC at Cherry Ventures, is confident that Europe will eventually be able to start putting people into orbit.
"Our newest portfolio company, The Exploration Company, certainly has bold ambitions to take people into orbit. We backed them because we believed in them."
Europe has a really big advantage. We've got skills parity, but we've got a wage advantage. That is not lost on American

investors
All the investors Sifted spoke to agree that Europe can dominate in the "downstream" industries of space. For example, in processing the vast amounts of data that are coming out of all the new satellites going up.
"Europe has the personnel that are capable of really creating value from the datasets that are being generated in space — this is where we come into our own. These types of companies aren't also equity heavy — they are software companies where it is all about how you use the algorithms and how you fuse these different datasets together," says Boggett.
"Europe has a really big advantage. Not only do they have the skilled workforce, but what we pay them is materially less than what they pay them in America. So we've got skills parity, but we've got a wage advantage. That is not lost on American investors."
Which European countries will be the leaders of "new space"?
France, Italy, the UK and Germany are pretty good bets. Paris is the headquarters of the European Space Agency (ESA) and as the home of Airbus, France already has a relatively strong space ecosystem. Germany, meanwhile, is the biggest contributor to ESA.
Niewinski believes that the UK, which recently published a new space industry programme, "seems to be more open and advanced than continental Europe", while Cascinari makes the case for Italy.
"Italy was the third country launching its own satellite in space, back in 1964," he says. "At that time, there were only the US and Russia to invest a lot of money and no one else. So from then on, we have a knowledge which is quite recognised at an international level. We are the second investors of ESA in Europe and we are the sixth country in space expenditure if you consider the budget relative to GDP.
A lot of countries are desperate to get their own launch capability. Which countries dominate will come down to

price
"And one another example that I can give you is that 50% of the International Space Station is made in Italy, by Italian companies."
The democratisation of space might mean that eventually, every European country has its own spaceport. "A lot of countries are desperate to get their own launch capability. The costs have lowered to such an extent that it is now within their capability of being able to do it," says Boggett.
"Which countries dominate will come down to price. There's going to be growing choice for launch. Whoever has got the the most cost efficient way of launching is going to be the winner."
Which parts of spacetech are over-hyped?
"I would say that the area of rocket production and launch provision is overhyped — this year we received several investment decks from companies in this market and unfortunately the market is not ready to have this level of supply and competition," says Niewinski.
Bogget agrees: "I think there are 150 companies that are in launch at the moment. Would you really want to start another one right now?"
What are the underinvested parts of spacetech?
Everything to do with data and information. There is a massive amount of data being created by satellites and few companies have yet cracked how best to use it.
Investors are interested in companies that are packaging up and serving space data to specific customer groups. For example, London-based PlanetWatchers uses satellite data for monitoring crops and helping farmers make insurance claims if they are destroyed.
"It will open up crop insurance to developing parts of the world because it will be easier to verify claims. You can do that from space automatically, so you can start offering insurance products that can change the developing world," says Boggett.
Promus's Festal, however, believes that this part may be starting to be over-hyped. "Leveraging space data for climate change identification and mitigation. While this is a very promising area, a large number of startups are addressing the market with often unclear value propositions."
What I'm seeing as a risk is a financial bubble. The SPAC phenomenon that is pushing valuations too high, and away from

fundamentals
Cyber security is likely to be crucial. "The thing that hasn't been invested in is how we keep that data secure," says Boggett. This is one of the reasons Seraphim Space Fund has invested in Arqit, which is building quantum-secure communications using satellites.
"Also, how do you get the data back down to the ground? How do you use the antennas on the ground, making them low cost and secure? It's about the transfer of that data and the security of that data," Boggett says.
Another area that needs more investment is cleaning up space debris, says Niewinski. There is already a lot of space junk orbiting the earth but as more and more small satellites go up, the problem will get worse — and Russia's recent decision to blow up one of its own satellites in a missile test has not helped, leaving a cloud of at least 1,500 chunks of junk in orbit.
"There are already companies like LeoLabs or D-orbit that are tackling this problem, but it will only grow because of certain space players or actors not acting in a responsible manner," he says.
What are the main risks of spacetech investment?
​​Spacetech is not an easy area for investors — it's capital intensive and requires a lot of specialist knowledge to vet the startups seeking money. There is always the risk that the whole industry could be halted by a bad accident or a launch that ends up killing astronauts.
But beyond that, says Cascinari, there is a risk now that the market is becoming overheated.
"What I'm seeing as a risk is the bubble, the financial bubble. Not yet in Europe, because in Europe, we're still a little bit behind on that process. But in the US, I see some bubbles that are coming up. And this is something that worries us," he says.
"The SPAC phenomenon that is pushing valuations too high, and away from fundamentals. I remember the internet/dotcom bubble and I'm not saying that the same thing is going to happen, but I see some signals, in the US mainly, that things are going in that direction."
Sifted members can read on to learn about the 17 European spacetech startups that investors think are worth watching right now.
Sifted writers Maija Palmer, Kit Gillet, Tim Smith, Eanna Kelly and Kai Nichol-Schwartz all contributed to this article. 
***
Looking for digestible insights into the spacetech sector? Sifted's Pro briefing on the industry will get you up to speed fast on what you need to know. Click here to see our briefings library or email pro@sifted.eu for more information.