Fintechs targeting gig-workers have received fresh endorsement this week, after Spanish bank BBVA and leading venture-capital fund Anthemis announced a joint seed investment in new "income-smoother" Wollit.
Wollit is hoping to boost the "financial health" of zero-hour and irregular contractors, who total an estimated 14m people in the UK (and up to 43% of the workforce).
The novel-lender joins a nascent but buzzing sub-section of the fintech market dedicated to independent workers and freelancers, who face high fees to access credit and other services due to their unstable incomes.
New companies in this sector include the likes Zego and Collective Benefits, which help independent workers access flexible insurance, and Penfold, which featured in Sifted's "Nine fintechs to watch in 2020" with its pension management-for-freelancers app.
"The genie isn't going back in the bottle; the gig economy is here to stay," Liad Shababo, Wollit's chief executive, told Sifted.
He's right. Worldwide, the gig-economy is one of the fastest-growing segments of the economy — including everyone from taxi drivers, cleaners, beauticians and babysitters. While they enjoy the benefits of flexibility and autonomy, the work can come with serious burdens.
For BBVA and Anthemis, this means both a financial gap — and a potentially lucrative opportunity.
Indeed, BBVA also participated in another gig-economy fintech in the US in 2018, helping the country's 42m independent employees find ad-hoc work.
"A lot of fintechs are doing neither good, or actually solving problems. But we want to do both," Anthemis associate Archie Cochrane told Sifted in relation to Wollit and its financial safety net.
"This is a product with a big market," Shababo added, noting that the company had global ambitions.
Product talk
Wollit — which is set to go live in the UK in the summer after two years in development — is hoping to address contractors' uncertainty about earnings.
Users will pay a £9.99 monthly subscription for the Income Promise, allowing them to take home the same amount of money each month, regardless of how many hours they've work.
Rather than relying on expensive pay-day lenders, Wollit guarantees it will top up cash-strained users with a personalised amount (up to £500), using open banking technology to both automate payments and to calculate a credit limit.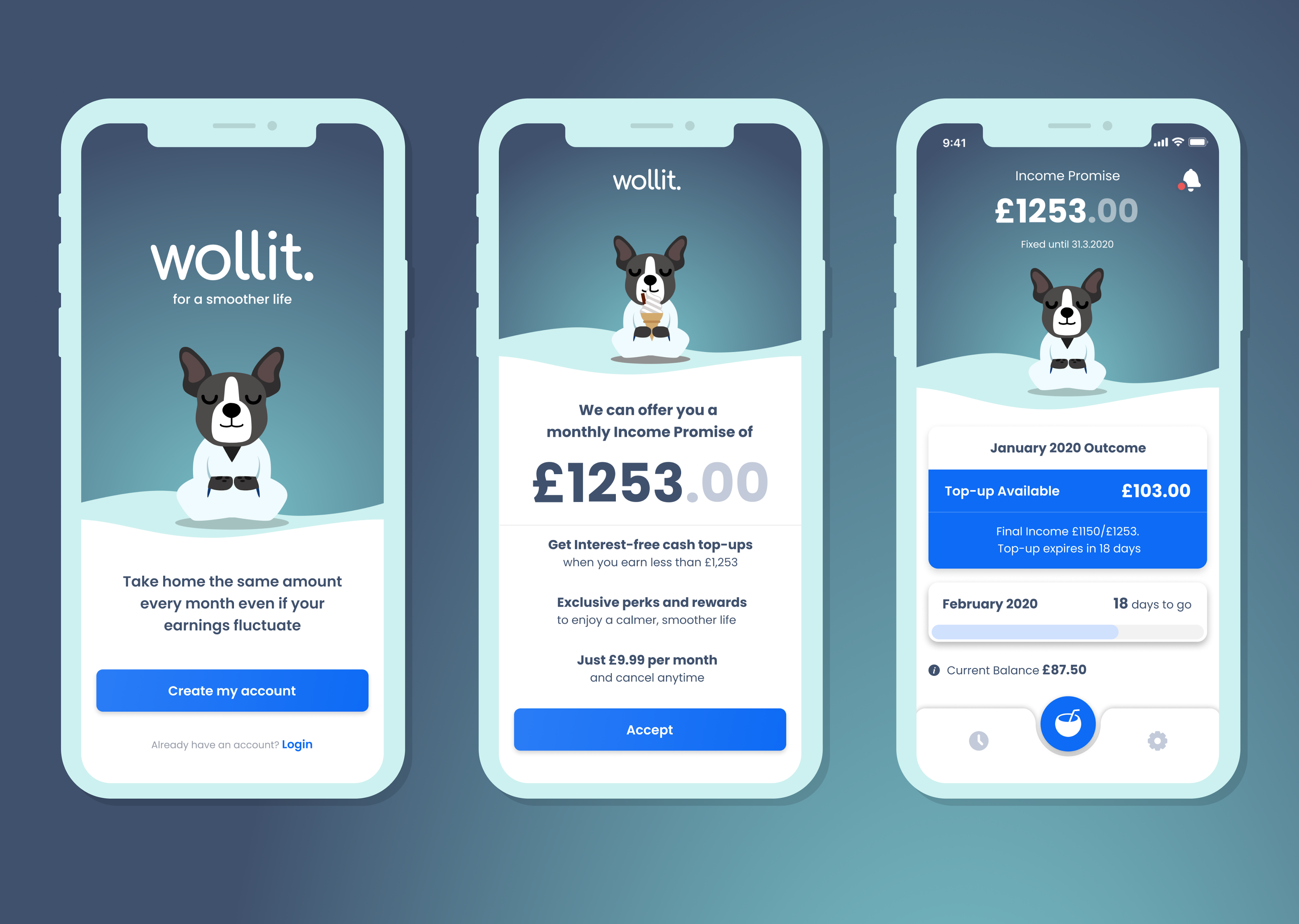 Most notably, users can then automatically repay the loan interest-free at a flexible time, when their income improves.
"With this, we set to end their monthly gamble of feast or famine and provide a safer, more sustainable option than the short-term, risky alternatives," Shababo noted.
Beyond interest-free top-ups, Wollit will also include features for budgeting and planning, building on what competitors like Porify have begun doing.
"This is [also] about giving people visibility and certainty to their future cashflow," Shababo explained.
The firm has already secured approval from the Financial Conduct Authority (FCA) and an initial credit line, meaning the £1m it's secured in fresh funding will go to supporting operations. BBVA's participation in the round also hints at a potential future credit partnership with Wollit, though the startup declined to comment on this.
Growing competition
Despite the historical hole in gig-economy financial offerings, the gap is closing, and Wollit is not alone in its specialised credit services.
Competitor SteadyPay has already launched a similar product, priced a little steeper at £17 per month to top users up after sick days, holiday or shift-shortages. The startup recently raised £2.9m in equity and debt in a round led by Hambro Perks. Dublin-based Trezeo also has an "income-smoothing" product, although users must use its native bank account and the membership charge averages out to 36.1% APR versus Wollit's 15%.
Freelancers may also prefer the likes of Paid, which guarantees on-time invoice payments, or Koyo, which provides loans to this demographic (albeit at 37% APR).
Still, for consumers, this means greater choice than ever before; and for startups, it's a gamble worth taking, given the size of the market.
"There may be [gig economy workers] who you genuinely shouldn't lend to. But there are also those pulling in £30,000 to £40,000 from four different income stream." Sho Sugihara, founder of gig-economy financial-manager Portify, told Sifted last year.
Portify, founded in 2017 and backed by Kindred Capital, also recently launched its Flex Financing offer to deliver interest-free micro-loans to UK gig workers. The firm told Sifted since October, its loan book has doubled each month.