Training welders is a pretty wasteful business. Aside from all of the man hours that go into the process, trainee welders need to use a lot of metal to practice on, which normally can't then be used again. Using augmented reality (AR) to train welders, startup Seabery says it has saved an entire Golden Gate Bridge's worth of metal since its founding in 2010. 
Other than a small amount of debt, Seabery hasn't taken any outside financing in that time. But today the Andalusian company is announcing its first equity investment round — an undisclosed sum from Seaya Andromeda and the Spain Oman Private Equity Fund (SOPEF). And while the company might rather not disclose the sum, we know that Seaya Andromeda's minimum ticket size is €10m, so it's a significant chunk of change. SOPEF was launched in 2018 with €200m to spend, and takes minority stakes in companies (Seabery has retained a majority stake in the company).
How does Seabery work?
Seabery's welding training system essentially lets trainees try out the real thing, but in a simulated environment. The user dons an AR welding mask, which is hooked up to a computer, and mock welding gun. 
They then practice doing "welds" on 3D-printed plastic surfaces, which appear on the goggles' screen as metal joins, with the welding gun giving touch (or "haptic") feedback, to make the experience as realistic as possible.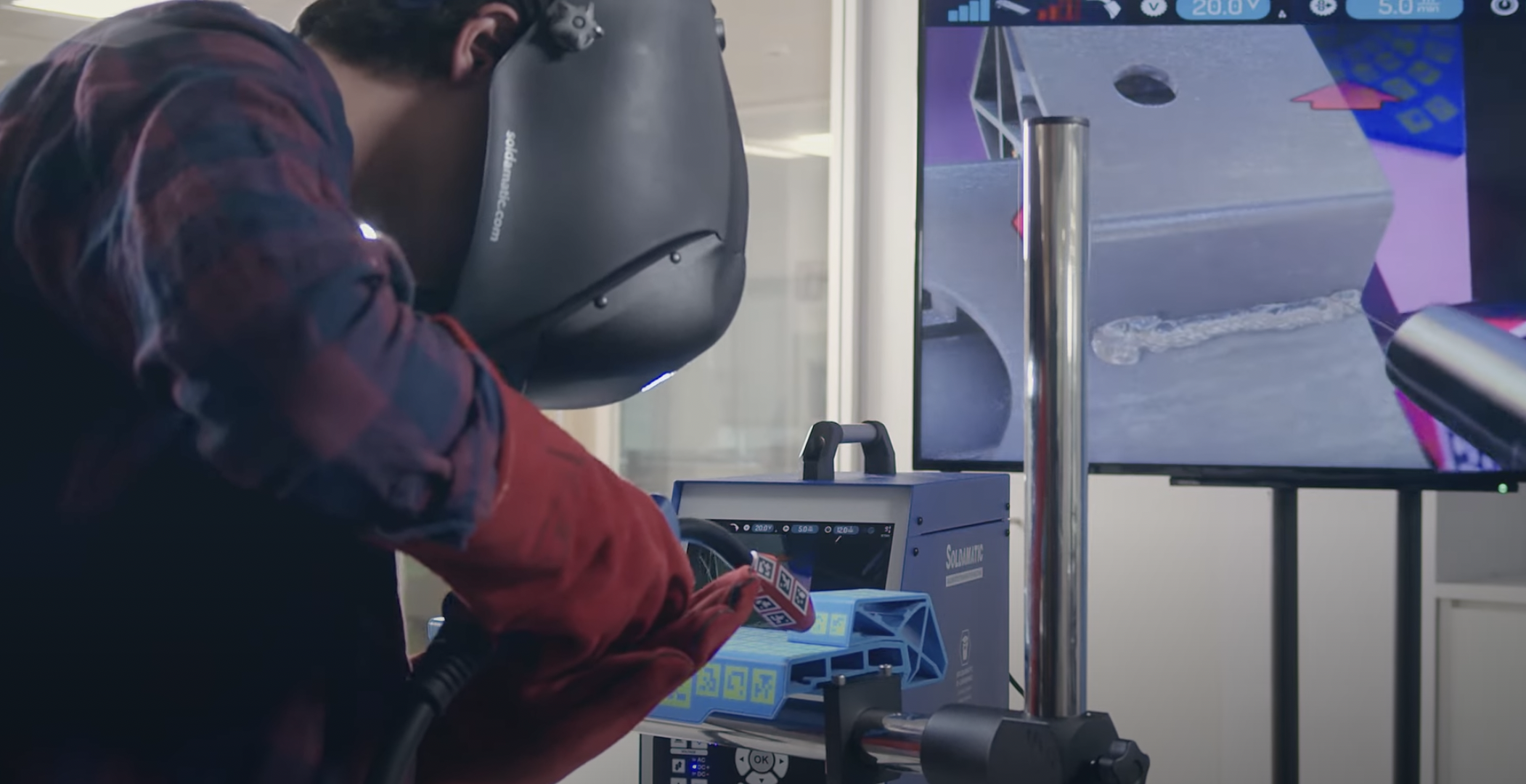 Seabery tells Sifted that this reduces material consumption in a welder's training process by around 70%, and reduces the training time by around 50%.
"It reduces the time to train someone, it reduces the costs, and it's a sustainable solution — there's not really any carbon footprint when you're using our simulator — so it's a win-win for them and for us," says Seabery CEO Pedro Marquinez.
In terms of its business model, Seabery sells the AR hardware to companies, and then provides a SaaS-based learning management software which users pay a subscription for. The company tells Sifted that it expects to make €16m in revenue this year, and is already profitable. 
Seabery isn't the only startup that's trying to sell the advantages of VR and AR skills training. Danish edtech company Labster recently raised $47m to scale it's surgical training VR tech, while AR industrial maintenance startup KIT-AR recently raised a $2m seed round and is one of Portugal's hottest young startups.
Sifted Newsletters
Sifted Newsletter
3x a week
We tell you what's happening across startup Europe — and why it matters.
The need for welders
Apart from the cost-saving and sustainability play, Seabery says it's also addressing a major need in the economy: a global shortage of welders as young people turn their back on the profession.
In the US alone it's estimated that there are about 400k people working in welding. By the end of 2024, the shortage of welders in the country is expected to reach 400k, according to the American Welding Society.
"There is a shortage of welders in virtually every country that we work in," says Marquinez, adding that the company is active in more than 80 markets. "The effect of this is immense. Industrial manufacturing depends on welders, so it's a very strategic and important asset. You can think of welders as a kind of industrial soldier."
Marquinez also says that, by modernising and digitising the training process, Seabery's technology is starting to lure young people, and people that never considered welding, to go into the trade.
"Our solution is proven to attract the younger generation because, even though the simulation isn't a game, we use gamification within the solution. It's attracting younger people, but also minorities within welding like female welders, and we're really proud of that," he says.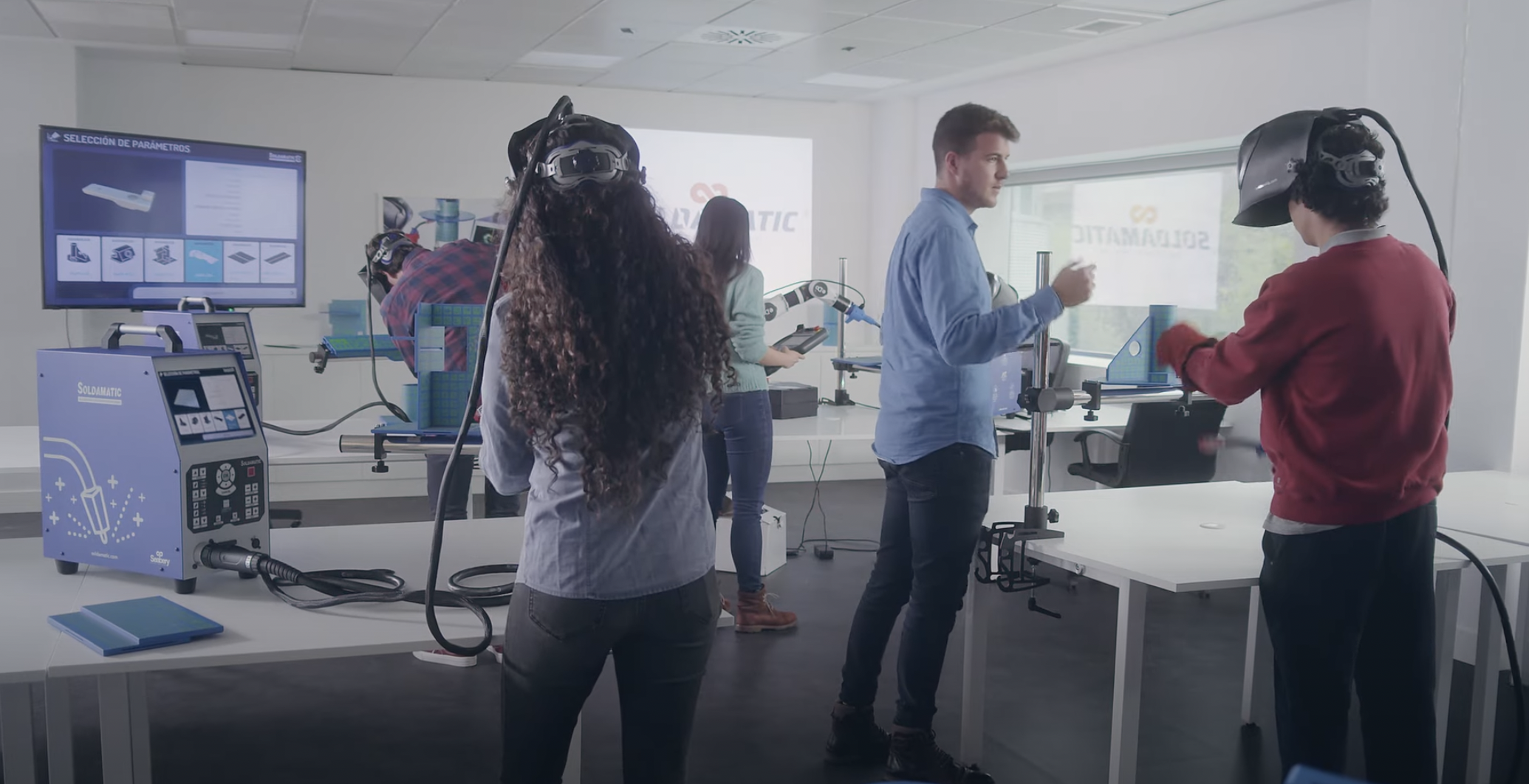 A small town success
Growing a global tech company to more than 100 employees profitably working across 80 different countries, without major investment, is no small feat. But it's even more impressive when you consider that Seabery wasn't founded in one of Europe's major tech hubs, but in Huelva, a Spanish city in Andalusia with a population of just 145k.
While the company now has offices across Europe, the US and Asia, it's still headquartered in Huelva, and founder Basilio Marquinez (Pedro's cousin) says that he's happy to be bringing opportunities to the region.
"We have hired a lot of young people in Huelva who are into computers, and didn't have great expectations of working here in their own city — until Seabery appeared. I'm really proud of that," he says.
With today's funding, the company will be looking to accelerate its growth in the Asia-Pacific region (there are some 4m welders in China, Seabery tells Sifted). It will also be working on new applications for its learning management software, which include an industrial spray paint AR training course and a crime scene investigation VR training programme, which is being trialled by Spain's police force.
But even as it looks to turbocharge its global growth with its first injection of venture capital, Seabery isn't planning on leaving Huelva any time soon.
"We ship every product from Huelva — a place people know for ham and shrimps. And we're shipping all over the world," says Pedro Marquinez. "I've been living in the US for 25 years and I say Huelva is like the San Diego of Spain. We want to keep our DNA there."