It's that time of year again. Christmas jumpers are back in fashion, daylight hours are at a premium and Atomico's State of European Tech report has dropped.
This year it's bigger than ever, with a whopping 450 charts to digest, covering one of the bumpiest years we've seen in European tech. Funding has dipped, the IPO market has completely dried up and underrepresented founders are still receiving a fraction of investor cash. But the situation is far from dire, and despite VC caution there are record amounts of dry powder to play with.
The report features data from a number of deal counting platforms across Europe and a survey of more than 4,000 VCs, founders and startup operators carried out by Atomico, startup law firm Orrick and Silicon Valley Bank.
For those of you that don't have hours to spend exploring hundreds of graphs and charts, Sifted's picked out the bits you can't miss.
Funding 
1. What goes up, must come down
Funding in the first half of 2022 continued to rise, and was well on course to top the record levels set the year before. And then the downturn washed over the tech sector.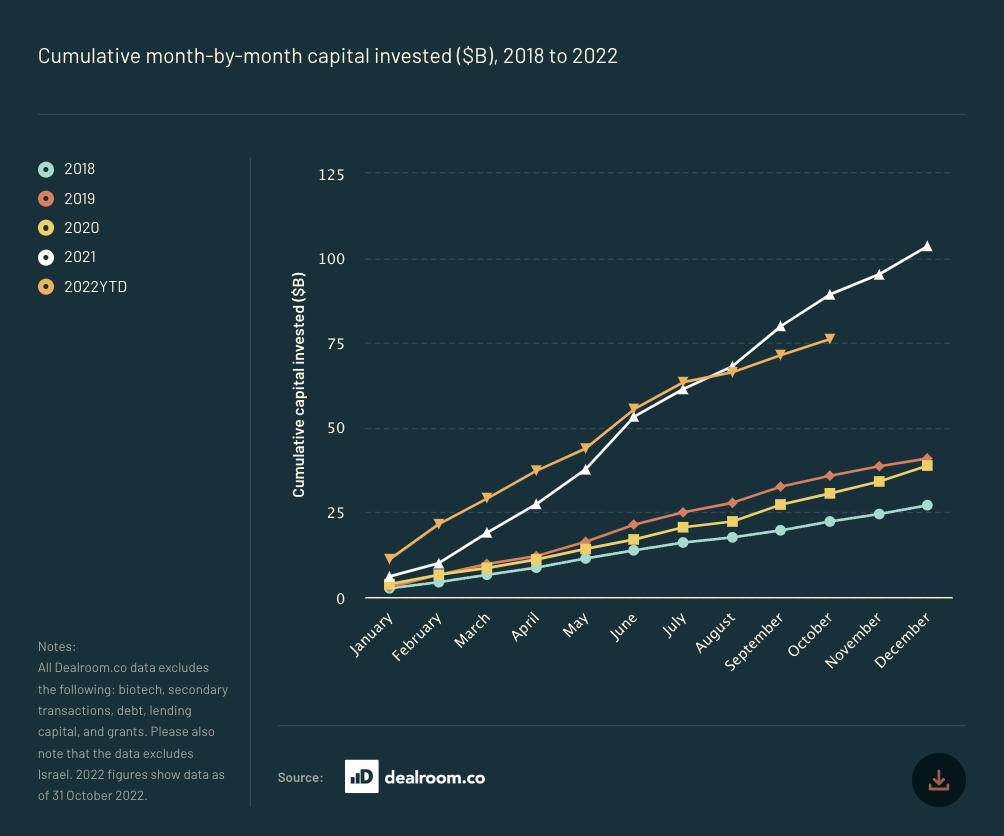 The slowdown really took effect in August and September, which saw investment drop to levels last seen in 2018, and Q3 was down 40% on the year before. Based on that rate of funding, total figures for the year are projected to settle on around $85bn. 
While that's way behind last year's record-breaking $100bn+, it's still much higher than tech investment in any year before 2021.
2. The year IPOs died
The public markets crashed hard in 2022 — and there's no clearer sign of this decline than in the tech IPO figures. While there were 86 with a market cap of $1bn or more in Europe or the US in 2021, there have been just three this year. That's a drop of more than 30x.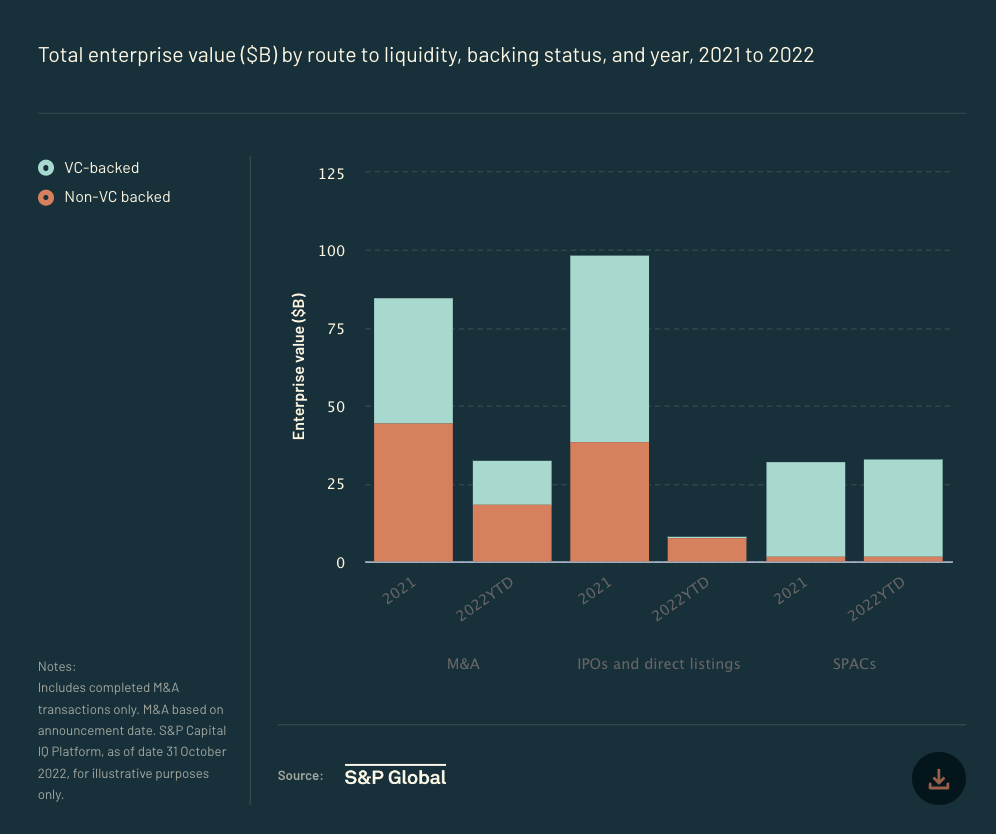 So is the IPO kaput? Maybe not — as Sifted found out when it spoke to three startups that have IPO'd the last month, or are planning an IPO in the next couple of months.
Mergers and acquisitions are also down, but that's not for lack of appetite on the part of startups being bought out. In September, Sifted reported that private equity firms and tech companies were being approached more than ever by a host of digital health startups scrambling to exit.
3. Megarounds are far less common 
There were more megarounds — rounds of $100m or more — in the first half of this year than there were during the frothy days of 2021, but the story turns when we get to Q3, which saw 37, compared to 133 in the previous two quarters.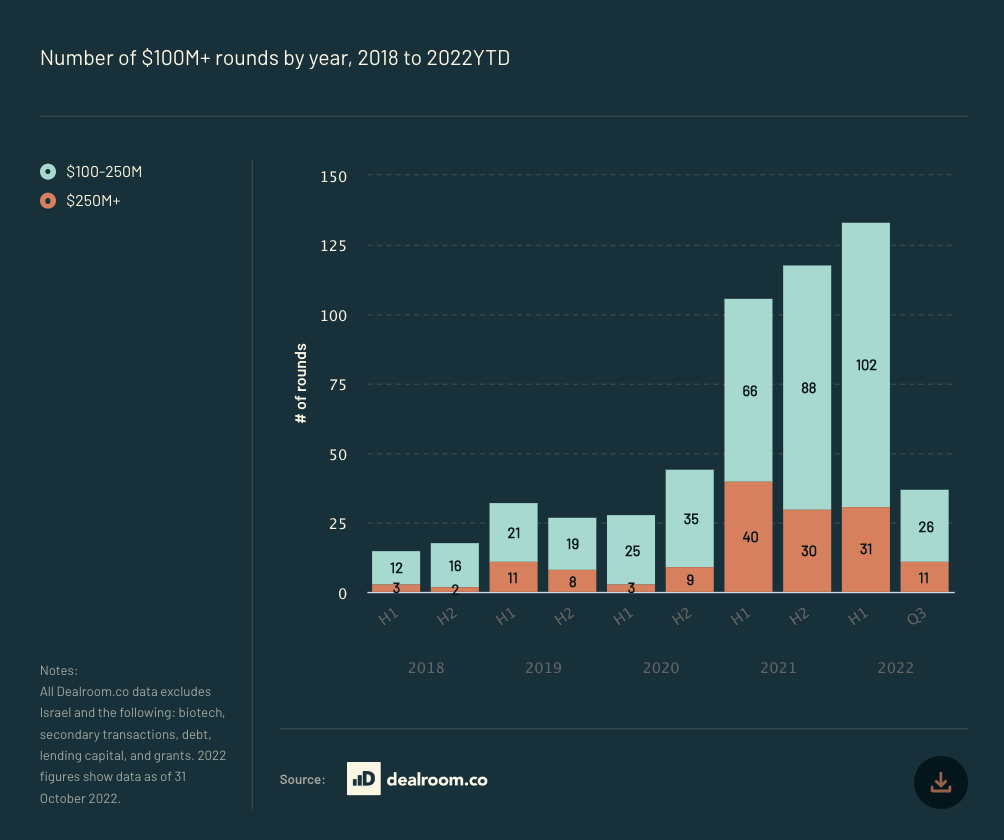 For the third year running Swedish battery startup Northvolt came home with the biggest cheque of the year — its $1.1bn round in July. It was closely followed by Checkout.com, which raised $1bn in January. 
4. Fundraising is taking longer
Following a year of FOMO-driven deals where investors scrambled to be involved in the next big thing at the drop of a hat, VCs have taken a more slow and steady approach this year, and 74% said that fundraising now takes longer.
Bridge rounds — a financing round that keeps a company afloat at the same valuation until its next larger round of funding — have also become more common, as startups have become less confident in their ability to raise a big round amid investor caution, and look to extend their runway.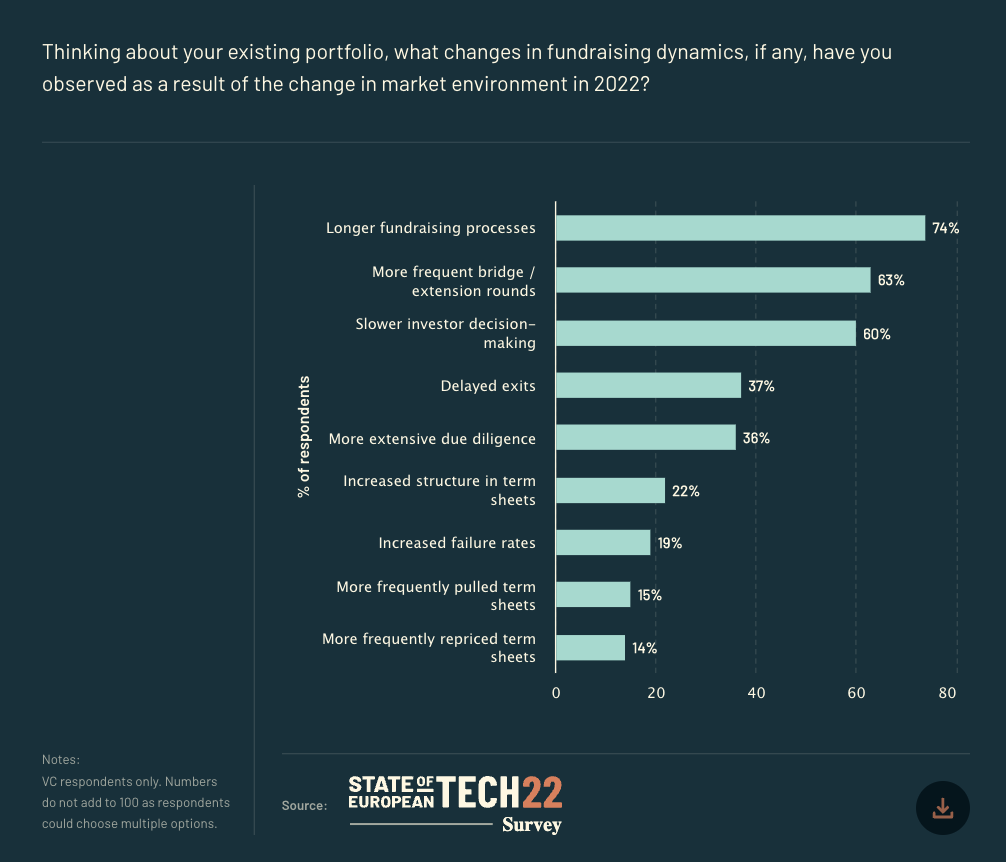 5. Fundraising is harder 
A massive 82% of founders and C-suite startup operators said that raising cash has got harder this year. Just 5% said it had got easier — the lowest number since data started being collected in 2018.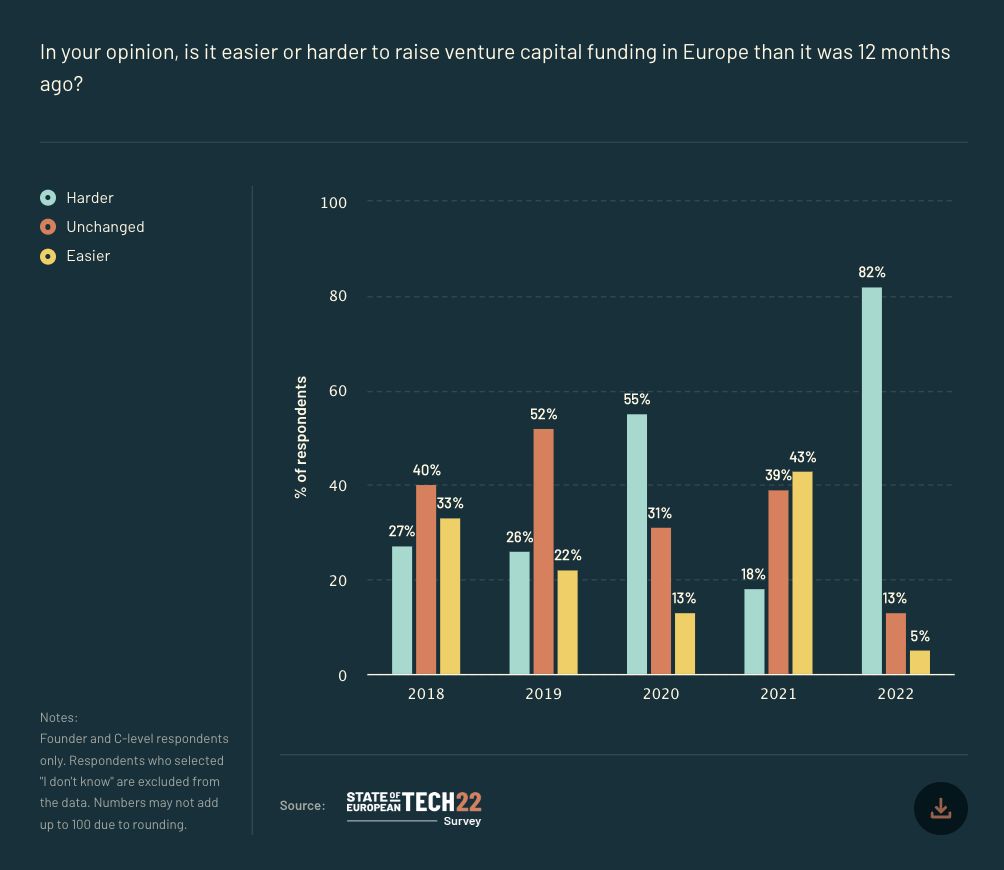 6. Where have all the unicorns gone?
Just 31 new unicorns have been minted in Europe this year, as the absence of megarounds takes its toll on European tech valuations. That's roughly on par with the number of $1bn+ companies created most years since 2018, but falls way below the 105 seen in 2021.
45 unicorns have also been "de-horned", as their value dropped below $1bn — meaning Europe has fewer unicorns now than when the year started.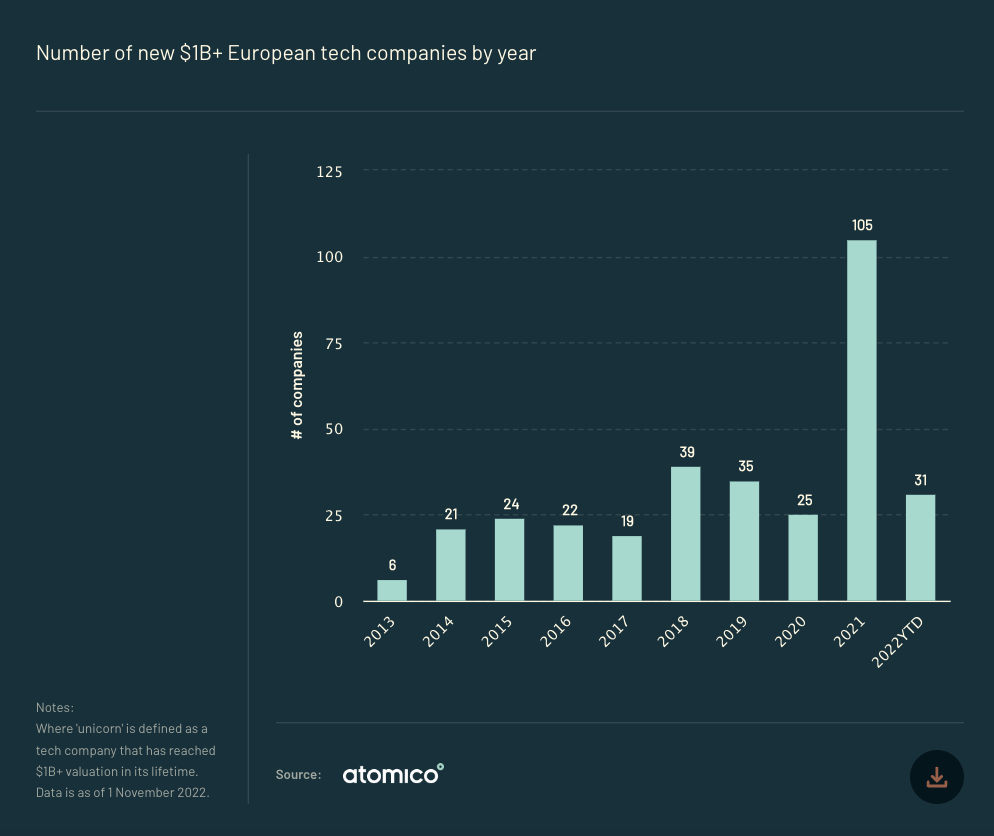 7. Europe leads the way for purpose-driven startups 
Europe has cemented its place on the global stage as a leader in purpose-driven tech companies, and is the only place where funding has risen this year.
Europe got its hands on 51% of all investment going into early-stage (rounds under $20m) purpose-driven tech companies in 2022. That's a massive figure, considering the continent receives just 23% of total global investment.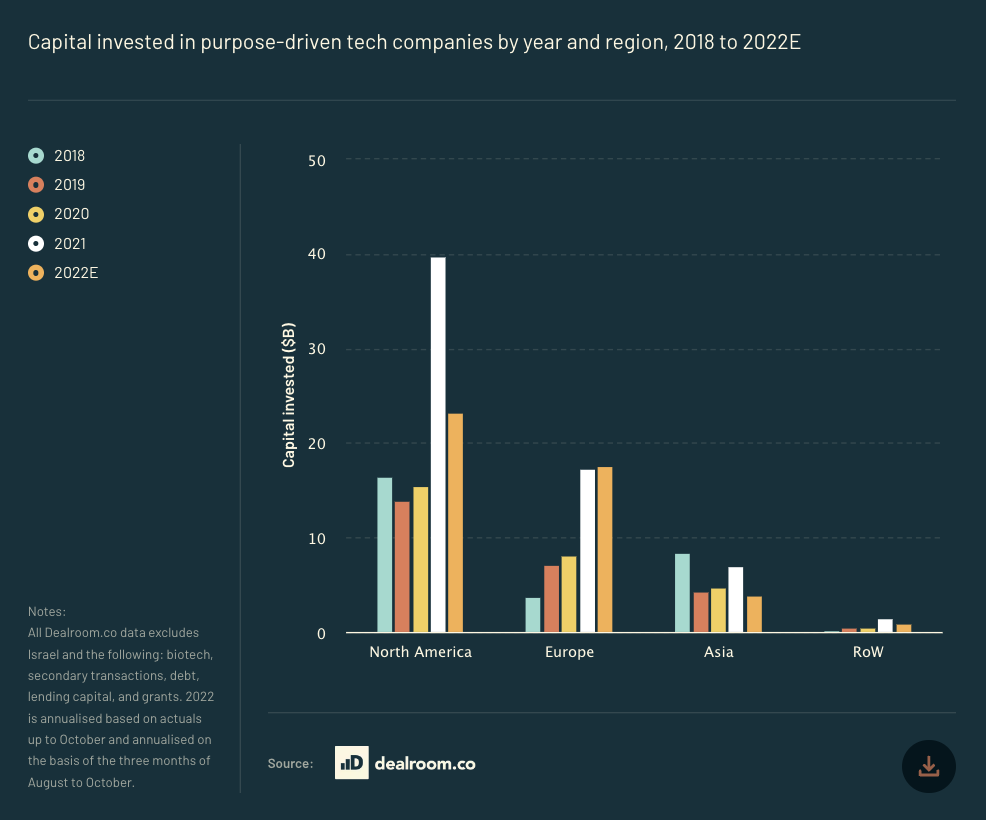 Places
8. Ukraine's tech sector remains strong
Despite the war in Ukraine, the country's tech sector has remained strong and IT has grown 16% year over year. The country minted one unicorn — blockchain website builder Unstoppable Domains — and 85% of Ukraine's IT companies have restored pre-war indicators like revenue.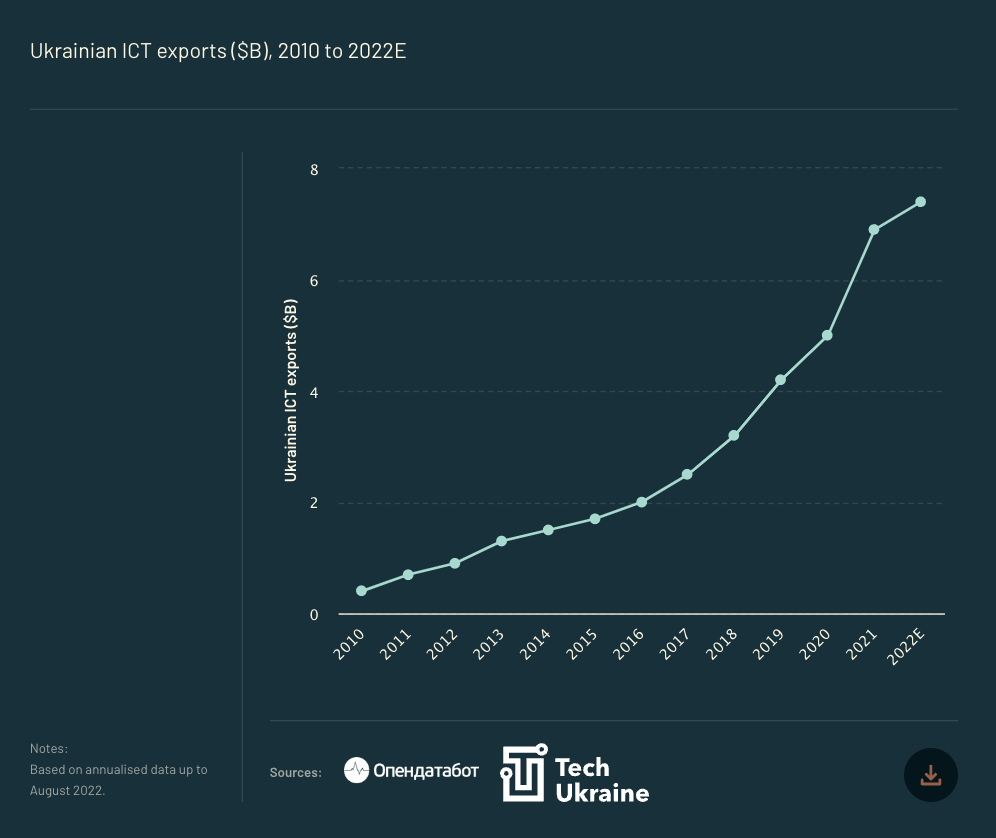 9. Iceland and Croatia see the biggest increase in funding
The growth of the two countries is mostly down to a couple of massive outlier rounds. Croatia saw its second ever Series B or above round, with electric supercar maker Rimac Automobile's SoftBank-led $500m round. Iceland's biggest round of the year was biotech Kerecis, which raised a $100m Series D consisting of debt and equity.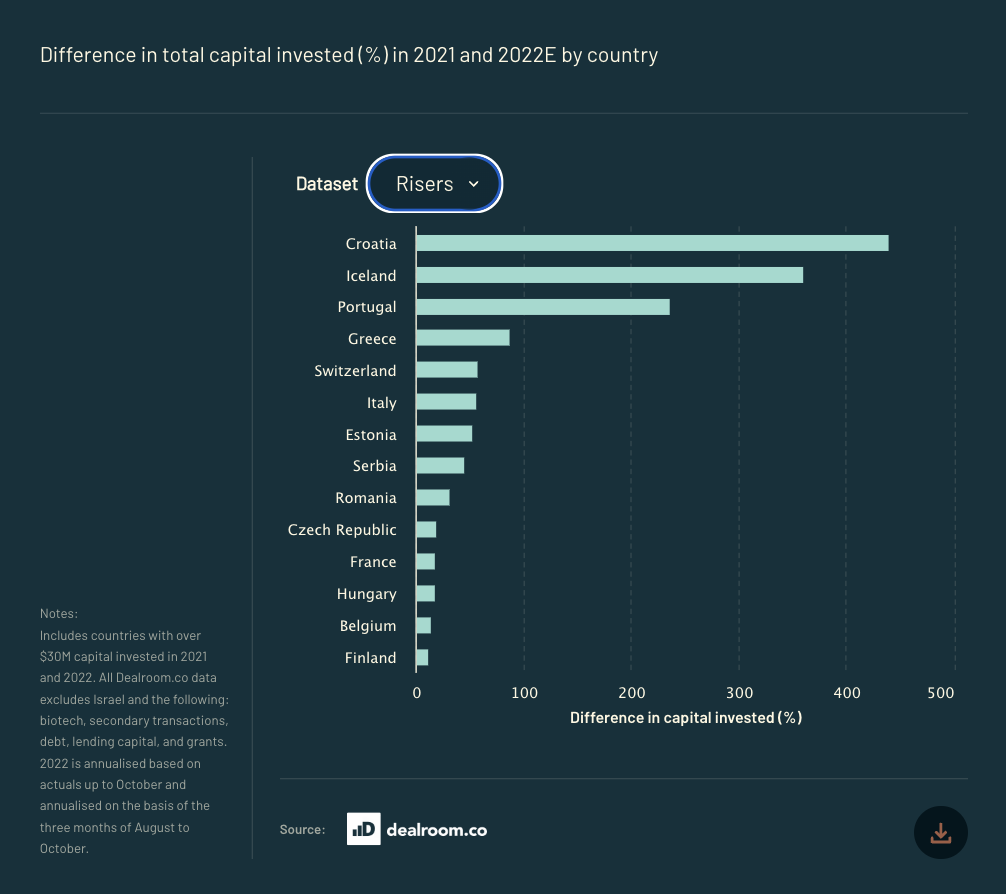 10. The Netherlands left out in the cold
At the other end of the spectrum, it's the Dutch who have seen funding fall furthest, dropping by 54% on the year before. That's due to a huge dropoff in late-stage rounds.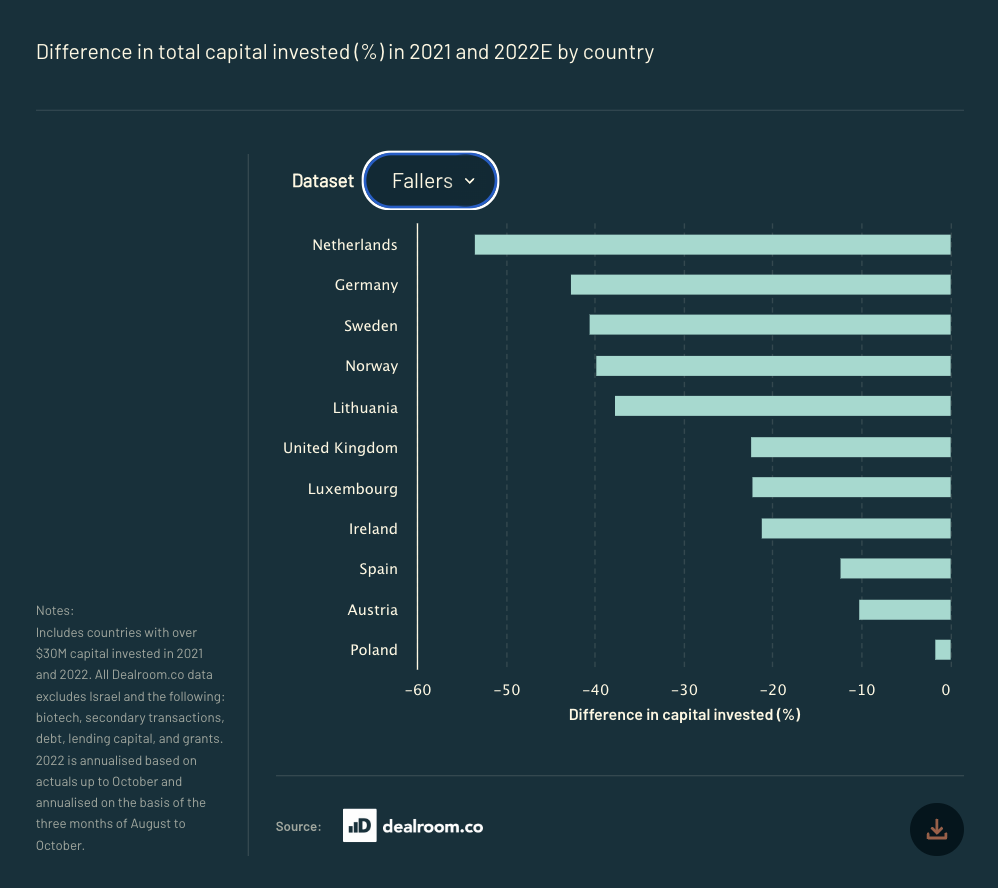 While the Netherlands saw big raises like fintech Mollie and SaaS Messagebird's $800m rounds, as well as online supermarket Picnic's $600m raise last year, the country's biggest round of 2022 has been renewable carbon startup Perpetual Next's €320m Series A in June.
Funding in Germany also dropped 43%, in Sweden it dropped 41% and in the UK figures fell 22%.
11. Usual suspects at the top
There are no huge surprises among the top hubs for startup funding, but there's been a noticeable drop in the number of cities that have raised more than $1bn this year. Just 13 have hit the figure in 2022, compared to 20 in 2021.
While funding is down across most of the top startup hubs in Europe, some cities saw their figures head north. Zagreb's total investment increased 10 times over to hit $758m, Zurich's rose three-fold to $1.5bn and Milan's nearly doubled to $1.3bn.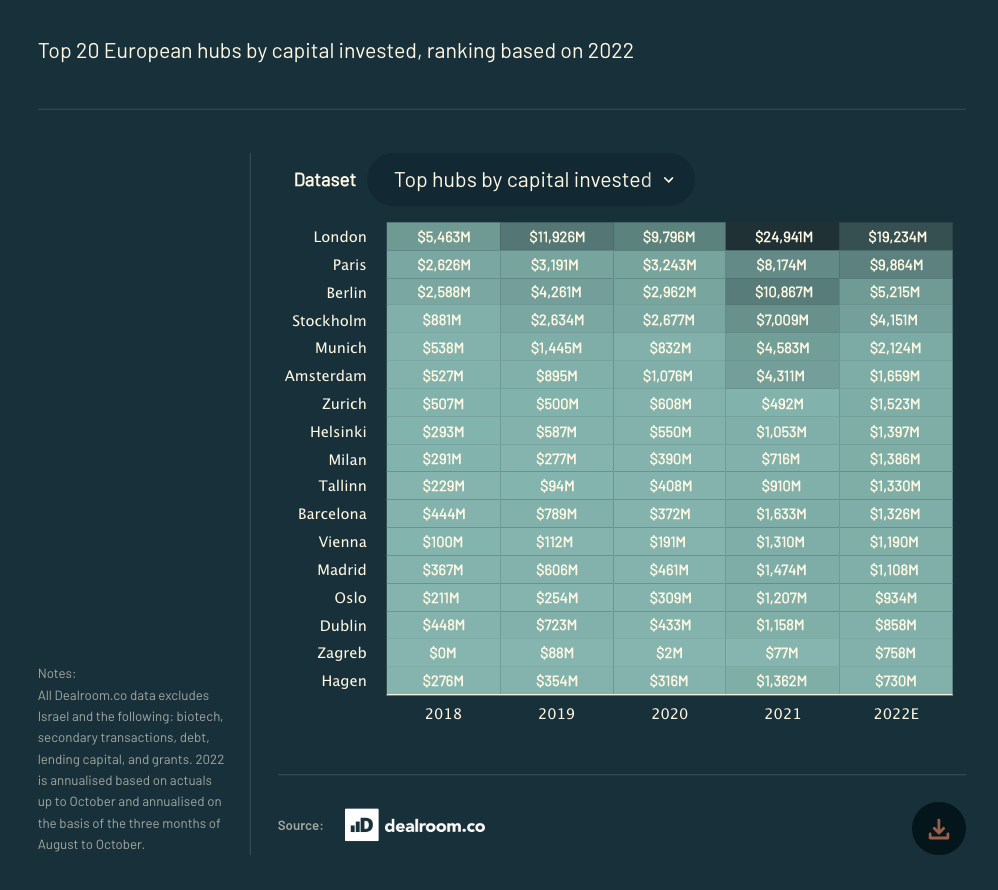 Diversity and inclusion
12. European tech is still rubbish at gender diversity 
87% of all VC funding in Europe is still raised by men-only founding teams, while the proportion of funding raised by women-only teams has dropped from 3% to 1% since 2018. Just 1% of capital was raised by funds with women only GPs — compared to 84% raised by funds with all-male GP teams. 
On top of that, none of Europe's unicorns have an all-female founding team, and the biggest raise by a startup with an all-woman founding team was Proximie's $80m Series C.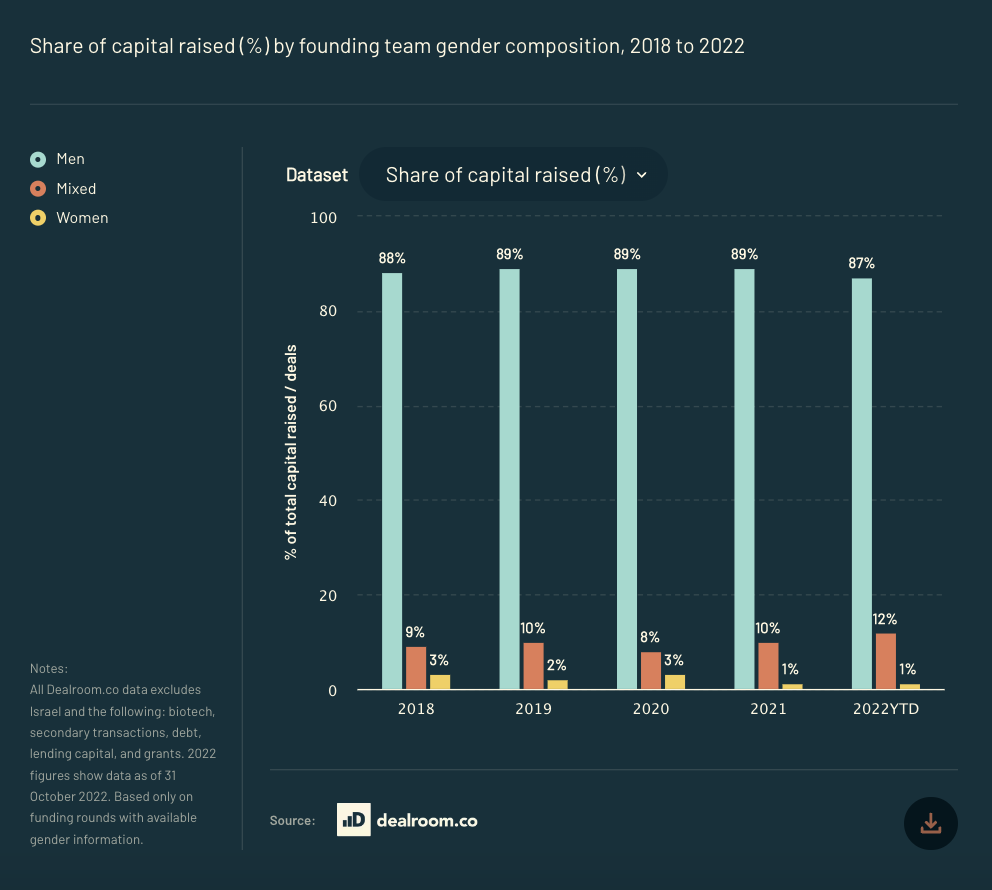 13. Ethnic minority founders also suffered
Just 1.4% of European unicorns are set up by a founding team entirely made up of minority ethnic entrepreneurs, and those founders have raised a measly 0.7% of total unicorn funding.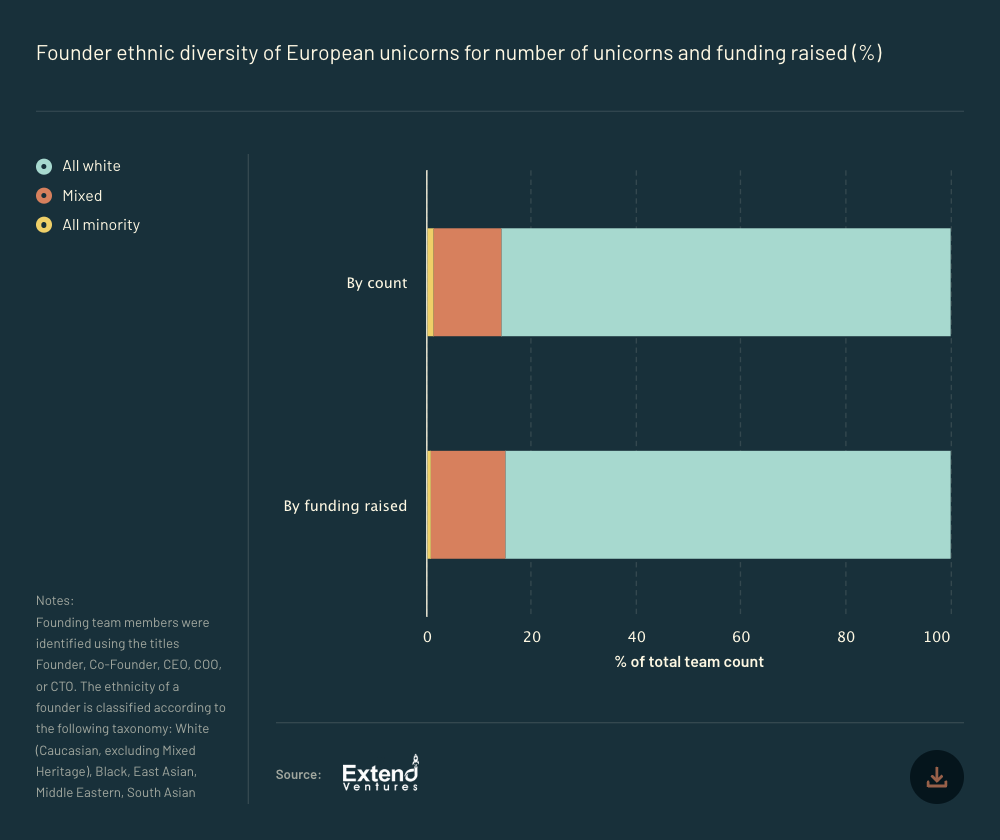 14. Discrimination is rife
Among startup operators, 40% of Black, African and Caribbean people said that they'd experienced discrimination in tech, and 37% of women said the same.
Worse still, most companies aren't doing much to tackle the problem, and just 35% have a recruitment programme in place to reach people from diverse backgrounds.
Sifted also reported recently that 84% of UK entrepreneurs living with a disability — who were surveyed by campaign group Access2Funding — feel they don't have equal access to the same opportunities and resources as non-disabled entrepreneurs.  
Investors
15. Debt funding is on the up
While equity funding has dipped as the cost of capital has risen, startups are increasingly turning to debt funding. 5.6% of total VC investment in Europe was debt this year — compared to 4.8% in 2021 — and, as Sifted reported in October, the vast majority of it is coming from the US.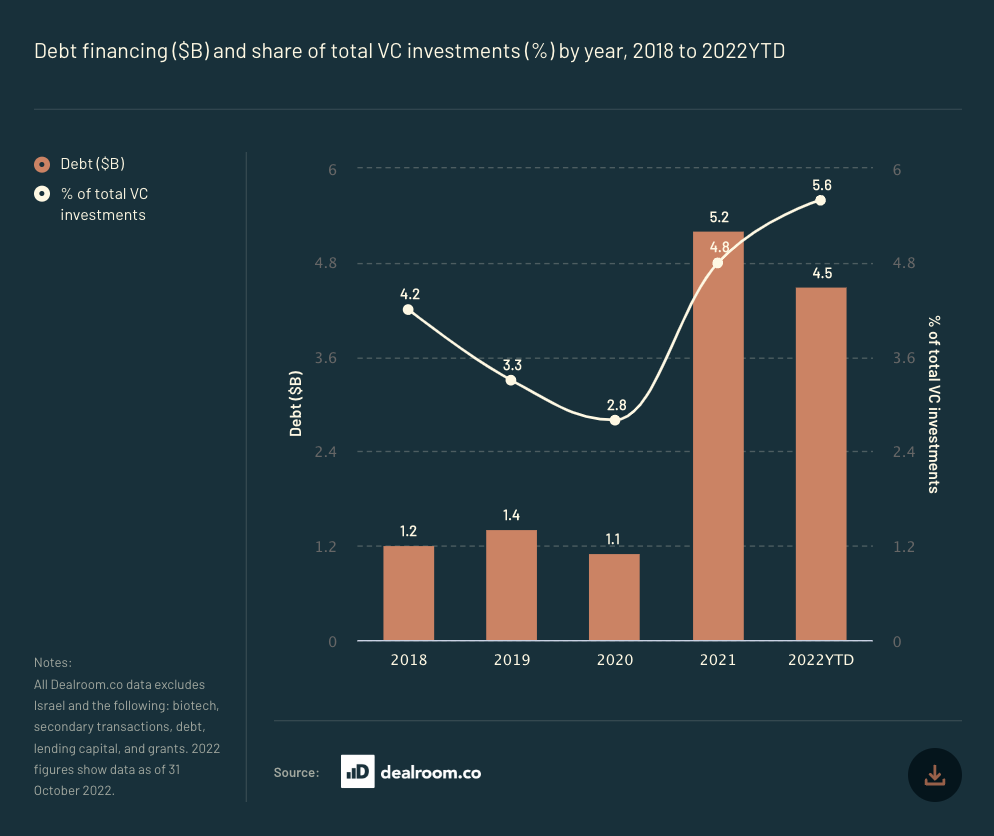 16. There's still loads of dry powder floating around
While VCs have become ever more cautious as 2022's gone on, they're sitting on record levels of dry powder. While the report only has outright figure from 2021 (which was $84bn), as 2022 has brought strong fundraising activity and a slower deployment of capital, it estimates that that figure remains similar or has increased slightly.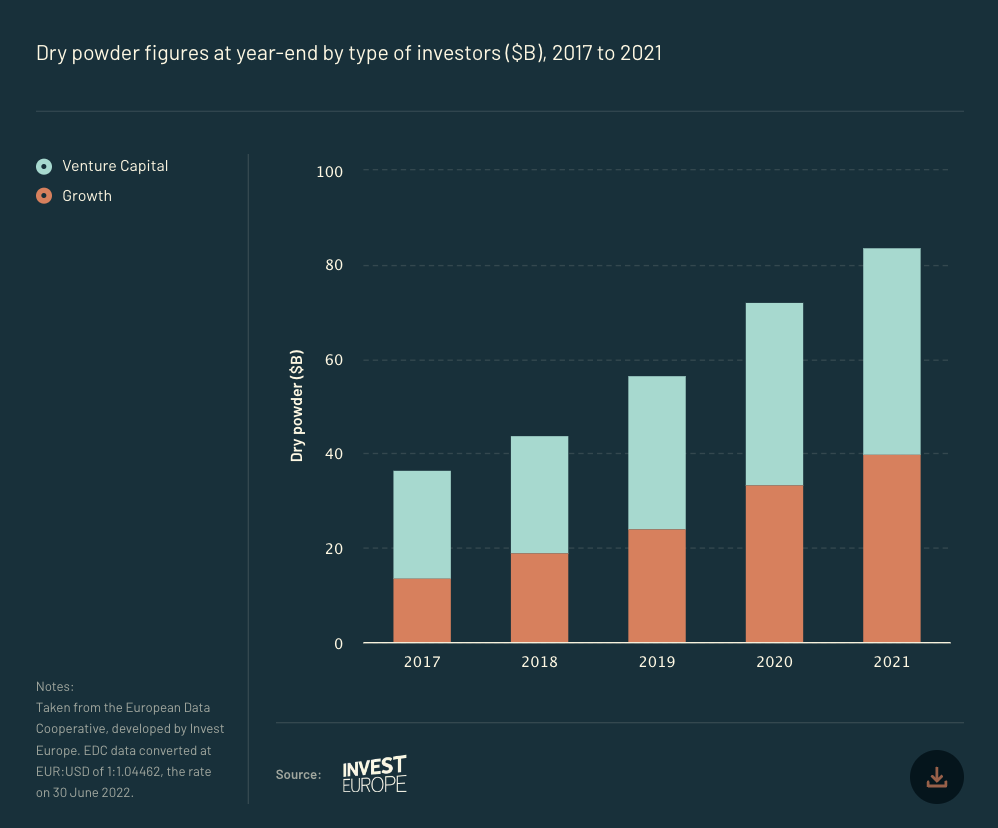 17. Big funds a plenty
There's also been no shortage of sizeable funds raised this year, focused on a number of different stages. Sweden is home to four of the top five largest funds, as EQT raised a $2.4bn growth fund and a $1.1bn early-stage fund, Northzone raised a $1bn fund and Creandum raised $500m.
Other notable new funds this year include London-based duo Felix Capital and Blossom Capital's investment vehicles.
18. Less competition at later stages
Competition for deals has tapered off dramatically across European tech, but most noticeably at later stages. 63% of VCs felt that investment opportunities had become less competitive at Series C and above this year, compared to 97% thinking they'd become more competitive in 2021.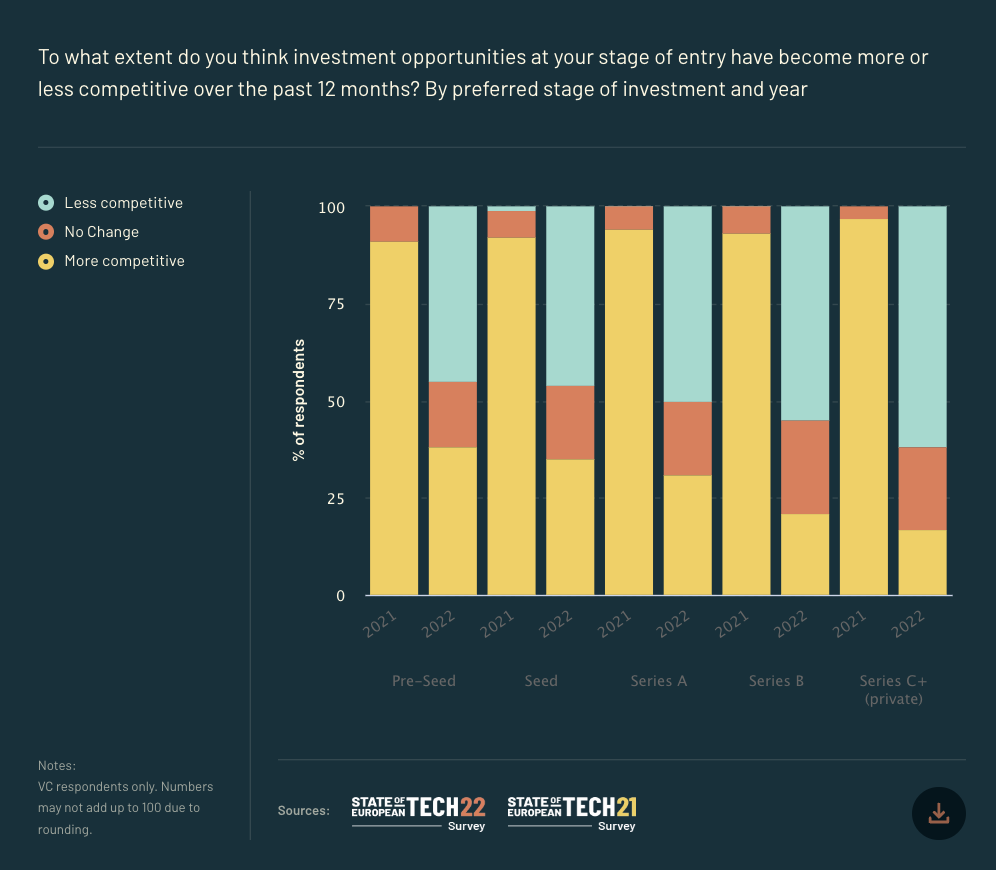 People
19. The year of layoffs
As startups looked to scale back on spending fast following over-exuberant growth in 2021, many turned to layoffs. The peak in Europe was in June, which saw more than 3,000 staff cut across the region's startups.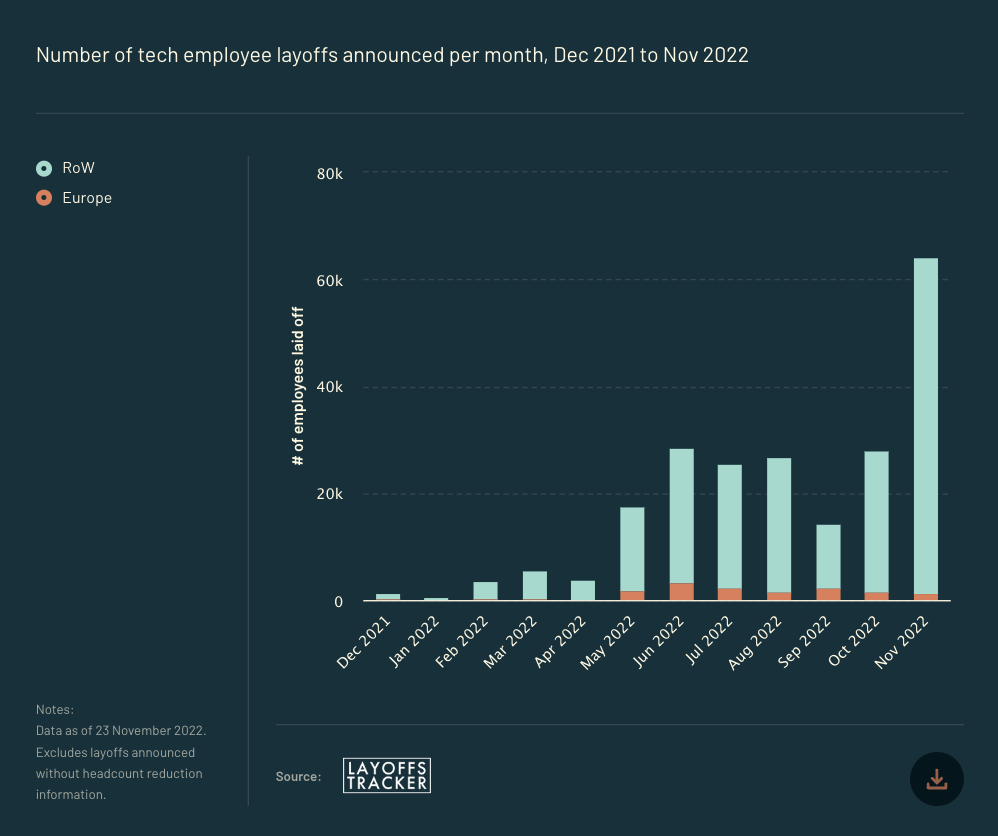 140k tech workers have been laid off globally this year, according to layoffs tracker layoffs.fyi, but there's been huge variations in how companies have handled letting staff go. Sifted found out what European founders learned about the "right way" to part with staff?