Remember the last time you needed to send £1m abroad? Me neither, but you'd be surprised how many tech workers in Europe do this regularly. 
At least that's according to Neeraj Baid and Patrick Kavanagh, two of US stock trading app Robinhood's earliest employees. Today they're launching their own money transfer service called Atlantic Money to solve this enormous headache. 
They're billing Atlantic as the world's first fixed-fee money transfer service, and it comes out of stealth today. 
It's a pitch that's won backing from a glitzy set of investors. The startup's $4.5m seed round has been led by Amplo and Ribbit Capital, with Harry Stebbings' 20VC and Index Ventures also participating alongside Kleiner Perkins, Elefund, Day One Ventures and Susa Ventures Seth Berman.
Atlantic promises to save people up to 99% compared with incumbents like Wise and Western Union. But how does it plan to get consumers to bite?
Cheaper transfers 
Baid and Kavanagh moved to the UK back in 2020 after working on Robinhood's European launch. (Yes, the one that never happened.)
Both began sending money back home regularly, but they were pretty surprised at the fees on offer by the big money transfer providers in the UK. 
Instead, they worked out the real rate before they sent transfers, and then they let their UK expat friends in on the trick.
They were willing to jump through crazy hoops to avoid all the bigger fees on

offer
"They all jumped on the idea — they were willing to jump through crazy hoops to avoid all the bigger fees on offer from the incumbents," Kavanagh says. "That's when we knew we were onto something." 
How does it work? 
To begin with, Atlantic Money is enabling users to transfer money abroad from the UK, in GBP to nine currencies — EUR, USD, AUD, CAD, SEK, NOK, DKK, PLN and CZK. 
Atlantic Money charges a flat fixed fee of £3, regardless of the size of the transfer, coupled with 0% FX Commission.
This is new. While Wise's bread and butter is charging customers 0% FX Commission, it charges a variable fee per transaction, depending on the size. This means those nicely salaried tech workers we were talking about earlier can be charged up to £2,000 on a transfer of £1m. 

XE and Western Union, meanwhile, rely on variable FX Commission multiples to charge customers for transfers — which in Western Union's case, can set them back £14k on a £1m transfer. 
Then there's the likes of PayPal's Xoom and Monese, which spread their charges across a combination of both — meaning, on a £1m transfer with Xoom those poor tech workers will be charged a cool £15k. 
The only thing is, these are pretty big brands to take on. After a shining London stock market debut last year, Wise now boasts 12m customers and processes more than £6bn in transfers a month. 18m people use Revolut for its transfer and exchange services across over 35 countries. Western Union is a true veteran when it comes to money transfers, and Monese is a unicorn. 
But that doesn't seem to faze Atlantic. 
'People are surprisingly not loyal' 
"People are surprisingly not loyal to any of the existing services," says Baid.
"They might have a default like Wise because at least it's trusted. But mostly they exhibit this shopping behaviour where they don't immediately trust the rate on the page, so they Google it to make sure it's the right rate, and go and check others. 
"That's why Wise now has that huge comparison page on their website where they try to convince people."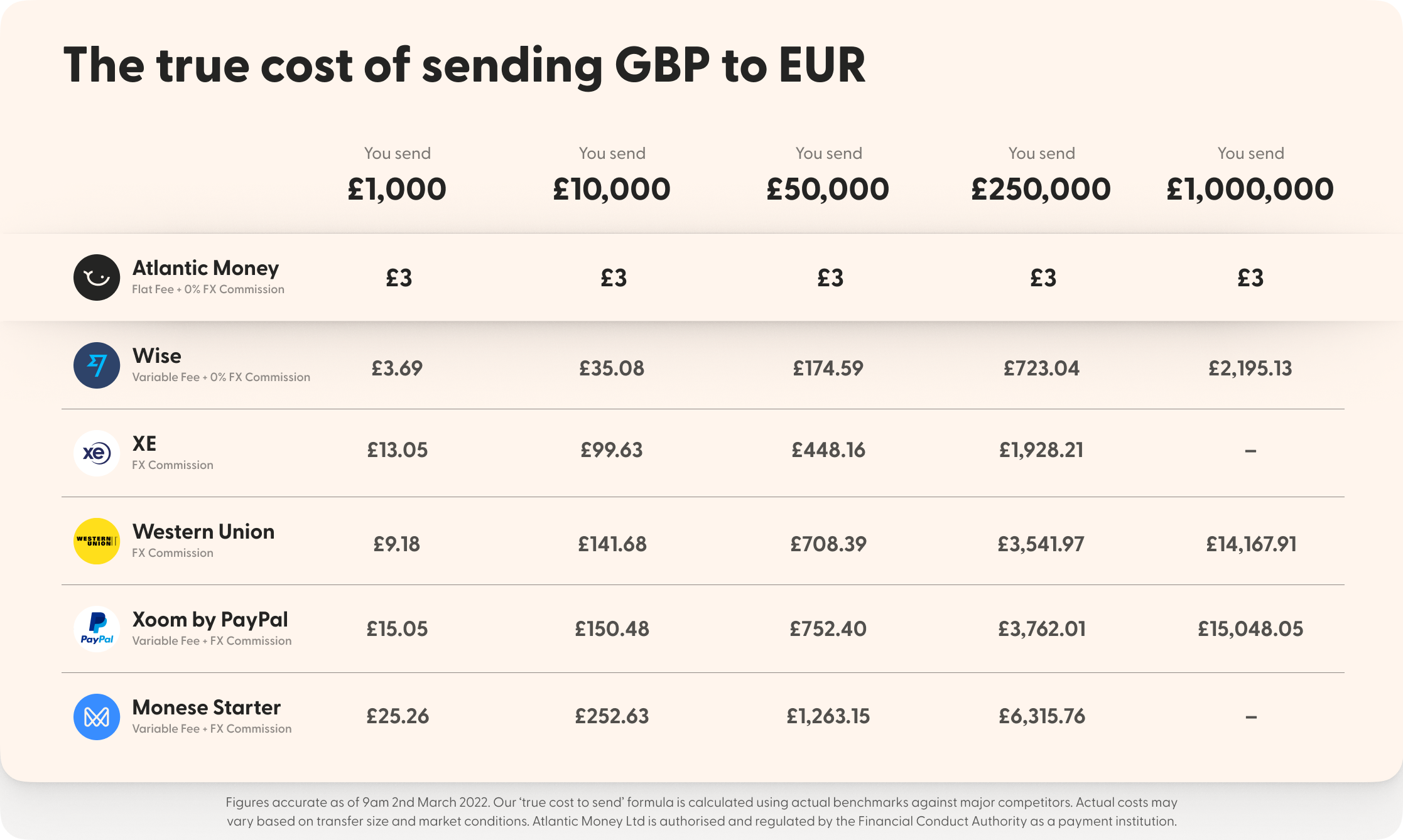 Keeping it simple 
That doesn't necessarily mean Atlantic could make less money, say the founders. They think the secret to success lies in a leaner business model and a smaller, more targeted customer base.
They're also not planning on following in the incumbents' footsteps and launching any other products and services (like Wise's retail investing feature or Monese's banking-as-a-service platform). 
"We're not subsidising costs associated with loads of other products and services that our customers have little interest in," says Kavanagh.
Atlantic says it is targeting a smaller, more targeted customer base of people sending more substantial sums of money abroad regularly — for whom doing so is a "big part of their lives".
"By doing so, our operational costs drop substantially compared to anyone else in the market," says Baid.
We're not subsidising costs associated with loads of other products and

services
"That's why we're able to charge much lower fees, and that's why none of the incumbents can copy our fee structure. Their operational costs and compliance costs are too enormous for targeting that amount of people." 
Atlantic is launching in the UK — although the cofounders hint at imminent European expansion. 
"We had a great time working with the [UK's] FCA, and, you know, we can just hop on a train to mainland Europe to get another licence there if we need," says Kavanagh.