"We are looking for new product concepts that our clients can take to China, and also for investment opportunities," says Li Zhao, vice president at Bepsun Eurotech Investments, a Chinese venture capital company. Li was one of a growing number of Asian investors scouting for startups at Slush, the annual technology conference in Helsinki.
The number of Asian investors at Slush has increased noticeably in the past two years, says Janne Korpela, head of investor operations at Slush. "At first we saw an increase in Asian companies coming to speak on panels. But more recently we have seen increasing numbers of Asian investors coming looking to do deals."
140 of the 1800 investors at Slush came from

Asia
This year, he says, some 140 of the 1800 investors at Slush came from Asia, up from 100 two years ago.  
Korpela says Asian investors come to  look for deep tech and engineering innovations. "They are typically interested in IoT companies and mobile technologies," says Korpela. "They are interested in engineering and hardware - things like a new antenna technology, for example." The games sector is also a draw.
Li says she is also interested in electric car technologies, new energy, smart warehousing solutions and AI.
Chinese engineers are great at adapting technologies to the consumer market. But sometimes they have gaps in the core

technologies.
"Chinese engineers are great at adapting technologies to the consumer market," she says. "But sometimes they have gaps in the core technologies."  
Last year at Slush, the China-based accelerator Comb+ launched a $65m fund aimed at helping promising AI companies enter the Chinese market. Slush itself has expanded to Asia and now runs similar tech conferences in Tokyo, Singapore and Shanghai.
The Slush experience mirrors increasing Chinese investment in the European tech sector more generally, including blockbusters deals such as internet giant Tencent's $8.6bn purchase of Finnish gaming company Supercell in 2016.  Earlier this year China's Didi Chuxing took part in a $175m fundraising round by Taxify, the Estonia-based ride-hailing rival to Uber, while Founders Factory, the London-based incubator and accelerator, received a multimillion pound investment from Chinese private equity firm CSC Group to nurture AI talent in Europe and China.
Sifted Newsletters
Sifted Newsletter
3x a week
We tell you what's happening across startup Europe — and why it matters.
Asian investors took part in investment rounds totalling nearly $4bn this year, according to statistics from Dealroom, up from less than $200m five years ago.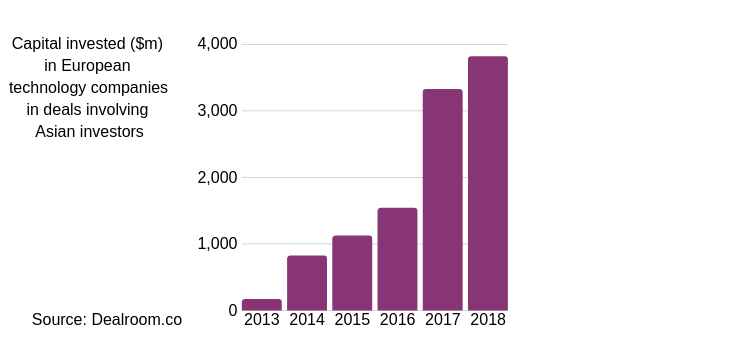 The escalating trade war between the US and China is accelerating the trend, as Chinese companies increasingly find themselves locked out of US deals. US efforts to extradite Wanzhou Meng, chief financial officer of Huawei, arrested in Canada at the beginning of December, have recently heightened tensions further.
China's shift towards European deals is dramatic. In the first half of 2018 newly-announced merger and acquisitions by Chinese companies in Europe totalled $20bn, compared with $2.5bn in the US, according to a report by law firm Baker Mackenzie.
Sweden was the top European destination for Chinese investment in the first half of 2018, followed by the

UK
Sweden was the top European destination for Chinese investment, with $3.6bn, followed by the UK with $1.6bn.
Some European countries are also becoming wary of Chinese investment, however, amid concerns about the transfer abroad of critical or sensitive technologies. Outcry over the 2016 purchase of German advanced robotics maker Kuka by Midea of China, led to a change of legislation in Germany, enhancing the government's powers to block foreign takeovers. France also recently announced its intention to extend government screening of deals to include the artificial intelligence, cyber security, robots, space, big data and semiconductor sectors. The UK government plans to increase its powers to screen deals of any size.
Nordic countries, the Benelux region and southern Europe, however, has remained more welcoming of Chinese investment. Perhaps all the more reason that Helsinki-based Slush is still a popular hunting ground for Euro-Asian deals.
Cultural differences, at least do not appear to be getting in the way. "I like working with Finnish engineers in particular," says Li. "I like the way their communications are very straightforward. If they don't like something they will say it say it clearly, so you always know where you stand."
Have you signed a deal with a Chinese investor? Tell me about the experience: maija@sifted.eu