Angel investing is on the rise in Europe, with the number of angels having grown by 10% to 345k between 2016 and 2019, the European Business Angels Network estimated. 
This has been accompanied by another trend: angel investors are clubbing together to form syndicates so they can share deal flow, combine their skills and ultimately plug more cash into the startups they back.
These angel syndicates — many of which are started by former founders, startup employees or investors — are meeting growing demand from startups to have operators on their cap tables. 
While angels can't always write big cheques, they can offer the knowledge, domain expertise and "hustle" experience that many founders desire in the early days of growing their business.
Sifted asked investors and founders in the know about the most interesting angel syndicates in Europe right now. If we've missed anyone important, please email miriam@sifted.eu.
Spoti Angels, Berlin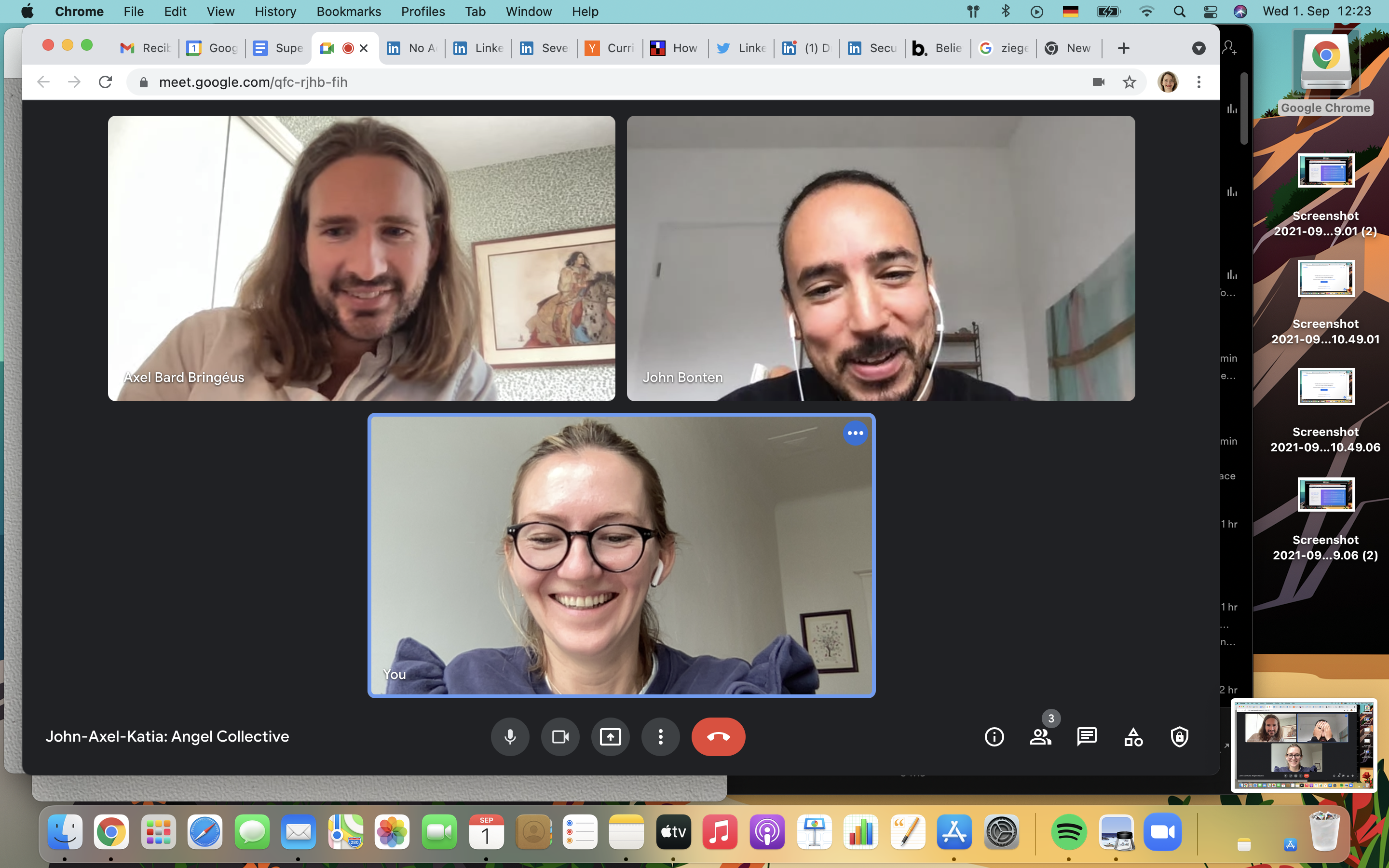 Officially launched just last month, Spoti Angels is a Berlin-based angel syndicate founded by three Spotify alums: Katia Yakovleva, who was one of Spotify's first sale executives, and John Bonten and Axel Bard Bringéus who together built and ran Spotify's expansion and markets team.
The trio will be investing between €25,000-150,000 in European pre-seed and seed stage startups in consumer tech, the creator economy and the future of work. The team shares deal flow within the syndicate but they can also invest individually.
Operator Exchange, The Netherlands
Launched in August 2020, Operator Exchange is a group of 40 founders and operators from across Europe who say they "want to be the investor that we would go to for funding".
It was founded by Jelle Prins, formerly head of product design at Uber, Micha Hernandez van Leuffen, founder at Fiberplane (which builds collaborative notebooks for SREs), Robert Gaal, cofounder and CEO at social audio appQuest, and Stef van Grieken, formerly senior product manager at Google and cofounder of a stealth startup.
The angels invest in startups individually up to €50,000, or €500,000 together as a syndicate — and aim to get back to the startups that reach out to them within a week. 
Among its portfolio startups are Adelee, a social media app for people to share photos and videos, Origin, a travel service app, and Stark, which helps people design and build accessible software products.
Saarbreucker 21, Berlin
SB21 is a group of 15 internet and tech entrepreneurs and angel investors who have all built successful companies which have either been sold or publicly listed.
The group met for the first time ten years ago at Rocket Internet — the headquarters of which is at Saarbrücker Strasse 21 in the trendy district of Prenzlauer Berg — and have remained friends ever since.
They launched SB21 in 2016 with the aim of investing in seed-stage digital startups. Each member of SB21 actively invests in companies themselves or collectively via SB21.
The syndicate's portfolio includes Billie, a B2B payment services fintech, HeyJobs, a tech recruitment platform, and online sex shop Amorelie.
Expansion Capital, London
Expansion Capital is a seed-stage tech investor launched by a group of Revolut's earliest employees in October 2020. 
The syndicate was set up by former Revolut employees Rishi Stocker, who was the startup's head of partnerships for four years and who led its expansion in Japan; Dan Westgarth, formerly general manager of Revolut in North America; Will Mahon-Heap, who was recently made head of global authorisations at the digital bank, and Neil Shah, its global head of expansion and authorisations.
Expansion Capital is operating as an angel syndicate to begin with but has hopes of morphing into a venture capital firm later on.
The syndicate is investing between £50,000 and £100,000 in a range of early-stage tech startups. It has backed 31 companies to date, including Y Combinator-backed Homestead, a platform used to rent unused spaces; Treecard, a wooden Mastercard that plants trees with every transaction; and Clair, a startup helping employees gain on-demand access to their earnings.
Teal Impact, Lisbon
Teal Impact, previously called COREAngels impact, was set up in late 2019 by Filipe Portela, who is the syndicate's managing director, and Tiago Borges, its first investor.
Both were entrepreneurs before founding Teal Impact: Portela has had his "faire share of successes and failures" in founding companies such as ecommerce startup Ingeniu.com, Impact Hub Lisbon, a community workspace, and Healthy Systems, which offers services in fields such as cybersecurity and data protection. Borges sold his company Inosat, a fleet and mobile workforce management software company, to Verizon in 2019.
Andre Carmo, a project manager and founder of B2B SaaS startup dollar.ai, later joined Teal as partner.
Teal Impact, which is composed of 13 angels, supports early-stage impact companies across Europe and the UK. The syndicate is sector-agnostic, but it has a "special taste" for fintech and healthtech, Portela says. Cheque sizes start at €50,000 but can go up to €1.5m.
By the end of the year, the syndicate will have completed eight investments: four in Portugal, two in the UK, and one each in France and Germany. Notable companies in its portfolio so far include the social inclusion platform Coloradd and Yayzy, a carbon footprint reduction and offsetting platform.
Expedite Ventures, Berlin
Expedite Ventures was set up in October 2020 by seasoned entrepreneurs and investors Ben Kubota and Thomas Witt to invest in digital companies in the software industry.
Kubota is cofounder and CTO of productivity tool Superlist and a venture partner at Cherry Ventures; Thomas Witt founded a software company, InfoPark AG, in Berlin during the dotcom era which was acquired last year, and is now an active startup mentor and angel investor.
Expedite Ventures now has six additional angels on board, including Audrey Tsang, chief product officer at female health app Clue, and Ramzi Rizk, cofounder of all-in-one photo and video platform Eyem.
The syndicate typically invests €50,000 and assigns each company a so-called "lead angel", who gives up to 10 hours a month to offer advice and support to the startups. 
Expedite is particularly looking to back female founders, immigrants and founders from underrepresented groups. Its portfolio includes Vaayu, a carbon analyser and emissions reduction platform, and Heritage Designer, a web-based graphics editor for designers.
Honey Badger Capital, Estonia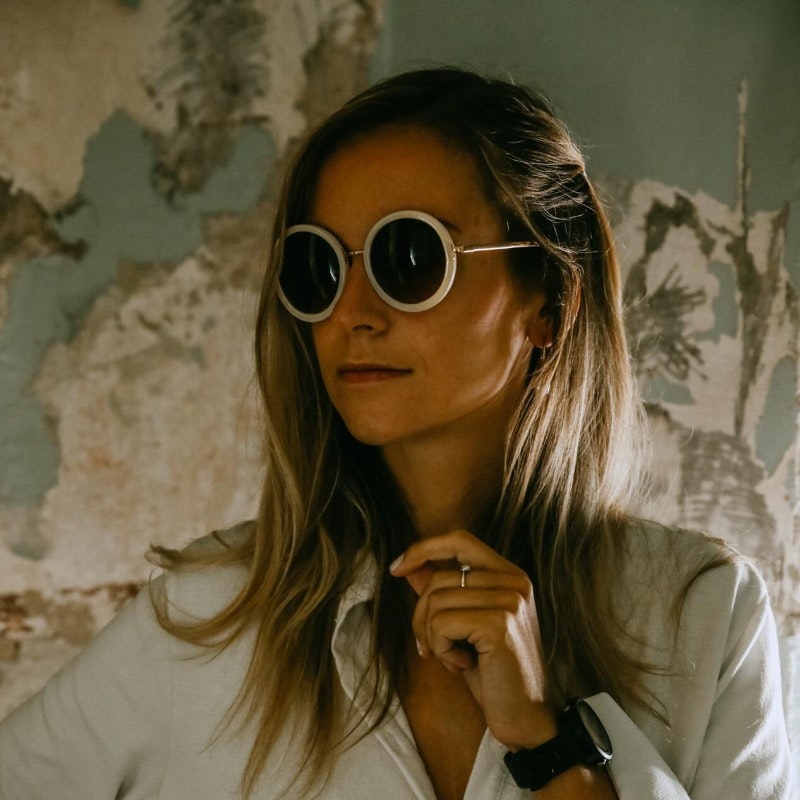 Honey Badger Capital is an angel investment company backed by former Pipedrive employees: Helery Pops, who recently founded the syndicate, Martin Henk, Ragnar Sass and Martin Tajur.
Honey Badger will focus on backing seed stage startups in greentech and the future of work with ticket sizes of €50,000-€150,000. The company is especially looking for founders from central and eastern Europe, but will also consider investing in promising companies from Africa and Latin America. 
Together, the angels have already made six investments including Patchstack, a gamified bug hunting platform for developers based in Pärnu, Estonia, and Münt, which produces zero-waste toothpaste tablets.
Planet Positive, The Netherlands/USA
Launched in April this year, Planet Positive is an angel syndicate investing in pre-seed and seed-stage climate tech companies in the US and EU. 
The syndicate was founded by Kirsti Chou, an experienced angel investor and sales and growth professional based in San Francisco, and Anke Huiskes, who has a background in VC and who founded an investment collective called Aletta Angels.
Planet Positive syndicates 3-5 deals per year with a typical ticket size of $200,000. Its portfolio includes companies such as Droneseed, which works to reforest areas and rebuild natural habitats after wildfires, and clean energy startup Harvest Thermal. 
Marcel van Oost, Amsterdam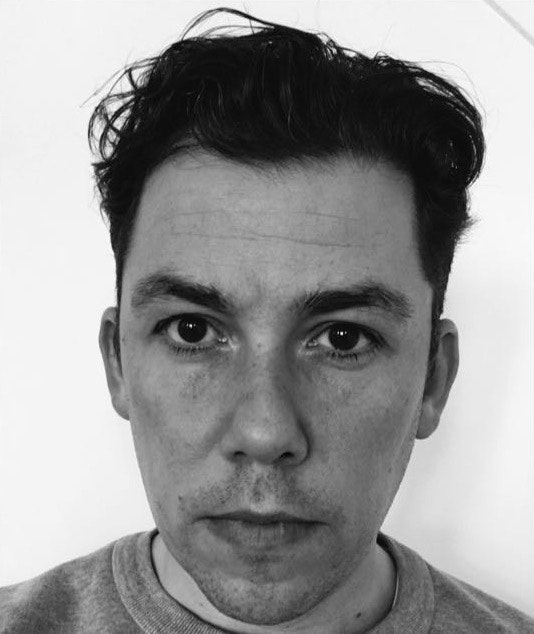 As a former fintech founder, Van Oost invests in and advises several fintechs and neobanks. 
In November 2020, he set up a fintech-focused angel syndicate after receiving inquiries from other angels to co-invest alongside him. The syndicate concentrates on payments platforms, digital banking and open banking.
Currently, Van Oost has more than 900 angels signed up to the syndicate: 200 are VCs and former startup founders that he knows personally, while the others signed up via a link in his personal newsletter.
Aside from seed rounds, Van Oost has access to Series A/B deals. This means that angels can have access to later-stage deals, which "angels with smaller tickets normally don't have access to," he tells Sifted. 
He hasn't been very active in sharing deals with the syndicate as it can be time-consuming to close deals. But there are some interesting deals coming up in the near future, he says.
The syndicate's portfolio currently includes Volt Bank (Australia), Tymit (UK), First Boulevard (US), Frost (UK), Wibond (Argentina) and Sprout (Brazil). 
Green Angel Syndicate, UK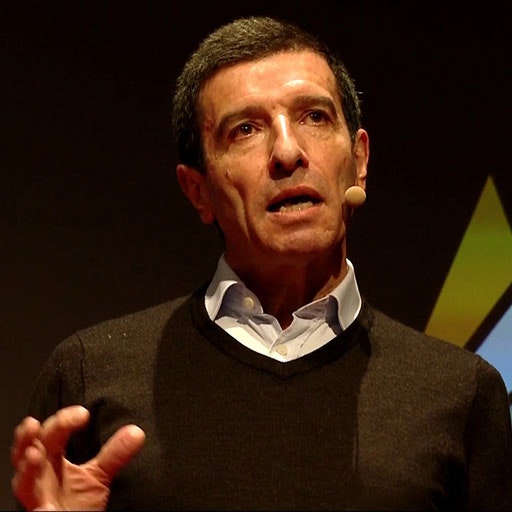 Green Angel Syndicate is one of the largest angel syndicates in the UK and the only one specialising in solutions for climate change. 
Nick Lyth, a marketing and sales specialist, founded the syndicate in 2013 as an experiment to fight climate change and global warming. The syndicate now has 18 people in its management team, many of whom are angels, who have backgrounds in finance, marketing and communications, geophysics, chemistry, engineering and carbon capture and storage.
Green Angel Syndicate has 300 members and has invested in 28 early-stage businesses across 10 sectors, from transport and energy to agritech and water. Its portfolio includes Oceanium, a company creating products from sustainably sourced seaweed, Airex, which has built a smart ventilation system to save energy in homes, and Zedify, a delivery company using electric cargo bikes to reduce pollution and congestion.
EXFI, Zurich
Founded in April 2021, EXFI is a syndicate started by six ex-Google employees: Steffen Ehrhardt, Jenny Collins, Aashna Gupta, Vanessa Stefanak, Ben Laurie and Rune Bentien. Together, they have more than 60 years of Google experience across commercial and engineering.
EXFI is seeking to unlock the potential of Google's alumni community by supporting ex-Google founders from across Europe, the Middle East and South Africa. The syndicate prefers to back tech startups from pre-seed to Series A across all industries. 
The EXFI team has made three investments so far this year: neoplants.co, which produces bioengineered plants to fight air pollution, pragma.ai, which offers customer engagement and workflow automation solutions, and OkHi, an addressing system to help those without an address access the services they need.
EXFI plans to do another three investments by the end of the year.
Fintech North London, London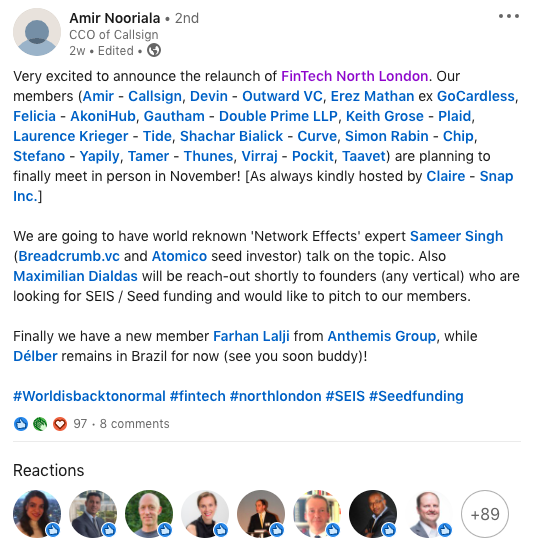 North London Fintech is a meetup for founders and C-Levels of some of the biggest fintech scaleups, which was launched by Amir Nooriala in July 2019. 
While not officially an angel syndicate, many of the members of Fintech North London invest individually as angels and invite others within the group to participate. Usually, startups of interest pitch to the group all at once and the members share feedback and leverage their whole network to help the founders.
It has 13 members that have various C-suite positions across startups like GoCardless, Curve and Tide. 
Framtid, Stockholm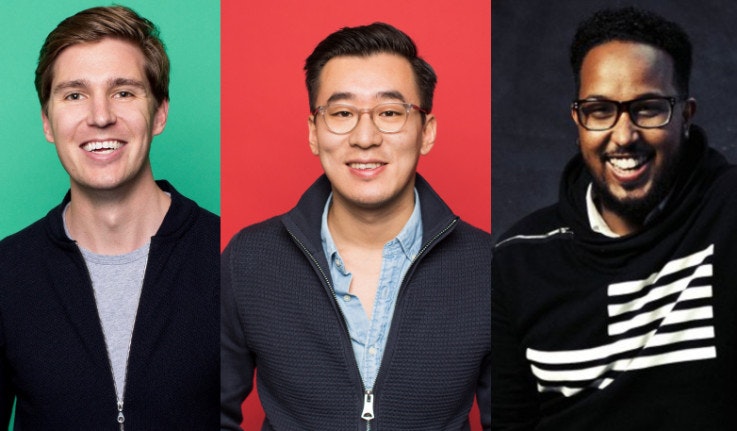 In 2018, Kim Fai Kok, former director of communications at Truecaller, a platform helping companies verify contacts and block unwanted communication, teamed up with three other operators to launch Framtid.
The syndicate includes Kok's former colleague Zakaria Hersi, today head of business development at Rebtel, Nick Dahl, growth strategy lead at Spotify and lawyer Dara Gill. Kok and Gill now run the syndicate as their full-time hustle.
Framtid invests in products and services that have market fit and that have the potential to reach millions of people – as well as ground breaking technology that challenges and reinvents stagnant industries. The syndicate backs European startups and companies in emerging markets like India and Sub-Saharan Africa.
Its average ticket size ranges from €20k up to €200k, if the members bring in friends to chip in.
Framtid's current portfolio includes Nothing, which offers wireless, noise-cancelling headphones, Validio an automated data reliability platform, and Qopla, which offers various digital tools for restaurants.
Cambridge Angel Network, Cambridge
Founded in 2001, Cambridge Angels comprises more than 60 angel investors who have experience as entrepreneurs in hardware, software, internet and healthtech.
These angels invest in and mentor early-stage companies across these sectors in Cambridge, London, Oxford and other cities throughout the UK. 
Typically, Cambridge Angels invests between £50,000-£500,000 — but some of its portfolio companies have received more than £1m in funding from members over several funding rounds.
So far, the syndicate has invested over £150m in 125 companies. Its portfolio includes PneumaCare, a non-invasive respiratory assessment device, Xampla, a natural alternative to single-use plastic — as well as Sifted!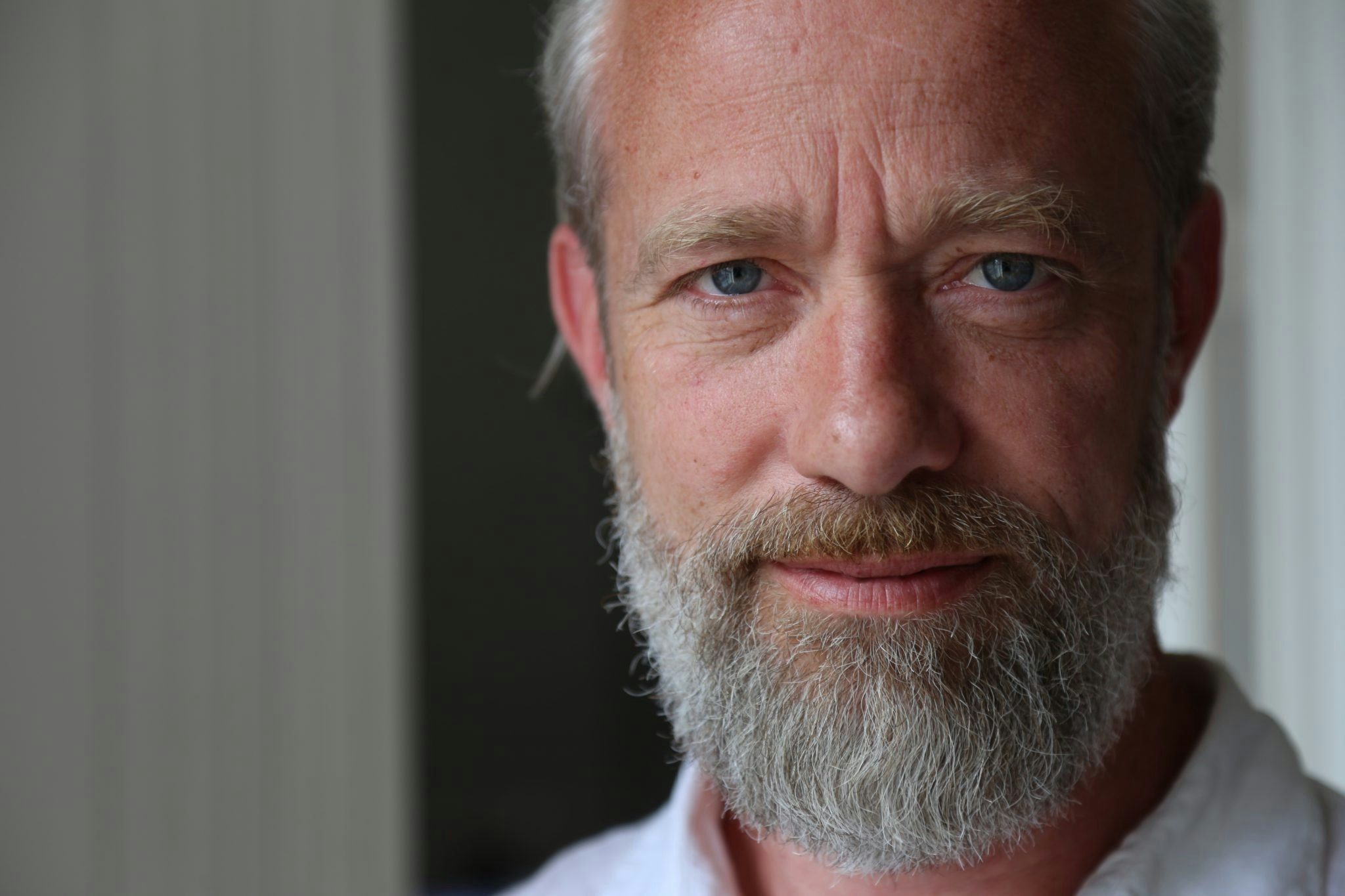 Astérion Impact, Paris
Astérion Impact, which launched in January 2021, is an angel syndicate of 500 members, who are mostly founders or C levels of French startups. The syndicate typical invests between €300k – €2m  in pre-seed or seed impact startups and has closed 3 deals to date that are still unannounced. Its target is to close a new deal every month.
Astérion operates only in France or for French Founders in Europe.
For each start up, the syndicates gathers the best LP among Astérion's community to support the strategic needs of the funders. Each LP commits one hour of support every month. The best LP is then pooled in an SPV dedicated to the start up.
"Astérion therefore aims to provide the best of VC and accelerator, equity and true hands on support and network," says its founder and managing partner Stéphane Bourbier.
Miriam is Sifted's Germany correspondent. She tweets from @mparts_