There are several reasons to keep an eye on Alan.
The French healthtech startup has doubled its members over the past 12 months — it now has 155k members, covers 9.4k companies and is aiming to have 1m members by 2023. It made €100m in annual revenue last year and saw less than 1% of its members churn. It has no meetings, transparent salaries and publishes its letters to shareholders online. And it's now a unicorn.
Today, Alan is announcing a €185m fundraise at a €1.4bn valuation, led by global investor Coatue.
Dragoneer, Exor, Index Ventures, Ribbit Capital and Temasek also participated. Several employees and early investors have also sold €35m worth of shares as part of the round.
The mission is simple — and at the same time, very much not so. "We've always wanted to build the healthcare super app for 10m, 100m, several 100m people," says Jean-Charles Samuelian, Alan's cofounder and CEO. 
"That means being the place where all healthcare and wellbeing is — from information to prevention to access to care, physical or digital, and managing post-care and payment." 
Delightful
Other big healthtech players in Europe, notably the UK's Babylon Health and Sweden's Kry, have set off after the same goal by connecting healthcare 'consumers' with practitioners via telemedicine consultations or symptom checking apps. But Alan has come at it from the insurance side of things, and is instead focused on getting onboard companies as customers. (In France, employers are obliged to provide health insurance.) 
It was the first new health insurer to be granted a licence in France since 1986, and its youthfulness shows: its app is bright, colourful and makes liberal use of emojis. 
We want to build a product which is very personal and proactive, which gives you the right coverage and is instant and

delightful.
"We want to build a product which is very personal and proactive, which gives you the right coverage and is instant and delightful," says Samuelian. 
Over the past two weeks, 85% of insurance claims on Alan have been reimbursed in less than an hour. 
Sifted Newsletters
Sifted Newsletter
3x a week
We tell you what's happening across startup Europe — and why it matters.
That speed has several benefits: it keeps customers happy, and it reduces costs for Alan. "It's a strong flywheel," says Samuelian. 
Alan's members can also chat with its team of in-house doctors via the app (and receive an answer in under two hours), search for relevant, locally-based doctors on a map and receive appointment reminders. 
Alan's aim for the next few years is to start signing bigger and bigger companies as customers in order to gain more and more of their employees as members. At the moment, its largest customer has 5k employees — but Alan's platform is now set up to work with organisations of up to 30k employees, says Samuelian. 
The team spent a chunk of last year adding new features to support bigger businesses: from an API to integrate with payroll systems to revamped dashboards to manage a lot of subsidiaries. 
"We want to double down on making this the best B2B experience, with more integrations and APIs, so we can sign bigger and bigger companies," he says. 
Alan currently counts WeWork, Deliveroo, JustEat, Algolia and Swile as customers.
"Honestly, the 10k person companies didn't want to sign before we had a few 5k person companies. It's a trust thing. One year ago we had 65k members; if a 20k person company had signed, that would be a big chunk of our members." 
A tough cookie
It's not surprising that few other startups have taken Alan's approach. "You need a lot of liquidity from day one, so it's only for second-time entrepreneurs," says Samuelian, who founded a travel tech startup before Alan. "It's a combination of building an amazing product, getting deep into regulation — both insurance plus healthcare — and understanding the healthcare system. That's a multilayer problem." 
"Sometimes it's easier to build great software and do a SaaS project, I guess." 
In late 2020, Alan expanded into two new markets — Spain and Belgium — and has seen modest growth there. It now has 306 members in Spain (from 24 companies) and 786 members in Belgium (from 43 companies). With the latest funding round, Alan plans to launch both medical and psychological chat services in Belgium, and launch a 'medical concierge' in Spain — whereby Alan's team will find doctors and book appointments on members behalf if they choose. It's earmarked €40m for these moves. 
It has also branched out into the consumer side of things.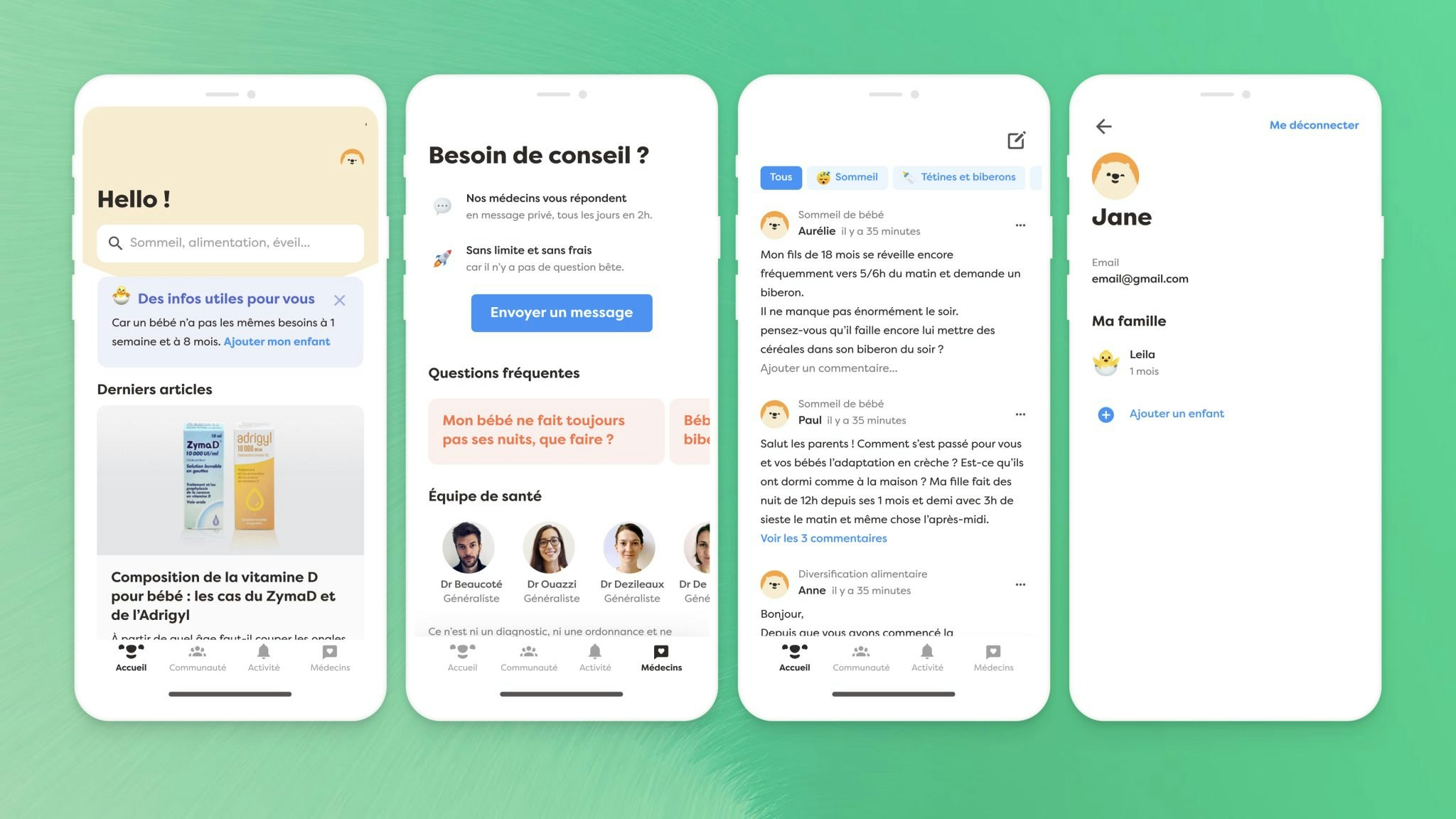 In January, Alan launched Alan Baby, a free app for parents. On the app, parents can chat with other parents in a (moderated) community forum, get their questions answered by a doctor or midwife and read articles about baby health. It now has 3k users, some of which are very active, says Samuelian.
"The first month was quite slow," he adds. "But we've really iterated on the product, and moved from a 3 to 4.5 star rating. Growth is accelerating." 
Soon, Alan hopes to add 'companions' — freelance 'super' parents employed by Alan to help out the app's users. "As if you had a personal coach to make parenting joyful," says Samuelian. 
At some point, we'll allow people to purchase health insurance in the baby

app.
For now, it's a brand building exercise. Over time, though, Alan hopes to convert some of these users to customers. "At some point, we'll allow people to purchase health insurance in the baby app, but not in the next six months." 
Alan also plans to add more consumer-facing apps. The next one will be around mental health, and another that would make sense down the line would be a diabetes-focused app. "We're trying to find periods of life when you really change your healthcare behaviours, and are open to trying something new." 
"A few of the things we're going to try are going to fail," says Samuelian. "We want to reach 1m members in total within three years, out of which 100k will be in Spain and 100k in Belgium. Are we going to make that number?" 
Workplace pioneer
It's not just insurance which Alan does differently. It's also innovative when it comes to the workplace. Its 350-person team avoids meetings and sets salaries according to a scale which everyone can see. And it tries to create a liquidity event every year, so that employees who've been with the company for more than two years can cash in some of their equity. "We feel it's a strong message — stick around and we really will share the value with you. Stock options are a key part of the package at Alan — and can be a life-changing event."
With the latest fundraise, Alan plans to make 400 hires who could, theoretically, work anywhere in Europe. "What we want is to give everyone flexibility," says Samuelian. "I think that's a strong advantage." 
But the company hasn't nailed everything. "On parenting, we could be a lot more progressive," points out Samuelian, who has a one-year-old at home. "For fathers, we give [just] five weeks' leave." 
"We are far from perfect — growing a company at our pace is really hard. We're trying to combine high standards and excellence and benevolence. Sometimes it's [hard] to find the equilibrium between the two."
We don't consider ourselves a perfect wonderland company, but we invest in getting better all the

time.
"We don't consider ourselves a perfect wonderland company, but we invest in getting better all the time," he says. "We discuss small iterations in our methodology every month: 'How can we do hiring a bit better? How can we give people more ownership?' They're not big radical changes, but we might say, 'That team has done that very well for the past three months, what can we learn from that?'" 
Recently, Alan has also made senior hires from Stripe, Uber and J.P. Morgan — many of whom Samuelian reached out to directly himself. "I'm the one doing the outreach, selecting profiles, doing the scoreboard. It forces me to be really focused: who are the few people I really want to work for us?" he says. The latest hire is Erik Lumer, formerly CPO at US healthcare giant Maven Clinic, who is joining to lead Alan's non-insurance related products team. 
Most CEOs would use an executive recruiter for this — but Samuelian says he considers it a big part of his job. "When you receive mail directly from the CEO it feels a lot more personal, a lot more important to the company than if it's subcontracted to a recruiter. I need to build the perfect picture of who I want for the job, and I need to talk to a lot of people."